Fashion Accessories: Another Way to Practise Sustainability
Slow fashion usually emphasises the importance of buying sustainable and high-quality clothes, but the concept applies to accessories as well. Accessories are also available in sustainable materials like certified organic cotton, hemp, and bamboo.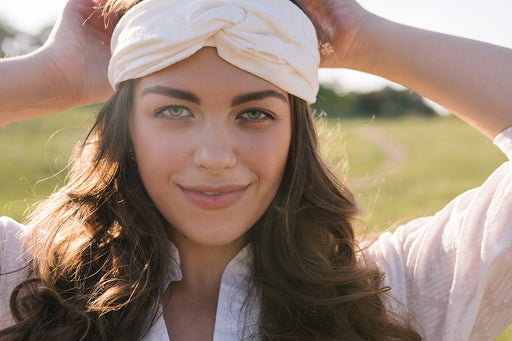 Mahatma Gandhi said, "Earth provides enough to satisfy every man's needs, but not every man's greed."
Unfortunately, it seems that some industries may prioritise greed over need. The fast fashion industry brought in more than $90 billion in revenue in 2021 and is expected to continue its fast growth. But the industry's profits come at the expense of the environment, which is why the antithesis of fast fashion, slow fashion, was born.
Slow fashion usually emphasises the importance of buying sustainable and high-quality clothes, but the concept applies to accessories as well. Accessories are also available in sustainable materials like certified organic cotton, hemp, and bamboo.
There are many different types of accessories from shoes to handbags to hats. But, in this article, we wanted to focus on other types of fashion accessories and hair accessories, and what items can be found in sustainable options.
Sustainable Hair Accessories
Though we don't always put much thought into our hair accessories, they are something that most women use often. The right hair accessory can secure an updo, add interest, or simply contain our hair when we want it out of our faces. Hair accessories are essential items.
Fortunately, finding an eco-friendly alternative for scrunchies or claw clips is easy. Here are a few things to look for when considering products.
Scrunchies
Scrunchies were fashion staples in the '80s and '90s for good reason. They make putting your hair up a breeze without causing tangles, and they come in a variety of colours, patterns, and sizes.
And, there are plenty of brands that offer eco-friendly scrunchies. Sustainable scrunchies' main advantage is that they are plastic-free and biodegradable and usually made from recycled materials or sustainable fabrics, such as organic cotton or natural rubber.
Hair Ties
Hair ties are probably the hair accessory with the shortest lifespan. They are either lost, stretched out, or broken and require frequent replacement. Knowing this, buying eco-friendly hair ties is a responsible choice.
Investing in biodegradable hair ties made from organic cotton by ethical brands supports sustainable fashion and the environment.
Claw Clips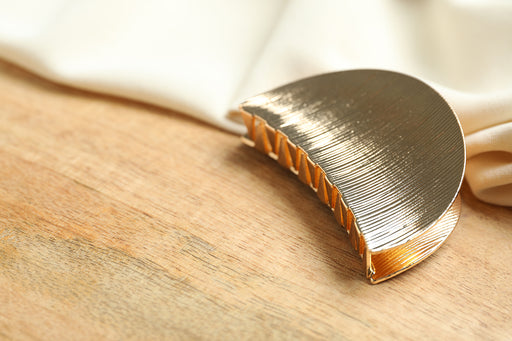 For an effortlessly stylish look, many women use a staple in the hair accessories world– the claw clip.
Traditionally, claw clips are made of plastic, but a few companies offer eco-friendly alternatives. Brands like Planet Goody and MLE use plant-based materials or recycled plastic to manufacture claw clips, which are much better for the planet.
Headbands
Though athletic headbands have always been popular, headbands as a fashion accessory have made a comeback in recent years. They give you another option for bad hair days, keep your hair out of your face, and work with any hair length or type.
Sustainable brands are aware of the headband's appeal too, and retailers such as Alfa Vega and Wolf & Badger, create styles from fashion remnants for the eco-conscious consumer.
Sustainable Fashion Accessories
In recent years, sustainability has become more mainstream in the fashion industry and that extends to accessories as well.
Sustainable Belts
One accessory that is both functional and stylish is the belt. A decent belt transforms a casual outfit into smart casual in a heartbeat, and it's a simple and effective way to look a little more put together and express your personal style.
Though traditional belts are made of animal leather, there are many vegan leather belts on the market. In addition to vegan leather, belts made of recycled rubber, cotton, recycled fabrics, or cork are also excellent choices.
Sustainable Sunglasses
The perfect pair of sunglasses fits your face shape, hair colour, and skin tone, while also matching your outfit. They are not just a stylish accessory but a critical one on sunny days.
Sunglasses are traditionally manufactured using large amounts of waste plastic and water. And, the vast majority of lenses are made from polymers derived from petroleum. Plus, most sunglasses cannot be recycled at the end of their lives.
But ethical brands have created sunglasses that perform for you and the environment. Their sunglasses don't contain dangerous chemicals and are made from recycled resources like reclaimed ocean debris, hemp, and bamboo. And, they can be recycled or composted.
Sustainable Jewellery
There are several ways jewellery manufacturers can adopt sustainable practices. Some companies use recycled and repurposed materials, while others concentrate on products that have little impact on the environment, including lab-grown diamonds that are ethically sourced. Some businesses focus on workers' rights by employing women or underprivileged people.
A brand that embraces any of the tenets of sustainability benefits the customers they serve and the world at large. When shopping for jewellery, look carefully at the brand's advertising and packaging for references to any of these sustainable practices.
Sustainable Scarves
Women around the world wear scarves all year round regardless of the climate because they are stylish and chic additions to any outfit. Scarves can be ornate and luxurious, or simple and casual and come in a variety of colours, patterns, and fabrics.
Sustainable scarves, however, eschew polyester fabrics or polyester blends, in favor of organic textiles such as cotton, cashmere, linen, or silk like the scarves Lauren Catris designs.
The manufacturing process of scarves can make sustainability challenging. Complex and detailed designs are brought to life during the dyeing and printing process. In order to be considered sustainable, manufacturers have to use non-toxic dyes and chemicals throughout the production cycle.
Manufacturers are constantly looking for novel approaches to lower their raw material use. This includes the number of chemical solutions utilised in the production of the fabrics. For example, traditional silk printing techniques have been shown to be more environmentally friendly than inkjet printing, using 40% fewer chemicals and 19% less energy.
FAQs
What is an eco-friendly accessory?
Sustainable accessories include vibrant coloured belts, eco-friendly tote bags, non-toxic nail polish, plastic-free sunglasses, and jewellery manufactured with ethical manufacturing practices. The material used for the production of these accessories should be either natural fabrics, recycled polyester, or PETA-approved fabrics. Sustainable accessories cause minimal environmental degradation and reduce pollution.
What is the most popular fashion accessory?
As you would expect, the most popular fashion accessories are those you use daily, such as jewellery and handbags. So the impact of choosing to buy these items from environmentally conscious brands quickly adds up over time.
Buying a couple of sustainable belts may not feel significant in light of the mammoth fast fashion industry. But if many of us made one tiny step in the direction of more sustainable practices, the cumulative effect would be noticeable.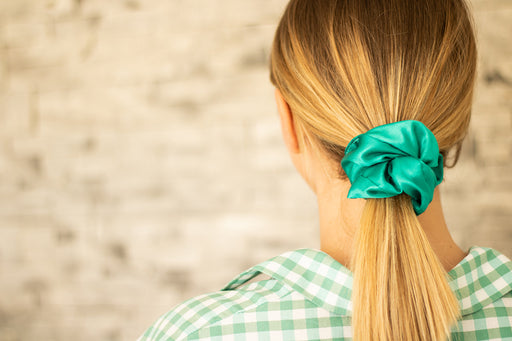 That's what we do at Hayden Hill. Our clothes storage bags are made of 100% organic, soft cotton that is environmentally friendly and allows your favorite pieces to breathe while keeping them protected from damage.