The Ultimate Guide to Women's Hat Styles
If you don't wear a hat frequently, this is the perfect time to experiment. Review the list of common hats in your current season, and visit a store where you can try on several types, and perhaps even take pictures of yourself. Then you will be able to identify what type looks best on you. After all, a hat is a stylish supplement to any outfit, making you look fashionable and unique.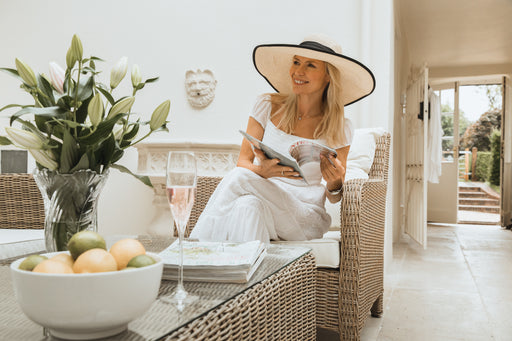 Hats have been a part womens' wardrobes for centuries. Kristen Bell, Emma Stone, Rachel Zoe, and Meghan Markle have all been spotted wearing hats occasionally. And many fashion icons can be seen wearing hats during the winter months.
Hat styles vary widely, so it's important to know what hat styles look best on you. When choosing a style, it might be helpful to be familiar with the most popular seasonal hat styles and the most common hat materials.
Summer Hat Styles
One of the reasons we love summer is that it provides an opportunity to wear fashionable, eye-catching, sun-shielding summer hats. You can easily pair some of the hat styles below with a comfortable outfit for a summer BBQ, your favourite swimsuit for beach time, or simply to quickly camouflage a bad hair day while running errands.
The Sun Hat
Perhaps the most practical hat for the summer season is the sun hat, which typically has a wide brim and a floppy shape. Their wide brims commonly measure between 4 and 6 inches but can reach a maximum of 10 inches. Wide brims are ideal for summer weather, as they instantly provide shade while supplementing an ensemble's elegance and sophistication.
The sun hat is usually fashioned of tweed or paper-braid material, because they are strong enough to sustain the weight of a wide brim. Sun hats can be found in a wide range of colours and a few different shapes, while the crown style is typically a basic, circular shape without any definition. For best results, pair a sun hat with a maxi dress, a one-piece swimsuit, or some shorts and a tank top.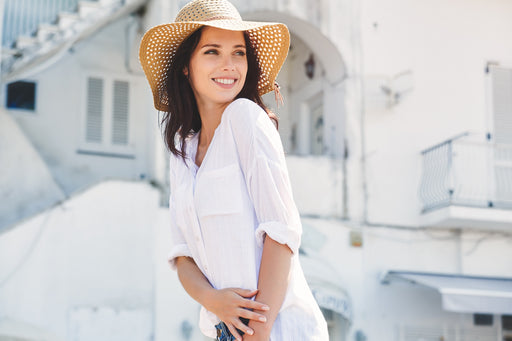 The Panama Hat
When it comes to women's hat styles, one of the most elegant and classic types is the Panama hat.
Panama hats are made of toquilla straw, and depending on the fineness of the fibres used, these hats can cost up to tens of thousands of dollars. The most common Panama hat style is a wide-brimmed plantation or fedora style.
For best results, wear a Panama hat with a jumpsuit for a more formal occasion, a flowy maxi dress, or wear it to the beach combined with an oversized linen shirt.
The Cloche Hat
In recent years, the cloche has regained popularity, and it can be found in a variety of colours and materials. It is a snug-fitting, bell-shaped hat style with a rounded top that occasionally has a small flare at the bottom.
A subtle lace cloche hat is the ideal summer hat for casual wear as well as for weddings, graduations, and garden parties. For best results, pair it with some of your more elegant summer outfits to add a touch of sophistication.
Winter Hat Styles
Winter often necessitates the use of many additional accessories, such as boots, gloves, scarves. And, though these items are usually the first we think of when it comes to winter accessories, don't forget about hats. To stay warm in cold weather while looking stylish, consider some of these fashionable women's hat styles.
The Beret
A soft, round, flat-crowned cap - the beret is one of the most adaptable pieces in a woman's wardrobe, elevating even the most basic outfits. A long-term favourite among women's felt hat styles, the beret is worn for both its fashion and political statement.
For best results, pair it with casual combinations such as jeans and a sweater, or combine it with a fake leather skirt, a turtleneck, and some knee-high boots.
The Beanie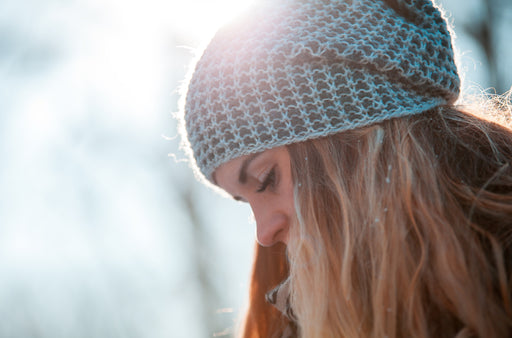 The beanie, also known as a stocking cap or toboggan cap, is a tightly knit cap designed to keep your head warm in cold weather. Some of the most well-known beanie styles are the hipster beanie, high-top beanies, cashmere beanies, the slouch beanie, pom-pom beanies, and woven beanies - the oldest of the beanie clan.
For best results, try some of the following combinations. Choose an oversized beanie for a bold look. A fitted style creates a classic look. You can't beat a beanie for its warmth and style on a wintry day in the mountains; a fine-knit beanie fits easily beneath a ski helmet when you're on the slopes.
The Winter Boater
The Boater, usually made of straw, is commonly thought appropriate only for warm weather. However, the winter boater, which is made of wool, is a winter hat style that shouldn't be dismissed. This design of this hat adds structure to a look, whether it is being paired with ultrafeminine clothing or menswear-inspired attire. For best results, pair your winter boater with a dramatic outfit for a luxurious effect, or opt for a sleek, black boater for a timeless look.
The Faux Fur and Shearling Hats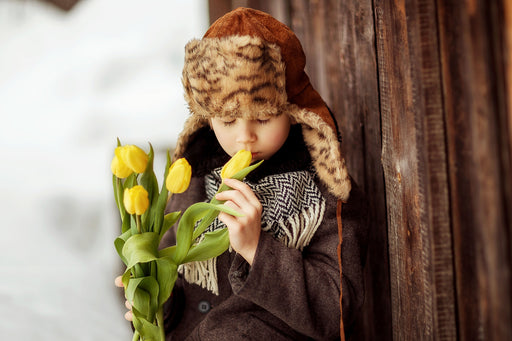 The smartest and most fashionable choice you can make for fall and winter headwear is the faux fur hat or the shearling hat. Whether you choose a hat with a soft, textured finish or decide on a reversible shearling design, this will be the one piece in your winter wardrobe that will certainly stand out. For best results, wear this as a daring and confident choice, and pair it with high heels and formal wear.
Year-Round Hat Styles
Given their ability to be worn all year long, these hat styles come in a wide range of styles and varieties, each with its own special and distinctive size, features, appearance, and background.
The Baseball Hat
One of the favourite hats worn by people all around the world is the baseball cap - a true symbol of American tradition. They are excellent grab-and-go hats because they are straightforward, casual, and simple to wear and pair with clothing. They typically feature 6-quarter panels with a button at the top and a short to medium-sized bill that can be either flat or curved in the front. Although the baseball cap may be associated with sports, you don't have to be active to wear one.
To rock a street look, choose a neon or black leather baseball cap. For a more classic look, select a neutral-coloured cap with minimal insignia.
The Cowboy Hat
John B. Stetson created the first cowboy hat during the American Civil War. A cowboy hat has a smooth, slightly rounded crown and a flat, rounded brim. Over the years, there have been many variations of the cowboy hat, but by far, the most well-known ones are the sombrero, the gambler hat, and the Akubra hat.
For a chic western look, pair this hat with cowboy boots, denim cut-offs, and a graphic tee, or bring a straw version of the cowboy hat to the beach.
Common Hat Materials
Hats are made of many different fabrics. Knowing the fabric of your hat is important since it provides clear guidance on how to take care of your hat.
Cotton
Cotton hats are typically quite sturdy, easy to pack, and often hard to crush. They are typically soft and come in a wide range of colours.
Wool Felt
When wool is rolled, compressed, and exposed to moisture, heat, and pressure, the fibres mat or interlock, which creates felt fabric. This fabric is silky and available in a wide range of colours.
Straw
Straw comes in a wide variety of types that can be used to fashion hats. They differ in terms of colour, durability, fineness, and strength. Many crushable and packable hats are made of raffia, while Panama hats are made of toquilla palm straw. The best straw is meticulously selected for consistency of colour, texture, and pattern, yet almost any straw can be made into a hat. This is a fabric that is remarkably durable, affordable, and light but should not be exposed to water.
Polyester
It is very rare that a hat will be made solely of polyester. Typically, hats are mixed with cotton to add stretchability. Although they do not breathe as well as other textiles, polyester-blended hats usually have a long lifespan.
Toyo/Paper Braid
The material used to make toyo hats, also known as paper-braid hats, is finely woven paper. The paper is first weaved into strands similar to straw and then bent into the required shape. Because of their affordable price and respectable endurance, this type of women's hat style has been becoming more sought after. Although this material is quite resilient, it is still not as durable as raffia or straw and is much more difficult to steam back into shape after being crushed. Hats made out of toyo should not be exposed to water.
Sustainable Hats
With hats being made from a variety of fabrics, some of which are not environmentally responsible, there are now options to buy hats from sustainable brands. Sustainable hats are made of natural or recycled materials by companies that prioritise fair labour practices. Some of the top eco-friendly brands include TenTree, prAna, Eileen Fisher, and United by Blue.
FAQs
1. What style of hat is in style?
The most in-demand hat styles for summer 2022 include a crochet baseball cap, a headscarf, a crochet swim cap inspired by the 1920s, a wide-brimmed bucket hat, a crochet bucket hat, a terry bucket hat, a straw cowboy hat, a wide-brim sun hat, a chin-tied hat, a colonial-style bonnet, and a straw cloche hat with ribbon. However, when it comes to choosing your hat, there are a lot more factors to be considered other than current trends. Choose a hat based on which type of hat suits you best, as well as the purpose for which you will use the hat.
2. What is a woman's hat called?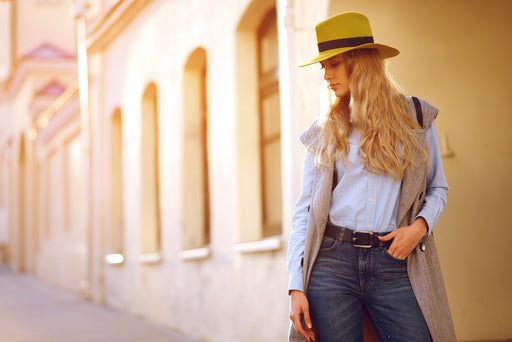 When it comes to the subject of women's hat names, there is no one simple answer. For example, in the UK, a fascinator is a formal hat in millinery fashion. The phrase has been used to describe a formal headpiece worn in place of hats since the 1990s; it often consists of a sizable ornate design fastened to a band or clip. Other women's hats have equally specific names that are largely based on the hat's purpose or shape.
3. How do you pick a women's hat style?
The best way to pick your hat style is to know which hat style suits your face most. For an oblong, long, and narrow face, the best choice may be a cloche, floppy, or fedora hat. People with a square-shaped face may look best in a softer design like a cloche or or a hat with a round or curved crown. Individuals with round-shaped faces should opt for an angular and asymmetric hat style, wide brims, and structured hats.
4. What style of hat is most popular?
Even though they first found favour in the 1920s, fedoras are still among the most often worn hat styles today. The fedora hat, which became synonymous with Frank Sinatra, has changed over time to become slightly distinct and evolved into hat types such as the Pork Pie, Trilby, Snap Brim, and Stingy Brim.
If you don't wear a hat frequently, this is the perfect time to experiment. Review the list of common hats in your current season, and visit a store where you can try on several types, and perhaps even take pictures of yourself. Then you will be able to identify what type looks best on you. After all, a hat is a stylish supplement to any outfit, making you look fashionable and unique.