How to Wear 5 Types of Scarves
Scarves are timeless fashion accessories that have stood the test of time over the centuries. We are enchanted by their many forms, and the possibilities for wearing them seem limitless. They continue to evolve because, in addition to being a popular fashion accessory, they also provide comfort and protection.
The scarf, a symbol of femininity, elegance, and sophistication, is one of the most classic and versatile clothing accessories. Scarves were used for centuries, across contrasting cultures, for a variety of purposes. A scarf can serve as an artistic piece, a status symbol, or as a layer for warmth, and that's why it's important to know how to wear a scarf in ways that honor your personal style.
The Evolution of the Scarf
The scarf can be traced back to ancient Egypt and Queen Nefertiti, who supposedly wore a woven wrapped scarf under an extraordinarily jeweled headpiece.
However, scarves were not always worn exclusively by women.
In 1810, Ludwig van Beethoven was the first to make the scarf a fashion statement. He tried to entice Austrian singer Therese Malfatti with his fine suits, shirts, and scarves.
A few decades later, in 1837, during the reign of Queen Victoria, silk scarves rose to prominence as a sign of luxury and as a symbol of the nobility.
Silk's popularity in Europe led to improved production methods and greater supply of silk. In the years following World War II, Liberty of London began manufacturing thin silk scarves, which quickly became a must-have accessory.
In 1937, the French luxury fashion house Hermès started making square silk scarves. They imported Chinese raw silk, which was more long-lasting and stronger than any other material at the time.
The designs emphasised the Hermès's equestrian heritage and are still popular to this day. The Hermès scarf had very specific details such as hand-rolled edges and hand-printed details that made the fashion house iconic.
They were an instant hit, especially among celebrities and royalty. The famous actress Audrey Hepburn often wore them as a headscarf or tied around her neck. And when Grace Kelly fractured her arm in 1956 she made her own slings out of Hermès scarves instead of using the ones the hospital provided. Even Queen Elizabeth adopted them as part of her wardrobe, wearing them as headscarves.
Scarves as Luxury Accessories
Following the Hermès example, many fashion houses began imprinting their signature designs on scarves. Burberry, for instance, made their renowned tartan check available on a scarf for less than a sixth of the cost of their iconic, beige trench coat, making it affordable for women worldwide.
More importantly, scarves allowed women of all incomes to wear designer brands and gave high-end fashion houses a powerful global presence.
Silk Scarves as Glamour Accessories
After celebrities such as Audrey Hepburn and Grace Kelly began wearing scarves on-screen and off-screen, scarves quickly became a sign of glamor, power, and independence. Audrey Hepburn once said, "When I wear a silk scarf I never feel so definitely like a woman, a beautiful woman."
In the 1950s and 1960s, fashion icons, including Brigitte Bardot, Faye Dunaway, Lauren Bacall, Bianca Jagger, and Jackie Kennedy, embraced silk scarves to add a touch of glamorous sparkle to their outfits.
By the 1970s, inspired by the decade's free-spirited vibe, the scarf had bolder designs and eye-catching colours. They were used as dramatic headwraps or around the neck to go with flowy outfits.
Cashmere Scarves
Both cashmere scarves and pashminas have been in demand since the 18th century due to their softness, warmth, and elegance. They were regarded as exotic and rare since cashmere was made from goats that lived in Kashmir, India's mountain region.
Pashminas became widely popular in the '90s because the shawls allowed women to cover their arms and chest when wearing sleeveless styles.
Adapting to Modern Life
In recent years, there has been a shift in how scarves are used. And, a wide variety of synthetic and natural fibre blends, from acrylics to rayon have led to more innovative designs.
People all across the world use the modern scarf to display their individual fashion sense and style. The scarf can be found in almost every culture and almost every possible arrangement. The scarf has established itself as a fashion staple in the current era because of its elegance and longevity.
How to Wear Different Types of Scarves
A scarf never goes out of style and is a fantastic way to instantly create a chic look. However, as with many accessories, the key is in the styling. So, we've compiled a list of our favourite ways to wear different types of scarves.
How to Wear a Square Scarf
Square scarves can be the finishing touch to many outfits and are a must-have for anyone looking for an elegant and polished look.
Fold a small square scarf half diagonally to form a triangle. Grasp the two long ends of the scarf. Place the triangular scarf across your chest. Bring the two ends all the way around to the back of your neck. Swap them so that your left hand now holds the right end and your right hand holds the left end, and pull the ends of the scarf to the front.
Now, both ends and the front of the scarf should rest on your chest. The scarf should hang in a triangular shape, with the two ends tapering off to each side. If the scarf is too tight around your neck, grasp it at the front and gently pull it looser. Place the knot on your chest as high or low as you like.
How to Wear a Headscarf
The headscarf is a stylish trend and a fun way to add a pop of colour to a basic outfit. When it comes to wearing a scarf on your head, there're many different looks to try:
Turban - for an eye-catching look, pony tie - where you tie a scarf around your ponytail, the bandana style - best used with a small silk scarf, the Grace Kelly look from the '50s - best used with a lightweight scarf, and many more to choose from depending on your personal style and the occasion.
There are many ways to tie a scarf around your head, and they all look classy and chic. The best thing about headscarves is they are easy to adjust and create an aura of confidence, with a twist of old Hollywood glamor.
A great way to wear a headscarf is by wrapping it under your hair and tying it at the base of your neck, like a bandana. If you are looking for a retro-chic movie star vibe then wrap your headscarf around your head and under your chin.
Or, if you want to keep your hair in place, try the all-wrapped-up, turban style. It looks fashionable and keeps your hair out of your face and neck.
How to Wear a Long Scarf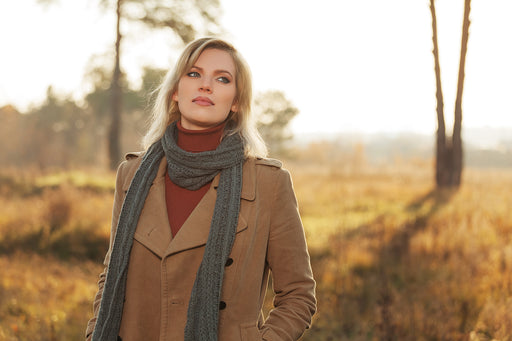 A long scarf is for all seasons and comes in a variety of materials. The long scarf can be a great filler when wearing an open jacket or a coat. You can opt for a square one or a long rectangular scarf.
A simple way to wear a long scarf is to allow the ends to hang loose or to wrap one end around the neck. You can also tie a loose knot a few inches below the bottom of one end of the scarf and thread the other end through it. You can also use scarf pins, which allow you to thread the scarf for greater security.
How to Wear a Blanket Scarf
Blanket scarves are comfortable accessories that can be used in a variety of ways. Typically they have an extremely oversised square shape, which distinguishes them from all the other scarves in your wardrobe. They can be lifesavers during a cold winter.
One of the easiest ways to wear a blanket scarf is like a shawl, letting it cover your shoulders and arms. A blanket scarf can be also worn with a belt over a coat. Even under all that fabric, this is a terrific way to draw attention to your waist.
Simply tie the blanket scarf around your neck, allowing it to hang down in front, and fasten it around your waist with a belt. Also, thick blanket scarves look chic when wrapped and draped messily. Just drape all of that fabric around your neck, allowing the corners to fall where they may.
How to Wear an Infinity Scarf
An infinity scarf is one that is a loop, having no ends. It is most commonly worn doubled-up or in one long loop. But it can also be worn as a shawl or by pulling one end through the loop of the other.
Infinity scarves are best worn over a sweater, jacket, or dress and will add interest and sophistication to your look.
How to Wear a Scarf With a Dress
Wearing a scarf with your dress adds an extra layer of style and warmth. A colourful, soft, and luxurious scarf can elevate your look by making a plain dress more appealing. You may either wrap it around your shoulder for a more elegant look or around your neck with the ends hanging in front of you.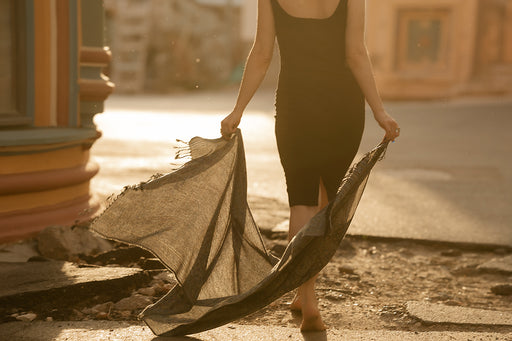 FAQs
How do you properly wear a scarf?
A scarf is one of the most versatile accessories there is; it can be worn in many different ways. Over a dress, around your neck, or on your head are just some ways you can wear a scarf. A scarf can be used to add aesthetic appeal to an outfit or practically to keep you warm in cold weather.
How do you look elegant with a scarf?
There is no easier way to achieve an elegant and tasteful look than with a delicate, luxurious silk or a cashmere scarf. Simply drape your scarf across your shoulders, over your dress, or with a coat and you will instantaneously have a classic look.
Scarves are timeless fashion accessories that have stood the test of time over the centuries. We are enchanted by their many forms, and the possibilities for wearing them seem limitless. They continue to evolve because, in addition to being a popular fashion accessory, they also provide comfort and protection. Whether worn as a classic fashion statement, as a trendy headscarf, or over the coat with a belt, scarves will always have a place in every woman's wardrobe.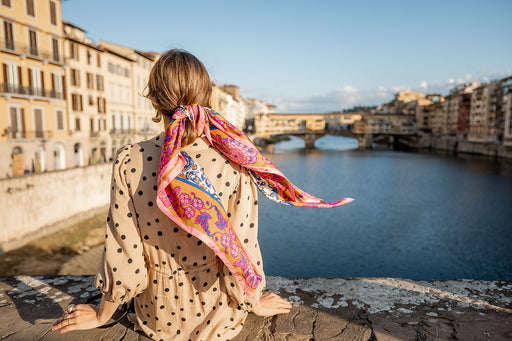 Hayden Hill garment bags are uniquely made of 100% organic, soft cotton that allows your favourite pieces to breathe while keeping them protected from damage. We deliver sustainable and beautiful garment care to preserve and protect the clothes you love most.