Lauren Catris Tells Stories Through Fashion
One of the bloggers we were honoured to chat with is Lauren Catris of the Lauren Catris brand. Her unique story and sustainability inspired us, and we hope you will feel the same.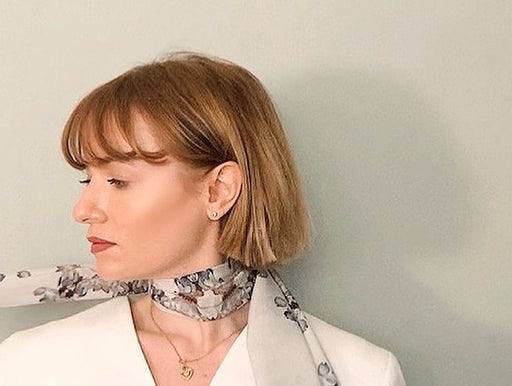 It seems as if the term "sustainability" is everywhere. This concept has made its way into nearly every industry from agriculture and architecture, to energy and packaged goods, to transportation and fashion.
And, as you probably already know, Hayden Hill is deeply committed to sustainability. We are very purposeful about how we design and manufacture our products, with sustainability driving many of our decisions.
Our bags are made of 100% organic cotton certified through GOTS, which also guarantees the ethical treatment of workers. And, the detachable leather zipper pulls on our bags are sourced from a Leather Working Group-certified company.
Hayden Hill is a 1% for the Planet member and is certified Carbon Neutral by carbonfund.org.
It's also important to us to collaborate with other companies and individuals who are furthering the sustainability movement.
That is why we are launching a series of blog posts to profile online influencers who are promoting sustainability in their own unique ways and building communities of like-minded people along the way.
One of the bloggers we were honored to chat with is Lauren Catris of the Lauren Catris brand. Her unique story and sustainability inspired us, and we hope you will feel the same.
---
For thousands of years, people have sat around campfires and tables telling stories. And, millions of books have been written that are filled with stories waiting to be read.
Stories are powerful, both for the teller and the hearer. It's our way to share experiences with each other and find common ground. The elderly share tales of life before computers and the Internet. The young tell of their latest adventures and roast their friends. And, we all start with the words, "Remember when…"
Our clothing becomes a part of our stories, too. Like the suit you wore to your first job interview. Or the bustle on your wedding dress. Perhaps the outfit you bought to bring your child home from the hospital.
These details become part of our memories, allowing us to relive them in vivid detail.
It's this power of story and memory that Lauren Catris has in mind when she sits down at her desk to design a new pattern.
Lauren is the owner, artist, and fashion designer behind the UK-based Lauren Catris brand. And, Lauren's story, just like her perspective on fashion, is anything but conventional.
Not long after graduating from university, Catris found herself working as a shop assistant. And, she was miserable, not because of the work, but because she knew her purpose in life was not to be a shop assistant. Her educational background in art and design had shown Lauren her true passion. And, even pursuing design in her off hours was not enough to feed it.
After realizing this, she knew she had to start her own design business. A family friend reached out at the perfect time and told her about Business in Focus, a government-led program that helps Welsh businesses start, prosper, and grow. The program helped Catris create a business plan and provided the necessary funds to launch her business.
Through this process of dreaming and planning her business, Lauren realized that she didn't want to just create beautiful fashion; she wanted to create meaningful pieces.
And, some of the most meaningful things in Lauren's life were stories. One memory Lauren treasures is of the stunning manor house with beautiful gardens where she spent most of her childhood. She would play games in the gardens with family and friends, and they would have picnics in the summer. (This spot was the inspiration behind Catris's Secret Garden Collection.)
Catris realized that she could commemorate these stories, and translate the nostalgia into art.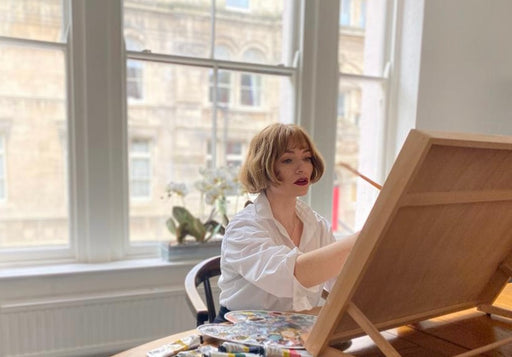 But she hadn't decided how that art would become a piece of fashion.
The first step was to select a fabric. At university, Lauren loved working with luxury, high-end fabrics, which made her consider silk.
"Silk is a fabric that people care for and treasure. They use these luxury pieces year in and year out, and then these timeless items become a part of their story. Clothing triggers nostalgia, and I wanted to create that."
So, Catris began her search for a local company that made 100% silk. Though many designers use manufacturers in other countries to make their products at a lower cost, it was important to Lauren to support local business and to partner with a company that fairly compensated their workers.
Lauren was able to find a company located in Worcestershire, England, and she began printing her unique sketches on silk scarves. Because scarves can be paired with different outfits and are often kept for many years, they were ideal for Lauren's business launch.
With 4 scarf designs, the Lauren Catris brand launched in 2014, and since then, Lauren has expanded her product line to include pocket squares.
Lauren's designs are based on her own stories. She designed the Shirley Collection to honor her grandmother, and Lauren wrote an accompanying poem recalling memories of her. Family is important to Catris, and her collections are an outlet to show that.
Lauren also recently began offering bespoke silk accessories. Though her collections are based on her own stories, bespoke products allow her to create pieces that reflect her customers' stories.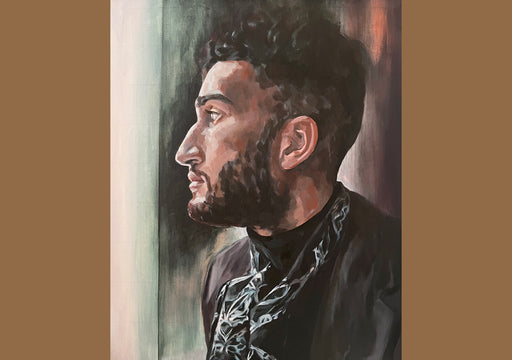 One customer had lost her parents and wanted a piece that reminded her of them. Lauren used a photo from a Lake Garda vacation as inspiration to create a scarf that was reminiscent of the couple. Another customer gave Lauren a dragonfly broach that had belonged to the customer's grandmother. Lauren used it as inspiration to design a scarf for the customer's mother and pocket square for her uncle. "Often, my bespoke customers have emotional responses when they see the items I create. It is an honor to help them memorialize their loved ones."
It's clear that creating pieces rich with story and meaning is important to Lauren, which is why she dislikes the common fast fashion practice of buying items void of meaning.
Instead, Catris recommends people start by buying things they want to wear forever. But to do that, she says, "You have to know yourself. We are so used to copying others. People are so influenced by who they follow online. Know what you like without following what everyone else is doing and thinking. Have confidence in yourself. Buy classic pieces that you can mix and match and accessorize to change it up. If you truly love an item and can attach your story to it, you won't want to throw it out."
This is Lauren's personal philosophy when it comes to fashion, and she speaks of her business endeavors with the same balance of confidence and compassion.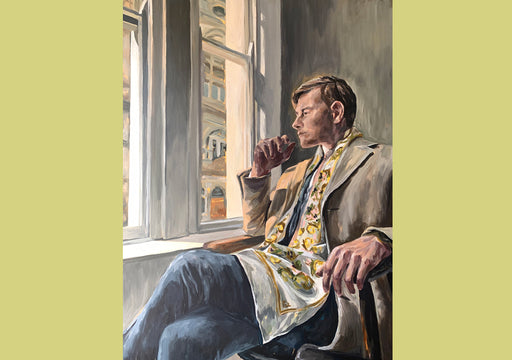 Lauren has big aspirations for her business, but she is clear that she isn't motivated by financial success but by connecting with others. So, one goal on the horizon is to design products that allow her customers to connect with her art. She plans to launch a line of paintings that feature people wearing her scarves and pocket squares, which can be purchased separately. It's art that comes to life; art you can be a part of.
Lauren Catris is a storyteller whose stories are told through art, drawing, and painting rather than words. And, sometimes that can be more powerful, for then the viewer can create their own story from what that art awakens in them.
"It's this ability that makes us human. These emotions and memories and stories make up who we are. Style is a way to evoke and display that. My designs simply give people another way to connect with others by showing the world who they are."