Items Every Winter Capsule Wardrobe Should Include
In some climates, it can feel like winter stretches on forever, and your clothing seems to be mainly practical. The goal is to stay as warm as possible regardless of how cold or snowy it gets outside. But, a winter wardrobe can be more than simply practical. Ideally, your winter wardrobe should achieve several goals, including comfort, function, and style.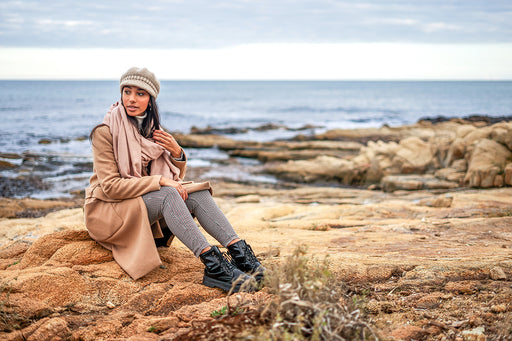 Dressing in winter can be tricky when you are trying to stay warm in cold weather and still look fashionable. Style often takes a back seat to practicality, but it doesn't have to be that way.
Creating a winter capsule wardrobe is one way you can curate a collection of clothing that makes you feel confident and in vogue all season long.
How to Curate a Winter Wardrobe
In some climates, it can feel like winter stretches on forever, and your clothing seems to be mainly practical. The goal is to stay as warm as possible regardless of how cold or snowy it gets outside.
But, a winter wardrobe can be more than simply practical. Ideally, your winter wardrobe should achieve several goals, including comfort, function, and style.
Comfort
Before you purchase an item for your winter wardrobe, take the time to consider whether the item is comfortable. Even if the trending look is skinny jeans and turtlenecks, if those items make you uncomfortable, then don't buy them. And, don't buy garments that don't fit well.
Wearing an outfit all day that makes you feel uncomfortable will only make you miserable. You will feel much more confident and happy if your clothing is comfortable and fits well.
Function
Functional clothing is extremely important in winter. There may be occasions when you will be outside for an extended period of time or need to walk through snow. Having warm clothing and shoes that function well no matter the weather is a must.
Style
While winter might not be the most fashionable season, it is still possible to infuse style into your wardrobe. Even the most practical outfits can be elevated with high-quality garments and beautiful accessories.
Top 5 Winter Wardrobe Basics
There are a few staple items that are must-haves for every winter wardrobe from a comfort, function, and style perspective.
Tops
Outerwear
Bottoms
Shoes
Tops
In cold weather months, long sleeve crewnecks, bodysuits, turtlenecks, or relaxed shirts are essential. They're super soft, comfortable, and look amazing when styled correctly. You can layer with them or pop a cardigan over them, and they will keep you warm no matter the occasion.
Sweaters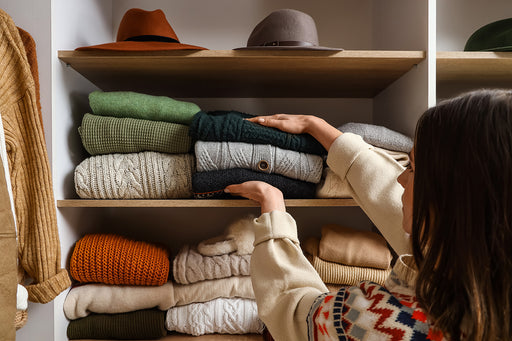 One of the best parts about colder weather is getting to wear sweaters more often. You can style sweaters with denim jeans or trousers for a perfect chic winter outfit. A wool turtleneck, oversized sweater, or knitted dress are ideal pieces for your winter wardrobe.
Outerwear
Outerwear items like a wool blazer, a long puffer jacket, a long black coat, or a sherpa coat make incredible additions to your winter wardrobe. Mix and match different tops and sweaters with these jackets, and you will have several fashionable looks.
Bottoms
Having a variety of trousers and even skirts can help you create endless winter outfit combinations. Cropped blue jeans, black skinny jeans, wool trousers, straight-leg jeans, and leggings can all be mixed and matched to create new looks.
Shoes
Shoes are probably one of the most important elements of a winter wardrobe. And you can never have enough! From casual boots to winter boots to heels and sneakers, there are many different styles of shoes needed for different occasions.
Because winter occasions and events require so many different types of clothing and accessories, your winter wardrobe can quickly become overwhelming. One way to keep winter apparel to a manageable amount is to create a capsule wardrobe.
Winter Capsule Wardrobe Essentials
A winter capsule wardrobe is typically simple and neutral and can be tailored to fit your lifestyle, whether that's relaxed, casual, or dressy. Choose pieces that you know you'll wear over and over again to avoid overspending.
Ideally, a winter capsule wardrobe will include warm outerwear, such as a puffer jacket or a long wool coat, along with sweaters, leggings, tops, a sweater dress, winter boots, and some accessories. These staple pieces are necessary items for mixing and matching to create new looks.
Long Wool Coat
A long wool coat is a perfect addition to any winter capsule. This wonderful piece can be dressed down with a classic pair of jeans and boots or dressed up with a sweater dress and heeled ankle boots.
Depending on where you live and the severity of the winters there, you can choose a thicker wool coat or a lightweight one to add to your winter wardrobe.
Puffer Coat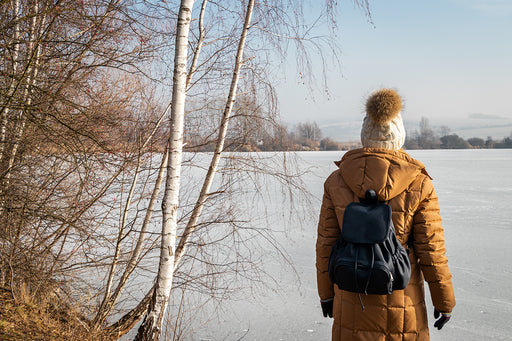 Winter can be a bit unpredictable, which is why it's always best to be prepared. A puffer coat is very useful in harsh winter conditions. If you live in an area that gets a significant amount of snow, then opt for a long puffer coat; however, if snow is a rarity you can choose a smaller or more lightweight puffer coat.
Shirt Jacket
A cozy wool shirt jacket (or shacket) is the perfect piece for days that are slightly cool but not cold. Since oversized shirt jackets are trendy, this piece is easy to find.
You can stick to neutral designs like plaid, or neutral colours like taupe or beige. But if you're feeling adventurous, then feel free to go for more bold colours.
Knit Sweaters
Sweaters are so versatile that you may want two or three of them in your wardrobe. Those with a crew neckline, half zip, or v-neck are all great options.
You can wear neutral tones, or add subtle wintery colours, such as green, blue, or gray. This will make it easier to mix and match your sweaters with different outfits.
If you live in a place with cold, snowy winters, opt for warmer fabrics like wool or cashmere. Cashmere is also a good choice for those living in areas with mild winters.
Turtleneck Sweater
A turtleneck is another classic essential in a minimalist winter capsule wardrobe. On a particularly chilly day, you can put on a comfy turtleneck to stay warm and cozy, then complete the look with a jacket or coat.
Knit Cardigan
Layer a knit cardigan over long sleeve tops or a sweater dress for the perfect winter look. A cozy knit cardigan is a garment you'll find yourself falling in love with and wanting to style over and over again.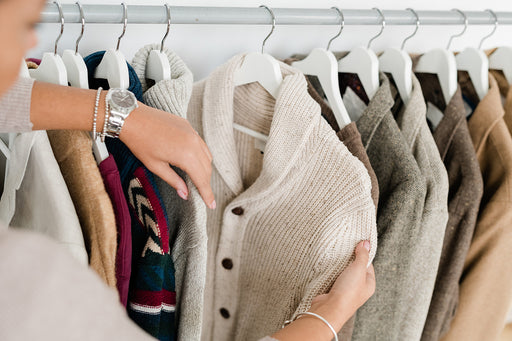 Knit Hoodie
A knit hoodie will keep you warm without compromising your style as a basic sweatshirt would. Pair a wool-blend hoodie with your favourite pair of jeans or leather trousers. Add a pair of knee-high boots and you're good to go! You can easily layer this piece under a coat for extra warmth, while still maintaining that put-together look.
Sweater Dress
A ribbed sweater dress can be dressed up or down, depending on the occasion, and provide extra warmth. It is great for even the simplest occasions like running errands.
You can choose any long-sleeved dress to add to your capsule, but a sweater dress adds an air of femininity to your capsule wardrobe.
Long Sleeve Bodysuit
Bodysuits are a classic winter wardrobe staple that can be worn with layering pieces such as wool coats, sweaters, or knit cardigans. Colours ideal for layering include ivory, light gray, and beige.
Bodysuits can also be paired with jeans and heeled boots for a simple but chic look.
Basic T-Shirt
A high-quality, neutral-coloured t-shirt is probably one of the few items you can wear all year round. It can be dressed up or down depending on the occasion.
In winter, a t-shirt is great for layering under something warmer like a puffer coat or thick sweater. This way, if you get warm, you can remove the sweater.
Vintage Wash Jeans
Another staple in any winter capsule wardrobe is a pair of vintage wash jeans. And, once you've found the perfect pair, you'll find yourself wearing them often. You may want to opt for darker tones, such as black or dark blue denim wash.
Leather Leggings
Black leather trousers or leggings are the perfect addition to a great winter wardrobe capsule, simply because they're super versatile and provide a sophisticated look when styled.
Leather leggings are naturally thicker, and will keep you much warmer than cotton or knit leggings.
Winter Boots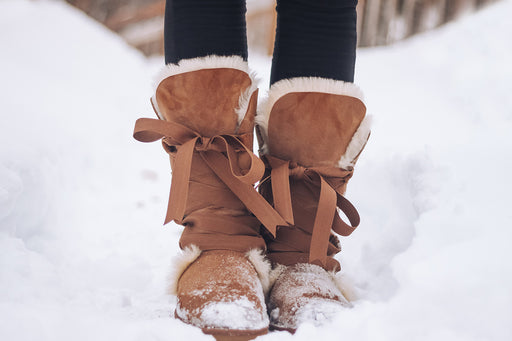 Stylish winter boots are a must for your capsule wardrobe. You'll want warm and cozy winter boots that are also waterproof, so you'll have appropriate footwear for any kind of weather.
Chelsea Boots
Chelsea boots are casual, yet look great with many different outfits. They work well with dressy and casual outfits; you can't go wrong with this type of boot.
Ankle Boots
Heeled ankle boots provide a polished look to any winter outfit. A fashionable look could be a ribbed sweater dress, a wool coat, and some fancy sunglasses.
Leather Tote Bag
A large leather tote is a great accessory to have in a winter capsule wardrobe. Opt for neutral colours like black, brown, or taupe that pair well with any outfit.
Accessories
Finally, add a selection of practical accessories to your winter capsule wardrobe to tie your outfits together. A cozy beanie, a scarf, leather gloves, stylish earrings, and sunglasses add the finishing touch to your look.
FAQs
How many items are in a winter capsule wardrobe?
A winter capsule wardrobe contains anywhere from 25-50 timeless pieces that you can easily mix and match to create new looks.
How do I build a capsule wardrobe for winter?
Start by evaluating your current wardrobe to see what items you already own that are high-quality, pair well with many other pieces, and that you love to wear. Then decide what items are needed and would mix and match well with other clothes you own. Use the list above for inspiration. This will allow you to create a shopping list and find items that will help you curate a winter capsule wardrobe.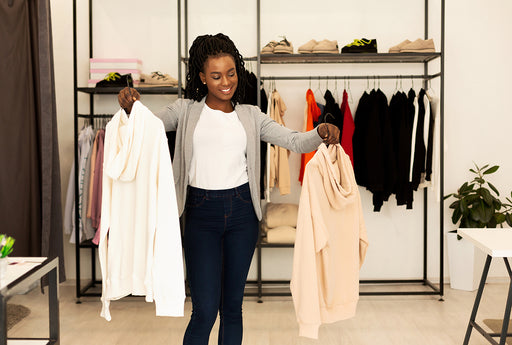 Designer Max Azria said, "Fashion is about comfort and feeling good." In winter, it's more important than ever to fill your wardrobe with items that are stylish, comfortable, and make you feel good.
And, if you store your favourite winter pieces properly in high-quality clothes storage bags, they will last many seasons. Hayden Hill bags are uniquely made of 100% organic, soft cotton that is environmentally friendly and allows your favourite pieces to breathe while keeping them protected from damage. We deliver sustainable and beautiful garment care to preserve and protect the clothes you love most.