The 5 Most Timeless Fashion Accessories
While some accessories are more trendy, edgy, and may fade in popularity, others have stood the test of time. These five classic, timeless pieces are why fashion accessories will never lose their place in any wardrobe.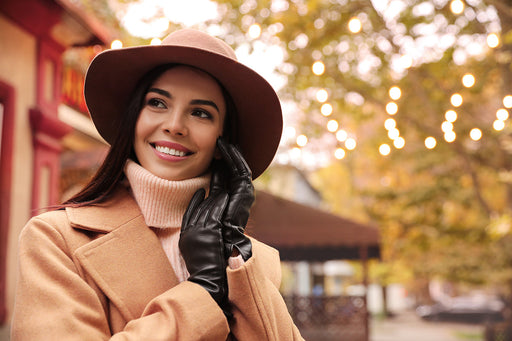 Fashion accessories have been popular since the beginning of civilization, and still today, women and men rely on accessories to take an everyday outfit to the fashion edge.
And, while some accessories are more trendy, edgy, and may fade in popularity, others have stood the test of time. These five classic, timeless pieces are why fashion accessories will never lose their place in any wardrobe.
Earrings
According to archaeologists, women in Sumeria (modern-day Iraq) wore gold hoop earrings in the shape of a crescent as early as 2,500 BC. Earrings were worn by both men and women in Egypt in 1,500 BC. The majority of ancient Egyptian earrings were plugs or studs with a mushroom shape.
From the 11th through the early 16th century, popular hairstyles covered the ears entirely, making earrings useless and impractical. But, they successfully regained their popularity in the late 17th century.
Popular Types of Earrings
Stud earrings, by far the most common type of earring, typically include a single gemstone tucked delicately into a prong made of precious metal. This earring type comes in a plethora of designs, from simple, petite studs to massive halo set diamonds, and can feature priceless gems, delicate beads, or pearls. Wear studs by themselves for a classic and elegant look, or combine them with other sparkling jewelry for a grander, more opulent look.
Hoop earrings have been a staple piece of jewelry for women of many cultures for decades. Most commonly shaped as a full circle, these earrings are available in a range of precious metals and a variety of sizes. However, when it comes to hoop earrings - the bigger the hoop, the bolder the fashion statement. By using daring, geometric patterns like triangles or crescents, hoops have gained a contemporary edge in the fashion accessories world.
One of the more dramatic earring designs available, drop earrings plunge below the earlobe in varying lengths. Choosing to wear this type of earring is a striking and elegant way to dress up for a night out on the town or a special occasion. Wear drop earrings with cascading sparkling diamonds for a formal event, or choose a shorter, modern version to liven up your everyday ensemble.
Huggies are one of the newest earring styles and are frequently worn in addition to other jewelry. Huggies are intended to be a delicate, eye-catching ornament that closely hugs the ear rather than fanning out like a standard hoop. They are similar to hoop earrings in design. Huggie earrings can be paired with a traditional updo to accentuate the ears, a beloved necklace or chain bracelet, or both.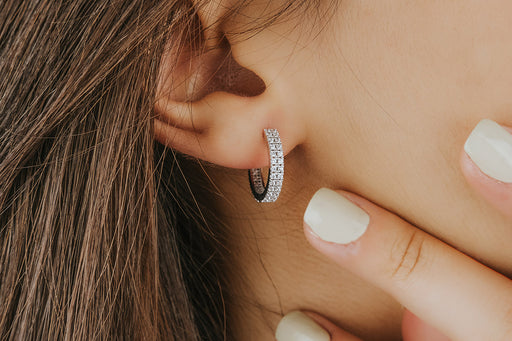 Hats
The earliest known hat was worn by men during the Bronze Age around 3,300 BC. Historically, a hat was a status symbol that was also associated with religion, tradition, or culture.
Hats are the ideal fashion accessory that marries form and purpose. They come in a variety of different styles and can be worn for fashion or function depending on the occasion.
Popular Types of Hats
A wide-brim sun hat is a timeless, summer staple piece that is lightweight and typically made of plant fiber and straw. The sun hat is the ideal beach or tropical island accessory but can just as easily be worn to an outdoor party or a fun picnic. Wide-brim sun hats make the perfect floral dress accessories when you style them with light sandals and a pair of simple sunglasses.
Initially worn by men, fedoras gradually became popular among women as well. Fedoras made for women are more feminine, thinner, and usually adorned with frilly accessories like ribbons, pearls, and flowers. The fedora is one of the few fashion items that have an empowering and self-assuring effect on a woman, much like wearing red lipstick. Including this hat in your wardrobe can help you make a lasting impression, especially when paired with jumpsuits, trousers, or summer dresses.
Berets, originating from Spain and France as a part of a military uniform,didn't make their debut on the fashion scene until much later. Berets are flat hats without rims, adored by fashion bloggers all over the world. Wool, cotton, and acrylic are just a few of the materials used to make berets. Almost any outfit will benefit from the sophisticated touch of an added beret.
Gloves
Before the 20th century, gloves marked the social status of the woman wearing them. But, even more than that, gloves have a rich history of how they governed women's modesty and social norms and rules.
Though today gloves are often forgotten as an accessory, they are still unmatched when it comes to adding a powerful touch of elegance to an outfit.
Popular Types of Gloves
A black leather glove is a necessity during cold weather months. The ideal glove might potentially last for decades when chosen carefully and maintained.
Nearly every runway has featured opera gloves. And although the glitz of this gorgeous glove conjures up images of a night at the theater, the design is surprisingly wearable in regular settings. The opera glove has also proven to be a practical addition, serving as the ideal method to stay warm while preparing for chilly evenings in a strapless party dress.
Knitted mittens work well for a retro look in winter. Fuzzy, warm, and easy to combine with other items, these types of gloves are perfect for a hike or simply when running out for coffee on a cold, crisp morning.
Belts
Belts were first worn during the Bronze Age and have been transformed into many different styles, designs, and purposes since then.
Although belts are commonly worn by both men and women, the material each wears differs. Men's belts are usually made of leather, whereas women's belts can also be made from a fabric matching their coat or dress.
Popular Types Of Belts
The braided belt is a sleek, chic option to wear when you want to make a subtle statement. Simple and fuss-free, this interwoven fashion accessory combines complexity with minimalism, providing a stylish look for casual outfits. The braided belt is ideal when paired with a blazer, dress, or jeans.
Wearing a classic leather belt can elevate a jeans and simple t-shirt outfit. This timeless accessory is usually tied to men's fashion, but it can easily fit into a woman's wardrobe combined with shorts, dresses, and jeans.
The wide belt was a trend in the 80s, and now it is making a big return. In addition to looking stylish, a wide belt provides an amazing silhouette shape. Style it over a simple, white, short shirt-dress, paired with chunky boots, a big scarf, and an oversized bag.
Necklaces
Necklaces are one of the first fashion accessories and are believed to be over 40.000 years old. The earliest varieties of necklaces were created using carved wood, stones, seeds, bird feathers, shells, teeth, bone beads, or other aesthetically pleasing natural materials found in the environment.
Today, there is an abundance of necklace designs and styles since they are easy to wear with any outfit and promote a look that seems detailed and put together.
Popular Types of Necklaces
Statement necklaces are large, striking pieces with pendants and ornate ornamentation. Even if they aren't meant to be subtle, they can nevertheless be elegant. Statement necklaces can be found in a variety of materials, including solid silver, diamonds, sapphires, gems, metal, pearls, pendants, and coral branches.
A choker is worn close to the neck and is usually between 14 to 16 inches long. Chokers are most commonly made from ribbon, velvet, and gold. They can be customized with different necklace styles by adding a pendant, graded beads, or festoon-style beads.
Turtlenecks, V-necks, boat necks, and even off-the-shoulder tops look great with the collar necklace. Since collar necklaces fit around your neck in a similar way to a crew neck t-shirt, they are frequently referred to as crew necklaces. The length of these necklaces is often a bit shorter than choker necklaces.
FAQs
What is considered a fashion accessory?
A fashion accessory is an item used to tie together or complete an outfit, chosen expressly to enhance the wearer's aesthetic appearance. It can be an item either worn or carried, and it includes earrings, belts, gloves, hats, socks, pins, rings, muffs, ties, suspenders, bonnets, or sachets.
What is the most popular fashion accessory?
Even though most fashion accessories are truly timeless pieces, each season brings a different favorite. The most popular accessories this season are purses and jewelry because they can be worn with any outfit. Gold and pearl necklaces, earrings, and rings are all classic pieces that can be worn to a variety of events and occasions.
What is the purpose of fashion accessories?
A woman's style, taste, and preferences are easily demonstrated by her choice of accessories. Additionally, accessories provide countless options for styling, enabling you to make the most of each item you own. Accessories are the crucial finishing touches for every look. A headband, scarf, or purse by themselves might not make much of a difference. But when combined, accessories make an outfit more substantial.
Why are fashion accessories important in the fashion industry?
As civilizations advanced, accessories were no longer just for necessities; they also played a significant part in adding to a woman's beauty. Jewelry, purses, haircuts, and shoes are examples of fashion accessories that help to accentuate a person's physical beauty.
Accessorizing your outfits is a creative way to freshen up an old look, express your mood, or just add some extra sparkle or color to your life. Eye-catching pieces such as delicate purses, designer sunglasses, silver bracelets, or bright earrings are true staples in a woman's wardrobe that allow her to create different looks — a dream for any fashion lover.