How to Pack Light for a Weekend Trip
Sometimes packing for a short trip and trying to bring only essential items can feel more challenging than packing for a longer trip. But it is possible to pack light by choosing items that mix and match well together and not packing items unless you are certain you will use them. These two changes alone will make a big difference in how long it takes to pack and how many suitcases you need.
In the first half of 2021, over 690,000 bags were lost or mishandled by U.S. airlines. And, on average, it takes 55 minutes for a bag to reach baggage claim after a plane lands.
Packing light and being able to get all your belongings in a carry-on size suitcase helps you avoid all that hassle and get to your ultimate destination faster.
And, even if you aren't traveling by plane, more luggage leaves less room for shopping purchases and souvenirs.
But, if you are only packing for a weekend trip, it's much easier to pack light if you know a few helpful tricks.
Things to Consider Before Packing
Taking the time to research and consider a few things before beginning to pack can help you narrow down your packing list. So, before opening your suitcase, do the following:
Check Out the Weather
The weather is important to consider when planning and packing for a trip, even if it is a short one. The clothes you want to pack will differ depending on whether the weather is cold or warm and whether there is a chance of rain or snow.
So, before you begin packing for your weekend trip, check the weather forecast for the two days you intend to travel so you know exactly what to bring.
Look at Your Itinerary
Different activities require different outfits and travel gear, so confirm the activities you'll do during your weekend trip to determine what you should pack. If you're headed to the beach, swimwear, flip-flops, and a beach bag are must-haves, but if you are going hiking, a winter jacket and a backpack would be more appropriate.
Create a Packing List
Though weekend getaways are short trips that do not require as much planning, you should still make a packing list a few days in advance of your trip. This exercise will help you identify any things you need to buy or prepare before your trip and help you avoid last-minute panic and stress.
Time to Pack: The Ultimate "Pack Lightly" Packing List
To make the process of packing easier, we've created a packing list that includes the essentials for a couple of days away from home, as well as packing tips for a quick weekend trip.
The Must-Have Items to Pack
Whatever your weekend away entails, there are certain items you should always bring. These must-have items should always come with you on any trip:
Cash
Travel wallet
Credit card
Essential documents
When packing for a trip of any length, there are two ways to begin. You can either choose the bag you would like to take or the items you would like to take. Often that choice depends on whether you are traveling by plane, train, or car. If you are traveling by car, you likely have more room and will be able to pack more, but if you are traveling by plane, you are more restricted, and choosing a bag first may be the best way to begin.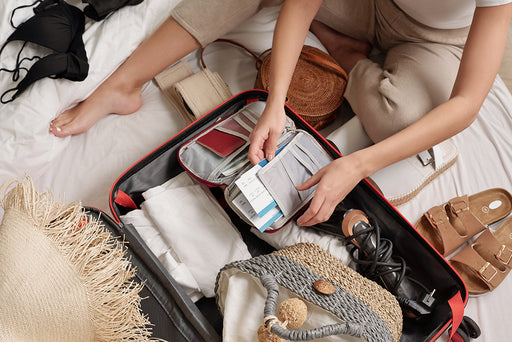 Choosing the Right Weekender Bag
If your trip is only one to two days long, you may be able to fit all your items into one piece of luggage. We recommend packing a travel bag rather than a duffel bag, especially if you're flying. You'll need a bag that's intended for travel, well-suited to being carried around the airport, and easily accessible on a flight. If you tend to overpack, compression packing cubes can help you fit an extra piece or two of clothing in your carry-on.
Clothes
When making a weekend packing list, it's a good idea to include outfits for different scenarios. You could go hiking in the afternoon and then out for drinks in the evening. Depending on your itinerary, try to bring both casual and dressy outfits.
Pack Layers
Pack layers that you can put on and take off as the weather and temperature change. Layer a short-sleeve shirt with a long-sleeve top instead of one bulky sweater. Add a lightweight packable jacket when traveling in colder climates. This gives you a lot more outfit options without adding a lot of bulk or volume. Ensure your outer layer fits easily over your inner layer(s) without bunching up before packing.
Create a Mini Capsule Wardrobe
Stick to a simple color palette so that you can easily mix and match tops and bottoms for a variety of outfit combinations. Darker colors tend to look cleaner longer than light colors. However, if you want to add a pop of color to your outfit, add a silk scarf or some colorful accessories.
One of the ways many people ensure their clothes will easily mix and match is by creating a mini capsule wardrobe. To create a mini capsule, pack similarly colored outfits you will definitely wear for the weekend's getaway, and avoid packing "just in case" clothing.
Basic Clothing Packing List
Lightweight clothing that can be layered
Long-sleeved shirts
Lightweight sweaters
T-shirts and tank tops
Dresses or skirts
Pants and/or shorts
Socks
Underwear
Lightweight jacket
Pajamas/sleepwear
Workout clothes
Accessories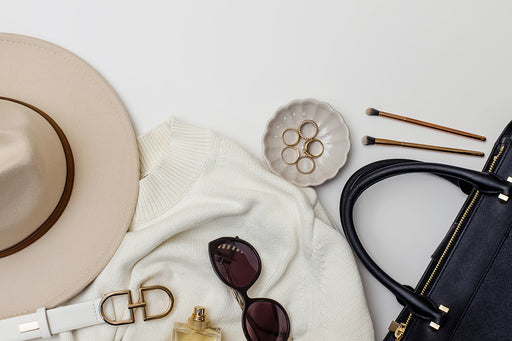 A great way to add interest to an outfit that won't require much room in your luggage is by packing a few timeless accessories such as:
Handbag
Jewelry
Sunglasses
If you'd like to add a dash of color or style to your weekend attire, bring a nice scarf or a stylish belt.
Shoes
When it comes to packing for weekend getaways, one of the most common concerns is bringing the right footwear. What kind of shoes should you bring? How much space will they require? How many pairs will you need?
When packing for a weekend getaway, most people swear by the three-pairs rule, which states that you should bring two pairs of practical and comfortable shoes and one pair that is more formal and dressier.
If you are going to a warmer place, then those three pairs might include sandals, sneakers, and heels. And for fall and winter, simply swap out the sandal for comfortable boots. If you're going to a beach destination, bring at least one pair of flip-flops. They don't take up much space and are essential for walking on the beach.
Toiletries
When it comes to toiletries, you can save a lot of room by packing only the essentials. If you can live without an item, leave it at home, or purchase a travel-sized bottle that takes up little space. If you are staying at a hotel or Airbnb, your room will probably include basic amenities such as soap and shampoo.
Toiletries to pack:
Moisturizer
Sunscreen
Deodorant
Toothbrush and toothpaste
Perfume
Makeup
Lipstick/lip balm
Body wash
Hairbrush
Feminine hygiene products
Electronic Devices and Gadgets
You'd never leave your house without your phone, but it is easier to forget your charger. Be careful not to over-pack electronics. If you can leave your work computer at home and use a tablet or phone to do light work, it will save a lot of space. Making a quick checklist will help you not forget the most necessary gadgets.
Phone Charger
Tablet or Kindle and charger
Noise-canceling headphones
Entertainment
Travel pillows and earplugs
Books and magazines
Water bottle
Snacks
Health
Packing essential health items is often an overlooked aspect of a weekend trip. Because the stay is usually only a day or two, it's easy to dismiss worst-case scenarios and believe that everything will be fine.
But, whether your trip is a long or short one, your health and safety should never be compromised. Always be prepared, and remember to bring the following items:
Prescriptions
First-aid supplies
Glasses/contacts
Hand sanitizer
Packing for a Weekend Wedding
If your weekend getaway includes a wedding, you may have to pack a few more items. In addition to dress clothes for the wedding and special shoes and accessories, you'll need one or two extra outfits so that you're always dressed appropriately. Make sure to pack your wedding outfits in a high-quality garment bag to keep them clean and wrinkle-free.
Hayden Hill garment bags are made of 100% organic, soft cotton that allows your favourite pieces to breathe while keeping them protected from damage.
International Weekend Getaways
If your weekend trip involves international travel, along with everything else on this packing checklist, it's necessary to pack a few extra items.
These items may seem obvious, but the rush before a trip can cause even the most organized travelers to misplace or forget important items such as:
Passport
Travel power adapters
Travel documents
Vaccination requirements
General Travel Tips
Leave valuables and jewelry at home, and never pack anything fragile in your checked luggage.
Carry your credit card, cash, medicine, keys, and important documents in a security belt or pouch close to you.
Because tags can become detached from your luggage, write your name and contact information on the inside of your bags as well as the outside.
Mail souvenirs home so you don't have to fit them in your suitcase.
Pack a lightweight, collapsible zippered bag. It can be used as a beach tote or shopping bag on your trip.
Keep a copy of your itinerary at home and/or with a travel companion.
FAQs
What should I pack for a two-day stay?
For a short trip, take care not to overpack and bring too many unnecessary items. It's best to pack lighter and bring only the basic things you need. Considering the destination you are going to, its weather, and your itinerary will allow you to pack only essential clothes, shoes and toiletries, and important documents.
When should I start packing for a weekend trip?
Begin packing a few days ahead of time or the night before your next trip. This allows you to make a complete list and purchase any additional items you may require for your weekend trip. Making a packing list is a safe way to ensure that you never forget anything important.
Sometimes packing for a short trip and trying to bring only essential items can feel more challenging than packing for a longer trip. But it is possible to pack light by choosing items that mix and match well together and not packing items unless you are certain you will use them. These two changes alone will make a big difference in how long it takes to pack and how many suitcases you need.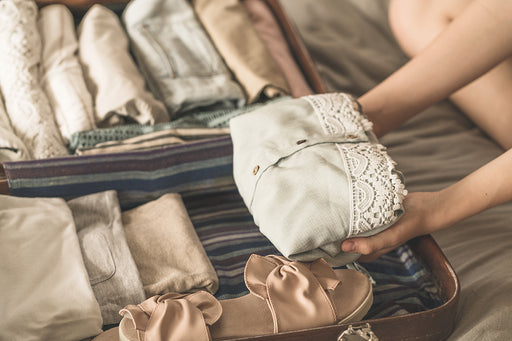 Though the process of packing isn't always fun, traveling itself more than makes up for it. The late American chef and travel documentarian Anthony Bourdain said, "Travel isn't always pretty. It isn't always comfortable. Sometimes it hurts, it even breaks your heart. But that's okay. The journey changes you; it should change you. It leaves marks on your memory, on your consciousness, on your heart, and on your body. You take something with you. Hopefully, you leave something good behind."