5 Space-Saving Ways to Pack a Suitcase
Though we all have our own packing style, we can all agree that packing should be a simple and organised process. Whatever your destination, having an orderly bag upon arrival is invaluable, and we're here to help you achieve just that by exploring the various methods for packing a suitcase efficiently.
If you are a frequent flyer, it is always ideal to carry on a bag rather than checking one, so you can get to your destination faster. But it can be incredibly challenging to fit everything you need in a small bag. Unless you know the tricks for fitting a lot of stuff into a small space.
And, though we all have our own packing style, we can all agree that packing should be a simple and organised process. Whatever your destination, having an orderly bag upon arrival is invaluable, and we're here to help you achieve just that by exploring the various methods for packing a suitcase efficiently.
5 Methods for Packing a Suitcase
The Wrapping Method
The wrapping method is best suited for long, dressy garments such as gowns and slacks.
Begin with the longest pieces and place them in the bottom of the suitcase, with the ends dangling over the sides. Place smaller items on top of that.
Continue to layer until you've packed everything you need. When you're done, fold the clothing that's hanging over the sides of the bag on top, and everything will be snugly wrapped together.
The Bundling Method
The bundling method is achieved by folding longer pieces around smaller ones, similar to the wrapping method with one significant difference.
Every complete outfit has its own bundle. So, if you want to wear a particular shirt with a particular pair of trousers, you bundle both together.
Begin with socks and underwear, then the shirt, and finally the trousers. Stack all of the items on top of each other and place them in your bag. This method keeps each outfit unified and handy. It's ideal for quick outfit changes, such as going from business wear to cocktail attire.
You can take it a step further by placing each completed bundle in a clear plastic bag, ensuring all air is removed before closing. You can also place all bundled clothing in packing cubes to keep them contained.
The Rolling Method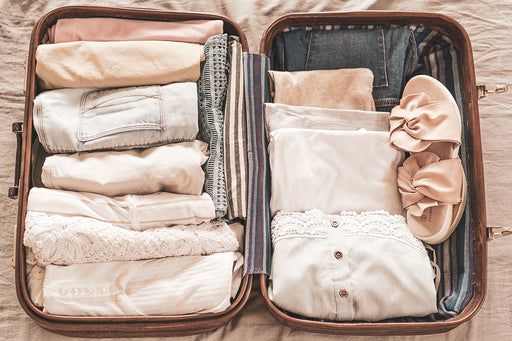 The rolling technique is probably the most common way to pack a suitcase. Lay each piece of clothing out flat, and fold it in half vertically. Fold sleeves inward if applicable to create a long piece. Roll up the clothing tightly into a cylinder and place it in your bag.
By placing each clothing roll next to another in the bag, everything stays secure and maximises space.
Rolling works especially well for sweaters, slacks, or t-shirts, and because no rubber bands are required, your garments will arrive wrinkle-free.
However, using this strategy for formal or professional attire is not recommended. For dressier items, consider using a travel garment bag.
The Compression Pack Method
Compression packs are fantastic for packing bulky items such as ski trousers and winter jackets. Simply place the items in a compression bag, seal the bag, and roll it to remove the air. If done correctly, this method will save space while also keeping your garments wrinkle-free.
When using the compression method for packing, keep in mind that while these bags might be useful, they can be difficult to roll if they contain large items. Because of this, you may need to purchase multiple bags since one bag will likely only fit one or two items.
The Packing Cube Method
Packing cubes will not exactly save you plenty of space, but they will assist you in keeping your clothing tidy and sorted. Cubes are very helpful once you get to your destination. They can be used to separate outfits, types of clothing, or even clothing for different family members.
But if saving space is your goal, combine packing cubes with another method, such as bundling clothing, for the best results.
How to Pack Shoes in a Suitcase
Because shoes take up a lot of space, are oddly shaped, and more than one pair is typically needed, they can be challenging to pack in a suitcase. Fortunately, there are several tips to make this part of packing much easier.
Follow the Rule of Three
Try to limit the number of shoes you pack to three pairs, such as one everyday sandal or loafer, one pair of sneakers, and an evening shoe. Shoes take up the most space due to their forms and heels. Maximise space by wearing the biggest, bulkiest pair while travelling, and pack the other two.
Use Shoes as Packing Containers
One way to maximise space is to stuff your shoes with other items such as socks, sunglasses, and phone chargers, as long as your shoes are reasonably clean.
Place Shoes into a Dust Bag
To protect your shoes and the other items in your suitcase, consider placing them in dust bags. Then you can position the shoes along the sides of the bag. This will prevent dirt and germs transferring from your shoes to your packed clothing.
How to Choose Your Carry-on Luggage
Most carry-on bags and suitcases have boxy dimensions and hard or soft casings, but their sizes and shapes can vary greatly. Choosing the best one can be more difficult than packing itself.
There are three main things to keep in mind when purchasing carry-on luggage.
Invest in a Quality Carry-On Bag
Frequent travelling requires strong luggage that will last several years. But the more durable and long-lasting a bag is, the more expensive it will be.
Fortunately, high-end bags have lengthy warranties. Many premium brands offer lifetime warranties that safeguard your investment by repairing or replacing bags at no cost if they are damaged.
Two or Four Wheels
Two-wheeled bags can be a bit of a bother, as they have to be dragged behind you in a straight path, which is not always easy. And, hauling heavy bags on two wheels can prove difficult.
Spinners, or four-wheeled suitcases, can rotate 360 degrees and are much easier to maneuver - they can even be wheeled when upright. However, because of their design, the wheels are more prone to damage.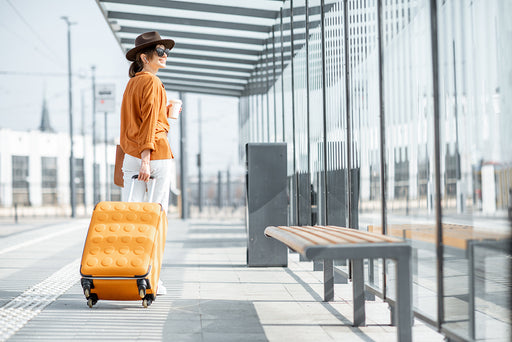 Soft or Hard Shells
Both hard-sided and soft-sided luggage have advantages; ultimately, the choice should be based on your individual taste and preference. Hard bags are more aesthetically pleasing and provide better protection for the goods inside than soft bags.
Hard bags are also less prone to wear and tear, but their restrictive shell will severely limit how much you can put into your bag.
New hard shell models are constructed of lightweight polycarbonate, so they are not easily scratched or as heavy as older models. Some versions are even lighter than soft luggage, but be aware of an excessively light bag, as its frame may be fragile.
Additional Packing Tips
Even if you are an experienced packer, there is always room for improvement and new tricks to learn. These tips will help you refine your packing skills.
Rethink Your Clothing Choices
Select items that mix and match well. Choose clothing items belonging to the same color family and always pack more tops than bottoms. A 22-inch carry-on bag, the standard carry-on size, can accommodate about two pairs of trousers, two dresses, three sweaters, and five shirts. Keep this in mind when selecting clothing.
Select versatile fabrics and pieces. If possible, choose knits, wools, and cotton fabrics when packing, because these fabrics are wrinkle-resistant and adaptable. Some clothing items can perform double duty, such as yoga trousers that act like pajamas, a classic white shirt that can be stylish over your bathing suit and in a formal outfit, or jewellery that fits both day and night outings.
Pack in the Right Order
Fill the bottom first. A good way to maximise space in your suitcase is to fill the bottom of your suitcase first with your shoes, since they are likely the bulkiest items. Then add your soft, rolled items, and then your folded clothes. Follow that with your longest items, like long dresses, yoga trousers, or skirts. Shorter items, like shirts or blouses, fit great on top. Finish by placing belts around the perimeter of your suitcase.
And, as a bonus, always start your travel planning with a packing list. This is a great organisational trick, as a packing list ensures you don't forget anything important.
Packing Toiletries and Beauty Products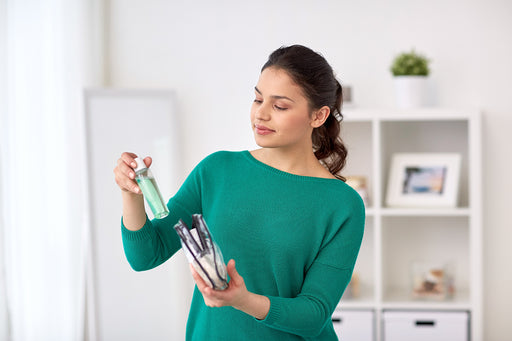 Pack dual-purpose products. Choose a tinted moisturiser cream that acts as a foundation, and get an all-in-one soap and shampoo, as well as wipes that will clean both your hands and face. This saves some space without sacrificing your needs.
Use toiletry bags. Toiletry bags will keep your products from rolling around in your bag and protect the other items in your bag from damage in case there are any leaks or spills.
Packing Dirty Laundry
One of the least fun parts of travelling is arriving home with a lot of dirty laundry. And, it's best to corral the dirty laundry in our suitcases and keep it separate from our unworn clothing and other items.
To do this, consider packing your dirty laundry in packing cubes or keeping a laundry bag in your suitcase to store the dirty laundry on your trip.
FAQs
Is it better to fold or roll clothes in a suitcase?
Clothing tends to get compressed when flying. It's important to pack in ways that prevent wrinkling, and rolling is one of the most effective that is very popular among avid travellers. However, if you are driving and space is less important, folding your clothes or transporting them in a travel garment bag is perfectly acceptable.
What is the most efficient way to pack a suitcase?
A few tips for packing a suitcase most efficiently include using packing cubes, rolling your clothing, limiting the number of shoes you take, and packing dual-purpose or travel-sized toiletries.
Packing can be one of the downsides of travelling, especially when you are limited in how much you can take. Fitting everything you need in a suitcase without the items arriving wrinkled can be challenging.
But, with these tips and tricks, you can find the packing techniques that work best for your clothing, luggage, preferences, and goals. Now you can pack more efficiently, whether your goal is to travel light, create more space in your suitcase, or limit packing things that you don't really need.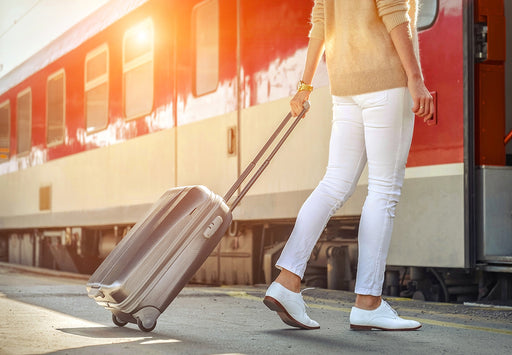 And, when you arrive home, keep your most treasured items safe by storing them properly. Hayden Hill large storage bags are uniquely made of 100% organic, soft cotton that is environmentally friendly and allows your favourite pieces to breathe while keeping them protected from damage. We deliver sustainable and beautiful garment care to preserve and protect the clothes you love most.