What is a Garment Bag? Find the Right One for Your Needs
Effective closet organisation isn't possible without products like specialty hangers, drawer organisers, and garment bags. Read our guide to find out what is a garment bag and how to find the right one for your needs.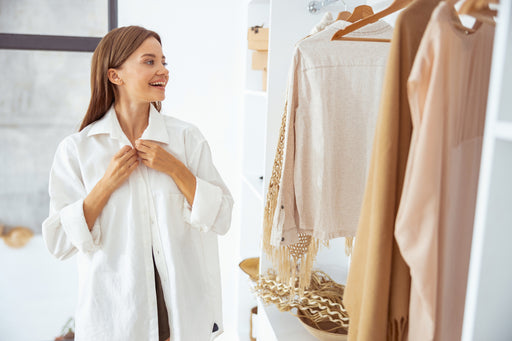 A luxury closet must have certain elements: ample lighting, inspired style, and effective organisation. 

And, effective organisation isn't possible without products like specialty hangers, drawer organisers, and garment bags.

Garment bags are essential for storing or transporting valuable items like designer suits, wedding dresses, and couture pieces.
What is a Garment Bag?
A garment bag is a zippered bag that is sloped in the shape of a clothing hanger at the shoulders with a square bottom.
High quality garment bags also have these key features:
Breathable fabrics
Heavy-duty zippers
Machine washable materials
See-through panels
Moth-proof designs
Because garment bags are used for many purposes, they come in a variety of different types, materials, and sizes.
Different Types of Garment Bags
Garment bags are surprisingly diverse. Some are made to keep pieces clean when being transported from the dry cleaners, while others are made to protect clothing during long flights.

Some bags store a single piece of clothing. And, other bags carry multiple suits or jackets. Longer garment bags are perfect for evening attire, while shorter bags are best for wool coats.

A few of the most common garment bags on the market include:
Clear, vinyl garment bag with a gusset
Thin, plastic/PEVA garment bag with no gusset
Wedding gown garment bag
Muslin garment bag
Blended canvas garment bag
Polyester or nylon travel garment bag
Black vinyl garment bag
With so many types available, it can be challenging to select the right garment bag. But, identifying the material you prefer and the size of your item will help narrow down the options.
The Best Materials For a Garment Bag
Choosing a garment bag made of breathable fabric is a must. Breathable fabrics prevent condensation and mould that can destroy your valuable garments.

Some bags made from non-woven fabrics and plastic may claim to be breathable. But those fashioned from natural fibres are the superior choice, specifically cotton.

Cotton is all-natural, eco-friendly, lightweight, breathable, acid-free, and affordable. Cotton protects garments from sun exposure, so any item with embellishments won't yellow. In warmer conditions, cotton will reflect heat, while in cooler temperatures, it will insulate. Plus, cotton garment bags are easy to maintain; they can be washed and hung to dry.

Good alternatives to cotton bags include bags crafted from muslin and linen. And though it is not a natural fibre, polyester is an ideal choice for travel garment bags as it is a sturdy material that can bend without wrinkling or creasing the items inside.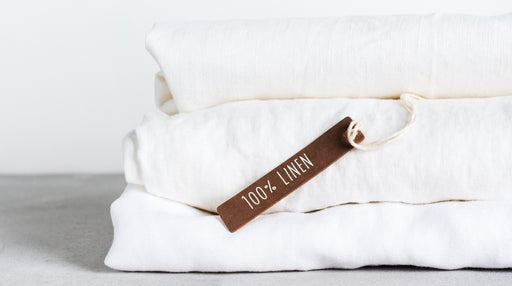 Materials to Avoid When Selecting a Garment Bag
Though they are easy-to-find, avoid using plastic and non-woven fabric garment bags. Plastic seals in moisture, and in hot and humid climates, materials like suede, leather, and animal fur can be irreversibly damaged by moisture and mould growth.

And, because plastic and PEVA garment bags do not allow the materials inside to breathe, the fabric can start to deteriorate. Avoid non-woven fabrics and plastic altogether when planning on storing clothes for longer periods.

Another problem with plastic garment bags is the lack of durability. Overtime, cheap plastics and non-woven materials become brittle and disintegrate. Those tiny cracks expose your garments to dust, moisture, dirt, and insects.
Never Use Dry Cleaning Bags For Storage
Plastic dry cleaning bags are meant for transporting your freshly-pressed garments from the cleaners to your home, not for storage.

Left on your garment for too long, a dry cleaning bag can cause fading or yellowing. This is caused by butylated hydroxytoluene (BHT), a chemical antioxidant that is used in plastics, cosmetics, and jet fuel as a preservative. When BHT is exposed to impurities in the air or moisture, the chemical turns yellow. That pigment can then transfer to clothing.

Plastic also locks in humidity, since there is no sufficient air flow, which can result in discoloration and mildew.

Take our advice and never store delicate garments or those with embellishments in plastic bags.
Garment Bag Sizing
Both storage and travel bags come in a wide range of sizes.
Storage Garment Bag Sizing
The most common lengths of garment bags are 40 inches (101.6 cm), 47 inches (119.4 cm), 54 inches (137.16 cm), 60 inches (152.4 cm), 63 inches (160 cm), and 72 inches (182.8 cm).

Gusseting allows for more garments to be stored in a single bag. You can often find 4-inch (10 cm) gusseted garment bags that have enough room for two or three suit jackets. For more voluminous garments, like wedding or ball gowns, many wedding gown garment bags come with 10- to 20-inch gussets.

Hayden Hill offers two sizes of storage garment bags. Our short hanging bag is 40 inches long with a 4-inch gusset, and the long hanging bag is 58 inches long with a 4-inch gusset. Both ensure your valued dresses and jackets have ample breathing room.
Travel Garment Bag Sizing
Travel garment bags typically come in two size ranges.

One type of bag that has been created with carry-on luggage restrictions in mind and is around 21 inches (53 cm) wide or less. Usually, garment bags are considered carry-ons, not personal items. That means the bag dimensions should not exceed 22×14×9 inches (55.8×35.5×22.8 cm).

The other type of travel garment bags are considered checked luggage and are 40 inches (101.6 cm) or longer. Obviously, because these are larger bags, they can hold more clothing.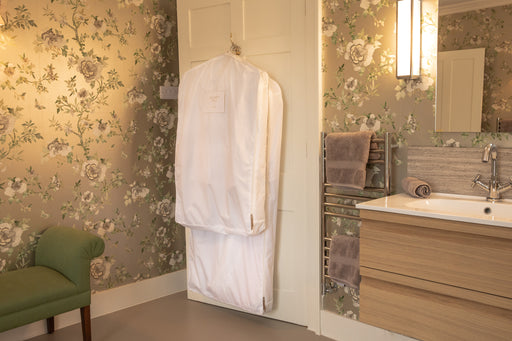 Garment Bags FAQ
Do I really need a garment bag?
Though you can store or pack your clothing a number of ways, garment bags are excellent for protecting wedding dresses, business attire, and finer fabrics from damage. If you want to keep pieces safe from dust, dirt, moths, and wear, a garment bag is the best choice for both storage and transport. Read more about how to pack a garment bag in our article.
Should I store clothes in garment bags?
Garment bags are ideal for short-term and long-term storage. Bulkier items, like business suits, dresses, costumes, and even wool jackets are protected from damage and wear when stored inside a garment bag. 
Is a garment bag considered a carry-on?
Most U.S. airlines consider a soft-sided garment bag to be a carry-on, not a personal item, and will allow you to bring it on board as long as its dimensions are within the carry-on luggage limitations.

If you want to bring a garment bag along with your rolling carry-on suitcase, many airlines such as Southwest, Delta, and American Airlines will charge an additional fee.

Keep in mind that not all airlines have closets or space to hang bags. In these cases, garment bags must be placed in an overhead compartment.
What are garment bags made of?
Travel garment bags are made of heavier materials, such as leather, canvas, and cotton. Many storage garment bag options are made from plastic. Though plastic is inexpensive, it is not the best material for a garment bag. PEVA vinyl or Tyvek (high-density polyethylene fibres) are sometimes recommended and easy to find. Cotton or muslin are natural fibre options that are breathable, durable, and will protect your clothing from water, dust, and moths.

Note that plastic and non-woven bags can damage clothing in summer months or in humid climates, since the material is not as breathable as cotton or other natural options. The best material is one that allows your clothing to breathe. 
What is a soft-sided garment bag?
As the name suggests, a soft-sided garment bag has sides that are made of fabric, rather than a harder plastic. They are typically made from nylon, polyester, muslin, or cotton. A soft-sided garment bag won't have any hard features. You should be able to fold it up for travel, if necessary. 
What is a non-rigid garment bag?
The term non-rigid garment bag is often seen in airline guidelines. This type of garment bag does not have any boning, rods, wheels, handles within it to keep it from collapsing. As long as your garment bag can be folded or rolled up, it would be considered a non-rigid garment bag.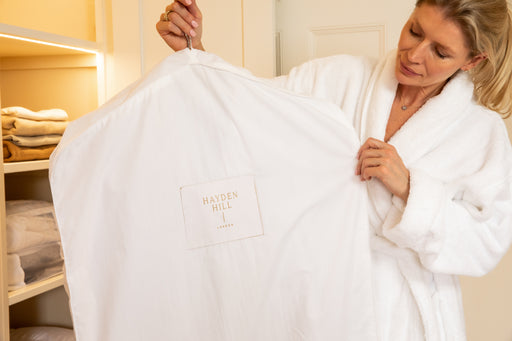 With so many types, materials, and sizes of garment bags on the market, it can be difficult to select one that best fits your needs. For buyers seeking high quality sustainable bags for protection and storage, we recommend Hayden Hill.

Our bags are made of 100% organic, soft cotton with a sheer, organza side panel so you can see your pieces while keeping them protected from light, dust, and moths. At Hayden Hill, we help you preserve what you love.