8 Summer Wardrobe Essentials
Summer shopping doesn't need to be complicated or overwhelming. By spending some time planning your summer wardrobe, investing in quality basics, and shopping specifically for items that you will enjoy wearing, you will be ready for a stylish, enjoyable summer.
Summer often brings hot temperatures, vacations, and outdoor activities. It can seem challenging to look stylish while staying cool and comfortable. But, with these summer wardrobe essentials, you can achieve both. Layering, mixing and matching, and experimenting with these must-haves will keep you looking fashionable all summer.
Summer Clothing Must-Haves
Summertime is an ideal time to have fun with different colours, styles, imaginative outfits, and pretty prints. Most of us are spending more time outdoors, and attending more social events, so our clothing needs may be more varied than usual.
These summer staples are versatile enough to work for many occasions.
Oversized Button-Down Shirt
A favorite summertime basic is the oversized button-down shirt. A button-up not only adds polish to any outfit, but it also doubles as a swim cover-up or light jacket for cooler or windy nights. Look for a shirt made from organic cotton or linen for casual wear, and perhaps one made from silk for more formal wear.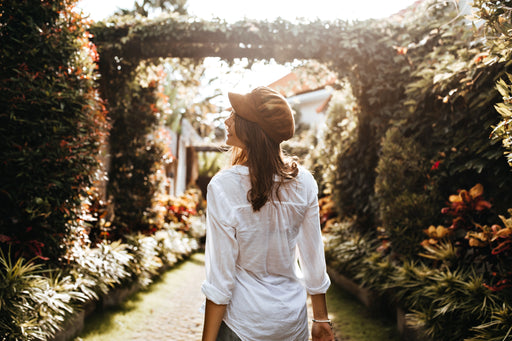 Tank Tops
It is difficult to imagine a summer wardrobe without tank tops. They are comfortable, easy to match, and can be worn almost everywhere when styled well. Though a white tank is most versatile, it is always a good idea to have tanks in multiple colours and styles, as they are usually quite affordable. Tank tops should feel soft and breathable, so opt for gentle cotton fabrics when purchasing this summer basic.
Maxi Dress
A breezy, cotton maxi dress might just be the perfect symbol of a comfortable summer wardrobe. Long, flowy, and billowy, this dress is stylish and perfect for combating heat. The maxi dress pairs well with different colours and accessories, such as a cardigan, a denim jacket, or a summer hat. Yet, it still manages to maintain a fashionable look all on its own.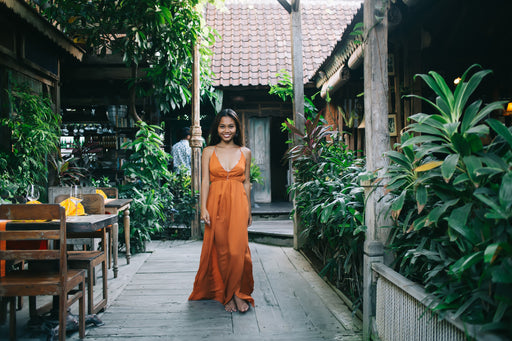 Tailored Shorts
Tailored shorts are comfortable, weather-appropriate, and can easily work for both casual and dressier outfits. Depending on the fabric you choose, you can wear your tailored shorts with simple sandals, a tank top, and a shoulder bag for brunch, or paired with high heels, a silk blouse, and a clutch for dinner.
Large Tote Bag
Various summertime activities might require you to carry a large bag. Perhaps you want to store your water bottle, a light jacket for later, or simply your beach essentials. No matter the day's agenda, a large tote bag will carry your items well. As an added bonus, these oversized bags pair well with your summer wardrobe; you can wear them with almost everything.
Simple Strappy Sandals
A pair of simple, strappy sandals is a fairly obvious summer essential. A big part of looking forward to summer are the perfect pedicures and strappy sandals we wear this time of year. Whether you choose high heels, flats, or both, you are guaranteed to wear your strappy sandals all summer long because they pair well with so many outfits.
Timeless Sunglasses
A crucial part of any summer wardrobe is sunglasses. Even though sunglasses may be worn all year round, their functions in the summertime are endless - they protect your eyes from the glaring sun, reduce squinting and wrinkles, improve your vision when driving, and amazingly frame your face. There are many styles to choose from, and it may be best to purchase a few quality pairs to keep in different locations.
Boyfriend Jeans
Wearing jeans in summer can be a delicate task. When the temperatures start to rise, the smartest wardrobe choices will not include heavy materials that cling to your body, so jeans are often overlooked when it comes to summer clothes. However, boyfriend jeans made from light, breathable denim can easily fit in your summer clothing rotation. Both the design and the fabric of these jeans will allow your skin to breathe and you to feel comfortable.
FAQs
1. How can I improve my summer style?
Summer may feel like a difficult season to dress for, but there are a few tried-and-true strategies that can help you cope with the intense heat and humidity. There are various ways of getting your wardrobe ready for the warmer months. Try including light-coloured clothes. Light hues, white dresses, and button-down shirts reflect the sun's rays rather than absorb them. Another tip to stay cool is to purchase clothes made of natural, breathable fabrics, such as cotton, linen, silk, or lightweight wool.
2. How do you dress nice in hot weather?
Summer offers plenty of opportunities to showcase your personality through your clothing. Look for cotton dresses, stylish sandals, linen oversized shirts, shorts, hats, and large sunglasses. Mix and match different pieces of clothing and accessories to keep things interesting, such as a statement skirt paired with a tank top, some heavy bracelets, and a shoulder bag. There are nearly endless possibilities, and summer is the perfect time for style experimentation.
3. How do I stay comfortable in the summer?
Hot summer weather can easily create discomfort if you are not wearing the right clothes. As much as summer is a favoured season, no one really enjoys sweating. So, to avoid this, wear comfortable clothes made of natural materials. Natural fibres are a much better choice for summer since they are breathable, soft, and don't irritate skin.
4. What should you not wear in summer?
Avoid any clothing made of synthetic fabrics, and instead wear natural fibre materials. In fact, polyester might be the worst choice when it comes to summer clothes. Though this fabric is wrinkle-resistant and travel-friendly, polyester is moisture-resistant, making it a poor selection for summer.
Summer shopping doesn't need to be complicated or overwhelming. By spending some time planning your summer wardrobe, investing in quality basics, and shopping specifically for items that you will enjoy wearing, you will be ready for a stylish, enjoyable summer.