Keep Summer Clothes in Pristine Condition with these Tips & Tricks
Whatever summer looks you prefer, your favourites will last longer and stay in pristine condition if you care for them properly. With these tips, you will be able to look chic and stay cool all summer long.
Dirt from more time spent outside, grass stains, and sweat are just a few of the things that may harm your summer clothing, but keeping them looking like new isn't that difficult - you simply need to know some tips and tricks.
Taking steps to properly care for your summer clothes is important in preserving their quality and longevity.
What is the definition of summer clothes?
Summer clothes refer to outfits that are best worn in the summertime. These clothes help you stay comfortable and control your body temperature in hot weather, and they are often made of light and breathable materials.
Summer clothing's primary function is to keep you cool, protect you from the sun, and allow for easy movement. This season's clothing usually has bright colours, floral patterns, and tropical designs that capture the mood of summer.
What clothes should be worn in summer?
Summer heat is a reality in many areas, so choose clothing made of light, breathable fabrics such as cotton and linen. These fabrics allow air to circulate while preventing you from sweating. Loose-fitting clothes, such as flowy dresses, loose blouses, and wide-leg pants, also help the body to breathe.
Choose sleeveless or short-sleeved clothes to keep your arms cool, and consider wearing shorts or skirts for freedom of movement and airflow. Add wide-brimmed hats, sunglasses, and lightweight scarves for sun protection.
Lighter colours reflect sunlight and keep you cooler, and breathable footwear like sandals or canvas shoes keep your feet comfortable.
Ideally, summer clothing should fit your personal style while prioritising comfort and functionality.
Tips for Taking Care of Summer Clothes
Allow Sunscreen to Dry Before Dressing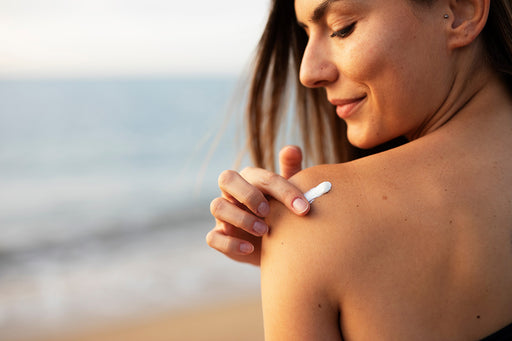 Every dermatologist will tell you to always apply suntan lotion or sunscreen, especially during the summer when you likely spend more time outdoors.
And while sunscreen is great for your skin, it isn't always good for your clothing. For best results, apply sunscreen before dressing and allow it to completely dry to prevent getting stains on your clothing.
Keep Chlorine from Damaging Your Swimsuit
Pool, hot tub, and spa chlorine can damage the spandex of the swimwear and cause colours to fade. To prevent this, simply clean bathing suits as soon as possible after exiting the water following the instructions on the label.
Keep Your Summer Whites White
Sweating is very common on hot summer days and can cause yellow spots to form under the arms of your clothing. Though many people believe the spots are caused by perspiration, they are often caused by the chemicals found in conventional antiperspirants and deodorants.
When these chemicals come into contact with perspiration, a reaction is triggered that results in yellow sweat stains. To prevent these stains, use aluminum-free deodorants. And to treat existing stains, use these common household products for the best results.
Summer Laundry Tips: How to Treat Summer Fabrics
Summer fabrics are often soft and delicate, so they must be laundered carefully to get them clean without damaging them. Let's look at some of the common summer fabrics.
Cotton
Cotton is one of the most common summer fabrics because it is light and breathable. The material is extremely resilient, so cotton clothing may be machine cleaned with mild detergent and bleach if needed. Cotton items should be machine washed in warm water on a regular cycle for the best results.
White cotton can be washed in water up to 90°F, but coloured cotton should not be washed in water greater than 60°F, with a short rinse cycle and as little spinning as possible. Tumble dry on a low setting and steam iron on a high setting.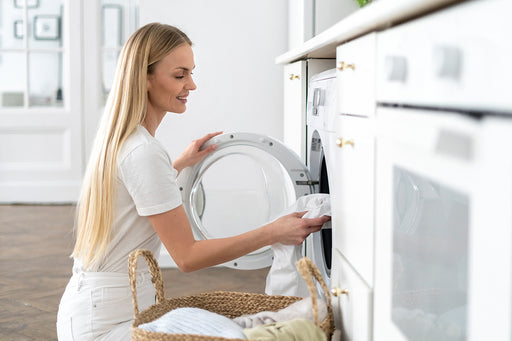 Linen
Linen is breathable and has moisture-wicking properties so it is an excellent summer fabric. When cleaning linen garments, it's better to hand wash or machine wash items than to take them to a dry cleaner.
Linen should be washed in lukewarm or cold water and preferably soft water. It should be washed at a maximum temperature of 60°F for whites and no more than 40°F for colours. If you choose to machine wash linen, use the gentle cycle and a mild detergent.
Put linen garments in the dryer on low heat, but remove them while they are still damp. Overdrying might cause the fabric to become stiff. It's best to air dry linen, laying it flat on a drying rack or hanging it on a hanger.
Linen has a reputation for wrinkling easily so iron items on low while the clothing is still damp.
Viscose
Viscose has several advantages. It has a smooth look and feel, is breathable like cotton, drapes well, and is lightweight. However, it wrinkles easily and should be ironed on a medium setting with steam.
It's better to hand wash viscose summer clothes in lukewarm or cold water. After washing, use a towel to remove excess water from the viscose item and let it air dry. Avoid wringing or twisting a viscose garment, as this could cause it to lose its shape.
Polyester
This material is prone to static cling, so summer clothes made of polyester are best machine-washed with fabric softener and machine dried. But first, always check the garment's care label and laundry symbols in case it is a poly-blend that needs to be dry cleaned. If necessary, dry the item using a warm iron on a low setting.
Polyester clothing is simple to maintain even when stained. Before washing, apply stain remover to the stain and let it soak for 10 to 20 minutes. If the stained item is white, consider soaking it in a gallon of water with ⅓ of a cup of dishwashing liquid for 24 hours before putting it in the washing machine.
Silk
Basic silk garments can be dry cleaned, but hand washing them will better maintain their pristine condition. Use a small amount of mild laundry detergent and cold or lukewarm water when hand-washing silk.
Silk, like the majority of natural and delicate fabrics, cannot withstand temperature fluctuations, so use either cool or warm water the entire time. Never squeeze silk to dry it. Instead, carefully push the water out of the garment by rolling it up in a towel.
Underwear, tank tops, and other items marked "washable silk" should be machine laundered on a gentle wash cycle using a mesh bag. Then let the garments air dry on a padded hanger.
Silk should be ironed while still damp on low heat. But avoid using steam, which may result in watermarks. Always store silk in a dry, dark environment and never in plastic since the fabric needs to breathe.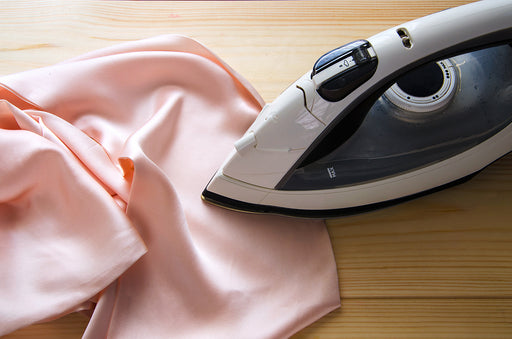 How often should you wash your clothes in the summer?
How frequently you should wash your summer clothes is determined by various factors, including your level of activity, weather conditions, garment care instructions, and your own judgment.
Bathing suits and undergarments should be washed after every use. Clothes worn for outdoor activities or sports, such as workout athleisure, should be washed after every use to remove perspiration, dirt, and odor. And in hot and humid regions, it is best to wash garments more often to avoid the growth of bacteria.
Check clothing care labels for detailed directions, and use your best assessment to determine how often you should wash a particular item.
What is the best way to store summer clothes?
There are several best practices to follow while storing summer garments to make sure they stay in mint condition.
Sort Summer Clothes
Begin by sorting your clothes and organising them into different piles. Common pile categories include keep, mend, donate, resell, and discard.
You may find it difficult to decide where you should place a particular item. But keep in mind that if you did not wear a garment or accessory this season, you are unlikely to wear it next summer.
When you do identify an item that you no longer want, make every attempt to discard it in an environmentally conscious way. Resell items that are in good condition at a consignment store or online on sites like Poshmark and thredUP. Pass quality pieces to a friend, donate them to an eco-friendly organisation, or have them recycled.
Clean Summer Clothes
Before placing anything in storage, check each item to ensure it is free of common summer stains, such as grass or flower pollen.
All clothing should be laundered and stains removed before storing. If there are small stains that are barely visible, try to remove them using baking soda. If not removed, stains may attract pests which can eat through your garment and damage it.
Store Summer Clothes
After you've cleaned your summer clothes, the next step is to store them properly using hangers, storage bags, storage containers, etc.
Choose the Right Hangers
Hang structured items like coats and jackets on robust wooden hangers to support their shoulders. To avoid wrinkles, hang pants and skirts by the waistbands on skirt hangers. Silky textiles should be hung on padded or flocked hangers to avoid falling off during storage.
Hanging Garment Bags
Organic cotton garment bags are preferable to plastic garment hanging bags because they allow air to circulate, preventing moisture buildup and damage.
In addition to being made of 100% organic cotton, Hayden Hill hanging garment bags offer a sheer, organza side panel so you can see your pieces while in storage. Our bags also feature a wide gusset that allows you to store a variety of cherished garments.
FAQs
How many times can you wear clothes before washing them?
The number of times you may wear garments before cleaning them varies according to factors such as clothing type, degree of activity, and personal preferences. In the summer, clothes should be cleaned more frequently.
Bathing suits, undergarments, and athletic wear should be washed after every use.
What clothing should be worn in summer?
Wearing clothing made of light, breathable fabrics such as cotton and linen will keep you cooler during summer. Loose-fitting clothes like flowy dresses, loose blouses, and wide-leg pants are ideal choices that allow the body to breathe.
Some celebrity-approved summer styles include tube tops, maxi dresses, and graphic tees and summer runway looks include metallics, tube dresses, and gauzy knits. Whatever summer looks you prefer, your favourites will last longer and stay in pristine condition if you care for them properly. With these tips, you will be able to look chic and stay cool all summer long.