How to Care for Your Hayden Hill Hanging and Storage Bags
When your wardrobe has been carefully curated over many seasons, you want to take extra care of your valuable pieces. The best way to protect your most treasured items is by storing them in high-quality garment bags. Caring for your Hayden Hill bags is easy and uncomplicated. Below are a few tips and guidelines for maintaining our organic cotton hanging and storage bags.
Caring for your designer and heirloom clothing properly is essential to help your pieces stay in pristine condition. The same is true of garment bags that are made of high-quality, natural fabrics. Hanging and storage bags made of natural textiles accumulate dirt, dust, and debris over time.
So, it's critical to properly care for your garment bags to ensure that they last a long time and continue to provide the protection your clothes need.
Fortunately, caring for your Hayden Hill bags is easy and uncomplicated. Below are a few tips and guidelines for maintaining our organic cotton hanging and storage bags.
The Importance of Quality Garment Bags
When your wardrobe has been carefully curated over many seasons, you want to take extra care of your valuable pieces. The best way to protect your most treasured items is by storing them in high-quality garment bags.
When we don't protect our clothing from environmental elements, it can gradually lead to irreparable damage. And, sometimes we are unaware that our choice of garment bags, particularly cheap, non-woven bags and plastic dry cleaning bags, can harm our clothes.
Our clothing requires careful attention to protect them from moths, dirt, dust, mold, moisture, sunlight, and humidity.
Organic Cotton Garment Bags are Best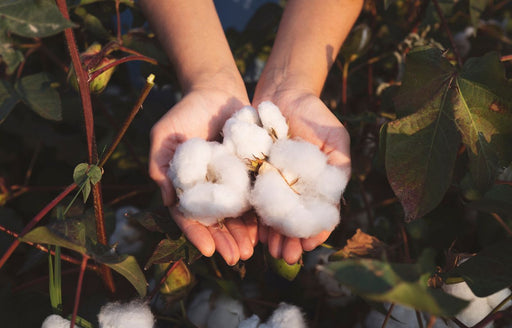 It is very important that your clothing be able to breathe, especially when it is in long-term storage. Fresh air nourishes the fabric fibres and significantly reduces the possibility of damage. Bags made of natural textiles, like organic cotton, allow your clothing to breathe and foster air circulation.
Organic cotton is renewable, biodegradable, and sustainable, making it ideal for both the environment and a variety of uses. Cotton decomposes in three to six months while other materials and fabrics, particularly plastic bags, decompose slowly or not at all.
Garment bags made of organic cotton are excellent at protecting clothing. Once the zipper is closed, your clothing is protected. Even delicate fabrics such as silk, wool, and cashmere are kept safe when not being worn.
Types of Hayden Hill Garment Bags
Before we dive into how to maintain and care for your garment bags, let's look at the different types of Hayden Hill garment bags.
Hanging Bags
Dresses, suits, and other delicate or formal clothing items are commonly stored in hanging bags. They can be either long for dresses and coats or short for blazers and blouses. Hayden Hill organic cotton hanging bags allow clothes to breathe and protect the items from dust and sunlight exposure, which can over time result in fading and discoloration.
Storage Bags
Storage bags are used to protect clothing items that are not being worn regularly, such as out-of-season apparel. These bags are constructed of breathable, organic cotton and are ideal for storing clothes in a drawer, storage bin, or on a closet shelf. Hayden Hill storage bags come in large and extra-large sizes and are wide enough to hold multiple items.
7 Tips to Care for Your Hanging and Storage Bags Properly
Take Off the Removable Zipper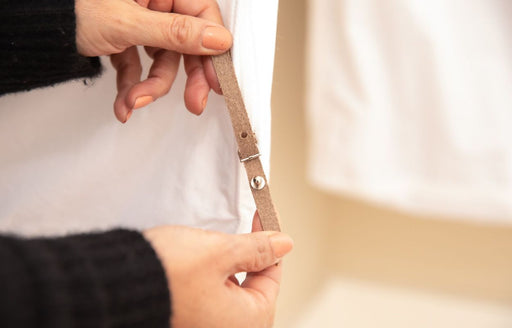 It is important to remove the removable zipper from your garment bag before cleaning or washing it. The zipper can get caught and tear the garment bag's delicate material, resulting in irreversible damage to the bag.
Zippers can also become stuck in the machine, causing it to malfunction or become damaged. Or, the zipper can become entangled with other clothes or items in the washing machine. This can cause the clothes to knot, making them difficult to separate.
Shake Out the Bag
Before washing your garment bag, it is essential to shake it out. This step helps remove any dirt, dust, or embellishments that could have gotten trapped inside the bag.
First, turn the bag inside out. Take it outside or to an open space to shake it out. Hold the bag by the top and shake it vigorously. You can also use a brush to help you remove any additional dust or debris that might have remained in the garment bag.
Shaking out the garment bag also helps restore the bag's shape. It is a quick and easy way to prepare your bag for the wash cycle.
Use Cold Water
When washing your garment bags, it is essential to use cold water to prevent the bags from shrinking, fading, or losing their shape. Warm water can cause the cotton fibres to break down and weaken, resulting in holes or tears. Cold water is gentler on fabric.
To help remove odours or stains, add a cup of white vinegar to the wash cycle. Bleach and fabric softeners should be avoided as they can damage the fabric and shorten the life of the bag.
Consider Hand-Washing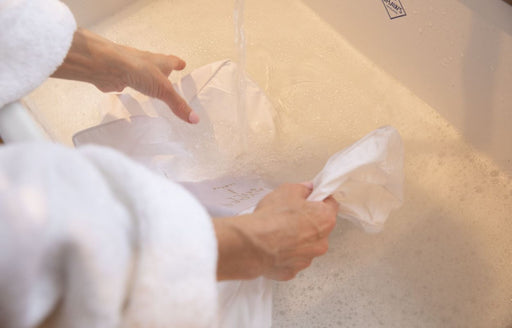 Hand-washing is one of the best ways to clean your garment bags because it gives you more control over the process and ensures that the bags are handled gently.
To hand wash, place the bag in a tub of cold water mixed with mild detergent. Gently, move the bag around in the water, paying special attention to any areas that may be especially dirty or stained. Avoid scrubbing too vigorously as that can harm the fabric and cause the bag to lose its shape.
After you've finished washing the bag, drain the basin or sink and refill it with cold water. Rinse the bag thoroughly to ensure that all of the detergent is removed.
Lastly, gently squeeze out the excess water from the bag without twisting or squeezing it.
Choose to Air Dry
Tumble-drying your garment bags is not advised because the fabric may shrink, deform, or become damaged. The high heat and fast spinning of a dryer can cause the fibres in the material to break down, which can lead to a loss of colour, shape, and overall quality.
Instead, it's best to air dry bags after washing them. Hang the cotton garment bag in a well-ventilated area away from direct sunlight or heat to dry naturally. A clothesline or drying rack can be used.
It is also imperative to make sure your bags are completely dry before using them. Any remaining moisture can cause mildew or mould growth, causing fabric damage and unpleasant odours.
Avoid Harsh Chemicals
Avoid using harmful chemicals or detergents that can damage the fabric or leave a residue when cleaning your bags. Chemicals such as bleach or fabric softener can damage the fabric's fibres, causing them to become weak and brittle over time.
Instead, use a gentle detergent or soap designed specifically for delicate fabrics. Look for products labelled gentle or eco-friendly, and avoid using any that contain bleach or other harsh additives. Use a small amount of detergent and dilute it with water when washing your bag to prevent damage.
Clean Bags Regularly
Cleaning your bags on a regular basis is pivotal to preserving their quality and durability. Dirt and dust can accumulate on the bag's surface over time. But you can prevent this from happening by cleaning your bags regularly.
FAQs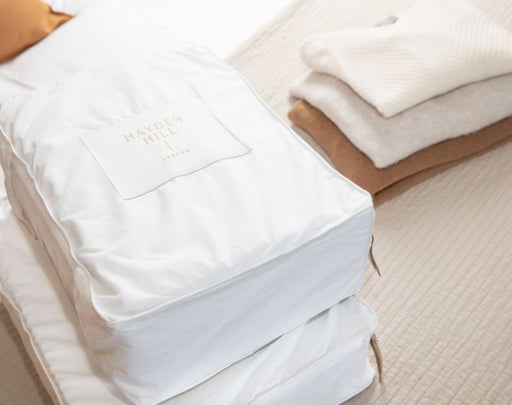 Can garment bags be washed?
Garment bags can and should be washed, though the process and frequency of washing may differ depending on the material of the bags. Organic cotton bags should be washed in cold water with mild detergent either by hand or in a washing machine. Hot water and strong detergents should be avoided as they might damage the fabric. To prevent damage after washing, the bag should be air-dried.
Is it OK to store clothes in garment bags?
Absolutely! In fact, these bags are made for storing clothes, offering an extra protection layer against environmental factors that could sully or damage clothing. Bags can be made from various materials, including plastic dry-cleaning bags, which are not recommended for long-term clothing storage. Bags made of natural textiles such as organic cotton are of higher quality and ideal for storing clothing long term.
Care for your hanging bags and storage bags well so they will adequately care for your clothing. Your most treasured items deserve the best in garment protection. Hayden Hill bags are made of 100% organic cotton that is environmentally friendly and allows your favourite pieces to breathe while keeping them protected from damage. We deliver sustainable and beautiful garment care to preserve and protect the clothes you love most.