How to Layer Clothes Like a Pro
Learning how to layer clothes like a pro is going to take some time, but if you follow the tips in this article, you should master this skill in no time. Choose your colours, lengths, and textures carefully, then accent your outfit with a few accessories. Don't be afraid to get creative or have fun with your outfits, as layering gives you the chance to create a look that is all your own.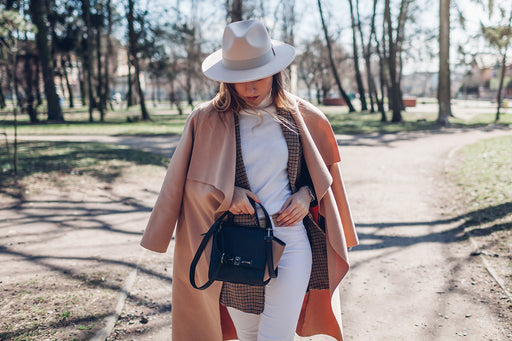 Knowing how to layer clothing well and still look stylish is a skill we all need to have, especially in spring and fall when temperatures vary throughout the day. Or, if you work in an office setting where it may be one temperature indoors and the opposite outside.
In situations like these, layering can save your sanity. When learning how to layer correctly, or experimenting with new layering options, consider these tips and tricks.
5 General Layering Tips
Before exploring layering methods for different seasons, let's discuss a few general layering concepts.
1. Consider How Colours Coordinate
One of the biggest mistakes people make when layering is selecting too many colours. Ideally, choose only one or two colours, including the accessories you add to an outfit. Beautiful colour combinations include blue and brown (or orange), black and red, navy and tan, or black and grey. While prints that introduce more colour are fine, a base colour that is carried throughout the outfit is a must.
For example, pair a black t-shirt with a print blazer, dark blue denim jeans, and a black wool coat. Accessories could include metallic earrings or bracelet, black leather handbag, and funky boots.
2. Keep Proportions in Mind
If you select items that all lay at the same spot on your body, you will be adding bulk. Proportion is, therefore, essential to the layering process. For example, you might choose an ankle-length pant that comes right to where the tops of your high-top Converse shoes begin. Similarly, wide leg trousers look amazing with stiletto heels or a summery sandal. Subtler elements also create contrasting proportions, such as rolling up the sleeves of your button-down shirt to show the beginnings of the three-quarter length sleeve of the undershirt beneath.
Don't overthink it. The layers can be a little messy and unplanned in appearance but still look stylish in the end.
3. Mix Fabrics
To achieve maximum layering aesthetic, you want your layers to be more than one note. In other words, use a variety of materials and textures. You might mix a cotton tank top with a denim button-down, linen shorts, and a pair of woven sandals. Little pops of texture, such as suede boots or tweed pants, can add some depth to the layers without creating bulk.
The key is to not get too overzealous. Choose a couple of materials then experiment with the weights and colours.
4. Choose One Bulky Item
Another way to avoid looking bulky is to limit your outfit to a single bulky item. The rest of your outfit should be relatively thin or light. It doesn't have to be the outer layer, either. You can pair an oversized shirt with a belt around the waist, a chunky pullover with a blazer, or a bulky scarf with a form-fitting sweater.
5. Have Fun
Layering might not come easy in the beginning, so enjoy the process of learning and play around with different textures, lengths, colours, and thicknesses. See what happens when you layer silk under velvet or crop tops with camisoles. By uncovering what looks good on your body, you can start to develop your own sense of layering style. There is no end to the number of layered combinations you can create with what you already have in your closet.
How to Layer Clothes For Summer
Learning how to layer clothes for summer has a few benefits. First, you can find new ways to dress your summer wardrobe up and down, especially if you go from the office to a social engagement regularly. Secondly, layering keeps outfits from getting boring.
And, summer layering allows you to dress a little warmer in the morning then gradually shed layers as the temperature rises. You can also add layers when the sun gets intense and you want to protect your skin.
Here are some tips for layering clothes in the summer:
Think Lightweight
Because summer is very hot in most regions, your layers have to keep you cool. That might sound a bit odd, since layers typically add warmth. However, if you layer lightweight clothing, you can actually minimise the effect the scorching sun has on you. Silk, chiffon, cotton, linen, georgette, seersucker, jersey, and chambray work well because they allow air to pass through to the skin.
Moisture-Wicking Fabrics
You also want to select fabrics that wick away moisture whenever possible. Linen, for one, is both sustainable, and it keeps your skin dry. For that reason, linen is great for a casual lunch date or a day at the office. Lightweight Merino wool and bamboo are also moisture-wicking options that are better for the environment.
Colours and Patterns
In the summer, choose lighter colours that help reflect the sunlight away from your skin. If you would still like to incorporate some dark colours, use them as accents such as jewellery, belts, or scarves. Or, choose sheer fabrics like lace or tulle.
Easy On and Off Layers
Layering in warm weather is all about adaptability. Both men and women can use lightweight sweaters, jackets, cardigans, and blazers to keep comfortable in chilly offices. That same cardigan or jacket can be draped over your shoulders as the temperature rises.
How to Layer Clothes For Fall and Winter
In the winter, you layer to stay warm and comfortable. The best way to accomplish this is through the use of base layers, mid-layers (or insulation), top layers, and outer layers.
The Base Layer
Base layers may not always be necessary, such as regions where winter is crisp but not frigid. The purpose of a base layer is to regulate your body temperature while drawing sweat away from the skin. It is possible to sweat in the winter, especially when you are wearing several layers. Wool and polyester are excellent base layers, since they keep your body heat sealed in. Stay away from fabrics like cotton, which absorbs moisture but never dries
For the lower half of your body, you can layer with insulating wool leggings, sweater tights, or even regular pantyhose.
The Mid Layer
The middle section of your layers serves as added insulation. A mid layer could be a turtleneck fleece or wool sweater. Vests, button-down shirts, cardigans, and blazers also work. Since the mid layer will be visible, you should also consider its texture, pattern, and colour.
The Top Layer
Adding a top layer is another option. The top layer is the sweater that goes over your collared shirt or the cardigan that keeps you warm while wearing a romper.
The Outer Layer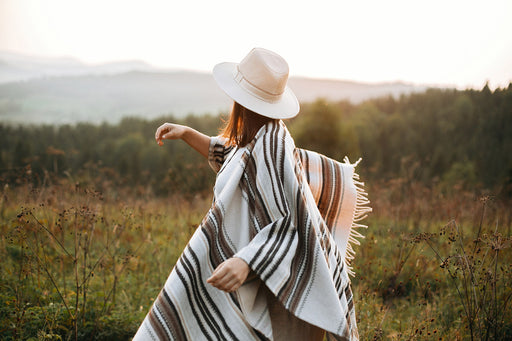 The final piece of your wardrobe is your jacket, coat, cape, poncho, shawl, cardigan, or trench. If the weather isn't particularly cold, a vest also works. Since the outer layer is the most exposed piece, it should tie everything else together. Also, you should think about the length of your outerwear. For example, if you are wearing a base layer, turtleneck cropped sweatshirt, and high waist jeans, you might want a longer parka to offset the length of the sweater.

Your outer layer can also include the accessories you put on to protect yourself from the chill of winter. Think hats, gloves, and scarves. Adding leather gloves that compliment the colours of your purse and jacket can add more aesthetic appeal to your outfit. A wide brim hat can elevate the style of your chunky knit sweater and teddy bomber jacket.

Also, use accessories on the outer layer to break up the monotony of colour. If you are wearing all solids, opt for a plaid or patterned scarf or cute hat. Mix textures and blocks of colour to give your outfit a delightful pop. You can do the same with shoes. Have a predominately black or grey outfit? Wear a pair of red boots.
FAQs
What is the best way to layer clothing?
There is no one way to layer clothes– you simply have to find what works for you. The good news is that there are plenty of possibilities. Layering clothing is all about choosing colours, textures, proportions, and patterns that work with your body and goals. Let the hem of your shirt peek out or your base layer's sleeve to show past the sleeve of your coat.
How do I learn to layer clothes?
Learning to layer clothes like a pro takes a little practice, as well as trial and error. What looks good on someone else might not work for you. Try creating layers based on colours, varying lengths, and proportions. Add in accent colours or patterns to break up your look. In the end, you will figure out what colours, textures, and lengths flatter your body the best.
How can I wear layers without looking bulky?
The key to layering your clothes without adding bulk is to start with thin pieces and then make the bulkiest piece (your jacket or coat, for example) the outer layer. Clothing that drapes or is more form-fitting should go underneath the bulkiest item.
How do you put together outfits with clothes you already have?
The best way to create new outfits is to experiment with mixing and matching items that you don't usually pair together and to add layers. Switching up proportions and using colour and texture for depth can go a long way. Freshen up your shirts and pants by rolling or cuffing the sleeves and legs, too.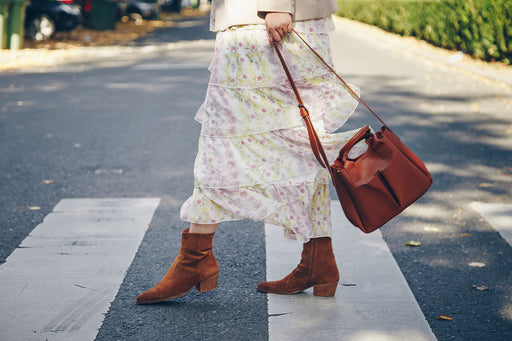 Learning how to layer clothes like a pro is going to take some time, but if you follow the tips in this article, you should master this skill in no time. Choose your colours, lengths, and textures carefully, then accent your outfit with a few accessories. Don't be afraid to get creative or have fun with your outfits, as layering gives you the chance to create a look that is all your own.