Florals: How to Wear This 2023 Fashion Trend
Floral prints continue to be in style for a reason. The beauty of this pattern is in its adaptability; it is available in many different colours, patterns, and textures, and florals are a go-to for any season and event.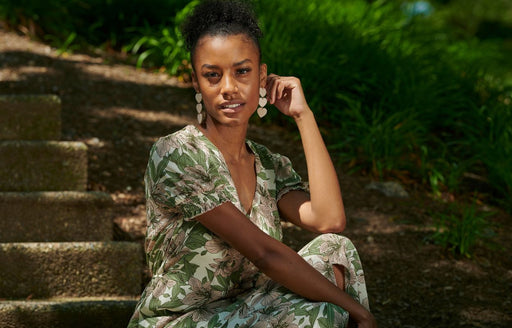 Florals are one of the hottest trends in 2023, with Bottega Veneta, Loewe, and Carolina Herrera all including them in their collections. This trend also dominated the Oscars with Nicole Kidman, Halle Berry, and many others wearing floral-inspired gowns.
Fortunately, flower prints are a trend that's easy to incorporate into your wardrobe, even if you aren't a model or an actress.
Floral print items like maxi dresses, skirts, and pants, paired with simple blouses, may open up a whole new world of options for your wardrobe.
Origin of Floral Prints
Floral prints can be traced back to the 14th century when traders from the East brought the pattern to Europe, where it quickly gained popularity. Florals gradually became widely available to shoppers, with several Italian designers creating pieces with eye-catching floral embroidery.
Chintz, one of the most famous floral fabrics, was considered the most luxurious fabric in the late 17th century, and our love affair with it continues to this day.
Why Floral Prints Are Perfect for Every Season
Floral prints are an excellent choice for a chic look that requires minimal effort to style. Although each season is unique, flower prints can be worn year-round; you simply need to know how to style them for different seasons.
While some florals are perfect for spring and summer, other varieties are ideal for fall and winter wear.
According to Brunette from Wall Street, "dark floral prints, trailing blousy blooms, romantic vintage floral prints, opulent florals, rose prints, perennial florals in digital lavender, and furnishing floral prints" are hot trends for the spring and summer of 2023.
And for fall and winter, add floral patterns to your wardrobe by choosing prints that are a moodier colour scheme or paired with thicker, heavily textured fabrics, according to The Zoe Report.
Why Every Wardrobe Needs a Floral Touch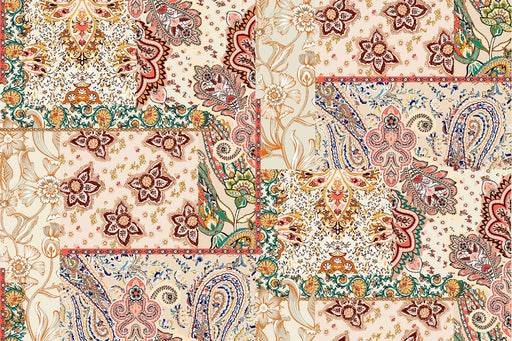 In addition to being suitable for year-round wear, floral patterns are also appropriate for nearly any event from a night out to a picnic in the park. Florals' versatility can be attributed to the many different types of prints.
Types Of Floral Prints
Liberty - A British department store popularised this floral design, which typically features small-scale, closely packed flower forms and details.
Paisley - Paisley flower designs are thought to have originated in Persia, although the word paisley was named after a Scottish town. It frequently features tear-shaped floral components complemented with swirls and dots.
Retro - This floral print refers to the aesthetic ideas and motifs that were popular during the 1960s and 1970s. Retro designs frequently blend repeated geometric flower designs with muted colour tones and high saturation levels.
Baroque - Baroque patterns represent the floral styles associated with the 17th-century Baroque period. They are distinguished by complex patterns accentuated by opposing yet complementary colours.
Calico - This pattern originates from India and frequently consists of small, delicately designed floral patterns that traditionally have vibrant colours and shades.
Vintage - Vintage floral prints are often distinguished by irregular flower patterns that, when taken as a whole, evoke a sense of femininity. They are also frequently created with complex floral motifs.
Acanthus - This flowery aesthetic is generally inspired by the Mediterranean acanthus plant. The print's parts are frequently arranged in an attractive round design.
Arabesque - This print is made up of rhythmic linear patterns and geometric components intertwined with floral motifs. It is primarily inspired by Middle Eastern art.
Ditsy - Ditsy prints are distinguished by vivid and colourful floral designs that evoke feelings of enthusiasm and excitement.
How to Wear Florals
Floral Dresses
If you prefer a feminine style, a gorgeous floral dress is an excellent choice with many options to choose from. If you want a look that's perfect for both work and the weekend, then go for flower prints in muted colours.
A dress with a medium-sized floral print will keep your outfit simple for work. And for summer weekend days, wear your floral dress with flat shoes and tassel bags in a bohemian style. A knee-length dress is a great option that can create a beautiful ensemble when paired with stylish shoes and feminine accessories.
Floral Tops
Choosing the appropriate flower design for your top can be challenging. To pick the perfect floral print for your style, remember that larger prints make a bold statement and smaller prints are more charming and simple.
When creating an outfit with a floral top, consider combining a sleeveless shirt with a solid-colour skirt. Top off the look with a jacket or blazer for chic appeal.
Floral Skirts
Floral skirts come in a variety of styles. They have different lengths (mini, midi, or maxi length) and different silhouettes (high-waisted skirts, flared circle skirts, or bubble skirts). The key is to choose the length and silhouette that looks best for your body type.
Floral skirt prints can be bold with strong, spaced flowers. They can also be small, clustered flowers, which create a simpler, more understated look. Darker colours appear more modest, while vibrant prints are expressive and brighten the mood.
There are several ways to wear flower print skirts. For a casual outing, pair a flower print skirt with a basic crop top and sneakers. Combine your floral skirt with a white shirt or cashmere sweater and boots for a work-appropriate look.
Floral Pants
Floral pants are currently very fashionable. They are quite versatile because they can be dressed up or down to work for any occasion.
For a feminine and stylish outfit, pair floral pants with a button-up shirt, basic tee, or off-the-shoulder top. Finish the look by adding simple jewellery and strappy sandals. For a more polished look, combine floral pants with a blazer, cami, and heels– all in the same neutral color.
Floral Accessories
A simple way to add florals to your outfits is through accessories. A pair of elegant flower earrings or a daisy chain necklace can add a feminine floral touch to any outfit.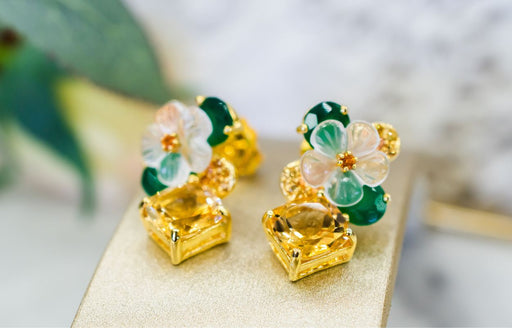 Or top off an outfit with a floral silk scarf or a pair of floral sunglasses for your summer look. Another great floral accessory is a ditsy print hair claw or clip for subtle floral flair.
FAQs
How do you wear floral patterns?
There are many fashionable ways to incorporate floral patterns into your outfit. Begin by choosing a flower print that fits your style and complements your skin tone. Then balance your look by pairing one floral garment with a solid-coloured garment, such as a floral skirt with a white top. Floral accessories such as scarves or headbands offer a flowery touch in a more subtle way. Or you can combine multiple flower prints as long as they have a similar colour scheme.
What goes well with floral prints?
Floral designs can be combined with a number of different pieces to create beautiful and interesting outfits. Solid-coloured clothing is a safe choice to pair with vibrant floral patterns. To make the flower print stand out, choose neutral colours such as white, black, or beige. Or for a matched look, wear a solid colour that is featured in the floral design.
Is it OK to wear floral prints to work?
Wearing floral designs to work may be appropriate depending on your workplace's dress code and culture. In more formal or conservative settings, delicate floral accents or accessories may be preferable to strong, striking pieces. Wearing bright floral designs, on the other hand, can be acceptable and even encouraged, in modern workplaces with more liberal dress codes. In most cases, it is best to choose floral designs that are not too bold and mix them with solid-coloured, fitted garments to maintain a professional look.
Do floral prints make you look bigger?
Floral designs as a whole do not make you appear larger. However, the illusion of a smaller or larger body can be influenced by a floral pattern's exact design, scale, and placement. Larger floral designs may create the illusion of a larger size, while smaller prints can minimise the body. Also, the colour and background of the flower print can have an effect on the overall aesthetic. Darker backgrounds or smaller, scattered floral motifs can have a slimming effect. Pick flower designs that complement your body type and personal taste. Experiment with various sizes and colours to see what works best for you.
Floral prints continue to be in style for a reason. The beauty of this pattern is in its adaptability; it is available in many different colours, patterns, and textures, and florals are a go-to for any season and event.
Get inspired by celebrities like Reese Witherspoon and Blake Lively and start incorporating floral prints into your wardrobe. A floral skirt or dress can be the ideal way to add a touch of femininity to your summer look.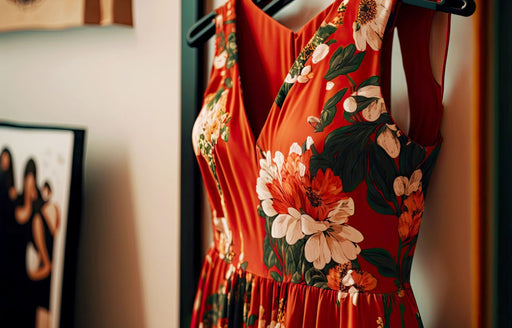 And when packing away your winter florals, we recommend storing your favourite and most valuable pieces in high-quality clothes storage bags. Hayden Hill bags offer a sheer, organza side panel so you can see your winter pieces while in storage. In addition to being machine washable with detachable zipper pulls, our bags feature a wide, 5.25-inch gusset that allows you to store a variety of cherished garments.