3 Things to Know Before Getting an Item Embroidered
If embroidery is something that piques your fashion interest, this article is for you. Before selecting an item or two to take to an embroiderer, here is some basic information that will help you be prepared and able to articulate exactly what you are looking for.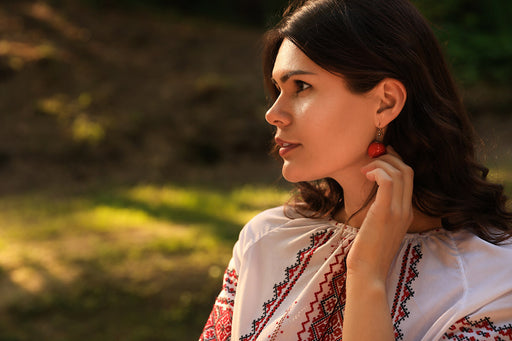 Embroidered clothing goes in and out of style as the years go by. (Though you would never know it by all the embroidered polos from designer men's brands or company salesmen.) 
But, now embroidery is making a comeback in everything from caps to robes to towels. Monogram embroidery, in particular, is consistently popular for new baby and wedding gifts.
If embroidery is something that piques your fashion interest, this article is for you. Before selecting an item or two to take to an embroiderer, here is some basic information that will help you be prepared and able to articulate exactly what you are looking for.
Best Fabrics for Embroidery on Clothes
Some fabrics are better suited for embroidery than others. After all, you've probably never seen embroidered fur or spandex. With good reason.
But, some fabrics like the ones below are ideal for embroidery.
Denim
Denim is an excellent fabric for embroidery designs. Consider all of the stunning designs an embroiderer could add to customise denim jackets and jeans.
Woven
Regular, non-stretchy woven material is the simplest and easiest material to embroider. An item like a cotton button-up blouse makes a great blank canvas for embroidery.
Linen
Linen is often paired with embroidery because the stitches look striking next to linen's texture. Tunics and dresses, table linens, and bedding are all excellent examples of linen embroidery.
Canvas
Although canvas is thick, it is still one of the most popular fabrics to embroider. Tote bags and shoes are two of the most popular canvas embroidery items.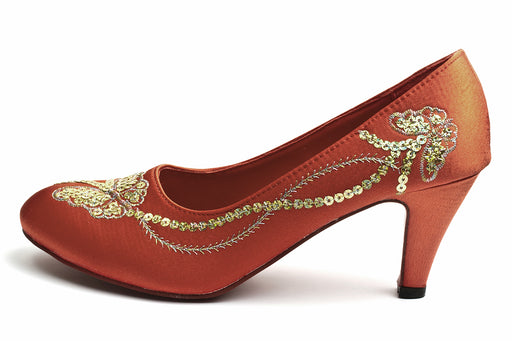 Hiring an Embroiderer
Embroidery can transform ordinary outfits into spectacular ones, especially when used to add unique elements to solid-colour clothes. The possibilities are nearly limitless.
But, before visiting an embroiderer, take these steps to prepare your garments and be ready to meet with your seamstress.
Wash Your Clothing
It is vital to wash and fully dry your clothes before they are embroidered. If a garment is going to shrink in the laundry, you will want it to do so before the embroidery design is added.
Gather Examples
It may be helpful to your embroiderer to see examples of the pattern you are looking for. Gather a few photos from online searches, items you see in stores, or a friend's garment that you can share with your seamstress.
Be prepared to discuss what you like about each design example with your embroiderer, so he or she can best understand your taste and preferences.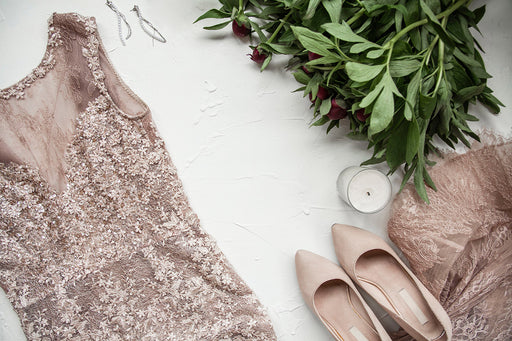 Be Aware of Embroidery Methods
Depending on a seamstress's level of experience with needlework, there are three methods he or she may use.
Transfer Method
Inexperienced and experienced stitchers both use the transfer method, which includes the use of different tools, including:
Embroidery Pen
An embroidery pen is heat-erasable, so a design applied with this tool can be removed using heat even after the project is complete.
To use the pen, the embroiderer will place a template on a light box, then place the clothes on top, and use the embroidery pen to create the template design on the cloth.
Iron-On Transfer
Another simple method for transferring a design to embroidery is by using an iron-on transfer. However, this technique does require you to have a transfer of the pattern you want to embroider on your clothes.
Water-Soluble Stabiliser
Using a water-soluble stabiliser is another way to embroider via transfer. This technique involves using a lightweight, perforated paper that adheres to the fabric while embroidering.
Because this process requires soaking in water, the item to be embroidered must be washable and colourfast. Some of these stabilisers can also be printed on, allowing laser printers to render a precise design.
After the pattern is on the stabiliser, the seamstress would cut it out and peel the backing off, before sticking it to your clothes. They would embroider along the lines as usual, through the thin stabiliser, and into the cloth.
After sewing is complete, the fabric would be placed in warm water to dissolve the paper stabiliser.
Machine Embroidery
An experienced seamstress will likely have an embroidery machine that they rely on heavily to produce designs. Many embroidery machines utilise multiple needles that each sew a different thread colour, making the process much faster from start to finish.
Machines also work with an array of hoop sizes to embroider a variety of different items from jackets to bags to caps.
Hand Embroidery
Some embroiderers may also use hand embroidery for certain designs.
They draw directly onto the clothing with a special tool that is easily washable. Then, they fill in the design with different colours of thread.
Seamstresses may prefer hand embroidery because of the ability it provides to use unconventional ways to add texture and depth to a design.
Though you don't need to know everything about embroidery to hire an embroiderer, it may be beneficial to ask what method the embroiderer uses and if that is the best method for the design you desire.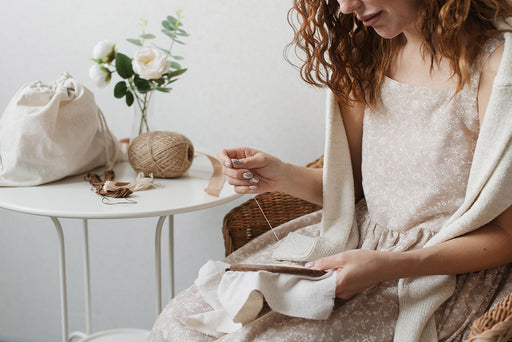 Caring for an Embroidered Garment
Embroidered clothing and accessories often feature complex stitching that may require specific care to keep them looking new year after year. We always suggest following the item's manufacturer's care instructions, but here are some additional ideas that may prove helpful.
The safest way to launder an embroidered garment is to hand wash and air dry the item. However, If you do decide to use a machine wash, we suggest the following recommendations:
To protect the needlework, always turn the garment inside out before putting it in the washing machine.
Avoid washing embroidered clothing with items that could cause harm, such as those with zippers or buttons.
When washing these items, use a mild detergent, and if possible, let them air dry to prevent shrinking.
If the embroidery has vivid colours, a quick wash in cold water can help keep the colours from bleeding.
If you must iron an embroidered garment, avoid using steam, and don't place the iron directly on the embroidered area. Instead, iron the reverse side or use a pressing cloth over the needlework.
Following these tips will keep your embroidered items in excellent shape for years to come.
FAQs
What type of clothing can you embroider on?
The easiest and simplest material to embroider is one that is medium-weight and has little elasticity. These types of materials will be easier to embroider, and they will not shrink or distort over time. A few of the fabrics it is easiest to embroider include denim, linen, woven, and cotton.
How do you wash embroidered clothes?
Ideally, embroidered garments should be hand washed and air dried. Any needlework is best washed in cold water using mild detergents. And, if an embroidered item must be ironed, avoid using steam and don't place the iron directly on the embroidered area.
Before you decide to have an item embroidered, consider the item's fabric, the design and embroidery method you are looking for, and whether you are willing to take special care to launder an embroidered item.
Thinking through these questions will help you be more prepared when you visit an embroidery shop and increase the likelihood that your embroidered item will be everything you hoped it would be and more.
There are few better ways to display your unique personality than by wearing or displaying a custom embroidered piece.
Hayden Hill garments bags are uniquely made of 100% organic, soft cotton that is environmentally friendly and allows your favourite pieces to breathe while keeping them protected from damage. We deliver sustainable and beautiful garment care to preserve and protect the clothes you love most.