Can You Wash a Cashmere Sweater?
And once you know how to clean your cashmere at home with the appropriate techniques and a few wool-friendly products, you'll be able to keep your cashmere sweaters in pristine condition for years to come.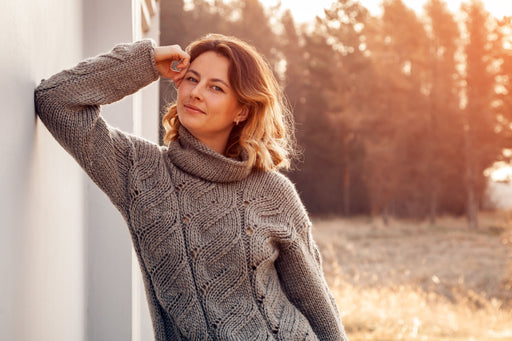 Cashmere sweaters are the ideal way to experience cashmere's luxury. As the perfect combination of softness and light weight, high-quality cashmere sweaters are a comfort to wear and well worth the price.
And once you know how to clean your cashmere at home with the appropriate techniques and a few wool-friendly products, you'll be able to keep your cashmere sweaters in pristine condition for years to come.
Is it Safe to Wash a Cashmere Sweater at Home?
It's common to assume that any expensive or valuable piece of clothing should be dry cleaned. But with natural textiles like cashmere, this isn't always the case. The harsh solvents used in dry cleaning can actually strip the downy, fragile fibers that give a cashmere sweater its light, soft texture.
The label on your garment is the first and best place to look for care instructions on your particular garment, so check to see if it specifies dry cleaning only.
Even if the label indicates the garment should be dry cleaned, you can still clean your cashmere item by hand-washing instead. Many fashion-conscious cashmere owners prefer hand-washing to dry cleaning simply because they like to have control over the entire cleaning process from start to finish.
This is especially true for heirloom or antique pieces of cashmere clothing, such as pashmina shawls or vintage cardigans that may have been passed down from beloved family members through the generations.
Because cashmere is made from the short fibers of a goat's winter undercoat, it's vulnerable to pilling. Pilling occurs when small balls of fabric form on the surface of the clothing. These pills need to be removed with a comb specifically made for wool garments.
Frequent washing contributes to excessive pilling, so wear your sweater a few times before washing if possible. Wearing a camisole underneath your sweater will help shelter the cashmere from your body's natural oils and extend the time between washes. However, if the sweater is stained or if you are ready to store it, the sweater should be treated and washed immediately.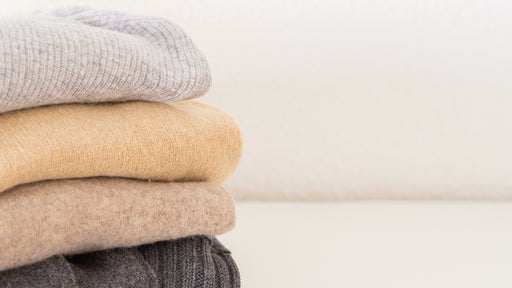 How to Wash Cashmere Sweaters at Home
Cashmere is most vulnerable to damage when wet, because it can be easily stretched or misshapen. In order to avoid pulling or stretching wet cashmere too much, clean each piece you have separately and use fresh water with each wash.
Pre-treating stains on cashmere can be tricky, so only use stain removers that are labeled wool-safe. Avoid scrubbing cashmere as this can damage its short fibers permanently.
Step 1: Clean sink or tub prior to washing cashmere
The tiniest bit of grime or grit could damage cashmere is when it's wet, so make sure your sink or tub is completely clean. Also, make sure the sink, basin, or tub you plan to use is big enough to submerge the entire sweater.
Step 2: Fill basin with lukewarm or cool water
When wet, natural fibers like cashmere lose some of their elasticity - the ability to return to their former shape once stretched - and hot water weakens these fibers even further. The temperature of the water should be no hotter than 104º F, but cool water is often best.
Step 3: Use a mild, cashmere-safe detergent
While it may be easier to wash your sweater with baby shampoo or a mild dishwashing liquid, using a wool-safe and cashmere-friendly detergent is the best choice for maintaining the quality of your garment.
These specialised detergents help condition the natural fibres of textiles like cashmere, which are more likely to break down when stripped by harsh detergents. Another product to avoid using is harsh chemical cleaners, especially anything with bleach in it.
Step 4: Fully submerge the sweater
If you're using a big enough basin and the right amount of water, you should be able to submerge your cashmere sweater entirely. Because you should not scrub or stretch the garment, you must depend on the free-flowing movement of soap-infused water through the fibers of the cashmere to clean it. You can aid this process by gently agitating the water, but always avoid pulling at the fabric itself.
Step 5: Soak for at least five minutes
Once you've made sure the entire garment has been saturated, you can let it soak. This will help the surface of the cashmere to release any oily residues or particles of dirt. If your garment only needs a basic wash, then a five-minute soak should suffice. When the sweater has tougher cashmere stains or odors, allow it to soak for longer - but not more than 30 minutes.
Step 6: Use white vinegar to kill odors
During the rinsing process, you can include an extra step to rid your garment of any lingering odors. Refill the tub or sink with enough water to cover the piece of cashmere clothing and add up to 3/4 cup of white distilled vinegar. It doesn't need to soak for long, and after soaking, rinse the garment thoroughly to release all the soap and any vinegar that remains.
Step 7: Squeeze to release excess water
Fully saturated cashmere is at its most vulnerable to permanent damage, so you should treat wet clothing with incredible care. Squeeze it section by section until you've released as much water as possible before lifting it out of the tub or sink. Never twist or wring natural textiles like cashmere as this can cause the fibers to break and the shape to stretch disproportionately and permanently.
Safe Methods for Drying Cashmere Sweaters
Laying items out flat to air dry is the best method for drying cashmere sweaters. However, this method does require patience. The thicker the weave, the longer it may take.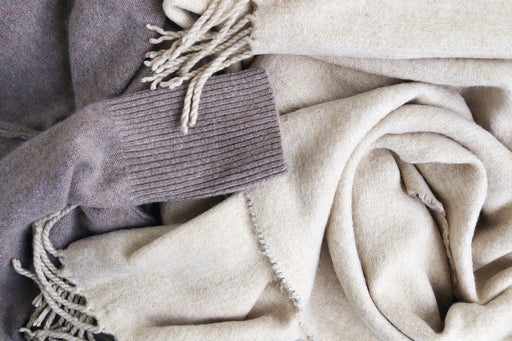 Exposing a sweater to any heat or light can damage the cashmere, so you should avoid letting it dry near any hot surfaces or windows that let in bright light.
Some clothing that is made of a cashmere blend can withstand tumble-drying, but this is still risky. Once wools like cashmere shrink, they can never be restored to their former glory, even if you try methods to unshrink cashmere. Even a no-heat setting on a dryer can still stretch or cause the fabric to lose its shape.
If you need to speed up the drying process for your cashmere sweater, try sandwiching it between two towels. You can gently press it between the towels or roll it up and allow the light pressure between the layers to wick away the moisture.
Steaming can help release wrinkles left on the sweater after it is dry. If the care instructions indicate low-heat ironing is permissible, use a pressing cloth and turn your garment inside out to minimize the chance of causing damage.
Storing and Protecting Your Cashmere Sweater
The seasonal nature of many pieces of cashmere clothing means they are stored for a portion of the year, which can pose its own set of problems. Because it can easily lose its shape, a cashmere sweater should never be put on a hanger for long periods of time. You should fold cashmere clothing carefully and use acid-free tissue paper between its layers to help prevent friction damage and allow it to breathe.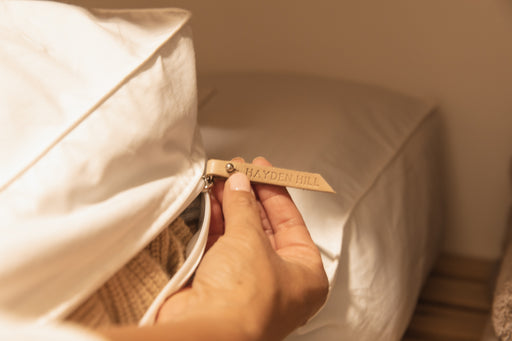 Cotton or breathable zippered bags are best for storing cashmere sweaters. Superior-quality bags like those from Hayden Hill do more than just store your sweaters; they preserve the beauty of your clothing. Our bags are made of organic, soft cotton with a sheer, organza side panel so you can see your pieces while keeping them protected from light, dust, and moths. Hayden Hill delivers sustainable and beautiful garment care to protect what you love.
Though this article covered the basics of washing your cashmere sweaters, you can also get our comprehensive guide on cleaning and protecting your cashmere items. Such luxurious and valuable pieces necessitate meticulous care to maintain their high quality and protect your investment.