A White Shirt: An Item Every Woman Should Own
A white shirt is a versatile item that every woman needs, regardless of her style, body type, or budget. Owning a high-quality, white button-down shirt could be considered your fashion best friend.
A classic white shirt is a wardrobe staple that saves time and effort on those days when you can't decide what to wear. Timeless, chic, and versatile, a good quality white button-up is the ultimate base of a stylish capsule wardrobe - one that is able to tie together several memorable outfits in a matter of just minutes. Celebrities like Julianne Hough and Alessandra Ambrosio certainly agree.
A white shirt is a perfect blank canvas. But with so many possibilities, it can get overwhelming because styling a basic white button-up can require a bit of creativity.
That's why we put together a few tips with everything you need to know about how to buy the right shirt and how to style it well.
Choosing the Right White Shirt
There are a few things to keep in mind before shopping for the perfect white button-up. This shirt is a classic piece that you will use for years to come, so it is worth doing a bit of research before making a purchase.
Look at the Fabric
The shirt's fabric will affect how it looks, feels, and drapes. For a polished look, opt for natural fabrics that feel soft and luscious. Organic cotton may be the most popular option, but linen or silk shirts are also great options.
Look at the Details
Details like the shirt's collar and cuffs can make or break your look. The collar and cuffs of the best white button-ups have high-quality interlinings. An interlined collar creates a neat, polished appearance.
Look for a Proper Fit
Fashion is always open to experimentation, but it's hard to look fashionable in an ill-fitting shirt even if it's a designer piece. If you are unable to find an off-the-rack shirt that fits well, don't be discouraged. A tailor or seamstress can adjust the shirt to perfectly fit your body.
Styling a White Shirt
With a few tips, tricks, and the right complementary pieces, a white button-up shirt can become a chic and fashion-forward outfit. It can be dressed up or down and is perfect for many occasions. And, styled well, it is anything but boring.
Styling a White Shirt With Jeans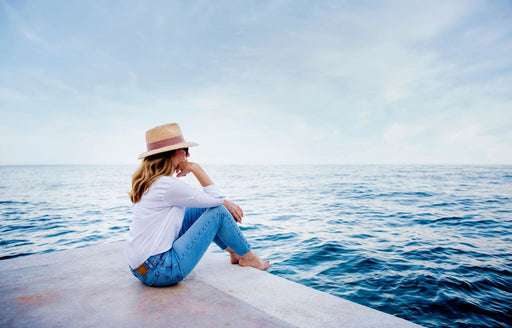 The white button-up and jeans combination is a timeless casual classic for a reason. Despite the fact that so many women wear this outfit, it is still eye-catching and chic in its simplicity.
However, there is always room for improvement.
Choosing the Right Jeans
There are many styles of white shirts and jeans to pick from. Finding the right ones depends on your body type, the occasion, and the general dress code. The ideal white button-up might be made of basic cotton for a more casual look or a glamorous silk fabric for an evening out.
When paired with dark wash, slim-fit jeans, white button-up shirts offer an air of casual refinement. You can choose flared or bootcut-style jeans for a different twist. For informal occasions, a white shirt also looks great with straight, slim, or trendy jeans like mum or boyfriend jeans.
To achieve a street-style look, pair a white button-up with ripped jeans in any shade, but keep in mind that black or light blue is the preferred option. You could also choose high-waisted jeans which will give you a taller and more slender appearance. Or, opt for low-cut, baggy jeans for the ultimate street-style outfit.
Choosing Accessories and Footwear
White sneakers may be the obvious shoe choice to pair with jeans and a white shirt. However, you can also experiment with various heel styles for a more classic look. Platform heels in different colours, black sandals, and nude pumps will elevate the appearance of your white button-up. You can also wear loafers for a stylish yet easygoing outfit.
A simple outfit will be enhanced when paired with accessories like colourful scarves, bold necklaces, hoop earrings, or designer bags. Try experimenting and pair a white button-up and trousers with different hat styles for a more striking look.
Styling an Oversized White Shirt
Remember the iconic, loose white button-up Julia Roberts wore with an electric blue skirt in "Pretty Woman?" Even in the '90s, film costumers knew that an oversized white shirt could be used to create an unforgettable look.
Oversized white button-ups are available in many varieties and styles. Puffed sleeves and traditional sleeves, front pocket and no pocket, button-down collar and non-buttoned, as well as variations in the pleats and hem. These are only a few of the options available.
The options for styling an oversized white shirt are also nearly endless.
Everyday Style Ideas
The distinction between work clothes and casual clothes has decreased over time, and an oversized white shirt thrives as both a work wardrobe classic and a reliable go-to everyday casual look.
Wear the button-up tucked into a pair of relaxed trousers for work or untucked with a skirt or leggings and tall boots for a casual look.
Evening Style Ideas
For a sophisticated evening outfit using an oversized white shirt, stick to a black-and-white colour scheme. Your white button-up will pair great with slim black leggings or leather trousers, and this look works for dinner with friends or dropping by a wine bar with your partner.
For a daring look, combine a high-waisted mini skirt with an oversized white shirt that is partially unbuttoned.
Styling a White Linen Shirt
Keeping things simple and effortless when creating an outfit is often the best way to go. A white linen button-up is the epitome of simplicity and effortlessness. The ease of wearing linen in hot weather, its versatility, and its aesthetic appeal are what make it unique.
If you have a white linen shirt, here are a few tips for styling it in a chic way.
Pair a White Linen Shirt with a Skirt
This pairing is ideal for a hot summer day. Choose a comfortable skirt in any length to pair with your white button-up, and accessorise it with eye-catching sunglasses, a shoulder bag, and open-toe sandals. You will feel cool and relaxed all day long while looking put-together and chic.
Pair a White Linen Shirt with Shorts
Grab your cutest pair of shorts to style with your linen shirt. Shorts are easy to dress up or down with the right accessories. So, put on a pair of heels and tuck the shirt into your tailored shorts for a more sophisticated look, or go for denim shorts with flat, strappy sandals and an oversized hat for a boho style.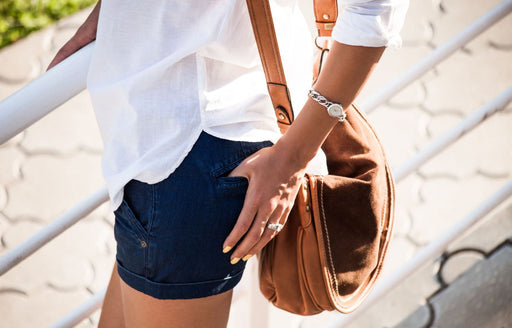 Pair a Linen Shirt with a Swimsuit
Bringing a linen shirt to the beach will allow you to enjoy the sun and waves in style. A white shirt will accent your tan, while also serving as a perfect swimsuit cover-up. Combine it with your favourite sunglasses and beach bag, and you have an amazing look!
Pair a Linen Shirt with a Dress
This combination is ideal for the transition from summer and fall. A lightweight covering like a linen shirt is ideal for transitioning a summer dress into autumn. Tie the shirt in a loose knot to add some proportion to your outfit and match it with ankle boots and a small purse.
FAQs
What looks good with a white shirt?
A white button-up is basic, clean, and uncomplicated. It matches nearly everything and doesn't look overdone. You can layer it or wear it alone and dress it up or down. It's the ideal piece to include in your wardrobe. This clothing item goes well with your favourite jeans, under your most cosy jumper, over a summer dress, tucked into shorts, or as a cover-up for your swimsuit. Few garments are as adaptable as a white shirt.
How do you dress a simple white shirt?
A simple white button-up shirt will forever be a staple in every woman's wardrobe. A basic white shirt is key whether you follow fashion trends or prefer a classic look. In autumn and winter, combine a white shirt with a knit sweater. In summer, wear one over a mini dress for a daring ensemble. Dress up a white button-up for the evening by adding jewellery, a belt, and your favourite pair of heels.

As you can see, a white shirt is a versatile item that every woman needs, regardless of her style, body type, or budget. A white button-up can be worn all year long for both casual and formal events. And, as a part of a capsule wardrobe, a white shirt lends itself to easy mixing and matching with other items.

It is simple to accessorise white button-up shirts with bold necklaces and jewellery, as well as a chic scarf, hat, or sunglasses to provide the finishing touch an outfit needs. Owning a high-quality, white button-down shirt could be considered your fashion best friend.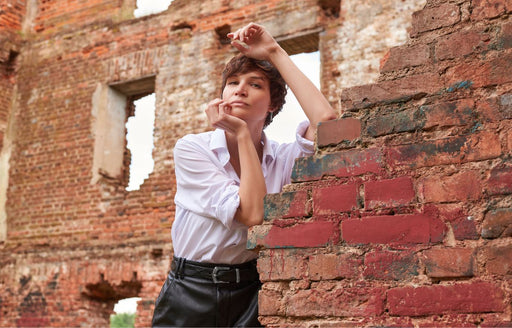 Keep all of your favourite fashion pieces in pristine condition by storing them in high-quality garment bags when not in use or out of season. Hayden Hill bags are made of 100% organic, soft cotton that is environmentally friendly and allows your favourite pieces to breathe while keeping them protected from damage. We deliver sustainable and beautiful garment care to preserve and protect the clothes you love most.