4 Traditional Indian Ethnic Fashion Pieces
Ethnic wear describes the traditional attire worn by people belonging to a specific ethnic group. There are many types of ethnic fashion that feature intricate designs, vibrant colours, and various shapes and sizes, each unique to its own culture.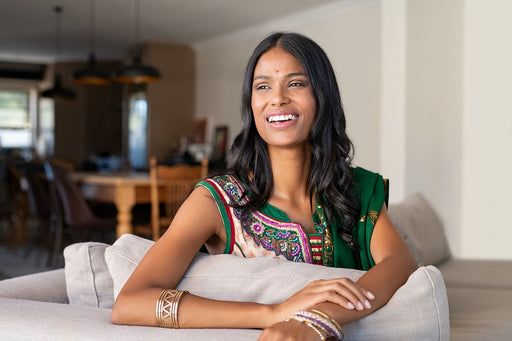 In the world of fashion, nothing remains the same. There are regularly new collections, trends, and innovative designs debuting from designers all over the world.
But when it comes to ethnic fashion, traditional pieces never go out of style. Fashion is an important part of preserving a culture's way of life.
Different Types of Ethnic Fashion
Ethnic wear describes the traditional attire worn by people belonging to a specific ethnic group. There are many types of ethnic fashion that feature intricate designs, vibrant colours, and various shapes and sizes, each unique to its own culture. Some of the ethnicities with the most striking fashion are Thailand, Palestine, Ghana, and India.
Thailand
Thai fashion includes several types of traditional wear. The more formal type of ethnic wear involves a long tube-shaped skirt called a sinh, perfectly balanced with a long-sleeved collarless blouse. The skirt can be patterned or solid depending on the occasion.
Palestine
While the ethnic style in Palestine is considered ancient, it does not disappoint. Often worn on special occasions, the intricacy and beauty of Palestinian clothing is unmatched. You'll find many colourful dresses, the brighter the better, coupled with heavy to moderate embroidery, depending on the occasion.
Ghana
Ghanaian clothing is known for its brilliant colours and incredible handmade fabrics. Ghana represents most African fashion, with one of the most popular garments called a kente. A kente is a unisex outfit that can be worn by both men and women but is styled differently for each gender. Men style the kente almost like an ancient Greek toga, with fabric draped over one shoulder and wrapped around the body.
On the other hand, women wear a two-piece kente, one forming a long skirt, while the other is used as a shawl. A plain-coloured blouse is added to the dress for a complete look. This type of fashion is often showcased at weddings.
India
Indian attire is very intricate and beautiful. From bridal wear to everyday attire, the use of bright colour, luminance, and dazzle in traditional Indian wear are phenomenal!
Many Indian women have also started incorporating western fashion into their culture. They wear jeans, trousers, shirts, t-shirts, dresses, and more with their own beautiful little twist. Often these types of clothes are paired with extravagant colours to provide a cultural touch to Western fashion.
Traditional Indian Fashion for Women
While Western clothes are classy, Indian clothes are quite graceful. Traditional outfits like salwar kameez, silk sarees, and lehengas are worn for special occasions, and Western-inspired crop-top lehengas and floor-length dresses are worn for more casual occasions. But as beautiful as the Western-inspired pieces are, the traditional pieces are the backbone of Indian fashion.
Sarees
There's nothing more beautiful than a dazzling saree adorned with tiny jewels. Sarees can be worn for any occasion, dressed up or down with a variety of accessories. An Indian woman draped in a silk saree is certainly a vision of effortless beauty! And the best part is, there are many styles to choose from.
Silk Sarees
Bold and big-bordered silk sarees are a stunning and widespread ethnic style worn by Indian women. The delicate designs embellished along the edges of the saree are the main attraction of this elegant outfit.
Kanjeevaram, Banarasi, Mysore, and Kita silk sarees are especially popular for their large borders and brilliant colours, designs, and patterns. Whether it's embroidered, printed, or sequined, these silk sarees are the perfect outfit choice for formal and casual occasions.
Cotton Silk Sarees
Cotton silk sarees are another fabulous type of ethnic wear that are a blend of cotton and silk, which results in a lightweight and comfortable garment that drapes well. Simplicity is what attracts many women to this type of saree.
Net Sarees
Graceful net sarees embellished with sequins and stones can give any woman a glamorous look. These types of sarees can be found in many colours, styles, and textures with thick borders that pave the way for tiny, shimmering sequins that cover the entire outfit.
Salwar Suits
If comfort is a priority, then salwar suits could make a great addition to your wardrobe. They're one of the most popular types of ethnic clothing and can be worn for almost any occasion, depending on the style, patterns, and season. Over the years, these traditional salwar suits have evolved, and some include a touch of inspiration from Western fashion.
Palazzo Salwar with a Straight Kurti
Palazzo is a type of wide-hemmed pants that are often paired with an exquisite kurti. This type of salwar suit is worn by many Indian women, especially for special occasions. They add a touch of elegance to any outfit and can be worn with a simple kurti for a delicate contrast. Often the trousers are clad in heavy embroidery, and a dupatta is draped over the beautiful outfit, for a graceful look.
Floor-Length Anarkali Suits
The ethnic fashion trend of Anarkali suits originated during the Mughal empire, and they are still worn by many Indian women today. The variety of designs, colours, and patterns make this attire unforgettable. With heavy embroidery dotted along the floor-length silk dress, the small yet intricate details of an Anarkali suit are quite unique.
This suit is often paired with leggings, pants, or palazzos, and it can be worn for any occasion.
Patiala Suits
When looking for the perfect ethnic suit, opt for a Patiala suit. It makes the perfect party outfit choice for women of all ages. From silk to plain designs, these suits can be dressed up or down depending on the occasion.
Kurtis
A kurti is also a part of the classic Indian ethnic style. Ranging from long lengths called kurtas to short lengths called kurtis, colourful to plain, and designs from plain to embroidered, kurtis are one of the most popular and comfortable types of clothing worn by Indian women.
Long Kurtas with Front Cut
This lavish design provides a completely different look than a kurti. The front slit can be placed on the front side of the kurta and can be wide or small depending on the wearer. These spectacular kurtas are commonly paired with leggings, jeggings, palazzos, or dhoti-style pants.
Shirt Style Kurtis
These shirt-style kurtis can be dressed up or down, depending on the occasion. Indian women love this type of ethnic wear simply because of the comfort and casual, yet classy look it gives them.
Lehengas
One of the most beautiful types of traditional attire is the Lehenga, often reserved for special occasions like weddings or parties.
Lehenga Choli
The Lehenga involves three pieces: a long flowy skirt called a lehenga, cropped top called a choli, and a thin scarf called a dupatta to drape over the outfit. The Lehenga is often a bright red colour, laboriously accessorised with heavy jewellery to match.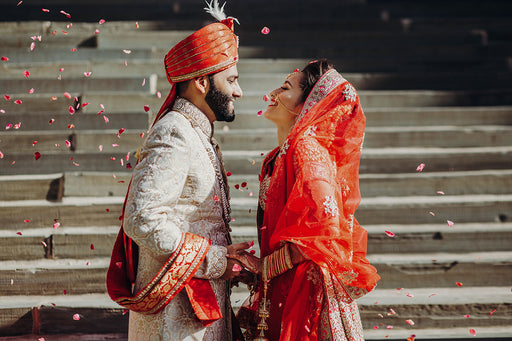 Most Indian women prefer to wear lehenga for extravagant occasions. From simple embroidery to phenomenal beadwork, the designs never disappoint! Style options include an A-line lehenga choli, sharara style with long flowy trousers, or Anarkali lehenga style.
Crop-Top Lehengas
Crop-top lehengas can be considered the most popular type of lehenga in Indian fashion. The cropped length adds a modern touch to this traditional attire. Whether it's a frill top with cuffed sleeves or a sleeveless masterpiece, the variety of stylish crop-top lehengas is immense.
FAQs
What is ethnic style in fashion?
Ethnic style refers to fashion inspired by ethnic culture. This can be revealed through bright colours, unique textured clothing, and more.
Is traditional and ethnic wear the same?
Yes, ethnic wear refers to clothing worn by a particular culture or country. This type of attire can also be referred to as traditional clothing.
What is ethnic apparel?
Items of clothing that represent the culture or the identity of a specific ethnic group are called ethnic apparel.
Ethnic fashion refers to a type of traditional dress that belongs to a specific ethnic group, such as Indian, Thai, African, or Arab. Indian ethnic fashion in particular is well-known for its bold colour and striking designs.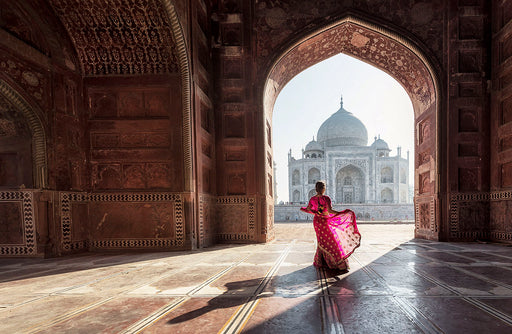 If you are fortunate enough to own traditional Indian clothing, don't forget to care for your valuable and intricate pieces by storing them properly. We recommend Hayden Hill hanging garment bags that are made of 100% organic, soft cotton that is environmentally friendly and allows your favourite ethnic pieces to breathe while keeping them protected from damage. We deliver sustainable and beautiful garment care to preserve and protect the clothes you love most.