How to Mix and Match Patterns Like a Pro
Identifying your favourite patterns will make it easier to find sustainable versions. Sustainable brands create clothing in a variety of patterns and styles, from animal print, organic cotton T-shirts to polka dot, silk skirts to pinstripe, wool blazers. If you know which patterns you prefer and which look best on you, it will make shopping much easier.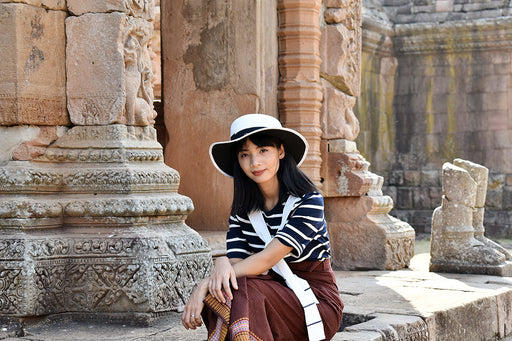 Looking fashionable requires you to put outfits together with style. And, one of the foundational principles every fashion enthusiast needs to know is how to mix and match clothing. Especially if you also value sustainability and want to wear your clothing for many years.
Having a variety of colors, patterns, and fabrics in your wardrobe, and knowing how to combine them stylishly allows you to create an endless number of outfit combinations. But, developing this skill requires practice and trial and error.
And, if you are uncertain about where to start, which guidelines apply to mixing and matching, or when to know if you have too much pattern, this guide is a great place to start.
This article will explain how to mix patterns in ways that will help you look well-dressed and stylish.
How To Combine Patterns Well
Learning how to combine different pattern styles and types can transform your solid looks into multidimensional outfits. Here are a few tips on how to mix and match the nine most prevalent and classic patterns and prints used in clothing and accessories.
Simple Patterns
Stripes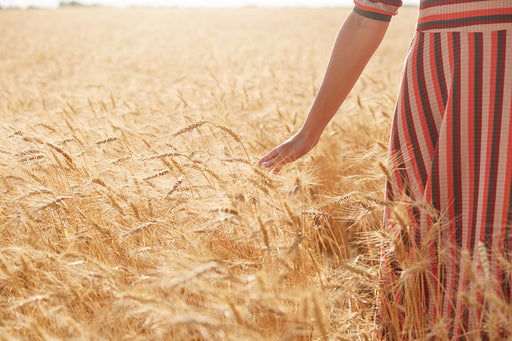 One of the most popular and well-known patterns is the stripe. Stripes can be found in a variety of styles including pinstriping, broad stripes, and diagonals. Thinner, even stripes are the most traditional shirt sleeve striping design. Since pinstripes have a wider scale band between the stripes, they are normally only used with suits.
For a balanced look, search for stripes with uniform widths. The safest bet when wearing stripes is to pair one striped piece of clothing with a solid piece of clothing. For an understated look, choose a solid neutral, or for a bold look, choose a pop of colour to achieve a head-turning ensemble. In fact, Trendspotter coined stripes the "neutral of prints," so this pattern can be paired with almost anything.
There are numerous options of striped clothing to choose from, and they are simple to add into any wardrobe. And, because stripes never go out of style, this is definitely a pattern worth adding to your wardrobe.
Plaid (and Tartan)
There are many different types of plaid, including tartan and glen plaid, but all of them follow a pattern that is essentially the same. Plaids are typically made up of two or more colours, then woven in bands that run horizontally and vertically.
Tartans are famous for being used to represent clans, families, and even political affiliation in Scotland and the British Isles.
While woven wools are where plaids are most frequently seen, this pattern can be found on anything from shirts to accessories to home décor. The most common type of plaid features a big stripe flanked by thinner stripes, which repeats extensively.
Due to the eclectic colours, plaids are usually a bolder print, so incorporating them into your outfit will make a statement. Look for darker hues or plaids with the same colour in various tones if you want something more understated. Or, try incorporating a small amount of this pattern by wearing plaid accessories such as handbags or shoes.
Checks (and Gingham)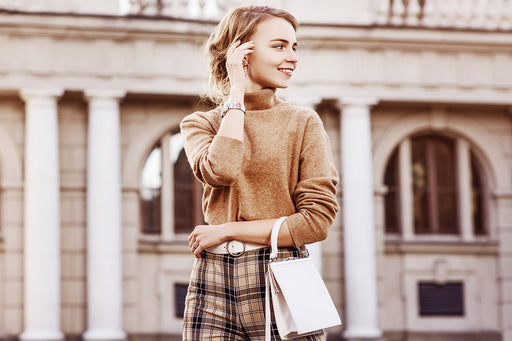 A chickened design features both horizontal and vertical stripes and has an appearance similar to a chessboard.
Gingham is a check pattern that usually pairs a bold colour with white. However, any colour combination which results in a horizontal and vertical striped pattern can be considered a check.
This is a pattern that creates squares of equal size when crossed, and it comes in both small, snug sizes as well as bigger sizes.
The easiest way to add checks to your wardrobe is by purchasing a gingham button-down shirt to pair with a neutral pant or bold skirt, depending on the look you are going for.
Advanced Patterns
Herringbone
Herringbone is a pattern that is frequently used in suits, shirts, and accessories. It gets its name from the way the fabric is woven, which makes it resemble the bones of the herring fish.
Depending on your perspective, the two colours woven together can form either a zigzag pattern or a thin-banded chevron pattern. The herringbone pattern is most commonly found in wool clothing with natural colours and very occasionally in formal shirts.
Typically, these types of patterns are made with similar colours to achieve a modest appearance from a distance, yet provide a hint of intricacy up close. Popular herringbone pieces include coats, blazers, and pants. Pair any of these items with neutral colours for a smart look.
Hounds tooth
This design is an alternative to the traditional check pattern. Hounds tooth has broken corners and often seems more diagonal than horizontal rather than having clear, crisp squares. A certain style of weaving a dual-tone pattern results in the hound's tooth-like shapes.
This pattern is commonly found on shirts, accessories, and plaids, in addition to outerwear. It is a timeless pattern that can be paired with either neutral or bright colours.
Paisley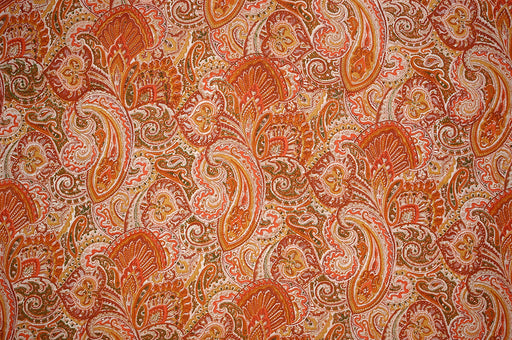 The paisley pattern has long been prominently used in Turkish and Middle Eastern design. This print usually stands out as a result of the vibrant and contrasting colours used to make it.
This bold print also includes floral influences, seen in the overall shape and the surrounding supplementary shapes employed in the pattern. Additionally, there are tonal paisley patterns, created using various shades of the same colour.
Paisley is a striking pattern that will draw all eyes to your outfit. It can be found on everything from shirts to accessories to home décor, both in small and large scales.
Polka Dots
A pattern of identical-sized circles is known as a polka-dot. The dots can be big or small; bigger dots tend to make a stronger statement, while smaller dots typically look more neutral.
Because polka dots can be considered neutrals, there are a variety of ways to pair them with other items. For an understated look, pair a polka dot item with a solid colour. Or, for a bolder look, pair polka dots with stripes, plaid, or florals.
Geometric Prints
Triangles, squares, and trapezoids are among the shapes that can be seen in geometric prints. They can be more abstract or detailed and repetitious. A repeating geometric pattern in two colours is also known as a hounds tooth.
The safest bet for wearing a geometric print is to allow the print to be the main focus of the outfit, and select other clothing items that are more understated and neutral. That being said, if you prefer a striking look, feel free to experiment with brighter colours.
Animal Prints
Animal prints include spots, stripes, and scales, all imitating prints found in nature.
Although animal prints modelling the skin of zebras, snakes, and leopards are striking, they do make quite a bold statement. Fortunately, there are subtle ways to use them and implement them into your wardrobe. If you are hesitant to wear animal print clothing, start by wearing animal print accessories, such as earrings, shoes, or handbags first.
But, if you are ready to try an animal print clothing item, consider pairing a top with a black, white, or tan bottom. Or, spice it up by pairing an animal print skirt with a red top; red and animal prints make an eye-catching combination.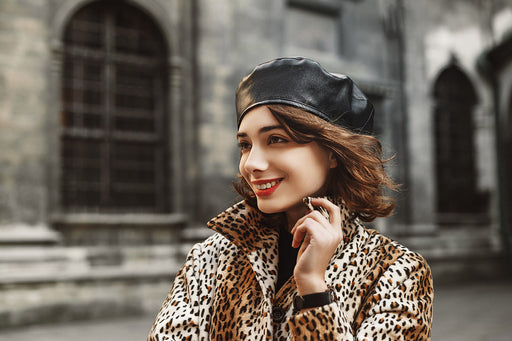 Tips for Wearing Patterns
Now that you are familiar with the most common pattern styles, here are a few additional tips on how to wear them.
1. Be careful when combining multiple patterns.
There can be too much of a good thing when it comes to patterns. So, be cautious with how many patterns you wear at one time. If you want to combine patterns, start by adding another pattern to stripes or polka dots, since those are often considered neutrals.
2. Consider how patterns balance one another.
Whether you are wearing one or combining multiple patterns, the ability to balance or scale them is crucial. Try wearing a smaller design to create contrast if you are already wearing a larger pattern. Do not combine several loud designs together. In any outfit, make one pattern the main focal point and supplement the outfit with more understated and complementary patterns and colours.
3. Stick to simple combinations at first.
It's best to start small and simple, especially if you're new to wearing patterns. For a timeless style, layering a simple pattern over a striped top is always a win. Look for a subdued design to go with a loud patterned shirt. Avoid combining patterns that match exactly, but use comparable colours to tie the pieces together.
Finding Patterns in Sustainable Clothing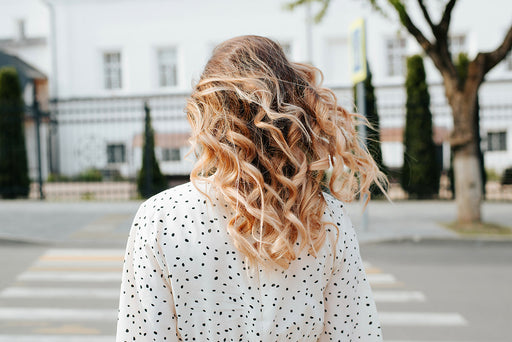 Identifying your favourite patterns will make it easier to find sustainable versions. Sustainable brands create clothing in a variety of patterns and styles, from animal print, organic cotton T-shirts to polka dot, silk skirts to pinstripe, wool blazers. If you know which patterns you prefer and which look best on you, it will make shopping much easier.
When learning to uplevel your style by combining patterns, the most important thing is to experiment, and have fun! In no time, wearing patterns will come naturally, and you will have a whole new way to create stylish outfit combinations.