7 Ways to Look Chic in Comfortable Clothes
One reason comfortable chic is popular is because of its versatility. When executed well, it can be appropriate for a variety of occasions such as meeting friends, running errands, or relaxing at home.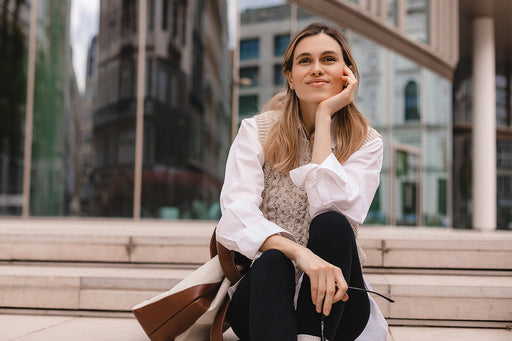 Perhaps you are deciding what to wear while working remotely or you need an outfit for a casual weekend at home. Most of us want to look our best while also feeling comfortable and relaxed, and achieving that balance can be difficult. But, with a comfortable chic look, we can have the best of both worlds.
The goal of comfortable chic style is to create outfits that are fashionable and comfortable, so you can look good and feel good.
Fortunately, this look is now more accessible than ever with so many designers and fashion brands like Jac Cadeaux and Lululemon offering different chic and comfortable outfits.
Whether you're running errands, grabbing lunch with a friend, or simply lounging around, you can achieve a comfortable and chic look with a few simple tricks.
7 Ways to Create Comfortable Chic Outfits
1. Experiment with Clothing Combinations
Even though relaxed clothing is extremely comfortable, it can be too casual for some situations. If your goal is to look put-together and stylish while being comfortable, you should start by experimenting with formal and casual combinations.
Combining formal and casual clothes is a good way to balance out your outfit. For example, pair a simple t-shirt with formal black pants and ballet flats or a denim jacket with an elegant skirt. By combining formal and casual pieces, you can create a one-of-a-kind look that is both comfortable and stylish.
Experimenting with texture is another way to add depth to your look and make your comfortable outfits less casual. When you combine casual clothes with textured garments you automatically make your outfit more fashionable. Wear a cute and cozy sweater with a leather jacket and sneakers or pair a chunky knit sweater with a tailored skirt and heels. Experiment with different textures and styles to create a fashionable look that suits your personality.
2. Choose the Right Pieces
Some styles can be more easily transformed into a comfy and chic aesthetic than others. Having the right pieces of clothing is essential for effortlessly creating comfortable chic looks.
A classic suit, white crisp shirt, and heels make a definitively formal statement. However, if you swap the suit for a pair of leggings or jeans, keep the white shirt, and add trendy boots, you create a laid-back yet chic outfit.
3. Follow a Neutral Colour Palette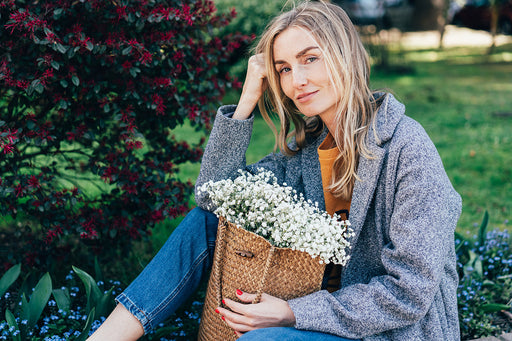 One of the most important factors to consider when combining comfortable and stylish clothing is the colour palette. Neutral coluors are ideal because they can be easily mixed and matched to create sophisticated and harmonious looks.
When mixing and matching clothes, you can't go wrong with neutral colours such as white, beige, gray, navy, and black. They can be worn in any season, are classic and timeless, and can instantly elevate your look.
Achieve a monochromatic look by wearing different shades of the same colour, or mix and match different neutrals for a subtle yet sophisticated look.
When combining different textures and fabrics, neutral colours can be especially helpful. A white silk dress, for example, paired with a beige cashmere sweater creates a sophisticated and luxurious ensemble. Likewise, a gray wool coat combined with jeans and black ballet flats is an attractive pairing.
When choosing different pieces to combine, pay attention to the undertones of the colours you choose. For example beige and gray can have warm or cool undertones, so wearing a warm beige sweater with a cool gray skirt may be a bad idea. Always choose clothes with similar undertones.
4. Find the Best Fit for Your Body Type
Look for pieces that fit well when creating comfortable chic outfits. Wearing clothes that fit properly not only flatters your figure but also makes you feel more confident and at ease.
Look for pants, jeans, and skirts that fit well at the waist and hips and are the right length for your height. Avoid wearing pants or skirts that are too tight or too loose, as they will detract from your overall image.
No matter how comfortable your top or leggings are, if they don't fit well, it's difficult to pull off a chic look. Outfits must flatter your body in order to look stylish.
When shopping for new clothes, find comfortable pieces that also highlight the best features of your body. If you want to accentuate your legs try wearing breezy, short summer dresses. And if you want to draw attention to your upper body, then wear a v-neck sweater to highlight your neck and collarbone.
5. Select High-Quality Garments
When it comes to selecting comfortable outfits, quality should always be a priority.
Consider a garment's fabric. Natural fibres such as cotton, silk, and wool are usually better quality than synthetic materials. Natural fibres are not only more breathable and comfortable, but they also last longer and wear better. Synthetic materials can pill and fade more easily, making them a poor long-term choice.
Check the stitching and construction of the clothes. Quality stitching can make a significant difference in an item's durability and appearance over time. Look for consistent, tight stitching that proves attention to detail. Loose threads or crooked seams are signs of poor construction and may indicate that the piece will not last.
Read the garment's care tag. High-quality clothes frequently come with specific care instructions, such as hand washing or dry cleaning. Following these instructions can help to extend the life of the piece and keep it in pristine condition for a longer period of time.
Research the clothing brand and its reputation. When it comes to investing in comfortable clothes, brands with a good reputation for quality are often a safer bet. Conduct brand research by reading customer reviews and asking friends to get a better idea of the quality of their clothing.
6. Utilise Accessories
You can achieve a comfortable chic look by selecting your accessories carefully. For example, opt for a statement necklace to instantly add excitement to your outfit. However, if you don't like bold and big pieces, choose a simple necklace or bracelet or a pair of stud earrings.
Bags also play an important role in accessorising. A nice leather bag or clutch can add a touch of class to a comfortable outfit. Consider the bag's colour and material to ensure that it enhances your outfit.
When feeling uninspired, add a hat or scarf to your comfortable outfit. These accessories will not only add a layer of warmth to your look during the cold season, but they also add character. A hat with a wide brim adds interest and a silk scarf can add a touch of sophistication.
7. Maximise Hair and Makeup
People often forget about hair and makeup when wanting to elevate their appearance. A smart hairstyle and good makeup can immediately boost your appearance.
Different hairstyles that create a polished look include sleek straight locks, loose waves, or a braided updo. Experiment with various styles to find what works best for you and what makes you feel confident.
Using hair accessories can also add a glamorous vibe to casual outfits. Simple hair accessories such as headbands, clips, or barrettes can be used to obtain a fashionable look. Opt for accessories that will complement your outfit and accentuate your hairstyle.
When it comes to makeup, you don't have to go overboard to look put-together. Foundation or concealer even out the skin tone. A natural blush and highlighter accent facial features, while mascara and lip gloss or lipstick serve as a finishing touch.
FAQs
How do you dress comfortable chic?
Dressing comfortable chic means assembling outfits that are both comfortable and stylish. It is possible to create ensembles that feel good and look good. Selecting comfortable fabrics that fit you well and choosing the right accessories both help create a comfortable chic look.
What is casual chic comfort?
Casual chic comfort is a way of dressing that creates a stylish look with comfortable, casual clothes. The challenge is to find a balance of both comfort and style.
Whether you're shopping, running errands, or going for lunch with friends, a casual chic outfit is the perfect ensemble. This look can be worn on many different occasions and events due to its adaptability and versatility.
What does chic mean in style?
The term "chic" is usually used to refer to clothes that are modern and fashionable as well as classic and simple. The look is often achieved through simple silhouettes and a focus on premium fabrics. The colour scheme is usually neutral, with a few statement pieces that draw attention. Accessories are an important part of achieving this look, with jewellery, scarves, and handbags being popular choices.
One reason comfortable chic is popular is because of its versatility. When executed well, it can be appropriate for a variety of occasions such as meeting friends, running errands, or relaxing at home.
Hayden Hill bags are also extremely versatile. They offer a sheer, organza side panel so you can see your pieces while in storage. In addition to being machine washable with detachable zipper pulls, our hanging bags feature a wide, 4-inch gusset that allows you to store a variety of cherished garments. We deliver sustainable and beautiful garment care to preserve and protect the clothes you love most.