The Perfect Capsule Wardrobe for a Working Mum
Having a capsule wardrobe makes getting dressed easier and faster. Streamlining your fashion decisions may even give you an extra five minutes to breathe before you start a new day.
Being a working mum is not for the faint of heart. It can feel like you spend all day every day meeting other people's needs, juggling hundreds of tasks, and making decisions.
If the average adult makes 35,000 decisions per day, then a working mom surely makes more. It's no surprise that by the end of the day, most of us can't answer one more question or make one more decision.
Decision fatigue is an undisputed fact, so what can working mums do to streamline their choices? They can reduce the number of decisions they make about what to wear by creating a capsule wardrobe.
A capsule wardrobe is a limited number of clothing and accessories that mix and match easily to create different outfits. These items are typically classic designs that never go out of style.
Benefits of Creating a Working Mum's Capsule Wardrobe
There are many reasons why capsule wardrobes have become so popular in recent years. Here are some of the most common benefits:
Trade quantity for quality.
When you create a capsule wardrobe your focus shifts from having a closet full of random pieces to having a select group of timeless and high-quality pieces that fit you well and easily transition from work to casual outings. That's why it's important to invest in quality pieces that are long-lasting.
Easily put together outfits.
Creating a capsule wardrobe reduces the stress of deciding what to wear, as well as the tension of feeling like you have nothing to wear because everything coordinates. This allows you to put outfits together quickly and easily.
It's better for the environment.
Another great benefit is that a capsule wardrobe is more sustainable. When you buy less clothing, specifically less fast fashion, you are no longer contributing to clothing manufacturing processes that can harm the soil, air, and waterways.
4 Steps to Take Before Shopping for a Working Mum's Capsule Wardrobe
Before shopping for your capsule wardrobe, it is helpful to prepare by identifying what items you actually need. These steps will help you do just that.
1. Sort through your current wardrobe.
Go through your closet and donate or resell any items that you rarely wear, that don't fit well, that you don't like, or that are poorly made.
2. Identify your personal style.
Before you update your wardrobe, it can be helpful to consider your personal preferences. First, identify the items you most frequently wear and why you like them. Ask yourself which pieces best reflect your personality and which look great on your body shape. The answers will help you define your personal style.
3. Determine your colour palette.
What colour palette are you drawn to? Do you prefer neutrals or bright colours? Maybe a little bit of both?
When it comes to mixing and matching items, selecting a go-to colour scheme is essential, so be conscious of what colours you enjoy and always include a few favourite neutral colours to make putting outfits together easier.
4. Assess your wardrobe needs.
Are you putting together a summer or winter capsule wardrobe? Don't forget to include the necessary seasonal clothing items.
Then, identify what clothes you would need for all the activities you have in one week, and use that list to begin building your capsule.
10 Items Needed to Create a Capsule Wardrobe as a Working Mum
As a busy mum, you may not have a lot of time to get ready in the morning. These staple capsule wardrobe items are not only fashionable and professional, but they also demand little work on your part. They're all simple to combine with other pieces, so you can spend less time getting dressed and more time on other things.
White Shirt
A crisp white shirt is an essential item for every working mum's wardrobe. It's perfect for a capsule wardrobe because it can be worn on a variety of occasions with many different pieces to create different looks.
A pristine white shirt conveys professionalism, class, and style. It is ideal for important meetings or presentations since it makes you appear polished and put together. And, its timelessness makes it a garment that can be worn for years to come.
It's also simple to accessorise– it's a truly blank canvas that goes well with all kinds of jewellery and scarves.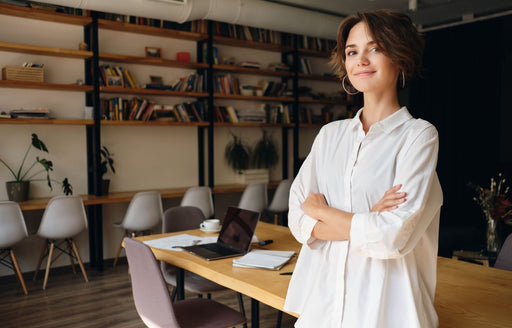 Comfortable Jumper
A jumper or cardigan is a useful piece of clothing that will help keep you warm and comfortable throughout the day, especially in an office setting where temperatures can vary.
In addition to being practical, a cosy jumper can add personality and flair to your outfit by injecting a touch of colour or texture.
Jumpers are also perfect for layering over other items in your capsule wardrobe, such as dresses or tees. Because of the jumper's versatility, you can create a variety of outfits with the same jumper, making it an excellent investment piece for your collection.
Power Blazer
A power blazer exudes confidence and professionalism, which is one reason it is a must-have. A well-fitted blazer creates a polished and professional aesthetic, which is important in certain industries where appearance is important.
This piece of clothing can be worn on a range of occasions, from significant business meetings to casual outings and gatherings. It can be paired with dress trousers and blouses for a more formal look or with jeans and a t-shirt for a casual outing.
Chic Flats
Chic flats offer style and comfort, which is important on long days at work and at home. They are an ideal choice for a working mother who is constantly on the go because flats can be worn for long periods of time without creating discomfort or fatigue.
Chic flats, in addition to being comfortable, come in a number of designs, ranging from classic ballerina flats to more modern and stylish designs, allowing them to be combined with a range of outfits.
Chic flats can be worn with jeans and a casual top for a more laid-back style or with a dress or skirt for a more formal occasion.
Leather Boots
Leather boots are another great shoe choice for a working mum's capsule wardrobe. They are versatile enough to be worn with a variety of outfits and to a range of events, making them very practical.
Leather boots also provide comfort and durability, which are vital for a busy mum who is on her feet for extended periods of time. They provide adequate foot support and cushioning, which makes them a comfortable option for all-day wear.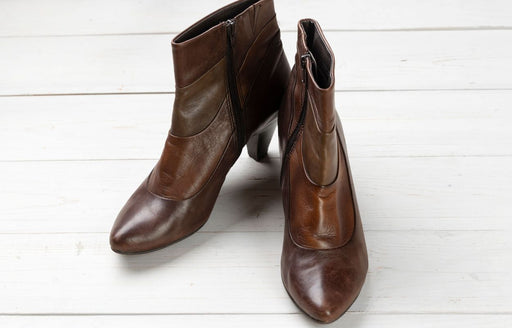 These boots can add a touch of sophistication to any outfit. They may be worn with dresses, skirts, or trousers to add an edgy vibe to your look.
Nude Trousers
Nude trousers provide a neutral foundation for a variety of shirts, blouses, and jackets. They may be dressed up or down by pairing them with a white shirt and blazer for an office-appropriate ensemble or with a colourful tee and trainers for a more relaxed look.
For a working mother, nude trousers can be a comfortable and practical option. They are frequently made of flexible fabrics that allow for freedom of movement and comfort throughout the day.
Leather Handbag
Leather purses are long-lasting and can survive the wear and tear of regular use, making them an excellent investment for a working mother. They also have enough room for your everyday necessities. High-quality leather bags frequently include many compartments and pockets, which help to keep your things organised and accessible.
Leather handbags are available in a variety of forms and colours, from basic black or brown to bright colours, allowing them to be combined with many different outfits.
Little Black Dress
A little black dress is a timeless piece that is a staple for a working mum's capsule wardrobe.
A black dress paired with a jacket, heels, and jewellery for a professional look is an excellent choice for business events.
You can dress down a little black dress for a casual look by matching it with trainers, a denim jacket, and a crossbody purse. This combination is ideal for doing errands or having lunch with friends.
Perfect Jeans
A capsule wardrobe isn't complete without the perfect pair of jeans. Jeans are a foundation for many outfits. They can be paired with a blazer and heels for a business casual look or dressed down with a t-shirt and trainers for a more relaxed look when running errands or playing with the kids in the park.
Jeans are also a good choice for a working mum who appreciates comfort. They are available in a variety of designs, including styles blended with elastic fabrics to accommodate easy movement no matter what is on your agenda.
Classic White Trainers
For a working mum who wants to look stylish without compromising comfort, white trainers can be a great option. They are a timeless and classic choice that can add a chic, yet effortless look to any outfit.
Trainers are a sensible choice for a mum who walks to work or runs errands on her lunch break. They are comfortable to walk in and can withstand the wear and tear of daily use.
FAQs
How many clothes does a working woman need?
The amount of clothes needed for a working woman varies according to her personal preferences, job requirements, and lifestyle. However, having a versatile wardrobe that can be mixed and matched to create multiple outfits for different occasions is beneficial.
This should include professional items like blouses, skirts, dresses, and trousers and casual items like jeans, t-shirts, and comfortable shoes. The number of clothes required is also determined by a woman's needs and preferences.
What goes into an average woman's wardrobe?
An average woman's wardrobe consists of a mix of basic and statement pieces that may be combined to create a variety of ensembles. Tops, bottoms, dresses, and outerwear in neutral colours like black, white, grey, and navy that may be easily combined with other clothing pieces are common wardrobe staples.
Statement pieces with bold designs, vibrant colours, and luxury fabrics add personality and diversity to a wardrobe. Accessories like jewellery, scarves, and shoes can also be used to spice up an outfit.
Few people have more things to do than a working mum. It's critical to find ways to complete repetitive tasks, like getting ready in the morning, with efficiency and effortlessness.

Having a capsule wardrobe makes getting dressed easier and faster. Streamlining your fashion decisions may even give you an extra five minutes to breathe before you start a new day.

And capsule wardrobes don't have to be boring or plain. You can choose your capsule pieces based on what styles and colours you love most. Building a capsule wardrobe ensures you have a small collection of high-quality pieces that fit you well and you love.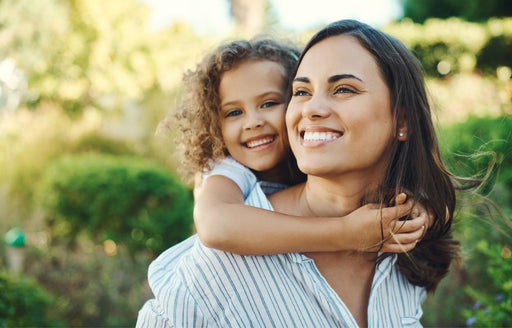 When you aren't wearing your beloved capsule wardrobe pieces regularly, we recommend keeping them in high-quality storage bags. Hayden Hill bags are made of 100% organic, soft cotton that is environmentally friendly and allows your favourite pieces to breathe while keeping them protected from damage. We deliver sustainable and beautiful garment care to preserve and protect the clothes you love most.