8 Winter Accessories Every Woman Needs
Looking for the perfect winter accessories that are fashionable and functional? Sometimes finding warmth and style can be a bit tricky, so we recommend having two of each accessory category – one that is more practical and one that is stylish.
In winter, accessories are critical for staying warm in cold weather and participating in outdoor activities like skiing, sledding, and snowball fights.
If you truly want to be prepared for any winter event and occasion, accessories are a must. And, to ensure you have the most options to pick from when shopping, it's best to buy accessories at the beginning of the winter season.
Before heading out to the store, take a look at this list to make sure you have all eight winter accessories that every woman should own.
8 Best Winter Accessories for Women
Looking for the perfect winter accessories that are fashionable and functional? Sometimes finding warmth and style can be a bit tricky, so we recommend having two of each accessory category – one that is more practical and one that is stylish.
Gloves
Balaclava
Hats
Winter socks
Scarves
Boots
Sunglasses
Handbags
Gloves
If you plan on spending more than a couple of minutes outside in cold weather, gloves are a must-have. Keeping your hands warm will make your entire body feel warmer.
But, different types of gloves have different purposes. The gloves you would wear to ski are not the same as those you would wear to visit a friend.
Knit gloves
Knit gloves are great for keeping your hands warm, and, as a bonus, they are soft, cozy, and come in many different colours. Knit gloves work well with casual outfits and provide light warmth.
Leather gloves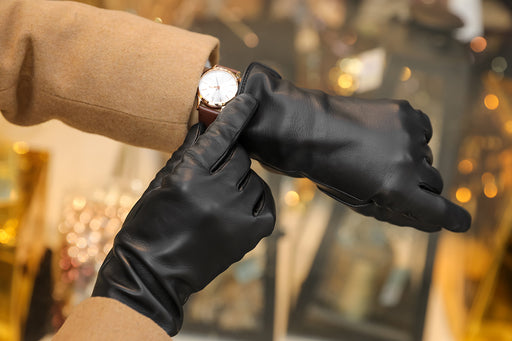 Leather gloves add an air of sophistication to any outfit. They can be worn to the office or a social event and pair well with a dressy coat. For extra warmth and luxury, consider cashmere-lined leather gloves.
Waterproof gloves
If you will be participating in a snowy activity, it is best to buy waterproof and insulated gloves. The ideal snow gloves will allow you to easily grip your phone or ski poles while keeping you warm and dry.
Balaclava
A balaclava is a great option when you want to keep both your head and neck warm without having to layer a hat and scarf on top of your coat. Balaclavas come in a variety of styles and colours, so experiment until you find one that matches your preferences and needs.
Hats
If you enjoy wearing hats, then winter is likely one of your favourite seasons. While you may wear a hat in other seasons to cover up a bad hair day, in winter, you can wear a hat to keep your head warm or to add unique style to an outfit.
Beanie
One of the most worn winter accessories is the classic beanie. The beanie adds warmth without distracting from your clothing. Beanies are incredibly versatile; they can be dressed up or dressed down. You can opt for neutral colours like gray, navy, or black, or make a bold and colourful statement with a bright colour like red, green, or yellow.
Pom-pom beanie
The pom-pom beanie is a fun spin on a classic beanie. You can choose to colour-coordinate with your outfit or wear a different coloured pom-pom beanie to add a pop of colour.
Ear muffs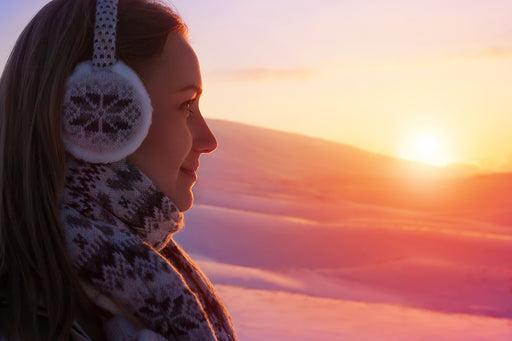 Ear muffs have been around since the 1870s, and it's no wonder they are a go-to winter accessory for many women. They come in all shapes and sizes; some are incredibly soft and fluffy, while others are minimalistic. You can also pair ear muffs with a beanie or over a balaclava for extra warmth.
Faux fur hat
Another stylish addition to your winter collection is a faux fur hat. These hats are fashionable and come in a variety of shapes and colours. Pair this with a long coat and ankle-length boots for a chic look.
Winter Socks
Warm socks are a necessity in winter. Wool and cotton socks are the most common types of winter socks. And, if you will be participating in an outdoor activity, it is best to wear wool socks since they are moisture-wicking and insulating.
Scarves
Scarves are a popular cold-weather accessory simply because of their versatility. You can wrap them around your neck, around your head and ears for an extra layer of warmth, or simply have the ends dangling effortlessly. There are many ways to style a winter scarf, and as long as you stay warm, you can't go wrong.
There are a couple of special types of scarves you may want to consider adding to your winter wardrobe.
Neck warmer
Neck warmers are similar to scarves. A neck warmer is a tube of fabric worn around your neck for extra warmth. You put them on by pulling them over your head, rather than tying them like a scarf, so they are best worn with a casual hairstyle such as a ponytail.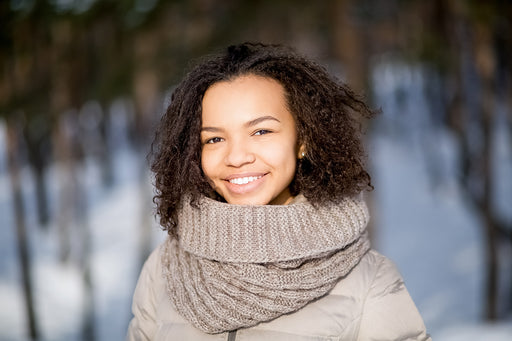 Snood
A snood is a cross between a neck warmer and a balaclava. It can be worn multiple ways: around the neck like a regular scarf, over the head for a bit of extra warmth, or over the lower portion of your face paired with a hat for maximum protection from the cold.
Boots
Boots are a staple in winter. There are various styles and materials to choose from. Most women want a variety of boots for their winter wardrobe. We recommend evaluating your winter activities and clothing and choosing boots that pair well with your lifestyle. If you spend a lot of time in the office or at social events, dressier ankle and knee-length boots may be best. If you live in a snowy climate or ski often, waterproof and insulated boots are a must.
Sunglasses
Sunglasses aren't only reserved for summertime. In fact, sunglasses are essential on a bright, sunny day after the snow has fallen. You can pair sunglasses with any outfit to protect your eyes, and, at the same time, express your unique personality.
Handbags
When the temperatures drop, it's time to transition your summer bags to darker-coloured and more durable winter handbags. Here are a couple of types of handbags that work well in winter.
Crossbody bag
You can't have a complete collection of winter accessories without a crossbody bag! Not only does it make any outfit appear put-together, but there is an air of sophistication that surrounds the wearer. Whether you like small and cute crossbody bags or prefer a larger accessory, as long as it's big enough to carry your essentials, you're good to go!
Faux fur bag
If you love faux fur or want an eye-catching accessory, a faux fur bag may be for you. A faux fur bag adds interest to a simple, casual outfit like a sweater and jeans. And, faux fur bags can be found in a variety of colours and styles to coordinate with any outfit.
FAQs
What are clothing must-haves in winter?
The most common clothing worn in winter is outerwear garments like jackets, hats, scarves, gloves or mittens, and earmuffs.
What do you wear inside in the winter?
The best type of clothing to wear indoors during the colder months is clothes that will retain body heat. Fabrics like wool or silk will hold more body heat than cotton. Opt for fleeces, thermal socks, tights, and winter leggings to stay warm indoors or outdoors.
How do you accessorise in the winter?
The key to escaping the biting winter chill is layering. Wear multiple layers so you can adjust your outfit and stay comfortable whether you are outdoors in the cold or indoors in a heated room. The best accessories for winter are those that provide extra warmth such as gloves, hats, and scarves.
All of these winter accessories are beautiful and practical. But, before buying any new accessories, the first step is to consider your climate, your lifestyle, and your existing wardrobe. Decide what you need most for the winter season and invest in high-quality items that will last many seasons. Buy accessories that you truly love and you will stay warm and fashionable throughout the winter months.
Hayden Hill garment bags are uniquely made of 100% organic, soft cotton that is environmentally friendly and allows your favourite pieces to breathe while keeping them protected from damage. We deliver sustainable and beautiful garment care to preserve and protect the clothes you love most.