Which Closet Type is Best for Your Room
Do you know what types of closet are there? If you are moving to a new home or renovating your existing one it's important to know what type of closet is the right choice for you.
When searching for a new home, renovating your existing home, or simply organising your closet, it may be helpful to consider what type of closet will best fit your needs.

The answer isn't always obvious, which is why we want to discuss the benefits of each closet type and what spaces each is best suited for.
The Walk-In Closet
The walk-in closet has become an essential element of a well-appointed home. Imagine any potential homebuyer's reaction to finding a primary suite without a spacious closet. The horror.

Over the last several years, walk-in closets have evolved from storage spaces to rooms in themselves. They are spacious enough now to include meditation spots, coffee bars, fireplaces, laundry stations, mini-refrigerators, and so much more.
Even if your walk-in closet isn't the space of your dreams yet, that doesn't mean it can't be, with a few minor modifications.
There are certain must-haves that every walk-in closet should contain.
drawers (for jewellery, watches, sunglasses, and stockings)
shelves (for hats, handbags, and clutches)
full-length mirror
shoe shelves (depending on space, regular or pull-out shelves)
seating (depending on space, a small ottoman or a cosy sofa)
elegant lighting
The best way to transform your walk-in closet is to work with a professional closet designer.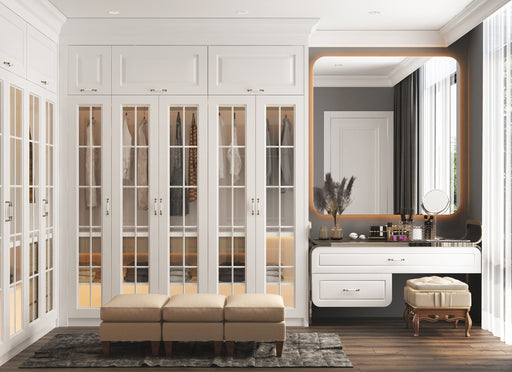 The Reach-In Closet
There are different types of closets, but the most common is the reach-in closet. Though significantly smaller than a walk-in closet, a reach-in closet may be the ideal choice for less used spaces like guest rooms.
The reach-in closet's origin dates back to the 1800s, but it wasn't until 1980 that closet designers realised the full potential of this type of closet. The basic design of the reach-in closet includes a horizontal rod for hanging clothes and a shelf above the rod. But today's designs can include partitions, big and small shelves, drawers, and multiple hanging rods.
To best utilise space in a reach-in closet, consider these tips:
Enlist a professional's help.

Closet designers and builders can customise a closet organisation system for your space and belongings. And, they will likely have suggestions to make your reach-in closet even more functional.


Add lighting.

Even smaller closets look more beautiful and are more useful if they are well lit. Consider adding recessed lights or LED strip lights to help you find any item easier.


Consider a different closet door.


With standard bypass or sliding closet doors, you can only see and access half of a reach-in closet at one time. Opt for French, sliding barn, or pocket doors to better view everything in the closet and elevate the room's décor at the same time.
The Armoire
This elegant, free-standing large piece of furniture is essentially a decorative cupboard that also functions as a wardrobe and a dresser alternative. In fact, in the late 19th century, the armoire was highly coveted for storage in Victorian homes.

The armoire offers plenty in terms of storage and refined décor. It is typically used in bedrooms but can also be useful in the dining room (for cutlery and other tableware storage), in the living room (for housing the TV, small decorative objects, and picture frames), as well as in the playroom (for storing children's toys, video games, and other media). Of all the types of closets, the armoire is likely the most versatile.

In addition to its storage capacity, an armoire offers several other benefits:
Décor

Armoires offer a vintage flavour to a bedroom's style.


Portability

An armoire can be moved to different places within a room or in a different room completely, making it a multipurpose piece of furniture.


Scalability

Because armoires come in a variety of sizes and patterns, it is easy to find an option that fits the overall size of the room and the other pieces of furniture within.
The Linen Closet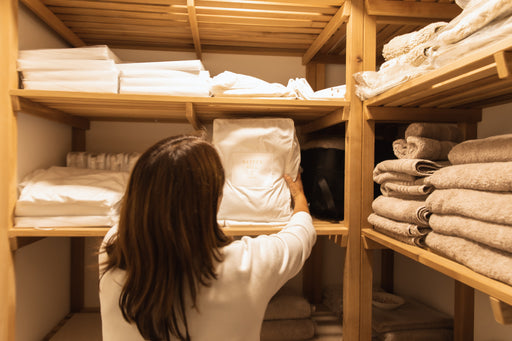 Linen closets are simply smaller versions of a reach-in closet, commonly used to store towels and bed linens. The linen closet is usually located in a hallway or bathroom, and its usefulness depends on its shelving. Linen closets are another area where it may be beneficial to have a custom system built to make the most of the space.
FAQs
1. What are the different types of closets?
There are several different types of closets, including walk-in closets, reach-in closets, armoires, and linen closets.
2. What is the difference between a closet and a wardrobe?
A closet is a designated space for storage that is fixed in place. A wardrobe has two meanings. The first definition is a collection of clothing a person owns, while the second definition is a tall cabinet that holds clothing and other accessories. Wardrobe furniture can be purchased from a store or custom built to fit your unique needs.
The best type of closet differs from room to room. The primary suite closet, a child's closet, and a guest bedroom closet each have different needs and different amounts of belongings. But regardless of the closet type you choose, every closet functions better when it is tailored to your lifestyle and stocked with the appropriate organisational tools, like garment storage bags.
Hayden Hill Garment Bags preserve the beauty of your clothing. Our bags are made of 100% organic soft cotton with a sheer, organza side panel so you can see your pieces while keeping them protected from light, dust, and moths.