Embrace Your Inner Scot with One of these Plaid Patterns
Plaid is a pattern made up of vertical and horizontal lines that cross over in varying sequences to form a checked or boxed pattern in a contrasting colour. There are eight well-known plaid patterns that can be found in everything from clothing to furniture to wallpaper to planners.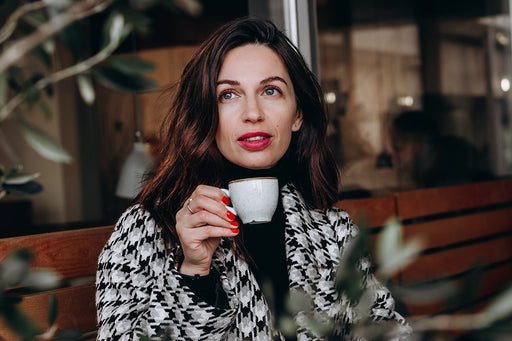 Plaid is one of the most popular and recognisable patterns in the world. The iconic fabric, which originated in northern Scotland, has been worn for thousands of years. Though its origins are dated, plaid is so classic and timeless that it was seen on the runway this fall at Milan Fashion Week and on Doja Cat attending a show at Paris Fashion Week.
But, all plaids are not created equal, and not every pattern will appeal to you. If you are drawn to plaids and would like to wear them more, then this guide to the different plaid patterns is for you.
Where did plaid come from?
Technically, plaid isn't the proper word for the pattern that bears the name. The word for the ancient pattern is tartan, with plaid referring to the heavy fabric that displayed the pattern. Individual Scottish clans each have their own tartan pattern, as all Outlander fans can attest.
The term plaid replaced tartan after the patterns became popular with British and American textile manufacturers who wanted to recreate fabrics that looked like tartans without the symbolic meaning.
What is a plaid pattern?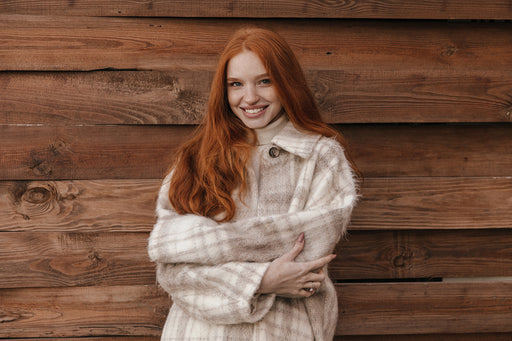 Plaid is a pattern made up of vertical and horizontal lines that cross over in varying sequences to form a checked or boxed pattern in a contrasting colour.
There are eight well-known plaid patterns that can be found in everything from clothing to furniture to wallpaper to planners.
Plaid Cheat Sheet
Traditional plaid is generally divided into eight main categories and sub-categories.
1. Tartan
Tartan plaid is unquestionably the most well-known and recognisable member of the plaid family.
This pattern is made of diagonal, vertical, and horizontal stripes that cross each other to form different-sized checks. While this fabric is generally considered casual, the addition of timeless fashion accessories, elegant trim, or embellishments can transform it into a fabulous fashion statement.
Royal Stewart
Royal Stewart tartan plaid is a well-known Scottish pattern that belongs to the Scottish Royal House of Stewart. It has contrasting stripes of bright red, bright yellow, blue, green, and white. It's also the late Queen Elizabeth II's personal tartan pattern.
In theory, this tartan should not be worn without the Queen's express permission. Thankfully due to its popularity, it has become a universal tartan that can be worn by anyone who does not have their own clan tartan.
Royal Stewart tartan became popular in punk fashion in the late 1970s. In addition to clothing, Royal Stewart tartan has appeared on biscuit tins for Scottish shortbread.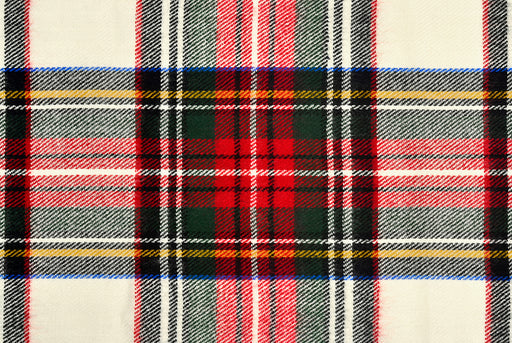 Burberry Check
The first version of Burberry tartan was released in 1920. However, it wasn't until 1924 that Thomas Burberry created the famous Haymarket Check, the famous white, black, red, and beige plaid design that still distinguishes the brand's creations today.
The Burberry check was first used to line raincoats in the 1920s, but it wasn't until the 1960s that it became the iconic Burberry signature we know today. The Burberry check has gone through many iterations over the years. The cashmere check scarf first appeared in the 1970s and has since become one of the most well-known Burberry accessories.
Clan Wallace
Clan Wallace tartan, which is based on the red and black checkered Rob Roy tartan, is one of today's most popular patterns. It first appeared in the early 1820s.
Wallace Red Modern tartan, which dates back to 1842, is a vibrant scarlet, black, and yellow tartan. It can also be found in the ancient colour scheme, in which the traditional red is replaced with dark orange and instead of black it is a dark brown.
Black Watch
King George I of the United Kingdom authorised the formation of a watch force to patrol the Scottish Highlands in 1725. Everyone was told to wear the same tartan - a dark blue and green mix - which is probably where the name black watch came from.
Today, black watch is recognised all over the world. It is considered an open tartan, which means it can be worn by anyone, regardless of affiliation. Black watch tartan is a globally recognised symbol of bravery and tradition. The British Royal family (both male and female), Highland athletes, and everyone in between wears it.
2. Gingham
Gingham plaid pattern colours are always white and one other colour (usually blue or red). The recognisable evenly-spaced pattern is created by criss crossing identical lines on a white background. Gingham was originally the term used to describe linen or cotton cloth, but now, like plaid, it is more closely associated with the pattern than the actual material.
The gingham pattern is almost synonymous with picnic tablecloths and Dorothy's blue gingham dress in The Wizard of Oz. Whatever you associate with gingham, the classic checked pattern has a long history and remains popular on the runways today.
3. Check or Checkered Patterns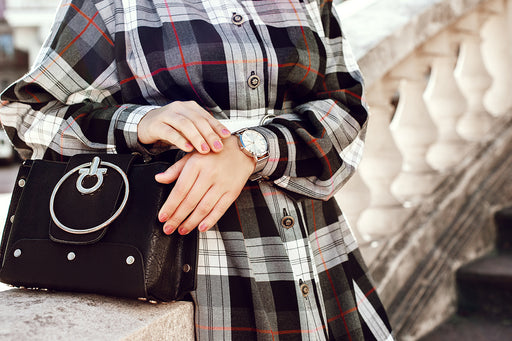 A checkered pattern consists of vertical and horizontal lines that cross to form shapes, most commonly resembling a box or a square. There are various types of checks. Checkered fabrics are ideal for all seasons, both morning and evening, and complement a wide range of styles and trends.
Shepherd's Check
The Shepherd check, also known as border tartan, resembles gingham except for the visible twill weave. The name comes from the plaid worn by shepherds in the hills of Scotland's borders. Shepherd's check is a simple pattern of white and one dyed colour (usually black).
Buffalo Check
Buffalo check is a two- or three-colour striped fabric with large squares of equal size in all directions (as opposed to checked gingham fabric, which has small squares). While black is frequently used as one of the colours, it is not required to qualify the pattern as a buffalo check.
Centuries ago, this pattern was primarily produced in white with red, yellow, or navy blue, as these were the colours available in natural dyes in the 17th century. The modern buffalo check fabric is available in a variety of colours.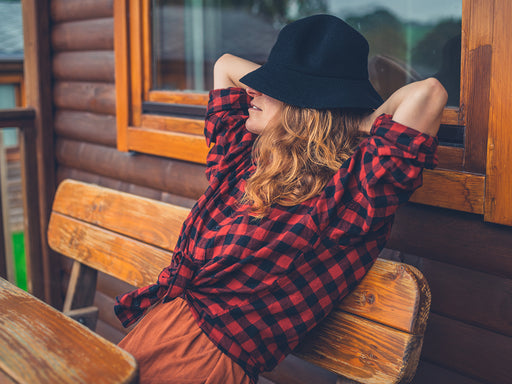 Graph Check
Graph check is a pattern that looks like graph paper. It is distinguished by solid, thin lines in a single colour that cross to form even and small-sized checks. In order to resemble graph paper, the colours used are usually similar to those of actual graph paper, and the scale is typically small. There are numerous scales, colours, and line thicknesses available, and this pattern can be colour woven into a piece of fabric.
Gun Club Check
Gun club check is a criss crossed check pattern that is traditionally available in four colours: black, red-brown, light gold, and pine green. Twilled bands with alternating colours run in one direction, intersecting with either a duplicate pattern of intersecting bands or a single-colour twilled band repeated in a single direction. The checks are usually even and thick, highlighting the diagonal twill pattern.
Originating in western Scotland as a district check, the motif was eventually adopted by the American Gun Club in 1874. It is now common to find gun club checks in only two colours, such as brown and blue.
4. Madras
Madras plaid is a brightly coloured and lightweight cotton fabric with distinct horizontal and vertical stripes. To put it simply, madras is the warm-weather cousin of tartan.
Madras plaid originated in a region of southeast India known as Madraspatnam, which is now known as Chennai. In fact, authentic madras plaid is the best example of a sustainable plaid that is also soft, breathable, and ideal for humid climates.
5. Windowpane
The windowpane pattern is made up of horizontal and vertical lines that intersect at 90-degree angles to form a grid of squares scaled to look like evenly divided window panes.
The density and colour of the squares may vary, and the grid may appear to be formed by rectangles rather than perfect squares. The pattern resembles graph check, but the intersecting lines that form the windowpane are usually thicker and farther apart.
Windowpane is often used in the design of Italian suits but can also be found in other textiles.
6. Houndstooth
Houndstooth plaid is one of the most recognisable plaid prints. This distinct pattern also originated in Scotland. However, unlike many of the other Scottish plaids, there is no evidence that houndstooth belongs to any particular family; rather, it is thought to have been created by individuals who did not belong to a clan.
Traditional houndstooth check is small in scale and typically found in muted brown or black tones.
7. Glen or Prince of Wales Check
The glen plaid, also known as the Prince of Wales check, is a plaid pattern made up of large and small checks. The term glen actually refers to the Glen Urquhart valley in Scotland, where the checked wool pattern was first used in the nineteenth century.
The glen plaid, a mix of checks, has become a popular choice for its classic elegance. This twill pattern is made up of groups of four alternating light and dark stripes that cross each other to create a unique pattern of houndstooth and pin checks. This fabric is most commonly found in muted colours such as black and light gray.
8. Tattersall Plaid
Tattersall is a pattern in which alternating grids are interwoven into the fabric. The checks are neither too small nor too large, resulting in a pattern that is subtle and stylish rather than overpowering. The fabric has been popular since the 18th century and typically has one grid in a darker colour and one grid in a lighter colour. The cloth pattern is named after the Tattersall horse market, which opened in London in 1766.
FAQs
What are the different plaid patterns?
Tartan, gingham, check or checkered Madras, windowpane, houndstooth, Prince of Wales check, and tattersall are the most common plaid patterns.
How do you identify plaid?
Plaid can be distinguished by its line symmetries and colours. Plaids today are made up of crossed horizontal and vertical lines of two or more colours; however, unlike tartans, plaids do not have to be perfectly even, which means that vertical stripe patterns do not have to match horizontal stripe patterns. Plaids come in a variety of bandwidths, repeats, and colours.
Plaid is synonymous with Scotland and its rich tartan history. Fortunately, you can still enjoy this pattern even if you don't have Scottish ancestry.
But, if you are fortunate enough to have an authentic clan plaid or tartan heirloom, it's important to care for it properly. We recommend storing your most valuable and treasured pieces of clothing in high-quality storage bags. Hayden Hill large storage bags are made of 100% organic, soft cotton that is environmentally friendly and allows your favorite pieces to breathe while keeping them protected from damage. We deliver sustainable and beautiful garment care to preserve and protect the clothes you love most.