How Every Woman Can Add Menswear to Their Wardrobe
Adding menswear pieces to your wardrobe can open up a whole new world of options for new and one-of-a-kind looks.
Women have been wearing menswear-inspired looks since the '40s and '50s when Marlene Dietrich and Katharine Hepburn wore tuxedos. Even Princess Diana wore masculine pieces.
Today, celebrities from Gwen Stefani to Janelle Monae pair menswear pieces with more feminine items to create unique and unforgettable looks.
And, even women who aren't celebrities and don't have stylists can make the menswear-inspired look work for them. We're here to help you figure out how.
7 Tips for Styling Men's Clothing as a Woman
There's no question that men's and women's clothing are made differently. Men's fashion is often designed for practicality and functionality, so it has a looser fit and can be challenging for a woman to style.
These tips will help you put together a look that includes menswear but still gives a decidedly feminine vibe.
Start small.
If it's your first foray into menswear, start small and ask the men in your life if they have any items they could give you. Your father's unused coat or your partner's seldom worn button-up are great classic options that you can use to start experimenting.
Choose the right fit.
Because men's clothing is made so differently, it is essential to make sure that the item in question fits properly for your body type. Because a woman's body type differs from that of a man, the clothes should be adjusted accordingly. When looking for a blazer or button-up shirt, choose a size that fits comfortably around the shoulders and chest or have the garment tailored. You will also find that there is another slight difference in men's clothing. Where buttons on women's clothing are located on the left side, on men's clothing they are located on the right.
Keep balance in mind.
If you want to wear men's clothes but still look feminine, use balance when mixing and matching different clothing pieces. Pair a men's blazer with a feminine skirt or skinny jeans. Combine diverse textures and styles to make your overall look feel more balanced.
Accessorise your outfit.
Accessories are great for incorporating femininity into outfits that include menswear. For example, you can wear a bold, colourful necklace with a button-down shirt or a lovely belt over an oversized blazer. There are so many different ways to use accessories to create a more feminine look.
Choose the right shoes.
When wearing men's clothes, it is important to pair them with the proper shoes. The right shoes will complement your outfit and express your style. If you want to give your outfit a more ladylike look, combine men's clothing with high heels or sandals. But, if you're going for a more relaxed look, consider casual footwear like sneakers.
Try it before you buy it.
When buying menswear items, it may be best to skip online shopping, at least at first.
It's a good idea to try on different styles of men's clothing before making a decision. This will help you decide which pieces you like and which best suit your body type.
Men's clothing is also sized very differently than women's, which makes trying on different sizes a must. Because men's clothing is naturally larger, it is usually best to start with smaller sizes regardless of your body type.
Befriend a tailor.
The next step after purchasing a couple of menswear items is to make an appointment with your tailor. Using a great tailor can mean the difference between having clothes that fit okay and having clothes that fit perfectly.
Even if you size down, often men's clothes still need to be tailored. The sleeves, cuffs, and tails of dress shirts are often too long. A tailor can modify the fabric around the arm for a slimmer fit and have the cuff stitched higher on the arm to your desired length.
A tailor can also trim the excess fabric from the shirt's tail so that you can tuck it in without it bunching around your waist.
Pants and jeans can be more complicated. Usually, women's hips are wider than men's so a tailor can take in the waist and the hips slightly and taper the pants significantly around the calves and ankles. This can create a more natural fit.
7 Menswear Pieces Every Woman Should Own
Oversized Blazer
Men's blazers can be dressed up or down depending on the situation. Emphasise your form by styling an oversized blazer with a belt. Or, wear a blazer over a flowy skirt or dress, or pair it with leaner bottoms. Wearing an oversized blazer over feminine pieces creates a chic look.
Button-down Shirt
A button-down shirt is a multi-functional piece of men's clothing that ladies can also wear.
Since men's button-down shirts are cut differently than women's button-downs, finding the proper fit that compliments the female figure is essential. Ladies should look for shirts that are neither too loose nor too tight. It's fundamental to consider the length of the shirt; if a shirt is too long it will have to be taken to a tailor.
There are several ways to wear a men's button-down shirt. Tuck the shirt into a high-waisted skirt or pants and include a belt or some jewellery for a pop of colour and texture. You can also layer a sweater or coat over a button-down shirt.
Boyfriend Jeans
A woman who wears men's boyfriend jeans makes a fashion statement. When wearing men's boyfriend jeans, it's important to embrace the oversized fit. Men's jeans are meant to be a little looser than women's jeans, so look for a pair that fits well around the waist but has plenty of room in the thighs and calves.
Cuffing the hems of boyfriend jeans is a straightforward and effective way to add a female touch. Blending the pants with stylish tops is another incredible way to adjust the outfit. A silk blouse or a fitted shirt creates a stylish and polished look.
It is also important to select suitable footwear. Heels, ankle boots, and sandals are all excellent choices to add femininity. Layering is another excellent way to balance your outfit. A blazer or denim jacket can help to create a more structured look while remaining casual.
Vests
Wearing a men's vest is a distinctive look that says a lot about your personal style. Vests can look great with nearly any outfit from casual to dressy. Pair one with tailored pants or a pleated skirt. Stick to a classic design like a pinstripe vest in a neutral colour like black or beige for a more refined appearance.
And, when shopping for a vest, select the style that works best for your figure. A tailored vest can highlight your curves. Some styles can help conceal the torso, giving you a slimmer look.
Denim Jackets
Men's denim jackets are more oversized than women's jackets, giving them a relaxed and casual appearance. They also have more pockets and details than women's denim jackets.
Combine a men's denim jacket with a dress or skirt to create a feminine vibe. A structured denim jacket can be also combined with leggings and sneakers for a casual look. Soften the look with sunglasses, a neutral-coloured bag, and simple jewellery.
Consider personalising the jacket with patches, pins, or embroidery for a more unique look.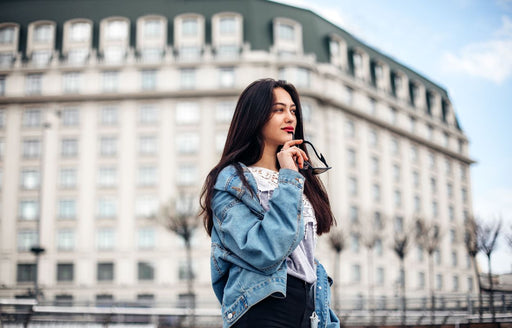 Flannel Shirts
Men's flannel shirts are well-liked by women because they are so simple to pair with any outfit. The shirt's plaid design and cosy fabric add a touch of rustic charm to your look.
Pair a loose-fitting flannel shirt with more fitted bottoms, and pair a more fitted shirt with a skirt or relaxed-fit pants. The colour and design combinations are nearly endless.
With all the options available, consider your style and the rest of your wardrobe, so you will choose a shirt that pairs well with many of your clothes.
Accessories
Hats
Men's hats come in a variety of styles, so choose a hat that complements your personality and sense of style.
A leather baseball cap is perfect to pair with a graphic tee, jeans, and boots. A woven hat looks great with jeans and a white top or a flowy patterned sundress. Wear a fedora with a wide brim during the summer or while travelling.
Watches
One of the most popular men's fashion accessories for women to wear is a watch. Men's watches are versatile and long-lasting, and they provide contrast when worn with a very feminine outfit.
FAQs
Can a woman wear men's clothing?
Yes. When it comes to fashion and clothes, you can always feel free to experiment and express your style in new and unexpected ways. Wearing clothes that are traditionally made for men isn't a new idea, but in recent years there have been more women wearing menswear than ever before.
How to style men's clothes as a woman?
Styling men's clothes as a woman can be a fun and creative process. Playing with proportions, mixing and matching different clothes for a balanced look, and accessorising are ways you can experiment to create unique and feminine outfits.
What is the word for both genders' clothing?
Clothing that can be worn by both men and women is referred to as genderless, agender, or unisex. This type of clothing usually features minimalist, simple designs so it can be easily mixed and matched with other fashion garments. The colour palette is often neutral such as black, white, and grey.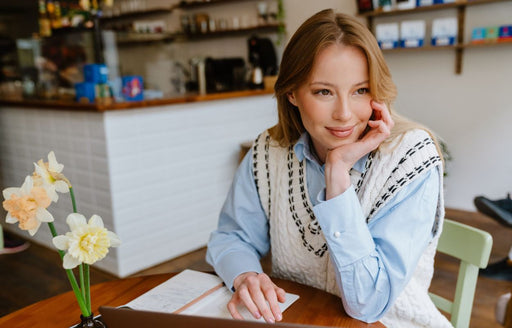 Adding menswear pieces to your wardrobe can open up a whole new world of options for new and one-of-a-kind looks. Care for your new pieces well to extend their life. When not in regular use, we recommend storing menswear in Hayden Hill bags. Our bags are made of 100% organic, soft cotton that is environmentally friendly and allows your favourite men's pieces to breathe while keeping them protected from damage.