The Best Clothes for Your Body Type
Knowing your body type and learning how to enhance your shape can be helpful in looking your best. Once you've determined your body shape, use this knowledge to select pieces that highlight your best features and flatter your figure.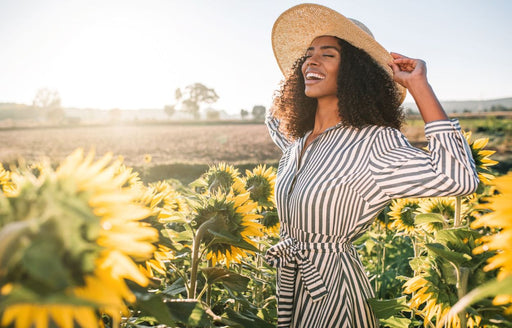 If you aren't naturally gifted with an impeccable sense of fashion, shopping and creating outfits can be a real challenge.
There are so many things to consider: colours, patterns, silhouettes, and fit.
The shape of your body is another thing to consider when buying clothes and accessories. Knowing how to dress your body type well will accentuate your best features and make you look like the best version of yourself.
Below is a list of the most common body types and ways to dress them for best results.
How to Dress for Your Body Type
Hourglass Body Shape
The hourglass body shape features a well-defined natural waist, broad hips, and full breasts. If you have an hourglass figure, you are fortunate in that you can wear practically any sort of apparel.
What to Wear if You Have an Hourglass Body Shape
The most distinctive qualities of an hourglass shape are a bust and hips with similar measurements and a waist that is smaller than the bust and hips.
If you have this type of body, you will look fantastic in clothing that accentuates your waist. Wrap dresses, jumpsuits, pencil skirts, slim pants, short jackets, sheaths, and fit-and-flare styles with cinched waists are ideal for this balanced body structure.
And, if you have a long torso and a lot of space between your bust and waist, wearing medium or wide belts and contrasting colour separates also looks nice.
Pear Body Shape
This body type, also known as triangle body shape, has a smaller upper body with narrow shoulders and larger hips. Wearing garments that are excessively tight around your hips will draw unnecessary attention to them, but garments that are loose and flowing will create a more balanced look.
What to Wear for Your Pear-Shaped Body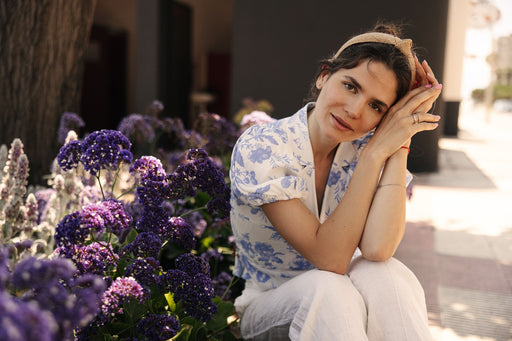 A pear-shaped body type can use volume, colour, or patterns to emphasise the top half of the body and divert attention away from the hips and thighs. Wearing a detailed top, whether a blouse with puff sleeves or a bright pattern, can make your thighs appear slimmer. Choose coats and blouses that fall above or below the widest point of your hips and bottom, rather than at it.
A good choice for pear-shaped bodies is a flowy skirt, skater dress, or tulip-shaped dress that is nipped in at the waist but skims over your hips and gives wonderful shape to your body.
Avoid wearing skinny jeans with heels which typically draw attention to large thighs. Instead, wear straight-leg trousers which look fantastic with flats and shorter shirts.
Rectangle Body Shape
This body type is defined by a straight line from the shoulder to the hips with no obvious curves. Rectangle body shapes have little waist definition and the width of the bust and hips are similar.
What to Wear if You Have a Rectangle Body Shape
Often known as straight body type or athletic body type, rectangle body types have generally consistent proportions. So, women with this body type can choose which part of their body to accentuate.
A rectangle-shaped body can pull off many statement-making pants and skirts. If you want to emphasise your lower half, choose flowing pleats, vibrant patterns, or daring flares to add volume.
If you want to emphasise the top half of your body, highlight your arms and shoulders. Small-busted rectangles can accentuate their upper body with embellished necklines or dramatic collars, while large-busted rectangles look fantastic with crew, cowl, or V-neck garments.
Belts, necklaces, and other larger accessories can also help draw attention to the upper body and waist area.
Since the rectangular body form is the most common, practically every garment is made to accommodate this shape. Explore various sleeve styles, belted waistlines, and busy prints to create beautiful outfits.
Inverted Triangle Body Shape
This body type is defined by broad shoulders and an upper torso that is wider than the hips. With an inverted triangle shape, there is little definition of the waist and the shoulders are square. When dressing this type, you can balance broad shoulders by emphasising your lower body. Wearing colourful patterns or vivid colours on the bottom half will create a more balanced look.
What to Wear if You Have an Inverted Triangle Body Shape
Choose dresses with details like ruffles or pleats below the waist to draw attention to your hips and legs. This trick also helps define your waistline.
You can also show off your slender legs by wearing leggings or trousers with long, fitted blouses. Wide-legged jeans, boot cut, and straight-leg pants, as well as flared, gored, or full-skirted dresses, are great options for this body type.
Or, you could choose to celebrate your gorgeous broad shoulders with boat-shaped or even off-the-shoulder necklines. Wear V-neck shirts and scarves to emphasise the breadth of your shoulders.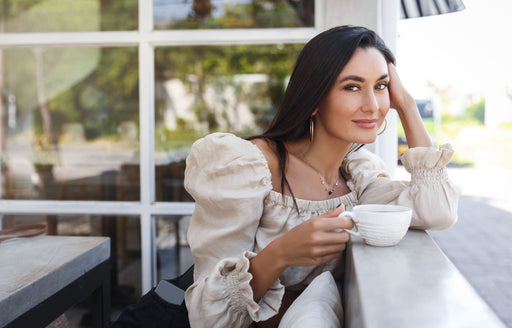 Apple Body Shape
Apple-shaped bodies, also known as round body shapes, are defined by slim legs, a small bottom, round shoulders, and more weight in the midsection. When dressing an apple body, celebrate your curves while emphasising areas such as the top of the chest, neckline, lower arms, and lower legs.
What to Wear for Your Apple Body Type
Women with apple-shaped bodies have a curved, feminine silhouette. You will look best in well-tailored garments with rounded, curving seams that highlight your figure. Wear basic, uncomplicated lines, such as dresses that softly curve towards the waist or a "column of colour" with the top and bottom in the same or comparable hue.
Any dresses that either define or draw attention away from the waist are a wonderful fit, including wrap dresses, boyfriend button-ups, and flowing tunics. On an apple shape figure, strapless and off-the-shoulder designs also look fantastic. Choose nice fabrics like silk, linen, and cotton that fit your body without clinging.
Avoid wearing belts that bring attention to your waist and instead concentrate on highlighting your legs with a pair of heels or a short skirt.
Tips When Dressing for Your Body Type
Fashion is one way to express your unique personality, so you should dress in whatever way makes you happy. But, if you are looking for guidance on how to best dress your body type, here are a few tips that apply to all shapes.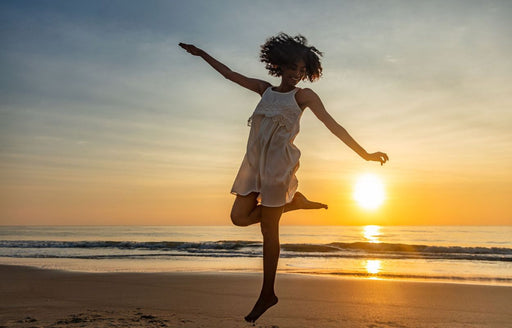 Say Yes!
Highlight your best features.
What are the best parts of your body? What parts do you like most? Once you've identified them, it's time to draw attention to them. If you like your arms, don't be scared to flaunt them with a sleeveless shirt. Or, if you love your blue eyes, be sure your wardrobe includes blue tops that will make your eyes pop.
Find the proper fit.
No matter what your body type is, clothing that is too tight or too loose won't make you look your best. Make sure everything you wear fits properly, and if something doesn't fit properly, make an appointment with a tailor or seamstress.
Play with proportions.
Playing with proportions is one of the easiest ways to flatter your body shape. For example, if you're petite, you can create the illusion of a longer torso by wearing a cropped top with a high-waisted bottom. If you have a plus-sized figure, an A-line dress that tightens at the waist will give you a beautiful silhouette.
Consider your colour palette.
Colours can also be used to creatively dress your body type. If you want to appear slimmer, for example, choose darker colours such as black or navy. If you're attempting to conceal a troublesome area, such as larger hips and thighs, choose a top with a striking design or pattern that will draw attention.
Just Say No!
Don't overshare.
Just because you have an amazing body doesn't mean you have to share it with everyone. In reality, less is sometimes more. Reveal skin thoughtfully with a low-cut dress for an anniversary dinner or a miniskirt for a concert. Revealing too much at one time can make the wrong impression.
Don't ignore comfort.
When it comes to clothing, comfort is crucial. You won't look or feel your best if your clothes are too tight, too loose, or just plain uncomfortable. When creating outfits, strive for pieces that are fashionable and comfortable.
Don't follow trends mindlessly.
Just because something is popular does not imply it will look good on you. If you don't love a trend and don't feel confident when wearing it, skip it. Instead, take advice from our friend Jenna Flood who recommends letting trends inspire you and interpreting them for your style and body type.
FAQs
What are the 5 body types in fashion?
There are several different body shapes, but the ones most commonly recognised by the fashion industry are apple, pear, hourglass, inverted triangle, and rectangle.
How do I know my body shape and style?
Knowing your body shape can help you choose clothes that look best on your figure. Start by taking your body measurements to see if you have an apple-shaped body type (larger around your midsection), pear shape (wider hips and thighs than bust), hourglass shape (with a well-defined waist with similar bust and hip measurements), or rectangular shape (with little difference between your bust, waist, and hip measurements). Once you've determined your body shape, use this knowledge to select pieces that highlight your best features and flatter your figure.

Though knowing your body type and learning how to enhance your shape can be helpful in looking your best, the only real rule is to wear things that make you happy and confident. All body types are beautiful and feeling good in your clothing is the most important thing.
As you are curating a collection of clothing that makes you feel your best, we recommend storing them in high-quality storage bags when out-of-season or not in use. Hayden Hill bags are made of 100% organic, soft cotton that is environmentally friendly and allows your favourite pieces to breathe while keeping them protected from damage. We deliver sustainable and beautiful garment care to preserve and protect the clothes you love most.