The Best Belt for Your Body Type
Knowing more about the different types of belts will be helpful when deciding how to wear a belt for a specific occasion or whether a particular type would work with your personal style and body shape.
Belts may be frequently associated with jeans and dress trousers, but they can be far more versatile! Belts are an excellent way to spice up any outfit and add a stylish touch.
However, it can be easy to choose the wrong type of belt for an outfit or wear it at an unflattering place on your body, which can leave you looking unbalanced or less than your best.
But, you can prevent that from happening by knowing the best types of belts and the best belt position for your body type.
Types of Belts
Knowing more about the different types of belts will be helpful when deciding how to wear a belt for a specific occasion or whether a particular type would work with your personal style and body shape.
The Classic Belt
The classic belt, also known as a leather belt, is a must-have in every woman's wardrobe and is most commonly black or brown.
The simplicity of this belt's design and buckle allows it to be used for a variety of occasions. A classic belt made of high-quality leather pairs well with office clothes, as well as more casual, denim items.
How to wear a classic belt?
One of the most popular applications for a classic belt is to wear it with jeans. For a polished look, wear a semi-thick, leather belt with a metal buckle, paired with your favourite jeans.
A leather belt can also be used with office attire. Adding a classic belt to tailored trousers and pairing it with a classic white shirt and high heel shoes creates a smart and put-together outfit.
The Braided Belt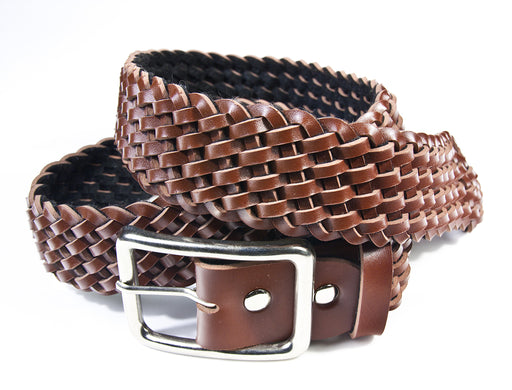 The braided leather belt, a popular boho accessory that is also known as a casual belt, has made its way into more classic forms and styles. Given its earthy design overtones, leather is the material of choice for this type of belt.
The flexibility with which this belt can be worn has made it a popular choice for a variety of looks.
How to wear a braided belt?
A braided belt lends itself to experimentation by layering it over a maxi dress, jeans, or flowy tunic. You can also cinch the waist of a blazer with a braided belt or pair it with a pencil skirt and comfortable heels for a smart business outfit.
The Skinny Belt
Skinny belts, though unobtrusive, easily liven up and add style to an outfit. This belt's width makes it an understated accessory, so it's easy to wear with brighter colours and bolder prints.
How to wear a skinny belt?
These narrow belts pair quite well with some of your favourite essentials, like a blazer or high-waisted jeans.
A blazer is adaptable with a variety of looks, and a belt can add interest to an outfit and shape to your silhouette. Tie a skinny black belt high up on the rib cage for a blazer-minidress look or cinch it just above the waist to add structure to an ample silhouette.
The Wide Belt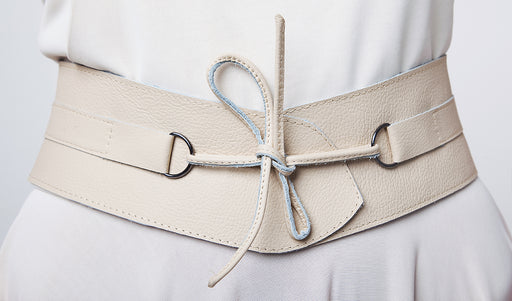 Wide belts are ideal for achieving an hourglass shape and will flatter most waistlines. These belts include styles from Obi belts that add a touch of oriental flair to classic wide sash varieties.
Whether you add belts to dresses, high-waisted skirts, or to accent a coat, wide belts are the ideal solution for those days when you feel something is missing from your outfit.
How to wear a wide belt?
A wide belt is a smart way to accent your waist when wearing a shapeless, loose dress. Choose a neutral belt that can be worn with a variety of outfits, as well as a fun, trendier version for nights out when you want to have a little edgier look.
When wearing a bohemian dress, don't underestimate the power of a suede or leather, wide belt. These two pieces create a combination that will elevate the outfit to a casually cool level that still appears stylish.
The Statement Belt
Statement belts have the capability to uniquely transform your outfits. They provide dimension to a dress, shirt, or jumpsuit that you find boring or out of date. Your form will be wonderfully emphasised with these trendy accessories cinching in at the waist.
You could wear them with a traditional maxi dress or a jumpsuit to always look sophisticated.
How to wear a statement belt?
Because there are so many alternatives and these belts can be worn with virtually any outfit, you can have a lot of fun experimenting with different looks this season.
Pair belts with a shiny, elaborate buckle with your favourite loose dress for an eye-catching, sparkling look, or choose a wide, corset belt to go with a classic white shirt, skinny jeans, and comfortable shoes.
Finding the Right Belt for Your Body
Belts are an essential accessory for any outfit, but choosing the right one can be difficult. The wrong-size leather belt might make your clothing look messy or leave you feeling uncomfortable all day.
To find the right belt, you must first understand what works best for your body type, from width and colour to placement.
Belts for a Short Waist
If your body type is short-waisted, you must be especially careful with your belt selection and positioning to avoid making your torso appear even shorter. Wear belts that are thinner, and in a comparable colour to your top to help you attain an appealing look.
Wide belts or decorated belts in opposing colours should be avoided for the short-waisted body type.
Belts for a Long Waist
The ideal belts for a long-waisted body type should be of a contrasting colour to your top and be worn slightly higher than your waistline. People with this body type can easily pull off a skinny belt or a wider belt.
Choose a belt that complements your trousers or shoes yet stands out from your top or dress for a balanced look.
Belts for the Pear Body Shape
Skinny belts are a wise choice if you have wide hips. The ideal location for your belt is usually the thinnest area of your waist. Feel free to experiment with colours and embellishments when choosing your favourite belt.
If you intend to wear a clothing item below the waist, stick to a V-shaped or a chain belt. A wide belt worn under the waistline is a poor choice for your physique.
Belts for the Hourglass Body Shape
The most flattering belts for an hourglass body type will draw attention to your waist. Though skinny belts do this best, narrow belts or large belts will still look good.
When wearing trousers, the belt should be over your belly button, and if you have an ampler figure, a V-shaped belt can go a little below your waistline.
Belts for the Apple Body Shape
The best belts for this body type include wide belts which help accentuate your waist, as well as V-shaped belts and belts with a little elasticity.
After selecting the ideal type of belt for your apple shape, the belt's placement is also crucial for achieving an appealing style. The perfect belt placement for this body type is either under the breast or over the hips. Asymmetrical belts can also be appealing, as are darker colours.
Belts for Plus-Size Figures
Belts also work well with plus-size figures. Belts with asymmetrical or V shapes create a slim silhouette, as well as belts that are placed on your hips. Avoid very thin belts; instead, opt for a wide belt for the best look.
FAQs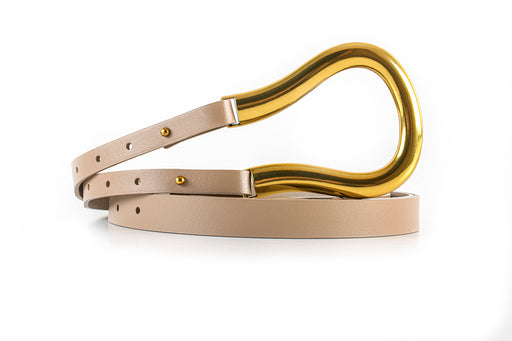 What is the right way to wear a belt?
Women traditionally wear their belts in the opposite direction as men. When looking down at the belt, men wear it anti-clockwise and women wear it clockwise. There are no strict rules as to how you should wear your belt, but this is the classic rule for men and women.
Where should a belt end?
Practically speaking, women's belts are designed to be worn from left to right, with the end of the belt passing through the buckle and ending on the right side of the button or zip. Men's belts are worn from right to left, with the end of the belt passing through the buckle and ending on the left side of the fly or zip.
Belts aren't just for men; adding a belt to an outfit can add personality, style, and detail to a woman's look. Though men may only wear a belt to cinch loose trousers, a woman can use a belt to create a silhouette, define her waist, or add interest to her ensemble.
Make sure your wardrobe includes a variety of types and styles of belts that match and pair well with the outfits you love most.
Hayden Hill garments bags are uniquely made of 100% organic, soft cotton that is environmentally friendly and allows your favourite pieces to breathe while keeping them protected from damage. We deliver sustainable and beautiful garment care to preserve and protect the clothes you love most.