The #1 Thing Online Shoppers Should Know
Whether you are wearing a dress from Target or a designer garment, everyone looks more polished when wearing clothing that fits them well. Use this guide to capture your measurements accurately and you will always look fashion forward.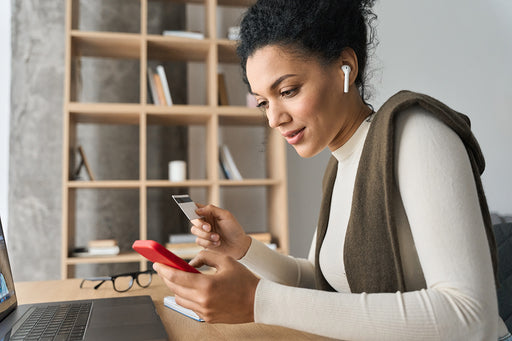 From stay-at-home parents to grocery cashiers to corporate executives, we all have one thing in common: we are all busy. And, we are more than happy to take advantage of any convenience item or service that saves us time.
One of the most popular ways we save time is by online shopping. And, that is also true for fashion.
Research shows that "roughly 23 percent of total online retail sales in the United States comes from fashion e-commerce. And, this year, U.S. retail e-commerce revenue from the sale of fashion apparel, footwear, and accessories is expected to reach 205 billion dollars."
Most of us are shopping for clothing online, which saves us time, but since we can't try on items before buying them, the risk of buying ill-fitting clothes is greater.
That's where knowing your measurements and how to accurately take them makes the online shopping process much smoother.
Why are Measurements Important?
Knowing your measurements - including your bust, hip, waist, shoulder width, inseam, and sleeve length - is essential whether you're buying something online or having an item altered. A well-fitting garment will take your look from fine to spectacular.
Most people have a general concept of their body size (an 8, 10, 12, or 14, or a small, medium, or large). However, in order to shop online without the inconvenience of having to return your purchases, you must have a better understanding of your shape and size.
Remember that one manufacturer's size 10 is another's size 8, and some brands and designers use vanity sizes to make customers feel better about themselves and be loyal to their brand.
Knowing your measurements empowers you to ignore the number on the tag and choose the option that will fit your body best.
Taking Accurate Body Measurements
Having measurements taken professionally is the best way to ensure accuracy. This is especially true for women's bra sizes, which can be difficult to fit without being tried on. However, if you need to take some swift measurements at home or simply want to see whether your body has changed since your last professional measurement, here's how to accurately measure your body.
Your chest, waist, hips, and inseam are the most common areas to measure. However, you should also measure your natural waist, or the thinnest area of your body, as well as the widest part of your legs and bust. Measure your neck size and sleeve length if you intend to wear collared shirts and blouses.
All you need to start is a soft measuring tape, a notepad and a pencil, or your phone to take down the measurements as you go.
How to Measure Your Bust
Wrap the measuring tape around the fullest part of your breasts. Position the tape directly over your nipples and place your arms at your sides. It is best to have someone help you take the measurement so you can keep your arms down.
Make sure the measuring tape is level and snug to ensure you get accurate measurements. This is a general rule for measuring any part of your body.
Round the measurement you see to the nearest whole inch. Any measurement that is ½ inch or above should be rounded up. This is your bust measurement.
How to Measure Your Waist
Begin taking your waist measurement by taking off your clothes or lifting your shirt to just below your chest. To provide accurate measurements, the tape measure must be placed on your bare skin.
The thinnest section of your torso is where your waist measurement should be taken. Stand up straight, exhale softly and slowly, and wrap the measuring tape around your body, connecting at the front.
The measuring tape should be parallel with the ground and snug enough to wrap around your torso without pinching it. Make a note of the number at the spot where the measuring tape meets. This is your waist measurement.
How to Measure Your Hips
In your underwear, stand in front of a full-length mirror. This will help you see if the measuring tape is twisted. Put your feet together, toes forward. Locate the broadest area of your hips and secure your measuring tape in the center of this location. Move the measuring tape around your back, over your bare skin, and join it at the beginning.
The tape should be flat and snug, without digging in. It's too loose if you can slide more than one finger under the connected tape. Make a note of the number at the tape's meeting place. This is your hip measurement.
How to Measure Your Shoulders
Taking a shoulder measurement requires an additional person to help. If you don't have someone to help, just choose a shirt that fits you perfectly and use its measurements.
Otherwise, begin by facing your assistant. Have them start measuring from the outside edge of your shoulder, the area behind your collar that goes over the tops of your shoulders. From the outside border of your shoulders, measure across the curve. This measurement is your shoulder width.
If you need to measure from your shoulder to your bust, start at the center of your shoulder's slope and work your way down to your nipple.
How to Measure Your Inseam
Stand up straight with your back to the wall and have another person measure from the top inseam point to your heel for maximum accuracy.
If you normally wear heels or intend to do so with this outfit, either wear heels when measuring or add ½ to 1 inch to the listed measurement.
If you are unable to find someone to help you, consider measuring the inseam of an existing pair of pants, preferably one that fits well, but keep in mind that you might not get the most accurate measurement.
To use this method, fold the pair of pants in half vertically and measure in inches from the crotch seam or zipper bottom to the bottom of the leg. If you are purchasing fabric that will shrink significantly if machine washed, add around ½ inch to the measurement. This is your inseam measurement.
How to Measure Your Natural Waist
The natural waist is the narrowest point between the bottom of the rib cage and the pelvis.
To measure your natural waist, first, locate the top of your hip bones. Your natural waist is just above this point.
Stand up straight, but relaxed. Do not suck in your stomach or tighten your stomach muscles. Wrap the measuring tape around your waist, just above your hip bones. This is your natural waistline or simply put, your natural waist measurement.
How to Measure Your Sleeve Length
The best approach for getting a precise sleeve measurement is to measure oneself in a specific stance.
Place your feet straight on the floor at hip distance, keep your shoulders loose yet solid, and insert your hands into your pants' front pockets. Use a mirror to assist you in finding the center of the back of your neck for this sleeve measurement. In this spot, you will feel the knobs on your spine. Hold the tape measure in place with one hand. Measure across your shoulder from the center neck point to the end of your shoulder at the top of your arm. This is your sleeve length measurement.
How to Use a Size Chart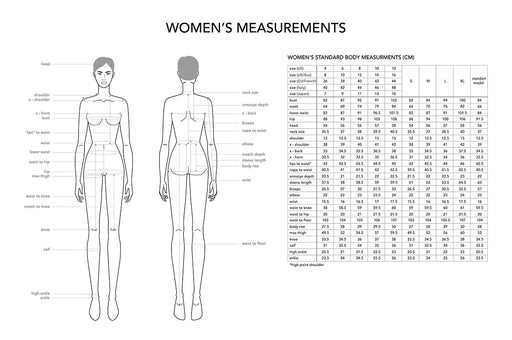 A size chart shows you the manufacturer's dimensions for each clothing size. Body parts are usually listed on one side, and sizes on the other.
To use a size chart, locate the waist row or column, for example, and trace it until you find a value that matches your measurement.
One challenge you might encounter is that all of your measurements may not coincide with a particular size on the chart. In this case, selecting the right size will depend on the type of garment and how it is made.
Another thing to keep in mind concerning sizing charts is that they usually provide dimensions in inches when using US sizes and centimeters when using EU sizes.
Lastly, measures that are a fraction of an inch above or below the measurements on the chart are usually acceptable. If your waist measures 37.5 inches, for example, you could still wear the size with a waist measurement of 38 inches comfortably.
FAQs
How do I take my measurements for clothing?
Always use a flexible measuring tape while taking your body measurements. Have someone else measure you for the most accurate results. Also, for circular measurements, ensure you are holding the tape measure securely and firmly against your body (but not tightly), and that the tape measure is always parallel to the floor. Make sure you write down your measurements and have them handy whenever you are shopping for clothes. But for best results, have a professional take your measurements.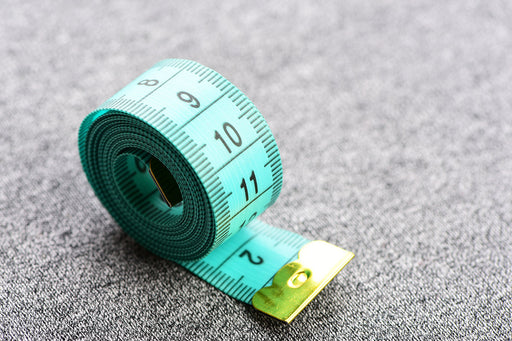 How do you measure yourself for clothes at home?
A soft measuring tape or tailor's tape is the most accurate tool for measuring yourself at home. If you don't have one, you can measure yourself by using a piece of string or ribbon (that isn't stretchy) and measuring the ribbon with a ruler.
The more you understand about your body by knowing your measurements, the better you will be able to dress it. Keep your measurements in your phone or purse so you will have them on hand when spotting a deal online or obtaining custom-made clothing.
Whether you are wearing a dress from Target or a designer garment, everyone looks more polished when wearing clothing that fits them well. Use this guide to capture your measurements accurately and you will always look fashion forward.
And for your most treasured pieces, Hayden Hill long garment bags are the ideal storage solution. They are made of 100% organic, soft cotton that is environmentally friendly and allows your favorite pieces to breathe while keeping them protected from damage. We deliver sustainable and beautiful garment care to preserve and protect the clothes you love most.