6 Tips for Finding the Best Lingerie for Your Body
The most important thing to remember when buying lingerie is to choose pieces that make you feel confident and comfortable, whether that is a delicate lace bra or something bold and daring that draws attention to your figure.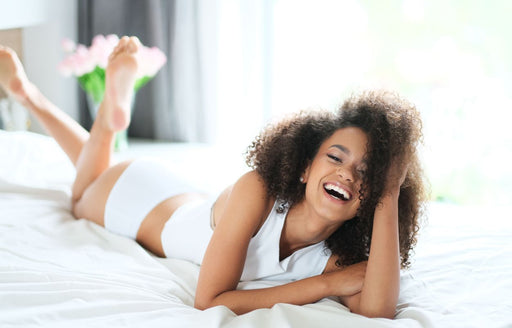 Worldwide, the lingerie industry generated over $36 billion in revenue in 2022 and this number is expected to continue growing.
This impressive figure reveals that most women understand that what they wear underneath their clothes has a significant impact on how they carry themselves in their clothes.
The right lingerie helps you feel confident and beautiful in your skin and provides support and comfort. So, it's critical to know how to pick lingerie that is best for you and your body. The first step is to understand what types of lingerie are available.
Types of Lingerie
Though there are many different types of lingerie, this list includes some of the most popular choices that you may want to consider when selecting the best lingerie for your body.
Bodysuit: A one-piece garment, sometimes known as a teddy, which is ideal for special events or layering beneath clothes.
Bralettes: These bras do not have underwire support and are frequently fashioned of lace. They work best for ladies with smaller busts.
Corset: One of the most traditional undergarments, it clings to the body and emphasises the physique, creating an hourglass shape.
Bustier: A bra top that extends to the belly button, emphasising the breast.
Chemise: A short dress that can be worn alone or with a matching thong.
Robe: Depending on personal preferences, it can be worn short or long and is frequently made of luxurious fabrics such as silk.
Garter belt: A suspender belt worn around the waist or hips to keep stockings in place. Garter belts contain straps with clips for attaching thigh highs or stockings.
Push-up bra: A bra that squeezes the breasts together, creating cleavage. To show off the cleavage, push-up bras are generally half or demi cups. Underwired cups are commonly used in push-up bras for increased lift and support.
Padded bras: Bra padding can be made of water, foam, or gel. These materials are created specifically to boost breast volume.
Body stockings: Form-fitting, one-piece lingerie that are considered statement garments.
The Right Lingerie for Your Body Type
Now that you're aware of the most common types of lingerie, let's look at what items look best on different body types. And if you aren't sure what body type you have, start by taking your measurements.
Hourglass Body Type
If you have an hourglass figure, then your waistline is smaller than your bust and hips and your chest is approximately the same size as your hips.
This body type looks well in nearly any type of lingerie. Garter belts, teddies, and corsets are excellent picks for this body shape, as well as a thong or a high-leg pair of pants with a lace bra.
Pear-Shaped Body Type
Also known as a triangle body type, the hips and legs of a pear body shape are broader than the shoulders and bust.
The goal when dressing a pear shape is to make your body appear more proportional and balanced. A lace negligee that is tight over the breasts but flows down around the hips is an excellent choice. A bustier is another excellent way to draw attention to your chest. You may also try on a matching set with a ruffled bra and panties or a bandeau bra that will help to even out your shoulders and hips.
Inverted Triangle Body Type
This body type has broad shoulders and a full bust with smaller hips and thighs.
The most attractive lingerie for an inverted triangle body shape is a bra with full support and larger straps, such as a beautiful balconette bra. The ideal underwear for this body type is a high-waisted pants design.
Athletic Body Type
The athletic body type, also known as the rectangle body shape, has an athletic build. Athletic shapes have nearly identical breast, waist, and hip dimensions.
Corsets are a great option for this body type as they tighten at the waist, accentuate curves, and create a sensual silhouette. A garter belt or teddy is also ideal for athletic figures with a long torso. Those with rectangle body shapes may also draw attention to the breasts by wearing push-up bras and bustier lingerie.
Apple-Shaped Body Type
The apple-shaped body type is distinguished by a big bust, narrow hips, and a full midsection.
There are several lingerie types that are ideal for an apple-shaped body. A sensual bodysuit or teddy with a deep V-neck helps elongate the line of the body. Another option is a halter bra with high-waist underwear, which will elevate your breasts and make your waist look smaller. Wear a halter bra with high-waisted, vintage knickers for a feminine style that provides more coverage for your midsection.
Curvy Body Type
Plus-size lingerie offers many options for curvy ladies. When shopping, the goal should always be to emphasise your curves. Anything with a low-cut neckline will look great, but make sure there is appropriate support - your bust always looks best when adequately supported by a bra.
Plus-size baby dolls, for example, provide sufficient covering while still showcasing your legs, and corsets and rompers have a seductive appeal. Make the most of sheer, lace, and other transparent fabrics to add mystery to your overall look.
Petite Body Type
If you have a petite figure, bra and pants sets are ideal. Two-piece lingerie also looks great on a shorter physique. You may not need to find underwire bras as much as other body types, so experiment with bralettes and other delicate bra styles.
Adjustable bra straps are essential for petite women who struggle with strap sizes due to their smaller frames.
6 Tips for Choosing the Right Lingerie for You
1. Consider comfort and your personal preferences.
Many lingerie items look fantastic on supermodels and celebrities, but when it comes to buying lingerie for yourself, invest in pieces that you will feel comfortable in and that reflect your style.
Start with a few simple items, such as a couple of matching sets and some lacy pieces in neutral colours that will look good no matter what you wear over them. If you already have the essentials, consider something a bit more daring, such as a silk gown, matching cami set, or garter set.
2. Purchase high-quality pieces.
It's also important to be mindful of the materials used in lingerie because some fabrics might irritate delicate skin or create discomfort. Choose lingerie made of sustainable and soft, breathable fabrics such as organic cotton, silk, or lace.
Inexpensive, low-quality lingerie does not feel nice and typically has a short lifespan. Before purchasing any garment, examine the item to ensure that there are no frayed stitches or rips.
Well-made lingerie has a high-quality appearance and feel, and it should be clear that the garment was manufactured with care.
It's also a good idea to buy lingerie with adjustable straps that fit comfortably to avoid pain and guarantee that the lingerie stays in place all day.
3. Identify the occasion.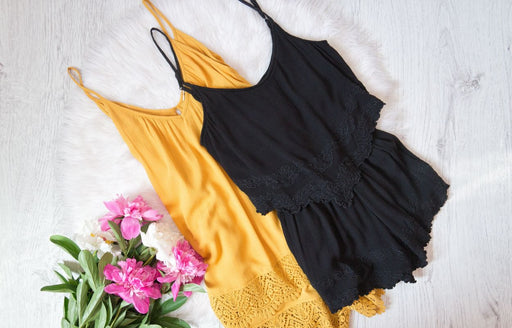 Some lingerie is better suited for some occasions than others. For everyday wear, purchase several attractive bra and pants sets in neutral colours that will match your clothes.
For casual occasions, a gorgeous bodysuit is an ideal option. If you have a special night planned such as an anniversary, a Valentine's Day celebration, or a weekend getaway with your partner, go all out and choose something daring. You can stick to classic black which flatters any woman, but don't be afraid to experiment with different materials and colours like gold or violet.
4. Choose the right colours.
A best practice when shopping is to choose colours that complement your skin tone. If your hair is brown or black and your complexion has warm undertones, try colours such as orange, red, golden yellow, amber, and honey gold. Warm shades of green and blue, as well as red and purple, are your go-to shades in the cool colour family.
If you have blonde or red hair and cool undertones, your go-to colours include vivid blues, jewel tones, and lavender. In warmer colour families, choose shocking pink, cerise, ruby, and vivid rose.
5. Highlight your best attributes.
Any piece of lingerie that you buy should emphasise your greatest attributes. You will never go wrong if you learn to play to your strengths.
Identify the parts of your body that you like best and find lingerie that emphasises those spots.
6. Consider the season.
The changing of seasons calls for a change of lingerie. The colder winter months are ideal for investing in heavier garments and layering pieces such as bodysuits and teddies. Bodysuits are ideal for pairing with your warm winter attire, as are stockings, which look more sophisticated than tights.
Summer calls for lighter, more breathable garments and lingerie. To combat the heat, wear fabrics like cotton, silk, and lace. Summer is also the season to flaunt your body in gorgeous tank tops and strappy dresses, so make sure you have nice foundation pieces underneath.
FAQs
How do I know if I'm wearing the wrong bra size?
A bra that rides up, straps that pinch into your shoulders, cups that gape or overflow, and a band that feels too tight or too loose are all signs that you're wearing the wrong size. It is critical to get a bra professionally fitted to ensure comfort, support, and good breast health. A professional can help you identify the right size and style, taking into account aspects like band and cup size, breast shape, and personal preferences.
What type of lingerie will hide a full stomach?
Apple-shaped body types with full midsections look best in lingerie like bodysuits or teddies with deep V-necks that create the appearance of an elongated body. Another great option is a halter bra with high-waist underwear.

The most important thing to remember when buying lingerie is to choose pieces that make you feel confident and comfortable, whether that is a delicate lace bra or something bold and daring that draws attention to your figure.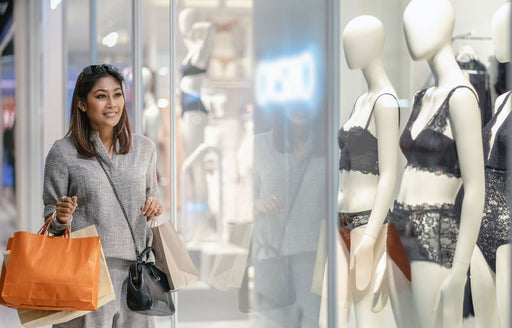 Taking the time to learn about your body type and experiment with various styles will help you discover what works best for you. Also, don't be afraid to try something new and outside of your comfort zone.
Dolce & Gabbana said, "Lingerie is the maximum expression of a woman's femininity." So, express your femininity by curating a collection of lingerie that's perfect for you.
And, when your lingerie is not in regular use or out-of-season, we recommend storing it in Hayden Hill zippered storage bags. Our bags are made of 100% organic, soft cotton that is environmentally friendly and allows your favourite lingerie pieces to breathe while keeping them protected from damage. We deliver sustainable and beautiful garment care to preserve and protect the clothes you love most.