20 Luxurious Valentine's Day Gift Ideas
Whether you are shopping for a birthday, anniversary, or Valentine's Day gift, start by thinking about the recipient. What have they mentioned they would like to have? What are their interests and hobbies? Would they rather have a gift that is practical or more frivolous? Do they collect anything?
With Valentine's Day right around the corner, many of us are thinking about what we will get for the special men and women in our lives. To help make your shopping easier, we've compiled a list of 10 high-end gift ideas for women and 10 luxury gift ideas for men because your loved one deserves only the best.
10 Valentine's Day Gifts for Her
Looking for the best Valentine's day gift ideas for your wife or girlfriend? Many struggle to find the perfect gift and this is especially true when shopping for a woman who loves fashion. You may feel like the special lady in your life is impossible to buy for, but here are a few gift ideas that she is sure to love.
Tiffany Heart Earrings
Stick to a valentine's theme by buying her a pair of Tiffany heart-shaped earrings. Consider the earrings she regularly wears to decide what type of heart earrings she would like best such as Tiffany's famous heart tag earrings, olive leaf heart earrings, and heart hoop earrings. There are many options available, and knowing whether the woman in your life prefers studs, hoops, or drop earrings will make your shopping easier.
Prada Shearling Slippers
For a gift that is practical and luxurious, consider buying your sweetheart a pair of Prada shearling slippers. Slippers are a must in cold winter climates and Prada designed these slippers to be contemporary and made of alpine-inspired materials. They are offered in cognac and black to match everything in her wardrobe. She can wear them while lounging around the house on a Sunday morning or while sipping on her morning coffee before work.
Harry Winston Diamond Stud Earrings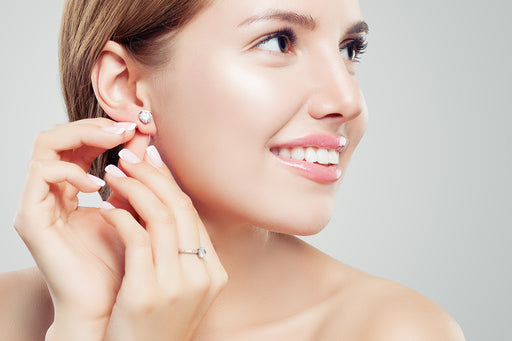 These classic earrings make the perfect anniversary, birthday, or Valentine's Day gift. They are well-liked because of their versatility and timeless charm. Harry Winston studs are offered in different shapes, cuts, and weights and would make your valentine the envy of her friends.
Kate Spade Heart Sweater
A heart sweater is the perfect attire choice for Valentine's Day; it can be worn for a variety of occasions – an outdoor picnic, grocery shopping, or a casual dinner. This Kate Spade sweater is a wool-blend crewneck with bold overlapping hearts.
Fashion Getaway
Treat the lady in your life with a trip to New York Fashion Week, which runs through Valentine's Day. She'll never forget seeing the latest collections from Badgley Mischka, Cynthia Rowley, and Jason Wu in person.
Saint Laurent Belt Bag
Whether she loves to shop, travel the world, or go to concerts, a belt bag is practical and fashionable. This Saint Laurent embossed leather belt bag will help corral her belongings without the bulk of a large purse.
Versace Heart Choker
If the woman in your life loves eye-catching jewellery, she may love this satin crystal heart choker from Versace. This dazzling piece features heart-shaped crystals and an adjustable closure. She can wear this choker out to valentine's dinner and is sure to be noticed by all in attendance.
Louis Vuitton Vanity Case
Makeup cases are practical items that women use frequently, so gifting her this vanity case from Louis Vuitton is a great way to remind her of you. This case is coated with natural cowhide leather trim and even has a washable inner lining.
Tory Burch Handbag
Any woman would love a new handbag for Valentine's Day and what brand is more iconic than Tory Burch? The designer brand's Eleanor bag is one of its bestsellers and is made of Italian leather with hand-painted edges. It comes in black, new cream, and moose colours so your lady will look put-together in every outfit.
Dior Cashmere Beanie
Often, winter weather is still in effect around Valentine's Day and your loved one is likely doing her best to stay warm and cozy. What better way to survive the cold temperatures and feel luxurious than with this Dior cashmere beanie! This beanie highlights the brand's iconic logo and has a pompom on top for a bit of whimsy.
10 Valentine's Day Gifts For Him
Though Valentine's Day traditionally emphasises gifts for women, don't forget about the men in your life. Here are a few gift options that may help you decide what to get the special man in your life this year.
Jan Barboglio Decanter
Why watch John Dutton drink whiskey on Yellowstone, when your guy can enjoy his own premium alcohol stored in this Jan Barboglio decanter? This decanter comes with an iron stand and longhorn topper. Plus, every Barboglio piece is cut, fashioned, forged, and finished by hand for a truly one-of-a-kind gift.
Winter Getaway
Your husband or boyfriend may remember a getaway far longer than he would a physical gift. This time of the year, he may want to take a break from the winter weather and visit a tropical location such as Fiji, Bali, or Bora Bora. And, as a bonus, you will get to enjoy the tropical escape too.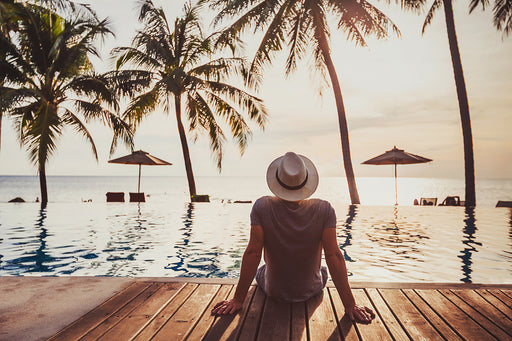 Patek Philippe Watch
Patek Philippe was founded in 1839 by the Stern family and is the only remaining family-owned independent watch manufacturer in Geneva, Switzerland. A Patek Philippe watch would be a rare gift indeed as every watch, from its case and dial to its beating heart, is finished by hand by a dedicated, trained specialist, with skills passed down through generations. With a watch like this, no doubt that he will think of you whenever he checks the time.
Private Lessons
Is there something your sweetheart has always wanted to learn but hasn't found the time to? Perhaps he would enjoy private instruction on flying, skiing, sailing, or golfing. A few lessons and he will be that much closer to pro status.
TaylorMade Golf Clubs
TaylorMade is on a mission to be the best performance golf brand in the world, and as one of the nominees for the World Golf Awards Best Golf Club Brand, they are well on their way. And, the golf-loving man in your life would love one of their cutting-edge clubs. With one of these clubs, they are sure to improve their game and have you to thank.
Event Tickets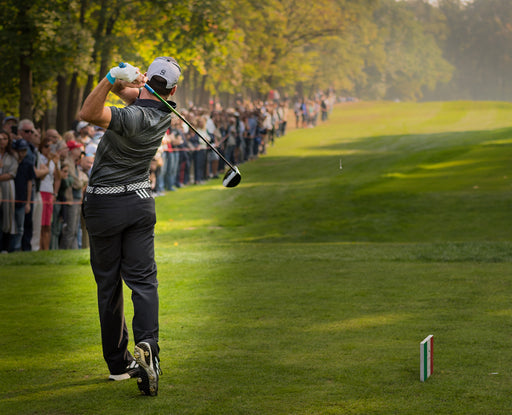 Whether your husband or boyfriend prefers music or sports, he is sure to love front-row seats at a concert or game. And, if he is a sports fan, this is the perfect time of year to grab tickets to the Super Bowl, NCAA tournament, the Masters, or the Kentucky Derby. He's sure to appreciate how well you know him and support his favourite hobbies.
Fendi Cotton Bathrobe
This Fendi bathrobe is a luxurious and practical Valentine's Day gift for him. Made in Italy of 100% cotton, the brown robe features an oversized hood and large pockets that will look sophisticated on your sweetheart.
Cold Plunge Tub
Celebrities, athletes, and speakers such as Chris Hemsworth, Lebron James, and Tony Robbins swear by the use of a cold plunge tub. Regular cold water immersion reportedly helps with inflammation, mental health, and post-workout recovery. Plunge's tub was featured on Shark Tank and is designed for indoor or outdoor use. If the man in your life is interested in his wellness, this is certainly a gift he would enjoy.
Tom Ford Leather Duffel
If your guy is a frequent traveller, then he needs a duffel bag that is as fashionable as the clothes inside. This Tom Ford grained leather Buckley duffel bag is made in Italy and includes sleek gold hardware. With this bag in hand, he is sure to be the envy of his fellow travellers.
Executive Chef-Catered Dinner
Share the Valentine's Day love by planning a dinner party with a few of your closest couple friends. Make it special for your loved one by choosing his favourite type of cuisine, reserving a romantic location, and hiring one of the best executive chefs in your city. A night filled with laughter and friends will be unforgettable for the man in your life.
FAQs
What is the best gift for Valentine's Day?
There is no way to determine the best gift for Valentine's Day. The best gift is the one that is chosen based on your loved one's unique personality and preferences.
What are Valentine's Day gift ideas for a man?
A few of the gifts any man would like to receive include private lessons, a Fenti bathrobe, or event tickets. When in doubt, ask your guy what he would like for Valentine's Day.
Whether you are shopping for a birthday, anniversary, or Valentine's Day gift, start by thinking about the recipient. What have they mentioned they would like to have? What are their interests and hobbies? Would they rather have a gift that is practical or more frivolous? Do they collect anything?
Asking yourself these questions should help you come up with several gift ideas and make the shopping process easier.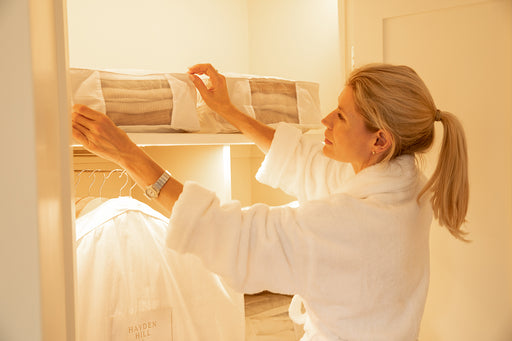 And, if your loved one has valuable or treasured clothing, consider gifting them with a Hayden Hill storage bag. Our bags are made of 100% organic, soft cotton that is environmentally friendly and allows your favourite pieces to breathe while keeping them protected from damage. We deliver sustainable and beautiful garment care to preserve and protect the clothes you love most.