How Many Clothes Should a Woman Have in Her Wardrobe?
Depending on your lifestyle, career, interest in fashion, and other factors, the amount of clothes you need will differ from others. Obviously, you want a varied wardrobe that supports your lifestyle. You also want clothing that fits well and looks amazing. So how many pieces of clothing should you have?
Though the number of clothes in your closet is a personal choice, the topic has become controversial.

With the increasing popularity of minimalism and capsule wardrobes, many influencers suggest that a woman should not have more than 50 pieces of clothing (including shoes and accessories) in her closet.

And influencers aren't the only ones with opinions. Perhaps your significant other has commented on your full closet and ridicules you for saying you have "nothing to wear."

While there may be many opinions about your wardrobe, our stance is that there is no one-size-fits-all answer. Depending on your lifestyle, career, interest in fashion, and other factors, the amount of clothes you need will differ from others.
The better question to ask is: Do you think you have too many clothes?

Obviously, you want a varied wardrobe that supports your lifestyle. You also want clothing that fits well and looks amazing.

So how many pieces of clothing should you have?
How Many Clothes Do I Need?
According to a 2016 survey done by ClosetMaid, the average woman has 103 articles of clothing. Of 1,000 women surveyed, 21% said their closet was unwearable. Respondents also said 12% of their wardrobe also goes unused, either because it's ill-fitting or outdated.
Does that sound familiar?

If so, then the number of clothes you have is irrelevant. The real problem is that you own things that aren't serving you. The goal is to have pieces that make you feel good, that you can wear for a number of occasions, and that will last for many years.

When determining what pieces you need, ask yourself a few questions:
How many days a week do I work?
Do I have work clothes and casual clothes?
Do I need formal wear?
Do I need seasonal clothing?
How often do I do laundry?
Do I need to change my clothing often?
For example, if you work from home, you probably don't need a closet full of business attire. On the other hand, an executive working onsite needs several elegant pieces to choose from.

If you have an active job, such as a spin instructor, you'll need several pieces of activewear, as well as clothing options for when you aren't at the gym.
Although the amount of clothing a woman should have varies based on her lifestyle, there are a few staple items that every woman should own.
Clothing Essentials Every Woman Should Have in Her Closet
Wardrobe essentials are pieces that can be mixed and matched in multiple ways, dressed up for business occasions or down for casual. These items are classics that make good investment pieces, so they will last for years to come.

Here are the essentials to have in your closet:
1. Black Blazer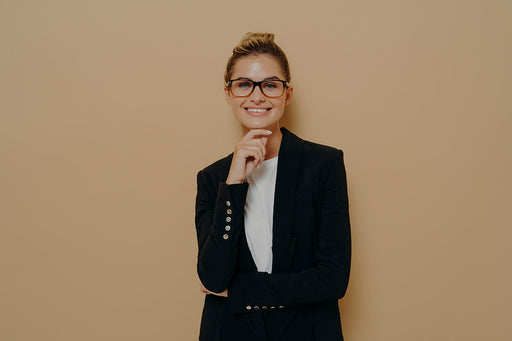 Structured blazers, especially those fitted to your body, are good layering pieces.
In an office setting, a t-shirt under a blazer paired with tailored trousers is a professional look. You can also pair a blazer with a sweater dress and ankle boots for a more casual look.
2. Little Black Dress
Another piece of essential clothing for women is the little black dress. So coveted is this item that it has its own abbreviation: LBD. The LBD is popular because of its versatility. A little black dress can be worn on a casual date, a stroll around the park, shopping, going out to eat, meeting friends at the bar, and any other activity you can think of.
An ideal dress is one with modest length (just above the knee) and a high neckline.
3. Light Cardigan
During the spring and fall in seasonal climates, daytime is warm, but the evening and night are cooler. Cardigans are perfect for these occasions when you may need to add more clothing later in the day.
Plus, cardigans layer well and come in a multitude of colors, styles, lengths, knits, and textures. Find a few that compliment your style and other pieces of your wardrobe, and you'll always have something warm to wear.
4. Basic White or Black Tee
Select a few white or black tees with various necklines. These will be a staple for many outfits, since these colors pair well with just about everything. Dress up or down your basic black or white tees with other essential pieces and accessories.
5. Dark Wash Skinny Jeans
Skinny jeans are incredibly versatile, especially ones in a sophisticated dark wash. You can wear jeans out on a date, to a party, or on a casual shopping trip with friends. Pair your jeans with a statement leather jacket, simple flats, and basic tee for a classic look.
Or, if you don't like skinny jeans, a timeless option is a tapered straight leg jean.
6. Pencil Skirt
Pencil skirts have long been a staple in the workplace, but they can also be worn casually. Dress down a pencil skirt by pairing it with a leather jacket and t-shirt or a button-down shirt.
7. Wrap Dress
If you are looking for a dress that flatters any figure, consider the wrap dress. This style can be dressed up or down, and it can be found in dozens of patterns and colors. You can pair a wrap dress with sneakers, ankle boots, flats, or pumps. In the spring, a white wrap dress looks incredible with a leather or denim jacket.
8. Leather Jacket
As we've mentioned several times above, a leather jacket pairs well with so many items. Vogue called the leather jacket a 2021 investment piece. Here's why: A high quality leather jacket not only goes with just about anything in your wardrobe, it's going to last for years and only improves with age.
9. Black Trousers
High-waisted, tie-waist, straight-leg, flared. Regardless of the type, black trousers will never go out of style. Black trousers are a staple for the modern business woman, as well as those who just want to look chic.
10. Denim Shorts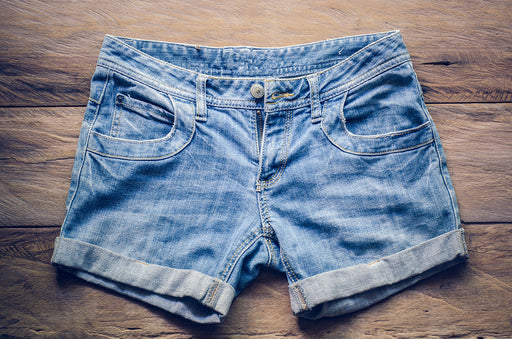 Denim shorts are timeless. They work with a variety of tops, be it a knit cardigan, plain t-shirts, blouses, blazers, and more. Plus, you can wear them to casual outings, on a date, or on vacation.
11. Basic Tank Top
A tank top is even better for layering than a basic tee shirt. Purchase 3-4 tanks in black, white, and a couple of your favorite colors, and then get creative in pairing them with other essentials.
For example, pair a tank top with your dark wash skinny jeans, or even layer it beneath your black blazer for a sleek and elegant look.
12. Knit Sweater
The knit sweater is another piece that should be in every woman's wardrobe. Knit pullovers work dozens of ways, from dressing down with a pair of boyfriend jeans to matching with a pleated skirt or tailored pants.
FAQs
What should every woman's wardrobe have?
Every woman's wardrobe should have a few basic t-shirts, a little black dress, a blazer, a cardigan, two pairs of well-fitting jeans, a skirt, tank tops, and a knit sweater. Once you have those items, you have a good foundation for a functional wardrobe.
How do you know if you have too many clothes?
When you open your closet and you're overwhelmed by the choices, or when a majority of the clothes haven't been used in years, then you know you have too many clothes. However, if you wear all the pieces in your closet and have enough clothes between laundry days, you have the right amount.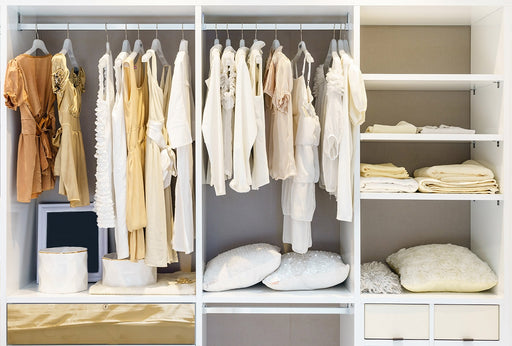 Though magazines, influencers, minimalists, and even your significant other may have an opinion about how many clothes you should have in your wardrobe, only your opinion really matters. If you are wearing everything in your closet, then you have the right amount of clothes for you!