Christmas Sweaters for Every Occasion
Choosing the right Christmas sweater to wear can be a challenge. To help you find the perfect sweater for your event, we've compiled a list of the different types of Christmas sweaters suitable for any holiday occasion.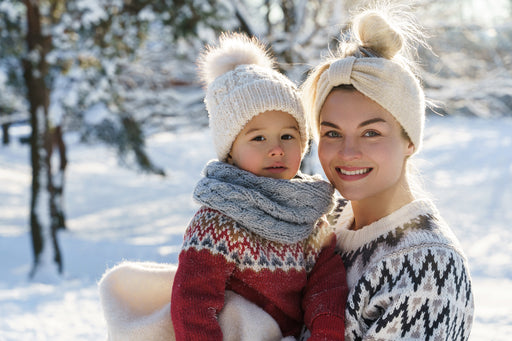 With Christmas only days away, parties and events are filling up our calendars. You are sure to have one or two occasions that call for Christmas sweaters to be worn. 
But, choosing the right Christmas sweater to wear can be a challenge. To help you find the perfect sweater for your event, we've compiled a list of the different types of Christmas sweaters suitable for any holiday occasion.
The History of Christmas Sweaters
Christmas sweaters gained popularity in the 1960s and 1970s thanks in large part to Hollywood celebrities. Many of the most well-known celebrities of the time, such as Clark Gable, Gary Cooper, and Ingrid Bergman, were seen wearing holiday sweaters.
Soon after that, Christmas sweaters were featured on fashion runways and by the 70s they were viewed as a holiday symbol and the theme of many parties.
Types of Christmas Sweaters
There are a lot of options to explore when choosing Christmas sweaters, whether you want to make a fashion statement or win a tacky sweater party. Here are a few of those options to help you decide which would be the best choice for your taste, your body type, and the type of event you will be attending.
Oversized Christmas Sweater
This particular style of Christmas sweater has a somewhat baggy, bulky shape. It's the perfect choice for a casual holiday party with friends and family where you want to look festive and cute.
However, the key to pulling off an oversized sweater is to complete the rest of your outfit with polished, fitting, or tailored pieces. Usually, oversized sweaters look best with slim-fitting bottoms like skinny jeans or leggings. They can also serve as a nice contrast to a pair of fitted pants or a crisp pencil skirt.
Cardigan Christmas Sweater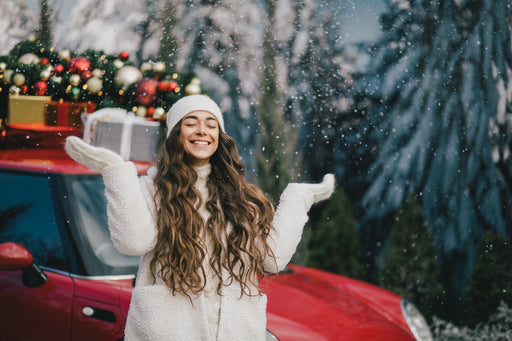 The cardigan is a well-known type of sweater and a Christmas cardigan is no exception. The style of these Christmas sweaters is distinguished by their open design. Cardigans can be short or long; have buttons, ropes, zippers, or no closures at all; and often have a V-neckline. They are very popular in Christmas sweater designs because they are easy to pair with other pieces of clothing.
It's best to choose a cardigan design that is simple and elegant because the sweater's shape is already distinctive. Pair a simple red cardigan with a fresh white shirt underneath to create a stylish, yet appropriate outfit for a Christmas office party.
Cropped Christmas Sweater
Cropped Christmas sweaters are a very recent trend. Since they are designed to be shorter than waist length, they might not be the most practical winter clothing. But, if you want to draw attention to your waist, appear trendy, and accentuate your bust line, a cropped sweater could be the sweater for you.
Cropped dressy holiday sweaters can be worn with pants or a skirt with a high waist. It can also be worn over a dress. Cropped Christmas sweaters can make quite a statement if styled well and add a little bit of edge to this traditional holiday fashion.
Christmas Sweater Dress
The sweater dress is even more timeless and elegant with a Christmas design. Sweater dresses are usually around knee-length or slightly shorter, and they can be either fitted or straight. They come in a variety of designs, textures, and colours.
You can choose a neutral white or grey sweater dress, or if you want something more eye-catching, you can opt for a bolder colour like pink. Imagine your Christmas dress with a Santa or reindeer print for a more casual holiday event or with just the right amount of rhinestone-embellished snowflakes for a night out. Dress your Christmas sweater dress up with knee-high boots.
Christmas Vest
A vintage-style sweater vest with a festive pattern can be one of your go-to items for holiday events. Christmas vests can be either open in the front (cardigan style - with or without buttons) or closed in the front and pulled over the head. A sweater vest is a terrific option if you want to spread holiday cheer but you do not live in a cold climate. To complete the look, pair a Christmas vest with a button-up collared shirt or a long-sleeve t-shirt.
Fair Isle Sweater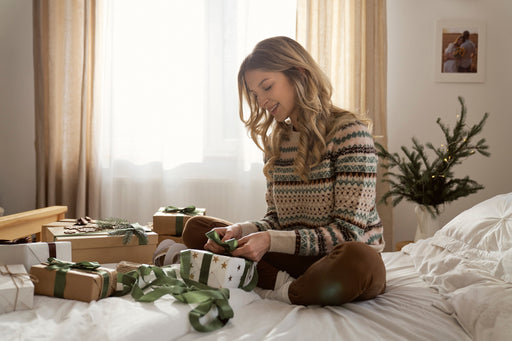 Although the classic Fair Isle Sweater isn't technically a Christmas sweater, it's colourful and appears festive in appearance, and it can be worn throughout the winter season. It's named after an island in northern Scotland and is a favoured fashion garment of the British Royal Family. Fair Isle sweaters gained popularity when the Prince of Wales (later Edward VIII) wore one in public in 1921.
These sweaters are made with two to five different colours in vibrant patterns.
Knitters use a conventional knitting method to produce bands of geometric shapes in different colours. Because it's such a bold print, a Fair Isle sweater pairs best with classic garment items like jeans, pants, or a navy wool skirt.
Embroidered Christmas Sweater
An embroidered Christmas sweater can be a good choice if you want to look elegant while still feeling festive. Embroidered clothing has a classic and stylish aesthetic.
When wearing an embroidered theme Christmas sweater, keep the rest of the outfit simple. You can wear a classic shirt underneath the sweater and pair it with classic pants or a skirt. No need for any additional jewellery or accessories.
Slogan-Inspired Christmas Sweater
Spell out your holiday wishes on your sweater! Slogan Christmas sweaters don't ever really go out of style. The charm of these sweaters is that they can add some personality to a holiday outfit.
Both high-street and designer brands include slogan-inspired sweaters in their holiday collections. Whether it's the classic slogan "Merry Christmas" printed on a red wool sweater or something a little more fun, there are plenty of options to choose from. It's about finding the one that best fits your style and sentiments.
Cable Knit Sweater
Cable knit sweaters are the ideal way to add warmth and cosiness to a winter outfit. And, cable knit sweaters come in a wide range of styles from solid-colour classics to ornate Christmas scenery. Whatever your personal preferences and style, there is a cable knit sweater for you.
Turtleneck Sweater
Christmas-themed turtleneck sweaters are a traditional winter essential. They are incredibly stylish and versatile and are the ideal layering piece. A fitted turtleneck sweater looks great with a wide-leg pair of jeans or trousers, while an oversized turtleneck looks great with a mini skirt or slim pants.
Crew Neck Sweater
With a classic style and simple design, you can find many crew neck sweaters with a Christmas pattern. They are comfortable, easy to wear, and have a laid back feel that makes them the perfect choice for family time around the Christmas tree.
Crew neck sweaters often are made of wool or cotton and have a rounded neckline. They go with anything, including dresses, pencil skirts, and jeans.
Sustainable Christmas Sweaters
According to research made by the environmental organisation Hubbub, 95% of Christmas sweaters are made of plastic. So, when purchasing a sweater, be sure to check the item's label to see what it is made of.
The most comfortable and environmentally-friendly Christmas sweaters will be made of recycled materials or natural textiles. It is possible to celebrate the Christmas sweater holiday tradition without sacrificing your values.
Caring for Christmas Sweaters
To avoid damaging your Christmas sweaters and help them last for many seasons, it's best to follow the laundry symbols on the manufacturer's label. The label should specify whether the sweater should be hand washed or machine washed and which cycle and settings to use.
Be especially careful with wool or cashmere Christmas sweaters as they need extra care and usually require hand-washing. Professional cleaning is recommended for Christmas sweaters with details such as beading or sequins.
Storing and Protecting Christmas Sweaters
Because Christmas sweaters are seasonal pieces, they are usually in storage for most months of the year, which can present its own set of issues. Avoid hanging your Christmas sweaters for an extended period of time as they may lose their shape. The best way to store your Christmas sweater is in high-quality Storage Bags that will protect them until you're ready to wear them again.
Hayden Hill Storage Bags are made of 100% organic, soft cotton that is environmentally friendly and allows your sweaters to breathe while keeping them protected from damage. We deliver sustainable and beautiful garment care to preserve and protect the clothes you love most.
Christmas sweaters, and specifically ugly Christmas sweaters, have become a Christmas institution, even appearing in some of your favourite holiday movies. Jim Carrey's How the Grinch Stole Christmas, The Santa Clause, National Lampoon's Christmas Vacation, and Love Actually all feature hideous Christmas sweaters. Whether you plan on watching these Christmas movies with your loved ones or enjoying another holiday activity, the team at Hayden Hill wishes you a very Merry Christmas.