4 Tips for Wearing Linen in Winter
If linen is one of your favourite fabrics, you will be happy to know that there are ways to wear it all year round. That is great news since linen both looks and feels amazing. And, as a bonus, linen is a natural textile, which means that by investing in linen clothes, you are actively supporting sustainable and slow fashion.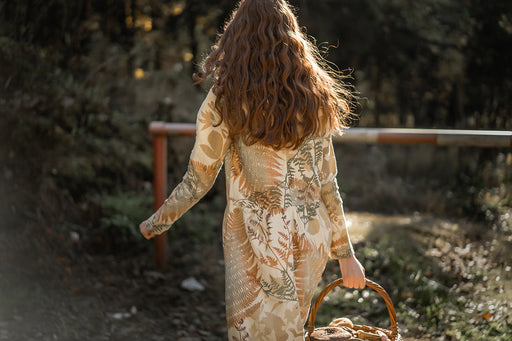 Most people would classify linen as a summer fabric. Breathable and cool, linen is a favourite for many on warm summer days.
However, this fabric is made of strong flax fibres that provide durability and make it suitable for cold weather, as well. Linen's exceptionally rich texture gives every outfit a stylish depth that can be easily transferred to the colder months.
Wearing linen is no longer limited to only summer– you can enjoy this natural fabric all year round.
Does Linen Keep You Warm in Winter?
Most people associate cold weather with wool sweaters, bulky garments, and lots of layers, which is probably why they don't think of wearing linen in winter.
Granted, this light and flowy summer fabric that looks stunning paired with a sun hat and strappy sandals doesn't inspire the coziness and warmth that we crave during colder weather.
However, leaving your linen clothes behind at the first sign of cooler weather is a missed opportunity. There is no need to be concerned about staying warm, as linen has natural temperature-regulating properties, which will make any winter outfit all the more comfortable.
Linen is a sturdy and suitable choice for the cold since it is made from flax fibre. Flax has built-in insulators and thermo-regulating qualities that draw heat away from the body to keep you from sweating and also retain heat to keep you comfortable when cold.
In fact, linen may be a better choice than other fabrics that do not wick away the sweat that can occur even in winter. Wearing linen is a great way to battle the temperature extremes in winter – chilly air outdoors and overly warm temperatures indoors.
4 Tips to Wear Linen in Winter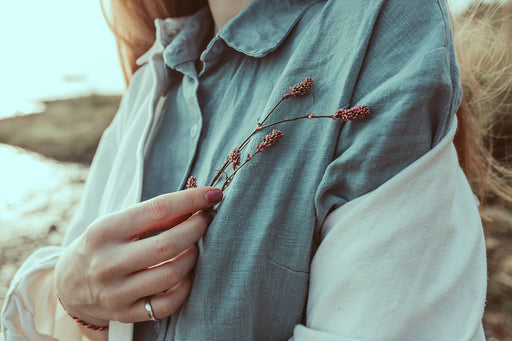 Winter can be a challenging season to keep your style since most people, especially those in colder climates, dress with the sole purpose of staying warm. However, there is no reason why you can't look fashionable without sacrificing warmth.
Linen can be one way to combine style with function. To implement this natural fabric into your winter wardrobe, simply follow these valuable tips.
1. Select Heavy Linen Clothing
Choose heavy linen over lighter varieties if you want to be as warm as possible during the coldest days. Thanks to linen's inherent qualities, heavy linen can trap more heat than lightweight linen. Heavy linen fabric is also called sheeting linen.
2. Choose Winter-Appropriate Colours
Though it isn't a commonly known fact, darker colours such as shades of brown, navy, black, and gray are best for cold weather because of their capacity to absorb heat.
To stay as comfortable as possible, select linen garments in darker shades. They are easy to mix and match and combine nicely with almost any outfit you style.
3. Use Linen as a Base Layer
Layering clothes is the go-to way to ensure warmth, and linen makes an excellent layering piece in your winter outfits. Wearing linen underneath a cardigan or sweater will add coziness and comfort. This is the time to employ your classic linen pieces and experiment with different layered looks, such as tonal layering which will provide your outfit with a chic vibe.
4. Wear Linen as a Top Layer
Another option is to wear linen as a top layer, such as wearing a long-sleeve linen shirt over a long-sleeve tee or wearing tights under linen trousers. By doing so, you can increase the warmth of your attire without making it bulky.
The Most Versatile Linen Clothes for Winter
Because of the fantastic adaptability of linen fabric, it is easy to include linen in an outfit in a way that makes an elegant and stylish fashion statement. Here are a few useful pointers to help you bring this natural beauty forward in the winter season, and wear linen clothes with confidence.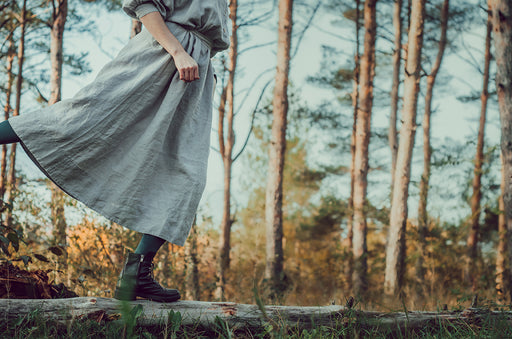 LinenT
rousers
Donning linen trousers could help you adhere to the appropriate style if you need formal and business attire for family functions and business meetings. While wearing linen trousers by themselves could be uncomfortable in chilly weather, wearing tights or leggings underneath will keep you warm.
If you don't like having two layers on, consider wearing linen trousers with knee socks.
Linen Dress
There is nothing quite like a summer linen dress to make you feel carefree. You might think a chilly day is not the ideal time to wear a linen dress, but with proper styling, you can turn your favourite summer dress into a classic winter look.
If your linen dress is sleeveless, match it with a long top or a blouse in a solid colour. Try combining a long-sleeved striped tee with a monochromatic dress, add some stylish boots and thick tights underneath, and you have a perfect winter outfit for the colder months.
As an additional styling idea, throw a wool jacket over a linen dress for an edgy, modern look. Wear this combination with tall boots and knee-high socks.
Linen Shirt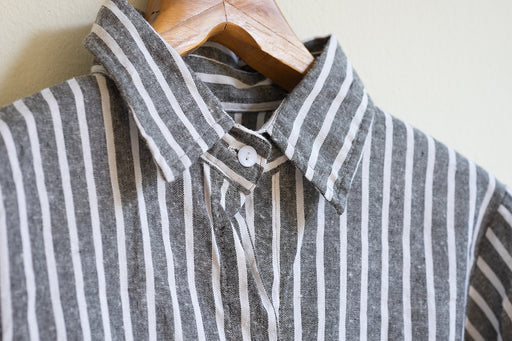 When layering clothes, heavy linen shirts with different necklines can look elegant. You can let your creativity flow while combining various textures and fabrics.
A loose-fitting blouse, for instance, may look fantastic with a casual linen shirt. Long wool cardigans pair nicely with heavier, thicker linen shirts and denim.
Adding this type of shirt to your winter wardrobe opens up so many possibilities for expressing your personal style while playing with different natural textiles.
Linen Blazer
A linen blazer can inspire many outfit ideas and be useful for tonal layering. Wear it as an outer layer over a tight black sweater and a pair of tailored trousers for work attire, or put it over a casual top, and pair it with some creative jewelry, jeans, and tall boots for a relaxed night out.
FAQs
When should you not wear linen?
There are many opinions in the fashion world about the appropriate times and seasons to wear linen. Up until now, linen was considered exclusively a summer fabric, and linen clothes were usually placed in storage when cooler weather arrived.
Now, people wear linen in all types of temperatures from hot to cold, and even in winter, paired with a cozy sweater or a long coat. As long as you combine linen clothes with other items sensibly, there is no reason you can't wear this natural fabric all year round.
How do you wear linen in cold weather?
The most important thing to remember when styling linen clothes in the winter is layering. For example, combine your favourite knee-length linen skirt with leggings, warm boots, and a cashmere sweater, and you will look fashionable and stay warm in cold weather.
Almost all your linen clothes can be ideal to include in winter outfits due to the fabric's temperature-regulating properties.
In what seasons can you wear linen?
While linen is typically considered a summer material, there are no rules that say you can't wear it in winter as well. Incorporating this natural fabric into your winter wardrobe requires a bit of experimenting with layering, but its benefits make the process well worth it.
Is linen a summer or winter material?
Linen is a natural fabric that can be worn all year long. Yes, this light material is most commonly associated with summer, but heavy linen in a darker colour is a wonderful addition to your winter wardrobe.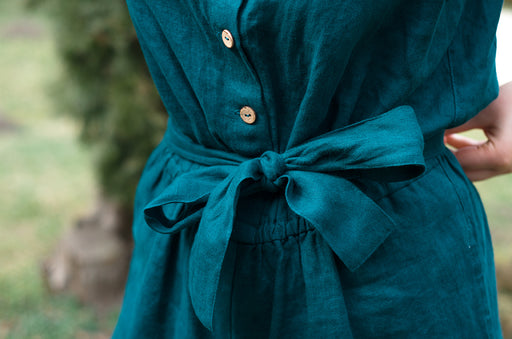 And, as a bonus, linen is a natural textile, which means that by investing in linen clothes, you are actively supporting sustainable and slow fashion. While the fashion industry struggles to adopt sustainable practices, individuals can contribute by purchasing high-quality clothing and taking care of these pieces so they will last for many years.
Hayden Hill is also committed to doing our part. Our hanging garment bags are made of 100% organic, soft cotton that is environmentally friendly and allows your favourite pieces to breathe while keeping them protected from damage. We deliver sustainable and beautiful garment care to preserve and protect the clothes you love most.