Dress Your Age: Yes or No
You can benefit from the best of both worlds by using what is age-appropriate as a starting point and adapting it to your individual style. This practice will create looks that are as unique as you are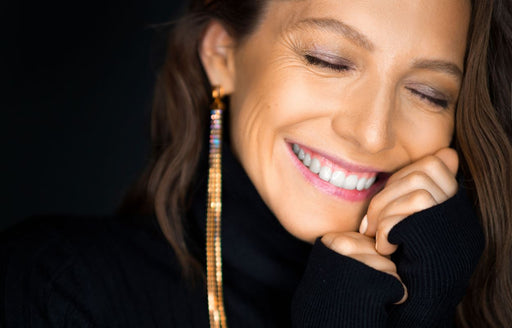 There are two camps of opinions on the issue of age-appropriate dressing.
One side shares Coco Chanel's opinion: "Nothing makes a woman look so old as trying desperately hard to look young."
The other side agrees with Ralph Lauren who said, "It's not about age. It's about taste, and it's about lifestyle. I believe women of all ages can wear anything."
If two of the most renowned fashion designers in the world don't agree on dressing your age, it's no wonder that the average woman isn't sure how ageing affects her style.
The benefits of dressing however you like, regardless of age, are clear. You can continue to express your individuality without the restrictions of societal rules.
But what about age-appropriate dressing? Why is it something that Coco Chanel and Jamie Lee Curtis applaud? Let's explore these questions below.
What are the benefits of dressing your age?
Dressing for your age has multiple benefits in terms of how you feel about yourself and how others perceive you. Understanding these advantages can help you decide where you stand on the issue.
It is well-perceived by others.
Whether you dress age according to your age or dress based on your own desires, your style affects the way others perceive you. And in some careers, image management is important. For example, the corporate world often does not reward individuals for dressing inappropriately for their age. To succeed in these arenas, it may be best to dress conservatively.
It inspires creativity.
Fashion enthusiasts may be hesitant to dress with their age in mind because they feel the styles are boring and they will only blend into the crowd.
Dressing for your age is actually an opportunity to be more creative. While many ageing women do lose their sense of style and choose boring clothing, for a fashionable woman, creating age-appropriate, chic looks is a fun challenge.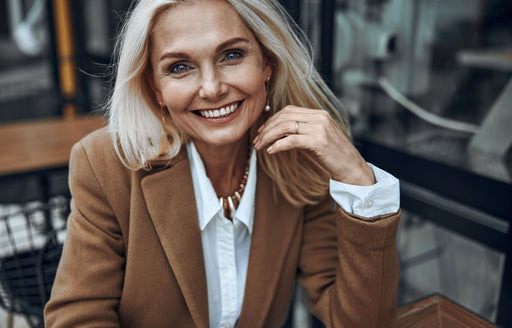 It boosts your confidence.
Trading items that look too young for more polished pieces will instantly change the way you see yourself. If your go-to outfit for many years has been a graphic tee and jeans, then putting on a silk blouse and linen pants will make you feel like a different person.
The version of you who dresses in this way, age appropriately, will likely go about her life with more confidence, ready to tackle whatever comes her way.
How to Dress Your Age
Youthful Style: Fashion Tips For Your 20s
Your 20s are a time of self-discovery and experimentation, and your wardrobe choices should reflect that. This decade is ideal for experimenting with your style, trying out new trends, and determining what you like best.
Don't be scared to experiment with your wardrobe. This is an excellent opportunity to get creative with your clothes and try out different trends. Be inspired by other women in their 20s like Jenna Ortega, Zendaya, and Florence Pugh, and adapt their looks to your preferences and body.
Style Tips For Your 20s
Wearing fitted clothing is easier to pull off in your twenties. This is an ideal time to embrace your shape and flaunt it with fitted clothing. Consider clothes that would emphasise your figure, such as skinny jeans, mini skirts, cropped tops, bodycon dresses, and tailored blazers.
It's essential to choose pieces that fit well and complement your body type. Don't trade comfort for fashion and make sure the clothes you pick allow you to move freely. Remember, you don't have to stick to one style, you can experiment with different fits and shapes until you find what you prefer.
Sophisticated Style: Fashion Tips For Your 30s
In your 30s, you may feel that you better understand your fashion preferences and how to style your clothes. Pair this knowledge about yourself with inspiration from other 30-somethings, such as Scarlett Johansson, Blake Lively, and Zoë Kravitz. With creativity and a few other tricks, you can level up your style in your 30s.
Invest in quality pieces.
In your thirties, it becomes more important to choose quality over quantity. Purchasing well-made basics such as a tailored blazer, trench coat, and tailored trousers are smart investments because they are versatile and can last for years.
Classic pieces such as these can be dressed up or down depending on the occasion and will serve as the foundation of your wardrobe. By prioritizing quality over quantity, you will save money in the long term and have a wardrobe that will last.
Don't be afraid to add some colour.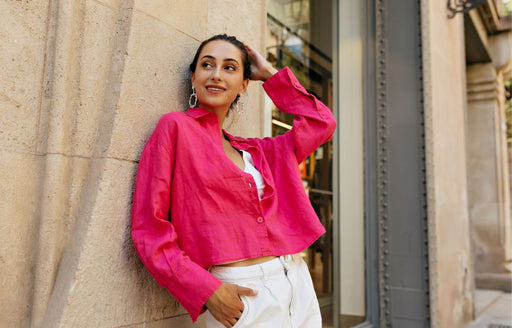 Although neutral colours are timeless and classic, don't be afraid to add some colour to your wardrobe. Incorporating a bright statement coat or a colourful blouse into your wardrobe will add a fun and young touch.
Mix high and low fashion.
Mixing higher-quality items with affordable pieces is a terrific approach to curating a beautiful wardrobe even when your clothing budget is limited. Pair a designer handbag with a plain, classic dress, or a luxurious piece of jewellery with a simple cashmere sweater. This approach keeps your outfits interesting.
Timeless Elegance: Fashion Tips for Your 40s
In your 40s, you have a good sense of your style, know what looks flatter your body type, and are skilled at putting together outfits. This is the age you may find yourself gravitating toward classic, high-quality garments with timeless elegance. Look to other 40-somethings for inspiration like Reese Witherspoon, Kerry Washington, and Priyanka Chopra Jonas.
Focus on classic items.
In your forties, invest in classic pieces that have better quality and will keep their appeal in the long run. Look for timeless pieces like trench coats, blazers, and cashmere sweaters that can be worn for a number of occasions and easily transition from casual to formal settings.
By investing in these timeless pieces, you'll be setting the foundation for a refined wardrobe that will make you feel confident in any setting.
Experiment with prints.
Although classic pieces are essential components of a 40-something wardrobe, you can still have fun experimenting. From exotic animal themes to bright flowers and elegant stripes, bold patterns may add a whimsical touch to your clothing while expressing your uniqueness.
However, it's important to maintain balance and choose subtle patterns that don't overpower the ensemble - this will guarantee that your outfit looks elegant and polished, even with the addition of a statement print.
Accessorise with statement pieces.
Accessories are a lovely way to infuse your look with a unique flair. Supplement your outfits with strong statement accessories that express confidence and character, like an eye-catching necklace or a gorgeous handbag. By adding striking accessories to your wardrobe, you'll be able to add a pop of colour and interest to your outfits while maintaining a sophisticated look.
Aging Gracefully: Fashion Tips For Your 50s and Beyond
Women like Jennifer Aniston, Angela Bassett, and Helen Mirren prove that ageing and beauty are not mutually exclusive. If you are also in your fifties and beyond, you can attest that you have more confidence in yourself, your body, and your style.
And you would probably say that these three fashion tips are must-dos.
Focus on comfortable fabrics.
By the time you hit 50, you have likely decided that suffering to look fashionable is silly. Gone are the painful stilettos, too-tight clothing, and skimpy underwear. Instead, you choose clothing and fabrics that feel good on your skin, such as organic cotton, silk, and linen. These materials are both breathable and lightweight, making them ideal for everyday use.
Invest in tailoring.
Tailored clothes are the key to a polished and put-together look, regardless of age. Tailoring guarantees that your garments fit you perfectly, compliment your body, and highlight your best features. This is especially important as our bodies change with age.
Don't be afraid to experiment.
Being over 50 doesn't mean you can't have fun with fashion. In fact, now is the ideal time to try new designs and trends while remaining true to your own sense of style. Keep in mind that it is never too late to improve your unique style.
FAQs
What does it mean to dress age appropriate?
Age-appropriate dressing refers to wearing styles, colours, and patterns that are acceptable for one's age and stage in life. It involves taking into account societal conventions and your individual style. Dressing appropriately for one's age does not mean you have to adhere to strict fashion rules, but rather embrace items that are respectable and fashionable. It differs between cultures, occupations, and events and is often characterised by a blend of elegance, comfort, and individualism.
How do I dress age appropriately?
A few important factors contribute to dressing appropriately for your age. Knowing your body type and selecting clothes that compliment it is key. Dressing properly for your age does not imply compromising your style; it is actually a balance between your individual style, comfort, and cultural standards. 
At what age should you start dressing older?
Individual styles and preferences vary tremendously, so there is no specific age at which one should begin dressing older. Individuals' clothing choices may naturally change as they mature and reach different phases of life to reflect their changing responsibilities, lifestyle, and personal growth. Professional responsibilities, societal conventions, and personal comfort all play a part in choosing whether someone should dress more formally or conservatively.
Whether you prefer to shirk the rules and dress according to your own preferences or follow conventional standards about dressing for your age, the best advice is not black or white.
You can benefit from the best of both worlds by using what is age-appropriate as a starting point and adapting it to your individual style. This practice will create looks that are as unique as you are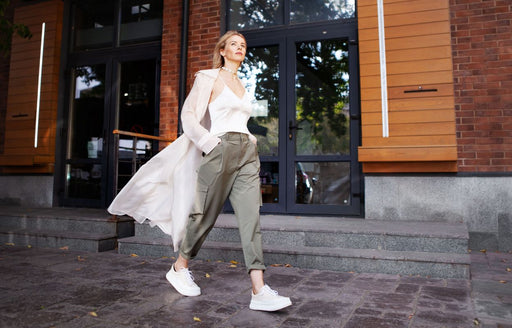 Have fun experimenting and maintain your sense of humour like Joan Rivers who said, "The fashion magazines are suggesting that women wear clothes that are 'age appropriate.' For me that would be a shroud."
We recommend keeping all your favourite pieces of clothing– even shrouds– in high-quality storage bags when not in regular use. Hayden Hill bags are made of 100% organic, soft cotton that is environmentally friendly and allows your favourite pieces to breathe while keeping them protected from damage. We deliver sustainable and beautiful garment care to preserve and protect the clothes you love most.