Stylish Women's Pyjamas and Loungewear to Look and Feel Good
The perfect loungewear can help you rest and relax on your off time so you can return to your regular routine feeling fully restored. Fortunately, with all the types of sleepwear and loungewear available, you are sure to find the perfect option for your preferences and needs.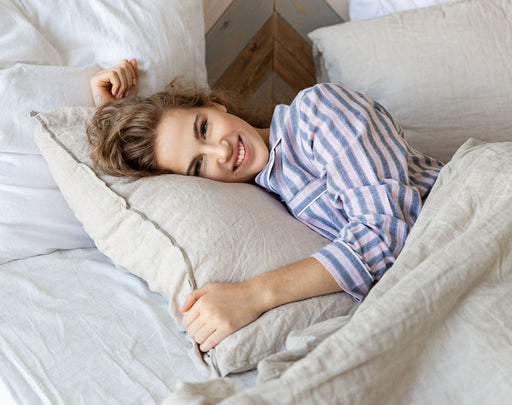 Finding the best women's pyjamas and loungewear can be a difficult task, mainly because there are so many options to choose from.
Having the right pyjamas is a critical part of getting a good night's sleep. Pyjamas that are too tight, too hot, or otherwise uncomfortable will make you toss and turn all night long.
And, the perfect loungewear can help you rest and relax on your off time so you can return to your regular routine feeling fully restored.
Fortunately, with all the types of sleepwear and loungewear available, you are sure to find the perfect option for your preferences and needs.
Types of Women's Sleepwear
Before shopping for pyjamas, it's helpful to consider all the different types and identify what features are most important to you.
Pyjama Sets
Pyjama sets come in many different styles, some of which allow you to mix and match pieces while others come in a pre-matched pair. A complete set of women's pyjamas consists of pyjama bottoms and various types of tops, offering versatile fits, ranging from simple to luxurious.
Short-Sleeve Notch-Collar Top and Shorts Pyjama Set
Included in this set are a short-sleeve button-down shirt with notch collar details and a chest pocket and a pair of pull-on shorts. This classic yet stylish set will keep you feeling cool and can be worn in summer and winter without the risk of overheating.
Long-Sleeve Top and Pants Pyjama Set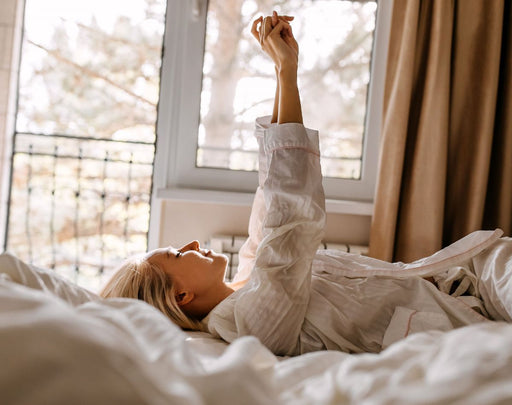 The relaxed fit of this pyjama set is so cosy that it may be hard to get out of bed. Often, these shirts feature long sleeves, a button-down front, a patch pocket, and a looser, more relaxed shape. The long pants typically have wide legs with a drawstring waist for optimal comfort.
These pyjamas are most certainly an item that you might want to include in your winter capsule wardrobe.
Short Cotton Nighties
Short nighties are one of the most popular sleepwear options for summer as they offer the ideal balance of comfort and temperature regulation. The nightie features a gown-like silhouette, which typically falls to the knee.
A better night's sleep is made possible by cotton's breathability, which means it allows air to flow around the skin. You won't wake up feeling hot since the cool cotton skims the skin rather than clinging to it.
Chemises
Chemises are soft, sweet, and seductive, all of which make them one of the most feminine sleepwear choices. They have a breezy and relaxed fit because they are typically made of airy satin or modal fabrics. And, most body types look good in this simple silhouette.
Long Nightgowns
A long nightgown creates a classic look, especially if it is made of posh silk. This nightwear option is the perfect pick for a luxurious, sensual, and contemporary vibe.
Long nightgowns come in a variety of colours from solid to vibrant prints. They are also available in many different types from sheer to opaque, modal jersey to silk, with matching robes or trimmed in lace. There is a long nightgown to match every style and preference.
Basic T-Shirt and Shorts
Women who prefer a casual look may gravitate toward the simple combo of a basic t-shirt and shorts. This pairing can serve as loungewear or pyjamas, and the t-shirt can be swapped for a camisole for additional options.
Maternity Nightwear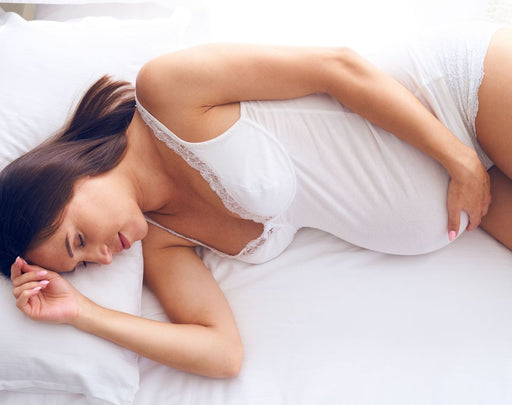 Maternity sleepwear options go above and beyond to regulate body temperature and encourage sound sleep as these flexible and hassle-free garments are specifically made to accommodate nursing mothers.
Combined with hypoallergenic bedding, maternity sleepwear can help you get a good night's sleep during your pregnancy.
Women's Loungewear
With remote work arrangements on the rise, loungewear has become increasingly popular and in demand. Loungewear has transitioned from clothing you might have once put on after work or on the weekend to something you could wear every day.
Differences in Loungewear and Sleepwear
While the two garment types share many qualities, there are major differences between them. Loungewear can be worn at home, to run errands, or to meet friends for brunch, but sleepwear is really just appropriate for nighttime. For example, an oversized shirt and baggy sweatpants would probably not be a smart combination to wear out of the house, but it may be an outfit you enjoy sleeping in.
Types of Women's Loungewear
Loungewear pieces, in addition to being simple and relaxed, are easy to mix and match and create a casual chic look. Consider these common types of loungewear.
Sweats
Sweats is the category that often comes to mind when we think about loungewear. Sweatpants and sweatshirts are designed to be loose and are typically made from a plush, thick fabric. Most sweatshirts are produced with a crew neck or a hood.
Tracksuits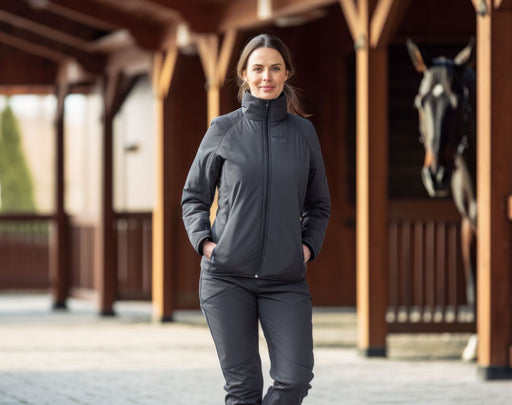 Tracksuits are sets of pants and jackets fashioned out of the same materials and featuring the same colours. Similar to baggy sweats, tracksuits are made of a soft, thick fabric. Tracksuit jackets often have a zippered closure and may or may not have hoods. Tracksuit pants typically feature waistbands with drawstrings.
Leggings
Leggings are go-to workout attire, but because of how cosy they are, they also make excellent casual wear. Leggings are designed to fit closely from the hip to the ankle. They are often made of breathable, lightweight materials in order to keep you cool.
The same lightweight, form-fitting design that makes leggings ideal for exercise also makes them cosy and convenient to wear at home. They are perfect for active women since they adapt to your movements without tugging or crawling up.
Jumpsuits
Jumpsuits made for loungewear use soft materials to create a relaxed and loose-fitting silhouette. These one-piece ensembles can be worn with a tank or T-shirt underneath for ultimate comfort.
Thermal Underwear
Thermal underwear works wonders when worn as a lounge outfit, especially in winter. While being very insulating, thermals are intended to be light in weight. They are often fashioned from gentle, non-irritating materials like organic cotton. Thermals are warm and pleasant because of their weave pattern.
Although it is designed to fit closely against the body, thermal underwear is not supposed to be tight or constrictive. Thermal pant designs have soft, stretchy waistbands, and thermal shirts often feature a crew or V-neckline.
Robes
Perfect for wearing after taking a bath or just relaxing, a robe is a terrific cover-up that keeps you warm and adds a touch of added luxury. For special events like weddings, honeymoons, or romantic anniversaries, silk robes are ideal. Pair them with fluffy slippers for the ultimate experience.
FAQs
What are the most comfortable pyjamas?
It's impossible to choose a pyjama type that works well for everyone because we all have different tastes and preferences. Silk, flannel, and bamboo are popular pyjama fabric choices, but cotton rules the pyjama market—either by itself or in a combination with modal.
What is the best pyjama material for night sweats?
Fabrics made of plant-derived viscose such as Tencel modal and bamboo help to regulate temperature and wick moisture away from the skin. Cotton and linen are also excellent breathable materials that help prevent overheating throughout the night.
You can maintain your sense of style even while relaxing or getting ready for bed. To achieve all of your goals, choose loungewear and pyjamas that will be both comfortable and attractive and you'll have the best experience in and out of bed.
And, when storing out-of-season pyjamas and loungewear, we recommend Hayden Hill storage bags. Our bags are made of 100% organic, soft cotton that is environmentally friendly and allows your favourite pieces to breathe while keeping them protected from damage.