Tyler Chanel Helps Us Find Our Natural Selves
One person and one small change at a time, Tyler Chanel is making her corner of the Internet and world better and happier.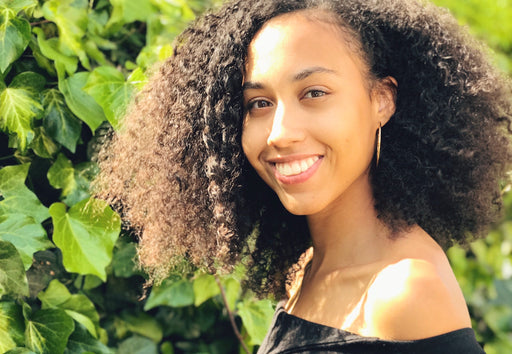 Sustainability is key to everything we do at Hayden Hill. Respecting our planet and the workers who make our products is of vital importance to us.
And, we aren't the only ones who care about these issues. That's why last month we launched a series of blog posts, starting with designer Lauren Catris, to spotlight a few of our favourite sustainability bloggers who are also passionate about this cause.
This month, we are honoured to introduce you to Tyler Chanel, whose chronicles about her journey to embrace her natural hair became much more.
---
At what point in life do we lose our natural selves? Meaning the person we are before we change ourselves to gain approval, follow society's standards, to fit in, or to be the person someone else expects us to be. These changes happen so gradually and subtly that we don't remember who our natural selves are until someone finally holds up a mirror and shows us who we have become.
Being a mirror-bearer and reminding us of who we really are is something Tyler Chanel of Thrifts & Tangles is passionate about. In 2012, Chanel had a revealing moment herself when she was a model at a Paul Mitchell fashion show. Prior to that day, Tyler had worn her hair permed straight, but at the fashion show, the stylists gave her a short, edgy cut with pink accents.
"That experience gave me a new perspective on my hair, and having pink hair forced me to be confident. I wanted to learn how to love and accept myself in my most natural form, so I made a promise to stop getting relaxers and figure out how to care for natural hair."
So, she started a blog to document her journey. And, what started out as a blog about hair care expanded as Tyler's interests expanded too.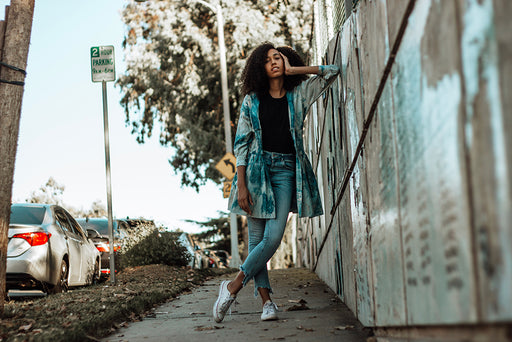 When a thrift store opened close to her house, Chanel began shopping secondhand regularly. Her friends started to ask where she got her clothes, and they couldn't believe you could get cute, stylish clothes at a thrift store. Tyler became very passionate about thrifting, and it was natural to start talking about it on the blog. And, the Thrifts and Tangles name was born.
Not long after, Chanel watched a documentary called The True Cost and learned about fast fashion's impact on people and the planet. She discovered that her love for thrifting was also better for the environment, and that by thrifting, she was not supporting fast fashion companies that treat workers unfairly. At that moment, she decided that she would buy everything from thrift stores, and what she couldn't get there, she would purchase from ethical companies. This decision opened Tyler's world to manufacturers of all different types of products that care about people and the environment. And, she started sharing about this with her followers too.
Tyler turned Thrifts & Tangles into a business in 2019, and since then, her community has grown to nearly 14,000 on Instagram, 12,000 on YouTube, and 1,000 monthly blog readers. She shares her passion for natural hair, thrifting, sustainability, racial injustice, colonization, and more.
Chanel says the people in her community are curious and open to learning new ways of living. "Some of them still shop fast fashion or use plasticware. I just give them information, and they go looking for more. I tell them to do what's right for them."
Tyler encourages people to start small. That may be by doing a "trash audit" to just see what types of things you are throwing away. Or, it could be contacting your senators to discourage fast fashion in your area. The goal is to start with what matters to you.
Another small step could be going to a thrift store for the first time. For first-time thrifters, Chanel recommends having an idea of what you want before you go to the store. "Before you go thrifting, know your style. Create a Pinterest board and save clothing ideas. Then analyse your pins for commonalities in pattern, colour, texture, fabric, etc. When you get to the thrift store, pick a section to browse such as pants, jackets, shirts, etc. Walk slowly down the aisle and look for the patterns, textures, and colours that you know you like best. You have to know what appeals to you and makes you feel like your natural self."
This idea of finding your natural self can be hard to do, which is why Tyler recommends journaling. "Journaling can be very revealing. Consider the clothing you are wearing and ask yourself, 'Why do I like this? Does it feel right to me?' We have to stop wearing things just because someone told us to. You can find inspiration from people without feeling the need to imitate them. Instead, find elements that you could adopt or try in a way that works for you."
Through Thrifts & Tangles, Chanel has created a space for millennial women to be 100% themselves and give thrifting, sustainability, and their natural selves a chance. Tyler plans to continue spreading this message by focusing on digital resource creation, such as apps for curly girls and sustainable creators.
But for the next couple of months, the leading story on the blog and Tyler's social media will be sustainable weddings, highlighting her recent wedding in June 2022.
Though Tyler wants to use her voice to help bring awareness and change, she does so in a relatable and gracious way. It's no surprise that members of her community describe her space as "A Little Bit of Everything Good for the Environment & Your Soul." One person and one small change at a time, Tyler Chanel is making her corner of the Internet and world better and happier.