9 Ways to Transition Your Wardrobe from Summer to Fall
Even though it may be tempting at the end of the summer to push your clothes to the back of the closet in favour of all the fall pieces you have missed wearing, don't put the summer items away just yet. In the few weeks between the two seasons, you can transition your look by adding richer colours, deeper textures, and a bit extra warmth.
In many areas of the country, the summer heat is beginning to give way to cooler temperatures, and tree leaves are changing colour. And, even though the official start of fall is much later in September, the unofficial start for many is Labour Day.
This in-between period when summer is still hanging on, but we see glimpses of fall, the weather may be cool in the mornings and evenings but still hot at midday and afternoon. With fluctuating temperatures like these, it's important to know how to transition your clothing from summer to fall.
After all, it is unlikely that you can go from wearing shorts one day to long sleeves and slacks the next, so it is helpful to know how to mix and match items from your summer and winter wardrobes.
Below we are discussing nine ways to do just that.
9 Ways to Transition from Summer to Fall Fashion
1. Layer up.
Layered outfits are not only fashionable but practical. By adding layers to your summer wardrobe, you create fresh looks that will keep you comfortable in chilly weather. 
How do you decide which looks to layer though? As a general rule, layer long items over lean ones. 
For example, pair leaner bottoms, like leggings or skinny jeans, with longer-length tops, such as tunics or boyfriend cardigans. The "long over lean" rule helps prevent the bulkiness that occasionally results from excessive layering. To complete your ideal fall outfit, just add a sweater or jacket, a lightweight scarf, and a pair of boots.
Another way to layer pieces includes pairing a cardigan with a sundress or a light sweater with a pair of shorts.
2. Keep your maxi dresses.
Maxis are simple and cool for hot summer nights. But before you pack them away, give them a new look by adding long sleeves. The key to wearing a maxi dress in the fall is to layer up and then define your waist to create more structure. This can be done with anything from a belted blazer to a chunky-knit sweater to a tied denim shirt. The final result is a lovely, fall-inspired, casual outfit.
3. Buy a statement-making jacket.
The tone and appearance of an outfit can be greatly influenced by a jacket or blazer. Summer fabrics and designs are complemented by jackets that are more fall-appropriate since they add a warm glow. As we transition from summer to fall, consider purchasing one unique jacket that matches all of your summer clothing.
These options may complement many of your summer clothes:
A military-inspired cargo jacket that fits closely at the waist and is ideal with flat boots and slim jeans.
A moto-styled leather jacket that you can pair with summer outfits and boots.
A stylish blazer. For a night out, layer it over your light summer clothes.
A traditional trench coat in a darker neutral colour, such as camel, grey, or navy. This versatile piece of clothing can withstand chilly fall weather and matches everything.
A jacket or blazer can expand your collection by enabling you to pull together different outfits and always look polished and put together.
4. Add deeper hues.
This time of year rich jewel and earth tones replace the neons and pastels of the spring and summer. But if you don't have many turquoise, plum, and richer colours in your wardrobe, don't worry. You can pair these rich colours with lighter summer clothing.
Consider the lavender dress that you wore to a summer wedding. You can keep wearing it if you add some stronger textures and jewel tones. Incorporate a plum cardigan and a stylish pair of shoes. The brightness of the lavender is suddenly softened by the addition of a deeper hue, creating a more unified and fall-appropriate combination.
Keep an eye out for fashionable items in jewel tones that can transition a summer wardrobe into the fall. A scarf in mustard colour, a pair of rust-coloured skinnies, or a turquoise statement necklace are all creative ways to add a flash of fall colour.
5. Swap your shoes.
With a simple shoe switch, you can quickly transition your clothing from summer to fall. Swap your sandals for mules, booties, or sneakers. These shoes are a fall wardrobe necessity that will instantly make all of your summer clothing warmer and more practical. Everything from skirts to pants to shorts will look better by adding a pair of booties or slip-on sneakers. It's also the ideal season to wear suede shoes, because fall offers the ideal balance of colder temperatures without excessive humidity.
6. Add hats to your outfit.
Hats are a great way to transition from summer to fall fashion. There are so many fun styles and colours of hats that would pair well with any outfit. And, adding a hat creates a stylish look. There are plenty of reasons to wear a hat, including keeping your head warm, disguising a bad hair day, and adding style to your ensemble.
A stylish hat is a must-accessory for the transition from summer to fall.
7. Don't forget scarves.
Scarves are fantastic accessories to add to your outfits as the temperature drops. When the weather starts to become chilly, scarves keep you warm while also adding a splash of colour or print to your outfit.
When buying scarves, first look at your wardrobe and identify what colours you wear most. Then you can purchase scarves that go well with those colours and will work with many of your clothes.
8. Add a structured bag.
Trade your summertime straw bags in pastel tones for more structured bags in neutral or animal prints that can be worn with a variety of outfits to nail your fall fashion. From deep, saturated hues to unique prints, a bold bag effortlessly elevates the vibe and lets us flaunt our gutsy side. Easily transitioning from work to an after-work event, a beautiful, structured bag not only creates an eye-catching outfit; it also enlivens your mood and adds personality to your look.
9. Ignore the "rules"
There are so many alleged "rules" on how to dress for cooler weather. These silly rules significantly restrict the variety of your fall wardrobe, whether it be by banning the wear of white after Labour Day or matching black with brown.
Feel free to dress in white after Labour Day (a sophisticated winter white with a yellow undertone looks lovely with jewel tones), or pair your favourite brown jacket with a little black dress. Think less about whether or not an outfit is fall-appropriate and more about whether it is weather-appropriate and makes you feel amazing, no matter what the rules say.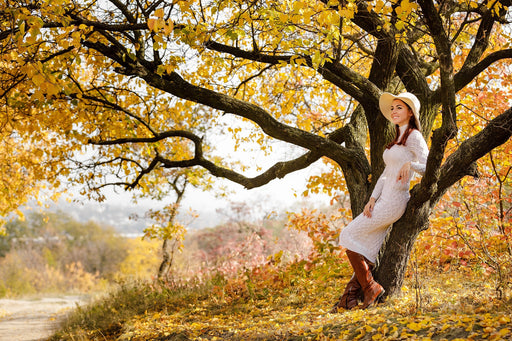 Storing Summer Clothes
After you've identified which of your summer clothes will mix and match with fall pieces well, it's time to pack away the remaining items in your summer wardrobe.
We should all avoid shoving our warm-weather attire carelessly into the back of drawers or closets in our haste to start wearing our fall clothes. (It is so tempting to do so when you are excited to have a new wardrobe.) But, casting aside your summer clothes without care could cause them to be damaged by the time you need them next.
A few helpful tips when storing your summer clothes include:
Sort your clothes first.
The end of a season is the best time to identify items you haven't worn all season or no longer like. Set these items aside to resell or donate.
Launder and mend.
Before packing any clothing, make sure it has been treated for stains, properly laundered, and that any tears or holes are mended.
Choose the proper storage containers.
Never use plastic bins to store your clothing. Your garments need to breathe while in storage, so look for bins or bags made of natural textiles, such as cotton and linen.
Hayden Hill garment bags are made of breathable, 100% organic cotton and offer a sheer, organza side panel so you can see your pieces while in storage. In addition to being machine washable with detachable zipper pulls, our bags feature a wide, 4-inch gusset that allows you to store a variety of cherished garments.
Check out our article on storing your clothes for in-depth advice on how to pack away your clothing properly, so it will be ready to wear next summer.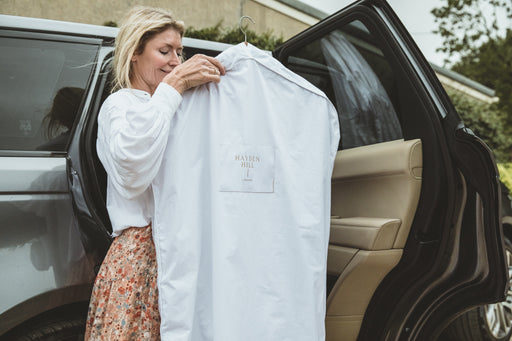 FAQs
How do you transition summer to fall clothes?
The easiest way to transition your summer wardrobe into fall is by simply adding a few fall items, like cardigans, blazers, and jackets, to your summer clothes. You can also make a smooth transition by swapping out summer sandals for the shoes for boots and hats and adding belts to your summer dresses.
What should I wear between summer and fall?
As the temperature starts to fall, dressing in light layers is the best way to stay warm. To be able to adjust to sudden changes in the weather, layers are essential.
A summer dress can still be worn in the fall, just not the same way you did in the summer. Wear a denim shirt with sleeves rolled up over your summer dress. Put a blazer or light button-up shirt on top of it, or wear a thin turtleneck underneath the dress. All of these choices will give your outfit a little more warmth and style.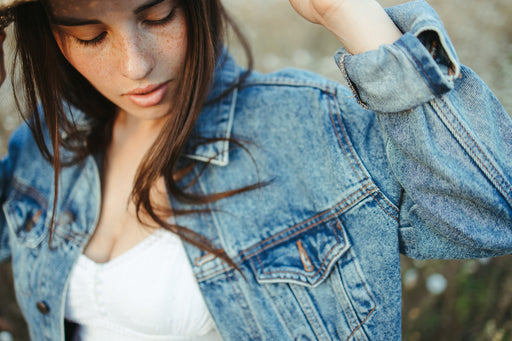 Even though it may be tempting at the end of the summer to push your clothes to the back of the closet in favour of all the fall pieces you have missed wearing, don't put the summer items away just yet. In the few weeks between the two seasons, you can transition your look by adding richer colours, deeper textures, and a bit extra warmth.