10 Clothing Tips for a Stylish and Comfortable Pregnancy
With the extensive maternity clothing options available from online and brick-and-mortar retailers, it's easy to create fashionable and comfortable looks that will allow you to express your unique style throughout your pregnancy.
Creating fashionable pregnancy outfits can be difficult, especially given all your body's changes. As your baby bump grows, you want maternity clothes that make you feel stylish, confident, and at ease.
Because your body is constantly changing, it is critical to prioritise your comfort. Wearing comfortable clothes may help you relax and improve your overall well-being.
Fortunately, unattractive maternity clothing is a thing of the past. Pregnant women today have many options for staying stylish and trendy throughout their pregnancy. From stretchy fabrics to flattering fits, there are many ways to create comfortable pregnancy outfits without having to sacrifice your style.
Why are Maternity Clothes Important?
Maternity clothing is designed to fit your changing and growing body, providing support where needed and allowing for comfortable movement.
Maternity bras and underwear are designed to support your growing breasts and baby bump, while belly bands can help relieve back pain and discomfort.
Maternity clothes also provide practical options for everyday activities such as doctor's appointments, errands, shopping, and working out. More and more sports brands are creating activewear collections for moms-to-be, such as Nike's maternity collection, which includes comfortable leggings, stretchy tops, and sweaters.
When Should You Start Buying Pregnancy Clothes?
No two bodies experience pregnancy in the same way. So, if you're wondering when to start wearing cute pregnancy outfits, the answer depends on your body; expectant mums begin wearing maternity clothing at different times. However, most women begin shopping for maternity clothes around week 13 or at the beginning of the second trimester.
On average, women gain one to four pounds during the first trimester, so it's likely you will be able to wear regular clothes for most of the first three months. When you notice that your normal wardrobe is starting to feel snug or uncomfortable, it's time to shop!
10 Tips for Stylish Maternity Clothes
1. Invest in Comfortable Undergarments
One of the most important things you can do during pregnancy is to invest in comfortable bras and underwear. Your regular undergarments may become uncomfortable as your body changes and grows. Maternity undergarments are designed to provide the necessary support and comfort you need during this special time in your life.
When choosing a maternity bra, one of the most important factors to consider is proper support. Your breasts will most likely grow and become heavier during pregnancy, causing discomfort and maybe even pain. Maternity bras have wider straps, extra hooks on the band, and other features to provide more support while minimising back pain and other inconveniences.
As your belly grows, your regular underwear might also become too tight. Stretchy fabrics and a higher waistband are common maternity underwear features that accommodate your growing bump and prevent irritation or chafing.
Breathability is another important reason to purchase maternity undergarments. Your body temperature may rise during pregnancy, making it uncomfortable to wear underwear that does not allow for adequate airflow. Maternity underwear made of breathable fabrics will keep you cool and comfortable all day.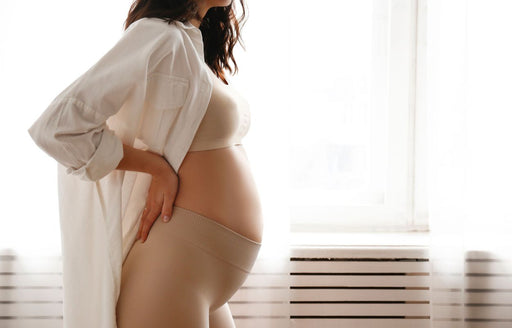 2. Prioritise Certain Fabrics
Itchy skin and hot flashes are two of the unpleasant symptoms that come with pregnancy, so clothes that are soft, stretchy, and breathable are a must.
Organic cotton is always a safe bet, but if your skin is particularly sensitive, consider buying clothing made from hypoallergenic materials such as bamboo, lyocell, and cupro.
All of these fabrics are not only environmentally friendly, but they are also static-free, retain their elasticity, and are softer than other options. And, they have moisture-wicking properties and are odour resistant.
Wool and polyester, on the other hand, can be irritating to the skin and should be avoided, especially if you suffer from itching during pregnancy. Before purchasing maternity clothing, always check the tags and confirm the store's return policy in case the size or material is not to your liking.
3. Invest in Maternity Jeans
One item that should be near the top of your shopping list is maternity jeans as they will likely be the foundation of your pregnancy wardrobe. You can mix and match maternity jeans with various tops and T-shirts to create different pregnancy outfits every day.
Maternity jeans are specifically designed to accommodate your growing baby bump. They accomplish this in a variety of ways, including having a higher waistband that comes over your bump, a low cut that sits under your bump, and a waistband that adjusts or stretches to accommodate your changing size.
Finding the right pair for you may require some trial and error. When you find a comfortable fit, consider buying a few pairs since you will likely wear them often.
4. Look For Flattering Characteristics
The best maternity clothes have ruching, V-necks, and tailoring in the right places. This results in a silhouette that is both fitted and flowy, highlighting all of your best assets.
A V-shaped neckline has long been regarded as one of the most flattering cutouts, suitable for almost any body type.
And, ruched dresses and tops will complement your growing bump no matter the stage of pregnancy.
A-line or empire-waist shirts and dresses are popular for good reason: they flow away from the tummy. This cute and comfortable style has a seam right under the bust to allow for an expanding midsection.
Maternity tops and dresses with these features are ideal for postpartum as well. They create an hourglass silhouette, are very comfortable, and are often made for easy nursing.
5. Choose Clothes with Stretchable Fabrics
Comfort should come first in your pregnancy wardrobe. Stretchable fabrics can give your body the flexibility and support it requires during pregnancy. These fabrics accommodate your expanding belly as well as other parts of your body that may be growing, such as your hips, thighs, and breasts.
Non-restrictive pieces include leggings, joggers, and loose jumpsuits. To accommodate your ever-changing bump, look for high-waisted styles and pair them with long stretchy shirts.
Stretchable clothing can also be worn after pregnancy. Many maternity clothes are designed to easily transition to postpartum wear. A stretchable wrap dress, for example, can be worn during pregnancy and after giving birth.
 6. Wear Dresses and Skirts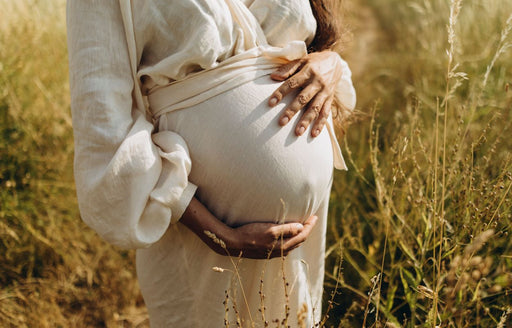 Dresses and skirts are comfortable options for all women, especially pregnant women. Most maternity skirts and dresses are made of lightweight and breathable fabrics such as cotton, linen, or bamboo, which can keep you cool while keeping your pregnancy style on point.
Many maternity dresses and skirts also feature empire waists, A-line cuts, and flowy fabrics. These designs are trendy and appropriate for a variety of occasions, including work, weddings, and casual outings.
7. Don't Be Afraid of Form-Fitting Clothes
When shopping for pregnancy outfits, look for styles that will emphasise your growing curves.
T-shirts are an excellent choice for everyday wear and can be paired with jeans, leggings, and underneath a blazer, cardigan, or a light jacket.
Many maternity dress styles are also form-fitting. They are the perfect choice for a woman who isn't afraid to show off her bump.
8. Buy a Belly Belt
A belly band is an essential item for every pregnant woman. This pregnancy support garment is intended to provide you with much-needed back and tummy support near the end of your pregnancy. It can also help to relieve abdominal pain and improve your posture.
9. Accessorise with Purpose
When you have the right accessories, it's easy to spruce up what would otherwise be a dull outfit. Not only that, but if you buy basic maternity tops and dresses, you can easily mix and match your jewellery, scarves, hats, footwear, and layers to create a variety of adorable maternity looks. And, all of those accessories can be worn for years to come.
10. Purchase Comfortable Shoes
Choosing comfortable shoes is very important when you are pregnant. The right footwear can help lessen swelling and discomfort as your baby bump grows, making it easier for you to stay active.
Shoes with cushioning, such as sneakers, flats, or low-heeled shoes, are great options. High heels should be avoided as they can cause back strain. Keep in mind that because feet often swell in the later months of pregnancy, it's best to choose footwear with a wider toe box to accommodate any change in shoe size.
Maternity shoes are versatile and easy to pair with different pregnancy outfits. Sneakers can be worn with a sweater and leggings or a casual dress, for a laid-back style, while flats or loafers can be worn with fancier outfits.
FAQs
What clothes are flattering when pregnant?
Finding flattering maternity clothing can seem difficult, but there are lots of options that can make you feel both comfortable and stylish. Stretchy fabric dresses and skirts, empire waist styles, and wrap dresses are all fashionable options. Maternity jeans with an elastic waistband and stretchy fabric can provide both support and flexibility. Maxi dresses and skirts can help you achieve a long, flowing silhouette. Finding flattering clothing during pregnancy requires putting comfort and fit first.
What should you not wear while pregnant?
Certain types of clothing and accessories can be uncomfortable and should be avoided during your pregnancy. Tight clothing can limit your movement and increase your risk of skin irritation or rashes, so instead choose loose-fitting clothing made of natural and breathable fabrics. Rather than wearing high heels that can be difficult to balance in and put extra strain on your feet and back, wear comfortable and supportive footwear. And, because synthetic fabrics can trap heat and be uncomfortable, opt for natural and breathable fabrics such as cotton, linen, and bamboo.

With the extensive maternity clothing options available from online and brick-and-mortar retailers, it's easy to create fashionable and comfortable looks that will allow you to express your unique style throughout your pregnancy.

And, if you decide to store your maternity wear in the event of a future pregnancy, we recommend Hayden Hill storage bags. Our bags are made of 100% organic, soft cotton that is environmentally friendly and allows your favourite maternity pieces to breathe while keeping them protected from damage. We deliver sustainable and beautiful garment care to preserve and protect the clothes you love most.