How to Wear Logos (Without Looking Like a Billboard)
The average person doesn't wear a certain brand or logo to make money. They wear a logo because they love a brand or because of the status symbol it represents. So, in this article, we're discussing the most popular ways to incorporate logos into your wardrobe.ada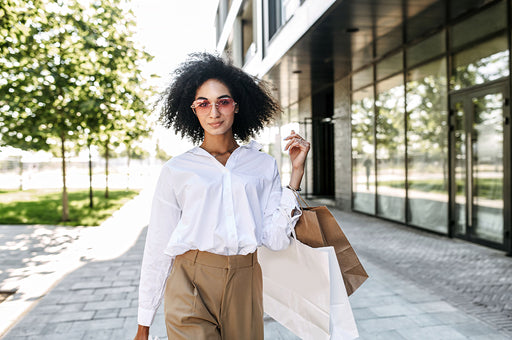 When fashion designers put their brand's logo on a clothing item or accessory, they hope that shoppers will buy and wear these pieces that promote their companies to everyone in sight.
And if that person is a celebrity or online influencer, it's even better. Actresses can be paid up to $250,000 to wear a designer's look on the red carpet. And, online influencers can make up to $20,000 to promote a brand's items. (Unless you are Kylie Jenner who's paid $1.2 million per post.)
But, the average person doesn't wear a certain brand or logo to make money. They wear a logo because they love a brand or because of the status symbol it represents.
So, in this article, we're discussing the most popular ways to incorporate logos into your wardrobe.
How to Wear a Logo T-Shirt
The logo T-shirt has evolved from a vintage favorite to a style standard. T-shirts with logos were originally launched by Gucci, and it quickly became a practice adopted by most clothing brands. The logo T-shirt is a beloved item among fashion designers, street-style enthusiasts, and even models and celebrities.
One way to style a logo T-shirt is to pair it with a statement necklace and heels or with a leather skirt for a bit of contrast.
A pair of typical jeans would look great with this favored item, and if you want to go casual sporty, consider a casual sneaker to complete the look.
To turn a logo T-shirt into a more refined look, try matching the shirt with a blazer and a pair of tailored pants. Accessory options include chic boots or chunky sneakers.
How to Wear Logo Accessories
Wearing logos on your shirts will certainly grab attention. But if you prefer a more subtle approach, try incorporating logos into your wardrobe with accessories, such as scarves, handbags, and jewelry. Accessories are a great way to sport your favorite brands without being obvious.
How to Wear a Logo Scarf
For a tasteful and chic look, supplement your outfit with a branded scarf, such as a smooth, silk- and wool-blend shawl from Louis Vuitton.
Almost every major brand offers scarves with a minimal logo design, which can elevate your look and allow you to express your creativity.
Another benefit of scarves is that they are reasonably priced, so you can invest in a few to have a wider range of accessories options. The Twilly from Hermes and the Bandeau from Louis Vuitton, which cost around $150, are the two most recognized items in this category.
Style a logo scarf by wearing it in your hair for a classy summer look, or around your waist as a chic belt.
How to Wear a Logo Handbag
An iconic logo handbag offers both history and style. Purchasing a timeless logo handbag is not only a stylish complement to your own wardrobe but also a wise investment. Historically, designer handbags have held their value and, in some cases, even increased.
One of the most popular choices in this category is a Dior saddle bag. This is a more recent style among handbags, yet it has grown to be a wardrobe staple over the last two decades. It debuted in the late 1990s by Dior's then-creative director John Galliano.
The dangling logo on this handbag adds a charming, playful element to any outfit while still showcasing a subtle hint of the brand.
Dior also gave their saddle bag a retro twist last year when they introduced a design featuring their vintage logo from the late 1960s.
Whether you like the modern or vintage version, pair it with a stylish jumpsuit and heels for a show-stopping look.
How to Wear Logo Jewelry
Branded jewelry is another minimalistic way to incorporate logos into your wardrobe. Many high-end jewelry and fashion brands, such as Tiffany & Co., Harry Winston, Gucci, and Prada offer logo-adorned jewelry.
A branded necklace, earrings, bracelet, or cuff links might make an excellent gift for a special person in your life or yourself.
Combining Multiple Logo Items
A head-to-toe Fendi ensemble looks stunning on the red carpet, the catwalk, and on Instagram. But, it is a quite difficult look to pull off in everyday life.
Wearing several items with a brand's logo or mixing logos from different brands may feel a bit overdone. Alternatively, if you only wear a couple of items from the same brand, the coherence will make it feel a little more refined.
To maintain a classy style and follow the logo trend, we recommend including a maximum of one logo per outfit. You could possibly wear two pieces, as long as they are small items and are paired with classic and matching colors.\
Wearing Different Sizes of Logos
The cliche says that bigger is better, but when it comes to logos, that is not the case. If you plan to wear more than one item with a logo, mix the size and scale of each for the best results.
So, as you reach for your favorite branded item, keep balance in mind. In other words, don't hesitate to wear an item with a large Gucci logo, but either refrain from wearing other logos or choose a second item in which the logo is small.
Choose Clothes That Make You Feel Great
Logos, especially those with a certain status symbol or belonging to a favorite designer, can be appealing to any fashion lover. But having a piece that looks good on you and makes you feel confident is more important than showcasing a logo.
Make sure that when you're shopping, you're purchasing an item because you truly like it, and not just because it obviously came from a high-end, designer brand.
FAQs
Should logos go on the left or right?
According to a Nielsen Norman Group study, when companies' logos are displayed on the left rather than the right, people recall them better. When the logo is on the left, they discovered an average brand recall of 89%. That's also the reason logos are commonly positioned in the top left corner on company websites.
Why do we wear logos?
People wear logos for different reasons. Wearing a logo can be perceived as a status symbol or as an indicator of wealth. But some individuals simply wear logos as a way to show loyalty to a brand.
It is common to see celebrities wearing logo apparel and accessories. After all, nothing quite demonstrates the power of a brand like one of the world's most famous people promoting your designs. And, at fashion shows, it is customary for models and celebrities to dress completely in one brand's clothing.
However, when it comes to incorporating logos into your own wardrobe, stick to one logo per outfit. After all, being identified by your attitude, behavior, and personality, rather than the letters on a sweater, is the best way to look ultra-chic and confident.
As Ralph Lauren says, "Fashion is not necessarily about labels. It's not about brands. It's about something else that comes from within you."
Hayden Hill garments bags are uniquely made of 100% organic, soft cotton that is environmentally friendly and allows your favorite pieces to breathe while keeping them protected from damage. We deliver sustainable and beautiful garment care to preserve and protect the clothes you love most.