9 Ways To Add Leather to Your Wardrobe
Leather is a quintessential and adaptable fabric that can add a touch of edge to any outfit. Leather garments can be worn in many ways based on your preferences and style.
Leather jackets were spotted all over the runways in fall 2022 and spring 2023 fashion shows with looks from Khaite to Prada to Saint Laurent. This fashion staple has been in vogue since it was invented during WWII for protection and warmth. In addition to its practical advantages, leather is also a symbol of luxury.
Once reserved for rock 'n' roll icons and famous celebrities, designers like Louis Vuitton and Marc Jacobs brought leather garments and bags into mainstream fashion.
Leather clothing is now available in a variety of colours and silhouettes, lending itself to a variety of looks from edgy to casual or something in between.
The Versatility of Leather
Designers are constantly looking for new and creative ways to highlight the timeless essence of leather and use it in new and different ways. Exotic leathers such as crocodile, ostrich, and snakeskin, as well as classic finishes such as suede and patent, are becoming increasingly popular.
Consumers are also becoming more interested in eco-friendly and ethically sourced leather alternatives.
9 Ways to Wear and Style Leather
Leather is a quintessential and adaptable fabric that can add a touch of edge to any outfit. Leather garments can be worn in many ways based on your preferences and style.
Ways to Wear a Leather Jacket
A leather jacket is a must-have item for every woman's wardrobe. For a flattering silhouette, a jacket should hit your waistline or just above your hips. Choose a jacket that complements your body shape and highlights your best features.
In regard to colour, black is a traditional choice, but there are several other options. Brown, tan, and burgundy can complement different outfits. If you must choose between them, consider your personal style, as well as which colour complements your skin tone.
Another factor is the jacket's style. Leather jackets come in a variety of styles, including biker, bomber, moto with asymmetrical zippers, and blazer-style jackets. Each gives an outfit a different vibe, so keep in mind the outfits that you will pair with the jacket.
A leather jacket can be worn with almost anything, but some combinations are more stylish than others. For a clean look, pair your leather jacket with a white t-shirt, skinny jeans, and ankle boots. For an edgier look, pair the jacket with a graphic t-shirt, ripped jeans, and combat boots.
Ways to Wear Leather Pants
Once considered a trend, leather pants are here to stay. Leather pants are available in a variety of styles, such as straight-leg, high-waist, slim-fit, and skinny. Leather trousers and leather joggers are also popular items. The most common colour choice for leather pants is black, although other colour options include brown, tan, white, red, and blue.
You can achieve a chic and effortless look by selecting the proper fit, colour, and style of pants and matching them with an attractive top, shoes, and accessories.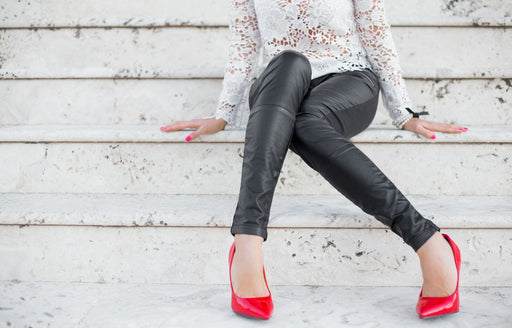 For example, pair black pants with a simple white t-shirt or turtleneck, a denim jacket, and combat boots to create a casual yet chic look. A classic blazer paired with leather pants and heels can add a touch of sophistication to your outfit. You can also layer a sweater over leather pants with sneakers for a cosy yet edgy look.
Ways to Wear a Leather Skirt
There are numerous ways to wear leather skirts to achieve a unique look. The most important thing is to pick the appropriate length. Leather skirts can be mini, midi, and maxi. The length you select will depend on the occasion and your preferences. While midi and maxi skirts can create a more refined and elegant look, mini skirts create a daring look.
Leather skirts can be worn year-round because of the many available options. In the summer, wear a textured mini skirt with a blouse or t-shirt. In the cooler months, swap the blouse for a crisp white shirt and pair it with suede ankle boots. Wear a midi skirt in winter with a cashmere sweater, heeled loafers, or high boots.
How to Wear Leather Leggings
Leather leggings give an outfit a casual and laid-back vibe. Yet, styling them correctly is essential to achieve a stylish and fashionable look.
Leggings can be very form-fitting, so wearing them with an oversized sweater can help balance the look and create a stylish and cosy ensemble that is ideal for chilly weather.
For a simple and sporty look, pair your leather leggings with a plain t-shirt, a denim jacket, and sneakers.
Ways to Wear a Leather Blazer
Compared to a standard black blazer, leather blazers have a stylish and more interesting appearance. They can be found in an array of colours, including browns, greens, and other vibrant tones. Leather blazers add a playful touch to any outfit.
There are many ways to style a leather blazer. You can opt for a minimalistic vibe by combining a blazer with jeans and a t-shirt or blouse. This look is ideal for a night out with friends or for Sunday brunch.
For a more formal event, pair a leather blazer with a dress or pleated skirt. Be sure to choose a dress or skirt made of a different material as wearing too much leather can be a bit overpowering.
Ways to Wear a Leather Vest
Leather vests were originally worn by cowboys and ranchers in the late 19th century as added protection and warmth in cold weather. Leather vests were also used by the military, then later evolved into a fashion accessory and a statement. They are fashionable and practical, making them the perfect item of clothing for chilly weather.
Leather vests are fantastic for casual occasions. Wear them with jeans and a plain t-shirt or a turtleneck for a laid-back outfit. If you want to dress up, wear one over a dress with a belt, or with a blouse and trousers. Or, for a bold look, wear a vest like this Veronica Beard option with jeans.
Ways to Wear a Leather Shirt
Leather shirts are easy to style and ideal for wearing on slightly chilly spring or fall days. You can wear an oversized version open like a jacket placed over a tank top or dress, or choose a button-down design worn loosely over trousers. You can also wear a leather shirt tucked into your skinny jeans for a more casual look.
If you know how to layer clothes like a pro, then you can try a different look and wear your leather shirt under a blazer or cardigan, which can be a nice combo for the office.
Ways to Wear Leather Shorts
Although they are a stylish addition to any wardrobe, leather shorts may be a bit tricky to style. It's important to choose the correct length for your body type. They are available in a variety of lengths, from short to knee-length. If you want to draw attention to your legs, choose shorter leather shorts. If you are shorter, opt for longer shorts that will make your legs appear longer.
You can wear leather shorts with t-shirts and tank tops for a more casual style, or pair them with a button-down shirt or a silk blouse for a more formal appeal.
Ways to Wear Leather Boots
Leather boots are a staple wardrobe item and look good with just about anything. There are many different types such as combat, knee-high, and ankle boots.
If you are going for a more classic look, knee-high boots are a perfect choice. They look great with a dress or a skirt and give a classy vibe to your outfit. On the other hand, combat boots are a terrific option if you want to go for an edgier feel. You can pair them with ripped denim jeans and a graphic t-shirt. Ankle leather boots are very versatile and complement skirts, dresses, and pants beautifully.
Leather boots also come in a variety of colours. Although brown leather boots can lend a touch of warmth to an outfit, black leather boots are a timeless option. And for a splash of eye-catching colour, consider blue, purple, or red boots like these from Tamara Mellon.
Tips for Wearing and Caring for Leather
In addition to these tricks for wearing different leather pieces, there are a few general tips that will serve you well when wearing and caring for leather.
Don't go overboard with accessories. If you decide to wear an eye-catching leather item, then choose simple accessories that will complement your look rather than detract from the leather.
Maintain a neutral colour palette. If you are uncertain about how to style your leather garment, go with neutral colours so you can be sure the leather item will complement the other parts of your outfit.
Don't wear leather from head to toe. Less is more with most things, including leather. Enjoy wearing leather, but highlight it best by mixing it with other fabrics and textures.
Use padded hangers to store leather clothes. Leather is prone to develop creases and wrinkles when placed on a non-padded hanger. Keep your garments looking better longer by hanging them on the right type of hanger.
Clean leather properly. Cleaning leather improperly, without considering its type or cleaning specifications, can result in irreversible damage to your garment.
FAQs
Is wearing leather on leather weird?
If paired well, leather on leather can look quite nice. For example, you can pair a leather blazer with leather pants, or a leather top with a leather skirt. The key is to have both pieces be the same colour and have the same finish. The look is easier to achieve if the pieces are from a matched set.
Is wearing leather uncomfortable?
Although leather has a different texture than fabrics like cotton, it is neither itchy nor uncomfortable to wear. Many people find wearing leather to be pleasant due to its softness, especially genuine leather.
What season do you wear leather?
Depending on the type of clothing and the weather, leather pieces can be worn throughout the year. For example, leather pants, jackets, and boots are frequently linked with fall and winter. On the other hand, leather vests, shorts, and skirts are perfect for summer evenings.
No woman's wardrobe would be complete without a leather jacket. This classic item, and many other leather pieces, give any outfit a hip touch. But, if you prefer to look edgy and fashionable rather than a tired cowboy, it's important to take proper care of your leather items.
When not being worn, we recommend storing your leather items in Hayden Hill storage bags. Our bags offer your most treasured items superior protection. Made of breathable, organic cotton, they protect clothing from dust, light, moths, mould, and condensation.