8 Cute Options for Swimsuit Coverups
If you're going to spend the entire day relaxing at the beach, lake, or pool, it's best to wear a cover-up for at least some of the time. A beach cover-up is also a practical garment. When walking to and from the beach, you'll want something to cover up with, especially if you're passing through communal areas like a lobby or a bar.
Back-to-school season may be upon us, but summer is still going strong. In fact, autumn doesn't start until September 23, 2023, so you still have many more chances to lounge by the beach, lake, or pool.
On those days that you are able to get away, there are a few essentials you probably never forget to pack– sunglasses, sunscreen, your swimsuit and a towel, a cool drink, a good book or magazine, and hopefully a swim coverup.
Not only do swimsuit cover-ups add a touch of fashion to your look, but they also provide much-needed comfort and coverage for those moments when you want to take a break from the sun or head to a nearby bar.
Why do people wear swimsuit cover-ups?
One reason people wear swim cover-ups is that they provide additional sun protection, though some fabrics offer better protection than others. While many of us go to the beach to achieve that gorgeous sun-kissed look, excessive sun exposure is unhealthy. Excessive sun exposure creates wrinkles, age spots, speeds up the aging process, and raises the risk of skin cancer.
If you're going to spend the entire day relaxing at the beach, lake, or pool, it's best to wear a cover-up for at least some of the time.
A beach cover-up is also a practical garment. When walking to and from the beach, you'll want something to cover up with, especially if you're passing through communal areas like a lobby or a bar. Most resort pools are a short walk away, and if you don't want to wander around in only a bikini, a beach cover-up is a must.
8 Types of Beach Cover-Ups
Sarongs
A sarong is a versatile and stylish option for a beach cover-up. Originally rooted in Southeast Asian culture, these pieces of fabric have evolved into a global fashion trend loved by beachgoers worldwide. With a rich history and contemporary appeal, sarongs offer a unique blend of elegance and practicality.
One of the main advantages of sarongs as swim cover-ups is the myriad of ways you can style and drape them. From the classic wrap-around-the-waist style to halter dresses, one-shoulder looks, and tied skirts, the possibilities are endless. With a little creativity, you can transform a simple sarong into a glamorous beach ensemble or an elegant poolside outfit.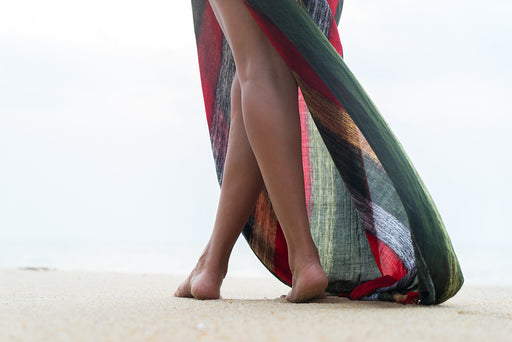 Sarongs are typically made from lightweight and breathable fabrics like cotton, rayon, linen, and chiffon. These materials keep you cool and comfortable, making a sarong the ideal choice for wearing on hot and sunny beach days. Whether you're lying in a lounge chair or taking a leisurely stroll, a sarong offers the perfect balance of coverage and ventilation.
Modern sarongs come in a wide range of captivating patterns and colours. From traditional batik prints to contemporary geometric designs and vibrant florals, you can easily find a sarong that suits your personal style and complements your bathing suit. The choice of patterns and colours allows you to express your individuality and create on-trend looks.
Beach Pants
Beach pants have emerged as a trendy and practical choice for cover-ups, offering a perfect blend of style and comfort for your vacation getaways. These versatile pants are designed to be lightweight, breathable, and easy to slip on and off, making them an ideal option for transitioning from sandy shores to beachside cafes and beyond.
The airy and breezy character of these pants is one of its key appeals. These pants, typically made from lightweight materials such as cotton, linen, or rayon, allow air to circulate easily, keeping you comfortable even on the hottest summer days. And their loose fit, when paired with a swim top, creates the perfect relaxed, beach casual look.
They come in a variety of styles, catering to different tastes and body shapes. From wide-leg palazzo pants to harem pants and cropped culottes, you can choose the silhouette that best complements your body type and personal style. Whether you prefer bohemian chic, casual elegance, or tropical vibes, there's a pair to match your beach aesthetic.
And with elastic waistbands and drawstrings, you can easily slip them on over your swimsuit and remove them when you're ready to hit the pool.
Denim Shorts
Denim shorts have become a go-to choice for cover-up, bringing a touch of casual cool to your beach style. These versatile shorts offer comfort, durability, and a timeless appeal that makes them a popular option for lounging by the pool and strolling along the shore.
Made from sturdy denim fabric, these shorts are durable enough to withstand the rigors of beach activities while providing a laid-back and relaxed look. The soft and broken-in feel of worn denim adds to their comfort, making them ideal for extended beach days.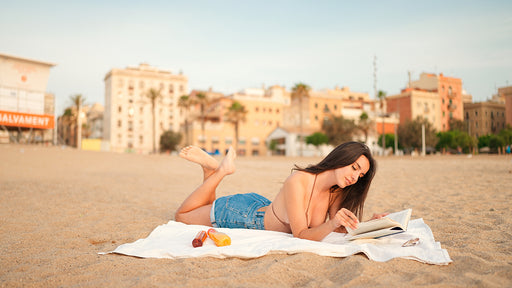 They are incredibly versatile and can be paired with various swimwear styles, from bikinis to one-piece swimsuits and tankinis. Depending on your beach vibe, you can pair them with a simple bikini top, a flowy blouse, or a graphic tank for a laid-back and stylish look.
Kaftans
Kaftans have earned their place as a timeless and elegant choice for beach cover-ups, offering a touch of luxury and sophistication to your beach or poolside ensemble. These flowing, loose-fitting garments have their roots in Middle Eastern and North African cultures and have become a global fashion staple, loved for their comfort, versatility, and sheer beauty.
Kaftans offer versatility in styling, allowing you to wear them in various ways to suit your personal taste and the occasion. You can wear a kaftan open and loose for a casual beach look, or cinch it at the waist with a belt for a more flattering silhouette. Some kaftans come with tassels, beading, or embroidery, adding a touch of glamour to your vacation attire.
Kaftans are designed for ease of wear, making them a convenient option. With their open-front or pullover styles, you can easily slip them on over your bathing suit or take them off when you're ready to take a dip in the water. Their effortlessness allows you to focus on enjoying your summer vacation to the fullest.
Beach Kimono
Beach kimonos have become a popular choice for cover-ups, bringing a bohemian and laid-back vibe to your beach style. Inspired by traditional Japanese kimonos, these flowy and lightweight garments offer a touch of charm to your beach or poolside look.
Kimonos are usually made from flowing fabrics, such as chiffon, silk, or lightweight cotton. These materials create a breezy and airy feel, allowing you to stay cool under the sun while exuding a sense of elegance.
Beach kimonos often feature bohemian-inspired prints and patterns, such as paisley motifs, floral designs, or tie-dye effects. These captivating patterns add a touch of whimsy and free-spiritedness to your beach attire, making you feel like a bohemian beach goddess.
Beach Dresses
Beach dresses come in a wide range of styles to suit different preferences and body types. From maxi dresses with sweeping hemlines to shorter tunic-style dresses, you can find the perfect length and fit that flatters your figure and matches your beach aesthetic.
They also provide sun protection while keeping you fashionable. Those with longer hemlines and loose sleeves offer the most cover-ups for your arms and legs, helping shield your skin from harmful UV rays without compromising your style.
Poolside Skirts
Poolside skirts have emerged as a fashionable cover-up option adding a touch of femininity and charm to your summer look. These versatile skirts come in various styles, making them a perfect choice for lounging by the pool or enjoying a refreshing dip in the water.
Poolside skirts come in a range of lengths, from mini to midi and maxi, offering options to suit different preferences and body types. Whether you prefer a flirty mini skirt, an elegant midi length, or a flowy maxi skirt, there's a poolside skirt that complements your swimsuit.
Button-Up Shirts
Button-up shirts exude a classic and timeless look, elevating your swimsuit with a touch of sophistication. The structured collar and tailored design add a polished edge to your ensemble, making you feel chic and put-together by the water.
These classic shirts are not only fashionable but also highly functional, making them a practical choice for your sunny escapades. They can be easily paired with denim shorts or beach pants to create a polished look that is ready for any beachside restaurant or bar.
Button-up shirts also provide excellent sun protection and coverage for your arms and shoulders, making them a practical choice for extended hours in the sun. This added protection ensures you can enjoy your beach day without worrying about sunburn.
FAQs
What do girls wear over a bathing suit?
Girls often wear cover-ups over their bathing suits. Cover-ups come in various styles, such as sarongs, beach dresses, kaftans, button-up shirts, kimonos, denim shorts, and poolside skirts. These cover-ups provide extra coverage and versatility, allowing girls to transition seamlessly from the beach or pool to other activities without the need to change their entire outfits.
What are bathing suit covers called?
Bathing suit covers are often called cover-ups. These garments are designed to be worn over bathing suits to provide extra coverage and serve as a stylish and practical option for beach or poolside outings.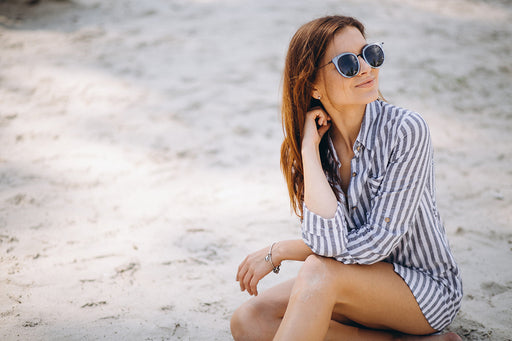 When temperatures begin to cool and you start packing away your summer clothes, we recommend storing your seasonal essentials in high-quality storage bags. Hayden Hill bags are made of 100% organic, soft cotton that is environmentally friendly and allows your favourite pieces to breathe. We deliver sustainable and beautiful garment care to preserve and protect the clothes you love most.