Everything You Need to Know About Clothing Swaps
Clothes swapping is a process in which people who have extra or unwanted items meet at a location known as a swap meet. Individuals swap clothing items ranging from vintage clothes to luxury garments.
Fashion designer Donna Karan said, "Everything in life… has to have balance." And women are the masters of balance. We juggle work, family, health, and more with aplomb most of the time.
One of the many things we have to balance is our love of fashion with our concern for the environment and desire for sustainability. We want a fresh, chic wardrobe but we don't want to support fast fashion.
Whether you want to be more sustainable or simply want to curb your shopping habit, clothing swaps may be the ideal solution.
What is a Clothing Swap?
The first clothing swap was hosted by ClothingSwap.com founder Suzanne Agasi in San Francisco in 1994. Since that time, Agasi has hosted over 310 eco-chic charity clothing swap events.
Clothes swapping is a process in which people who have extra or unwanted items meet at a location known as a swap meet. Individuals swap clothing items ranging from vintage clothes to luxury garments.
These exchanges can be mixed-gender or single-sex. And they can be a friends-only event as a swap party or as a community-wide event for anyone in your town or neighborhood. Almost everything in your closet is fair game for a swap, including jewelry, shoes, bags, scarves, and other fashion accessories.
Benefits of Clothing Swaps
Clothing swaps are becoming increasingly popular for a variety of reasons.
They help reduce landfill waste.
Every year, more than 34 billion pounds of worn textiles get thrown away in the United States alone. When divided by the population, that equates to more than 100 pounds of textile waste per person each year.
Conventional cotton and polyester are the most commonly used fabrics in the fashion industry. Both materials have considerable negative effects on the environment due to their manufacturing, production, and disposal processes.
The production of conventional cotton uses a significant amount of water, pesticides, and fertilisers. And polyester fabrics contain toxin-attracting microplastics that contaminate rivers and oceans and endanger animals.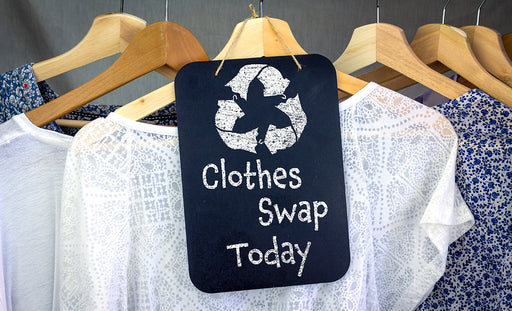 Participating in and organizing clothing swaps helps to keep garments in circulation for extended periods of time, slowing down new consumption.
They provide a fun challenge.
Attending a clothing swap is like raiding your friends' closets on overdrive. Whether the swap is friends-only or community-wide, you never know what gems you will find.
True fashion enthusiasts will love the thrill of the hunt– finding the perfect garment or accessory amidst mediocre pieces. You may find designer scores, brand-new items with tags, couture castoffs, or one-of-a-kind vintage discoveries. And the nonexistent price tags make your treasures even better.
They promote reusing and recycling.
Clothes swapping is an eco-friendly and sustainable approach to fresh, interesting, and sustainable wardrobe updates.
Swaps encourage reuse; items that an individual has worn only a few times or not at all can be put to use by another person. Exchanges also provide people with a way to recycle and upcycle garments. One person's unwanted clothes can be transformed into a whole different outfit for someone else with just a few minor changes and repairs.
Clothing swaps promote circular fashion and allow all the clothes to have at least one more cycle of life.
Tips for Attending Clothing Swaps
If you have never attended a clothing swap before, here are a couple of tips that will help you have fun and find great pieces for your wardrobe.
Find new friends.
Be sociable and interact with the other guests. You may meet many different people, all of whom share your desire to be sustainable and look fashionable. At clothes swaps, be open to making new friends and finding like-minded people.
Know what you like and what you need.
Make a list of the items you need most. Streamline the process by understanding what designs work best for your body type and what colours work best for your skin tone. And always check the garment labels to avoid unsustainable fabrics.
Inspect items closely.
Examine the item in good lighting to make sure there are no stains or damage. This is especially important when choosing pre-owned items, which are more likely to have pills and wear around the armpit or button holes.
How to Organise a Clothing Swap
Hosting a clothing swap is fun, but it requires work and careful planning. Here are a few helpful tips on how to host a successful clothing swap.
Set parameters.
Different types of clothing have different monetary values. The swap will not work well if someone brings pricey designer gowns and another person brings cheap tank tops to exchange.
Choosing a certain category of clothing determines the guest list. If you are planning a vintage clothes swap, but have a friend who dislikes vintage, she would likely not be on the invite list.
It is wise to set requirements for quality, such as items with no missing buttons, broken zippers, or major stains. A swap will only be successful if the clothes are in good condition.
This is also the time to decide whether you want to accept women's clothing only or men's and children's clothing as well. This choice will have an impact on the next factor to consider – location.
Choose a location.
Many places may be used for clothes exchanges, such as an empty storefront, community center, or house. Of course, the number of people you expect to attend will dictate the swap's location.
The venue should be spacious enough to accommodate your guests and their belongings. There should be plenty of room for everyone to move about easily and look at the clothes.
If you opt to use your house, the living room, dining room, backyard, or garage are good locations for your clothes swap. Make your home as presentable as possible for you and your guests in advance of the swap.
Obtain all necessary supplies.
A clothing swap party can't be held without clothing racks and a lot of hangers. A fold-out table is also required for shoes, accessories, and other goods that cannot be hung.
Another good idea is to create signs if you plan to organise garments by size. You may also arrange the items by item type or style.
A full-length mirror and a separate fitting room are nice to have, as well as light refreshments. Also, make sure everyone remembers to bring their own shopping bags.
Send out invites.
A clothing swap won't be very fun without guests so it's important to invite people early and urge them to invite others. Be sure to invite women of different shapes and sizes so everyone will have plenty of items to choose from.
Include details on the invitation about the type and the ideal number of swap items everyone should bring. If you have any further guidelines, such as the condition of the items, it is best to mention these in the invite.
Host the clothes swap.
To avoid chaos, start the swap with a few ground rules. Allow each individual to choose one or two items at a time to keep one person from grabbing too many things.
You should consider the shopping start time so that everyone has an equal opportunity to pick. And to be fair, no one should leave with more items than they brought.
Set and stick to a time limit for the swap. Having a limited amount of time will encourage your indecisive friends to make quick decisions.
Plan for leftover items.
It's likely that not everything brought to the swap will find a new home. To keep the remaining items from becoming your clutter, set a plan in advance.
You can give any extra goods to a local charity. Or you may sell them with the consent of the owners and use the profits for funding your next swap.
Clothing Swap Disadvantages
Clothing swaps have many benefits, but they also have a couple of drawbacks.
Some women are not open to the idea of a clothing swap. They may feel that wearing used clothing lowers their social standing, hence they always wear new clothes.
In general, most clothing swaps are for women's and children's clothing. Men tend to wear their clothes longer and are less focused on trends, so there is little reason for swaps.
And because the fashion industry focuses on smaller-sized individuals, it may be more difficult for plus-sized women to find clothing at swaps.
FAQs
What happens at a clothing swap?
A garment swap is a gathering where people exchange their unwanted clothes. Participants bring clean, wearable items to trade with others. Clothing swaps also allow people to connect over sustainable clothes while sharing fashion tips. They encourage sustainability, reduce waste, and are a fun way to freshen wardrobes while fostering connections.
Are clothing swaps free?
Clothing swaps are generally free events with the primary purpose of encouraging sustainable fashion practices and encouraging community interaction. The concept behind clothing swaps is to give a more cost-effective and environmentally responsible alternative to purchasing new items. While some clothes exchanges may charge a small fee to cover organizational costs or give proceeds to a charity or cause, the majority of clothing swaps are free.
What is a party where you swap clothes?
A clothing swap party, also known as a swap meet, is a social event where people come together to exchange clothing goods. The idea is similar to a typical clothing swap but in a more festive and social setting. To improve the experience, these events may include music, drinks, and games.
With the rise of sustainable fashion, clothes swaps are gaining popularity. There are clothing swap parties, internet swaps, and even swap boutiques that are popping up every day around the world.
To find a swap in your local area, consider searching Facebook or Meetup for upcoming events. Or even better, grab a couple of your fashion-forward friends and throw your own clothes swap.
For all your most-loved clothes, whether pre-owned or new, we recommend storing them in high-quality storage bags when not in regular use. Hayden Hill bags are made of 100% organic cotton certified through GOTS, which also guarantees the ethical treatment of workers. Compared to conventional cotton, organic cotton takes less water to produce and is made without GMO seeds, chemical fertilisers, or pesticides.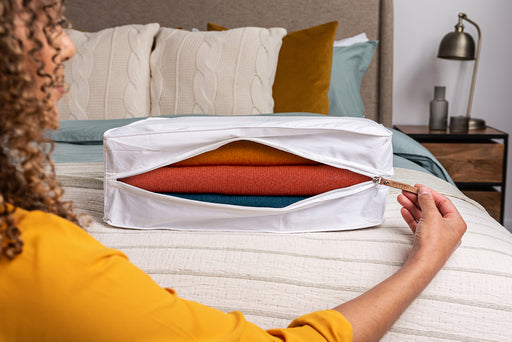 Caption: Hayden Hill Storage Bags are made from soft breathable organic cotton and will protect your precious pieces from dust, light and moths
Hayden Hill delivers sustainable and beautiful garment care to preserve and protect the clothes you love most.