10 Clothing Care Products for Home and Travel
Knowing the best tools for taking care of your clothes at home and on the go can make all the difference in terms of their longevity. Whether you're travelling or just want to keep your clothes looking their best, it's important to invest in a few essential items.
Your wardrobe is an investment, and taking care of it properly is vital to preserving its beauty, longevity, and value. A well-maintained wardrobe not only looks better but also lasts longer.
That's why having the right clothing care products is a must. Whether you are at home or on the go, these are the 10 items you need to keep your wardrobe looking its finest for years to come.
5 Must-Have At-Home Clothing Care Products
Taking care of your garments is vital for extending their life and keeping them in pristine condition. Using the right tools can make a significant difference, which is why you need these five tools to care for your clothes at home.
Fabric Shaver
Fabric shavers are easy to use and work by gently removing the fuzz, lint, and pills that appear on the surface of your clothes over time. A fabric shaver can be used on a variety of materials, including wool, cashmere, and synthetic fabrics, making it a versatile tool for your wardrobe.
Look for a shaver with multiple blade options to accommodate different fabrics and levels of pill and lint buildup. When using a fabric shaver, be sure to use gentle, even strokes and avoid applying too much pressure. This will help to prevent any damage to the fabric.
Wood and Velvet Hangers
Wood hangers are not only a stylish addition to your wardrobe, but they are also a durable replacement for wire hangers. They provide sturdy support for your garments and can be used with a variety of fabrics.
Velvet hangers are a trendy and practical option for hanging your delicate garments, such as silk and lace. The soft velvet material helps to prevent creasing and damage. Velvet hangers are also available in a variety of colours, allowing you to coordinate your hangers with your wardrobe and effectively organise your closet.
Fabric Spray
Fabric sprays are designed to add a pleasant scent to your clothes, leaving them smelling clean and fresh.
Sprays are especially useful for clothing items that may not have been worn in a while. When selecting a spray, look for one made with natural ingredients and essential oils such as lavender.
To use a fabric spray, simply hold the bottle about 6 inches away from the garment and spray evenly. Allow the fabric spray to dry for a few minutes before wearing the item.
Garment Bags
Delicate, valuable, or heirloom clothing should be stored with extra care in a garment bag. Garment bags are designed to protect your clothes from damage, dust, and pests. They come in a variety of sizes and materials, allowing you to choose the right size and type of bag for your needs.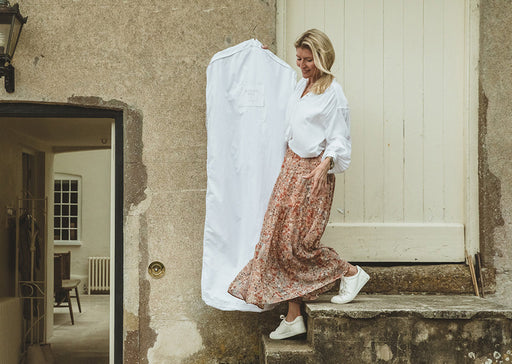 When selecting a bag, look for garment bags made from breathable, natural materials, such as organic cotton, to prevent moisture build-up that can lead to mold and mildew. Ideally, garment bags should also be machine washable and have a wide gusset that allows you to store a variety of garments.
Travel garment bags are often made of a non-breathable, synthetic material for durability. These bags are suitable for short-term storage only. Remove your garments as soon as possible after arriving at your destination to let your items breathe.
Wool Dryer Balls
Though using fabric softener and dryer sheets are a popular way to ensure your clothing will smell good and not have static cling, using wool dryer balls are the better option for your garments and the environment.
Fabric softeners and dryer sheets leave a chemical residue on clothing that can damage delicate fabrics. Wool dryer balls have the safe benefits of fabric softeners and dryer sheets while also decreasing drying time and being environmentally friendly.
And as a bonus, consider purchasing dust bags to protect your designer handbags. A dust bag should be breathable because your bags need to breathe just like clothing. And, the highest-quality dust bags will have a see-through panel to view what's inside, all while protecting your favorite bags from dust, moths, and discolouration.
5 Must-Have Travel Clothing Care Products
Travelling can be exciting, but perhaps not for your clothes. Even with the perfect packing techniques, your favorite items are still likely to arrive wrinkled. However, with the right tools and strategies, you can quickly restore your clothes to pre-travel condition.
Packing Cubes
The first step in taking care of your garments while travelling is to make sure you pack them properly. This means using the right luggage and accessories, such as packing cubes, to minimise wrinkles, prevent damage, and keep your clothes organised.
Packing cubes have become increasingly popular in recent years for good reason. Using packing cubes will help you fit more items in your suitcase and organise your clothing. They are also ideal for non-clothing items like accessories, shoes, electronics, and more.
Travel Laundry Kit
Travelling is all about expecting the unexpected. You never know when you will accidentally stain a garment. Or, when a flight will be delayed or canceled and your stay is extended. It's better to always be prepared for the unexpected by bringing a few travel-sized, laundering essentials, such as laundry detergent, stain remover, and wrinkle releaser.
But before packing these items in your suitcase, check your lodging information. If your hotel or rental property has laundering facilities, they may already provide certain supplies. At a minimum, pack a stain remover to have handy in your purse or travel bag to remedy a spill or stain.
Travel Steamer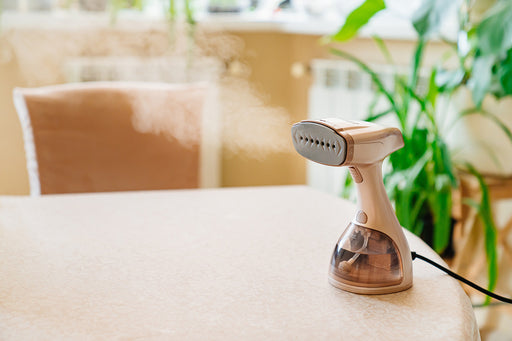 Though many hotels and rental properties have irons, you can't guarantee the quality of the iron supplied and not all garments should be ironed.
Instead, pack your own travel-sized steamer. Travel steamers are easy to find, don't take up much space in your suitcase, and will remove the inevitable wrinkles your clothing accumulates in transport. And, you can use them on delicate items, even those that are dry clean only.
Clothes Brush
If you want to look polished and put together, don't leave home without packing a clothes brush. A clothes brush removes dust, hair, lint, and other debris from clothing even better than a lint roller.
Clothes brushes come in different types such as natural bristle, synthetic bristle, and velvet-faced, each of which is designed for specific fabrics. It may be best to purchase a brush set if you have a variety of clothing types.
Travel Sewing Kit
This convenient kit can be used for quick and easy repairs on your clothes, such as fixing a loose button or mending a tear. Mini sewing kits are small, compact, and typically include a variety of needles, threads, and buttons, allowing you to tackle a wide range of repairs with ease.
Whether you're travelling, at work, or simply out running errands, a mini sewing kit is critical if you need to make a clothing repair quickly or on short notice.
FAQs
How can I extend the life of my clothes?
You can extend the life of your clothes by following care instructions, using a gentle detergent, avoiding over-drying, storing clothes properly, rotating your wardrobe, promptly spot-cleaning stains, and investing in quality garments.
What are the tools needed to care for clothes?
When you are at home, a few tools to keep on hand include a fabric shaver, wood and velvet hangers, garment bags, fabric spray, and wool dryer balls. When travelling, don't forget to pack your clothing in packing cubes and include a travel-sized laundry kit, sewing kit, steamer, and clothes brush.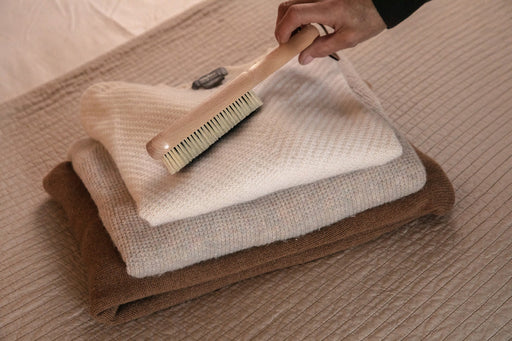 Proper care can keep your clothes looking new, extend their lifespan, and prevent fabric damage. By investing time and effort into proper care, you can ensure that your clothes look, feel, and perform their best for years to come.
Knowing the best tools for taking care of your clothes at home and on the go can make all the difference in terms of their longevity. Whether you're travelling or just want to keep your clothes looking their best, it's important to invest in a few essential items.
When you're shopping for high-quality storage bags, we recommend Hayden Hill. Our hanging garment and storage bags are made of 100% organic, soft cotton that is environmentally friendly and allows your favourite pieces to breathe while keeping them protected from damage. We deliver sustainable and beautiful garment care to preserve and protect the clothes you love most.