The Top Designer Handbag Brands Every Woman Needs to Know
When it comes to style and fashion, we are always looking for new ways to look our best. Although it's true that these designer handbags are expensive, they are highly sought after by those of us who want to own only the best.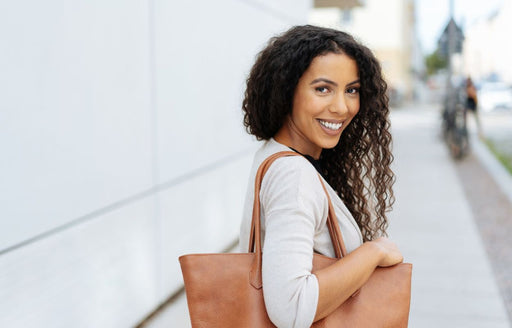 Designer handbags have been a staple fashion accessory for ages. Not only are handbags functional by providing a way to carry our everyday essentials, but they are also symbols that reflect one's individuality and style. Handbags are a great way to add a designer touch to any outfit.
Many of the famous bag designers have been around for generations and have played a pivotal role in elevating handbags to the status they enjoy today.
Heritage brands like Louis Vuitton, Chanel, and Hermès have made a major impact on the fashion industry, and their timeless and classic bags are wanted by fashion enthusiasts and celebrities around the world.
Every designer has their own vision of what it takes to create the perfect bag, and every luxury handbag has a remarkable story. From the inspiration behind the specific design, to the brand's history, to the materials used to create it, each bag has its own journey that makes it unique and coveted.
The Importance of Handbags in Fashion
Bags have become one of the most important fashion accessories in recent years. An outfit complemented with a fashionable bag is taken to a whole new level.
Women cannot resist purchasing luxurious and designer handbags. When it comes to style and fashion, we are always looking for new ways to look our best. Although it's true that these designer handbags are expensive, they are highly sought after by those of us who want to own only the best.
It's no accident that major department stores like Saks Fifth Avenue have dedicated an entire floor to handbags. Top-tier retailers, designers, and manufacturers are all capitalising on our love of designer bags as they are one of the most lucrative status symbols of the 21st century.
How Handbags Have Evolved Over Time
Despite their popularity among women, handbags began as a man's accessory. The term was first used to describe a man's briefcase in 1900, and hieroglyphics from Ancient Egypt show men wearing pouches around their waists.
The oldest handbag to be discovered is a 700-year-old clutch that was found in Mosul, a city in northern Iraq. The lovely bag is embellished with gold and silver court scenes.
Handbags have always served as symbols of power, status, and beauty, in addition to their practical functions. Embroidered depictions of love were commonly added to medieval purses.
In the 19th century, bags were revolutionised by the introduction of public train travel. As more and more people began to travel by train, the term "handbag" was coined to describe the luggage that travellers carried onboard. Some of today's most well-known designers, such as the iconic Louis Vuitton, began as 19th-century luggage makers.
Centuries later, all of our daily essentials are stored in handbags, from wallets and keys to phones and makeup. Women never leave home without their favourite designer bag.
The Most Popular Designer Handbag Brands
Designer bags are a must-have accessory for any fashion enthusiast, and there are numerous designers and brands who have made their mark on the industry. The world of handbag design is broad and diverse, varying from the iconic bag designs of Louis Vuitton and Chanel to the modern styles of Michael Kors and Kate Spade.
Louis Vuitton
Louis Vuitton is one of the world's most well-known and influential handbag designers. Louis Vuitton founded the company in Paris in 1854, offering trunks and luggage made for wealthy travellers. The Keepall, the company's first handbag, was designed in 1930. The luxury label is also known for paving the way for the ever-popular logomania trend, which is still relevant today.
Their signature monogram design, first introduced in 1896, is a key feature of Louis Vuitton handbags. Its distinctive pattern, which features interlocking LV initials and quatrefoils, became synonymous with the brand and is instantly recognisable to people all over the world.
Louis Vuitton Bags
With a wide variety of luxury bags to choose from, two styles have stood the test of time: the Neverfull and Speedy.
The Louis Vuitton Neverfull shoulder bag is available in three sizes: small, medium, and large, as well as three patterns: monogram, Damier Azure, and Damier Ebene. Its price varies depending on the size, ranging from $1200 to $1350.
The Louis Vuitton Speedy bag is one of the most popular handbags of all time. Almost every celebrity has at least one Speedy bag. It also comes in different sizes, from 25 to 40 centimetres.
The Speedy, like all Louis Vuitton bags, comes in three standard patterns. And, the Speedy Bandouliere version features a crossbody strap that is detachable.
Chanel
Chanel, another iconic brand in the world of designer handbags, was founded at the beginning of the 20th century in Paris. Coco Chanel established the brand in 1909, which quickly became known for its elegant and sophisticated designs.
Chanel Bags
Chanel's classic shoulder bag is one of the world's most recognisable handbags. This quilted leather bag is available in a variety of colours and sizes and was designed by Coco herself in 1955. The long chain strap, however, is what makes this bag truly unique. It is clear from the name that this bag is both classic and iconic, and it's mostly worn in the evening for special occasions.
The Chanel boy bag is the second most popular Chanel bag. It has a box-like shape and comes in a variety of colours. This designer bag is available in four sizes: small, medium, new medium, and large.
Hermes
Hermes is a renowned French brand that was founded in 1837 in Paris by designer Thierry Hermès. Hermes is well-known in the world of luxury for its rich heritage, exquisite craftsmanship, and attention to detail.
The Birkin Bag
Birkin bags are the epitome of luxury and status. The Birkin bag is universally perceived as the most exclusive accessory in the world, with some even claiming that it is a better investment than gold. It was named after the British singer and actress Jane Birkin.
This bag is entirely handcrafted and made of fine materials such as crocodile, cow, lizard, and ostrich. They use premium animal skins including some of the finest calf leathers in the world. The Birkin bag comes in a variety of colours from beige and black to hot pink and bright orange and is popular among celebrities.
Birkins are available in a variety of sizes, ranging from 25 cm to 55 cm. The bag also has a lock and key feature on the front. The keys are kept in a leather lanyard known as a clochette, which is attached to the bag.
Gucci
The Italian luxury fashion house, Gucci was founded by Guccio Gucci in 1921 and quickly became one of the most recognisable and influential brands worldwide.
One of its most sleek shoulder bags is the Gucci Horsebit bag, which was first released in 1955. The horsebit emblem, which has now become synonymous with Gucci, is modelled after equestrian details. The handbag was re-released in 2019 under the creative direction of Alessandro Michele.
Dior
Dior is a high-fashion luxury French fashion house, which was founded by Christian Dior in 1946. The brand quickly became an international success due to its sophisticated designs.
The renowned Lady Dior bag was Princess Diana's favourite model, which she first wore in 1995. Almost 25 years later, the handbag remains one of the most coveted bags today. The bag's timelessness stems from its simplicity and minimal shape and style. The playful details of the metallic charms that fall from the strap were inspired by Christian Dior himself and add an unexpected twist to the bag.
Prada
Their leather luxury handbags have been a staple since the brand's founding in 1913, so it goes without saying that celebrities, influencers, and fashionistas all adore Prada handbags.
The Prada Cleo bag is one of the more popular designs available from the brand. This shoulder bag has claimed "it bag" status since its debut in Prada's SS21 collection, thanks to its timeless, minimalistic design. It is available in a variety of colour schemes and textures, ensuring that you can find one that suits your personality perfectly.
Michael Kors
Designer Michael Kors established the American fashion house Michael Kors in 1981 in New York.
One of the brand's most well-known bags is the Selma satchel. The bag's blend of simplicity, functionality, and elegance makes it high in demand. It is available in several colours and is made of sturdy saffiano leather.
Bottega Veneta
Bottega Veneta is a luxury Italian brand founded in 1966 in Vicenza, Italy. The brand became synonymous with luxury and elegance due to its minimalist aesthetic and high-quality materials.
One of the most popular Bottega Veneta handbags is the Cassette bag. Despite being relatively new, the Cassette Bag is quickly becoming a fashion favourite. With its distinctively soft geometric shape, the Cassette has become the new "it bag" among the fashion crowd.
The Cassette's chic design is based on the Intrecciato weave pattern that the Italian fashion house is well known for. This bag has a balanced mix of practicality and minimal elegance that will undoubtedly make it a staple piece in many women's wardrobes for years to come.
Celine
Céline Vipiana founded the French luxury brand Celine in 1945. Celine handbags have become extremely popular in recent years, particularly Celine luggage bags. In addition to its unique shape, the luggage bag comes in five different sizes: medium, shoulder, mini, micro, and nano. Because of its beautiful colours and widespread popularity, these bags are priced at a premium.
Yves Saint Laurent
From the brand's beginnings in the 1960s, Yves Saint Laurent has developed a loyal following and is best known for its revolutionary, liberal, and androgynous pieces.
The LouLou purse is among Saint Laurent's most popular handbags. This soft but structured bag is a classic choice that will never go out of style. The LouLou bag has enough space to fit all of your necessities without being too large.
Fendi
The legendary Italian fashion business Fendi had humble beginnings but has grown into a favourite brand for understandable reasons. The Fendi Baguette is the brand's most well-known handbag. The Baguette, created by Silvia Venturini Fendi in 1997, has a compact size and short strap that makes it comfortable for wearing over the arm.
FAQs
What is the most popular luxury bag brand?
It's hard to identify the most popular luxury designer handbag brand because it depends on so many different factors and individual preferences. Nevertheless, Louis Vuitton, Chanel, and Hermès are some of the most well-known luxury handbag brands.
What are good bag brands?
There are many well-known designer handbag brands that offer high-end products with excellent craftsmanship. Some of the most well-known and respectable brands include Louis Vuitton, Chanel, Gucci, Prada, Hermès, Celine, and Bottega Veneta. The best brand ultimately comes down to personal taste, requirements, and financial resources.
As you begin to curate a collection of designer bags to complement your wardrobe, don't forget to store them with care. When not in use, we recommend storing handbags in dust bags that will protect your most valuable items from dust, light, moths, mould, and condensation. Ideally, dust bags should be made of natural textiles that are environmentally friendly and allow your favourite pieces to breathe while keeping them protected from damage.