11 Essential Shoes Every Woman Should Own
From casual trainers to elegant heels, there are certain must-have shoes that every woman should have in her wardrobe to be prepared for any occasion.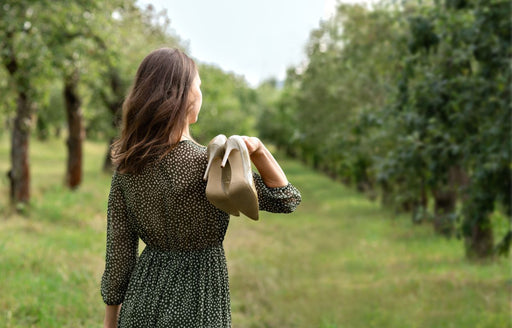 Jimmy Choo, Louboutin, Manolos. These are names that give every fashion enthusiast a thrill. A closet full of beautiful shoes is something almost every woman desires.
Whether you're a busy professional, a busy mum, or just have a busy life– that's all of us– having a shoe collection that is stylish and versatile is a necessity.
The right shoes can make or break an outfit. They can elevate an everyday outfit or complete a stunning evening gown.
That's why it's important to have a few go-to pairs of shoes that are comfortable and stylish. These must-have shoes should be suitable for work, play, and everything in between. It's also important to find high-quality, timeless, and long-lasting shoes that won't go out of style after just one season.
Tips & Tricks for Finding the Right Shoes
Finding the right shoes for your style can be a fun and exciting process. Here are some tips to help you find the perfect pair:
Know your style. Before you start shopping, take some time to identify your personal style. Are you into classic, timeless pieces, or do you prefer more trendy, fashion-forward styles? Knowing your style will help you narrow down your search and ensure that you find shoes that fit your overall aesthetic.
Consider your lifestyle. Your lifestyle should play a role in your shoe selection. If you're on your feet all day, for example, you may want shoes with extra cushioning and support. If you're constantly on the go, you may prefer slip-on or easy-to-wear styles.
Think about the occasion. What occasion do you need shoes for? If you're attending a formal event, look for dressier shoes that are appropriate for the occasion. If you're running errands or going to the gym, on the other hand, an everyday trainer or running shoe would probably be best.
Prioritise comfort. No matter how stylish, if your shoes are not the right size, they will feel uncomfortable, and it's unlikely that you will wear them. Look for shoes that fit well, offer good support, and are made from quality materials. Don't sacrifice comfort for style - there are plenty of shoes out there that offer both.
Invest in quality. A good pair of quality shoes is always worth the investment. Inexpensive shoes are unlikely to last as long or be as comfortable as higher-end options. Buying high-quality shoes will ensure that your feet are comfortable and supported and that you look fabulous while wearing them.
11 Must-Have Shoes Every Woman Should Own
Classic Pumps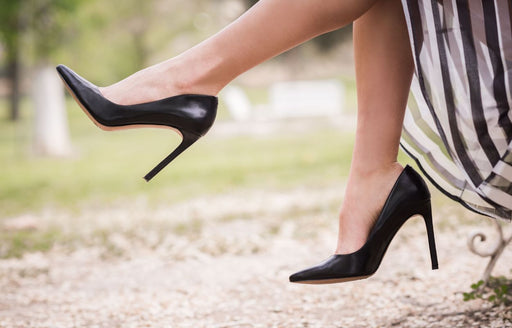 You can't go wrong with a pair of classic pumps. They are a staple for any woman's shoe collection. These elegant and versatile shoes are suitable for any occasion from work to special events. Neutral-coloured pumps, whether classic black or nude, add a touch of sophistication to any outfit. Pair them with a pencil skirt for a professional look or with a little black dress for a night out– these shoes never go out of style.
White Trainers
The classic white trainers are a comfy fashion essential that can add a fresh and modern touch to any outfit. They are not only stylish but also practical and comfortable, making them perfect for everyday wear. From running errands to casual outings with friends, white trainers can be your go-to shoe that can be worn with jeans, skirts, and even dresses. They are a great way to achieve a casual and effortless look while being fashionable.
Ankle Boots
Ankle booties are stylish shoes that can be worn almost all year round. They are perfect for the period between seasons when it's too warm for knee-high boots but too chilly for sandals. Ankle boots come in a variety of styles, from flat and casual to heeled and dressy. They can be paired with skinny jeans or leggings for a casual daytime look or with a dress for a night out. Ankle boots are also a great option for those who want to add some edge to their outfits without going for a full-on biker boot or combat boot look.
Strappy Sandals
Strappy sandals are a summer essential that should be in every woman's closet. They come in a variety of styles, from flat to heeled, and can be worn with anything from skirts and dresses to pants and jeans. Strappy sandals can make your legs look longer and slimmer. Whether you're going on vacation or just enjoying a day in the sun, strappy sandals are a stylish and chic option.
Ballet Flats
Ballet flats are a comfortable and versatile pair of shoes that can be worn with almost any outfit and on any occasion. They are perfect for days when you want to be comfortable but still look chic. Ballet flats come in a variety of colours and materials, from patent leather to suede, and can be paired with just about everything- dresses, skirts, jeans, and pants.
Wedge Sandals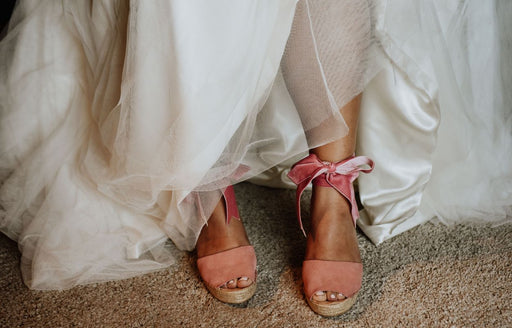 Wedge sandals are a comfortable and stylish alternative to high heels. They provide height and lengthen the legs while being easy to walk in. Wedge sandals come in a variety of styles, from espadrille to cork, and can be paired with everything. They are perfect for summer weddings or outdoor events when you want to look elegant but still be comfortable.
High Boots
High boots are classic shoes that never go out of style. They come in a variety of styles, from riding boots to knee-high boots, and can be worn with skinny jeans, leggings, or skirts. Knee-high boots can make your legs look longer and slimmer and are perfect for keeping your feet warm in the fall and winter seasons.
Espadrilles
Espadrilles are fun and comfortable shoes that are perfect for summer. They come in a variety of styles, from flat to wedge, and can be worn with many different outfits. Espadrilles are typically made of canvas or cotton and have a rope or jute sole. They are perfect for beach vacations or casual weekends, and they add a touch of bohemian style to any outfit.
Classic Loafers
Loafers are timeless and practical shoes that can effortlessly elevate any outfit, whether it's a casual look or a formal one. The classic loafer style has been around for decades and has remained a wardrobe staple for many women. This type of shoe typically features a low heel or no heel at all, and it is known for its slip-on design, which makes it an easy and convenient option for daily wear.
One of the best things about loafers is that they come in a variety of colours, materials, and styles, making them a perfect addition to any wardrobe. For a classic and timeless look, buy a pair of leather loafers in a neutral colour. Or if you're looking for something a bit more unique, opt for a pair of loafers in a bold colour or with an interesting texture or pattern.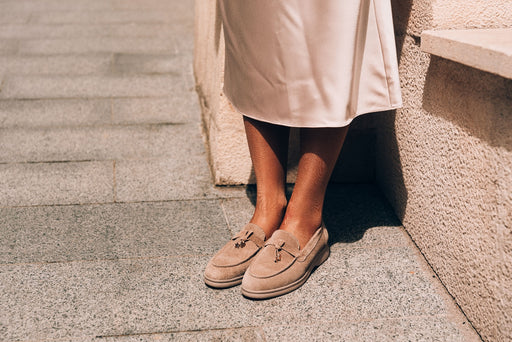 Flat (or Slide) Sandals
Flat sandals or slide sandals are essential shoes for a woman's summer wardrobe. They are perfect for hot weather and typically have a simple and minimalistic design, which gives them an effortless and relaxed look that's perfect for casual occasions.
One of the advantages of flat sandals is that they offer excellent comfort and support, especially if you're planning on walking or standing for long periods. Many designs come with cushioned footbeds, which can help reduce pressure on your feet and improve your overall comfort.
Athletic Trainers
Athletic shoes could be considered a necessity for women, men, and children of all ages. Whether you are a runner or a mum chasing your kids at the park, athletic trainers provide the support you need to move with speed.
In addition to their functional benefits, athletic trainers can also add a trendy touch to any outfit. They pair well with leggings, shorts, and even dresses, making them a versatile option for any casual or sporty look.
How to Take Care of Your Shoes
Shoes are a crucial part of our everyday attire. Taking proper care of your shoes not only prolongs their life but also maintains their appearance.
The first opportunity you have to take care of your shoes is when you buy a new pair. Often, new shoes need to be broken in especially if you plan on wearing them for long periods of time.
As you wear certain shoes more frequently, you may find that they need special care to maintain their appearance. Here are some tips on how to keep your shoes in great condition.
Follow the Instructions
Always follow the manufacturer's instructions on how to care for your shoes. Different materials and designs require different cleaning methods, so it's important to read the label and follow the instructions carefully. For example, leather shoes need to be polished regularly to keep them shiny and soft, while suede shoes require a specific brush and spray to keep them clean and free of watermarks.
Invest in Quality Shoe Care Products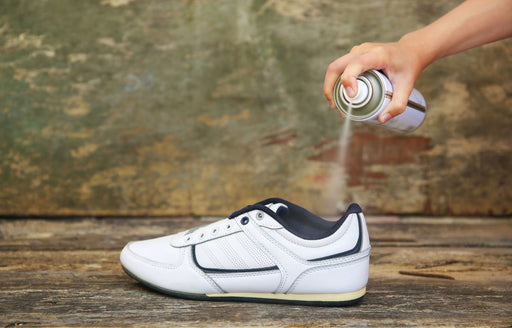 Shoe polish, suede protector spray, shoe trees, and water-repellent sprays are essential products to keep your shoes looking and feeling new. High-quality products ensure that your shoes are protected from dirt, water, and other elements that can damage them.
Store Your Shoes Properly
Your shoes need to be stored properly. When not in use, shoes should be organised in a cool and dry location away from direct sunlight. Using shoe trees or stuffing shoes with tissue paper helps to retain their shape and prevent creases. We recommend storing shoes in dust bags that will protect them from dust, light, moths, mould, and condensation. Ideally, dust bags should be made of natural textiles that are environmentally friendly and allow your favourite pieces to breathe while keeping them protected from damage.
Repair Your Shoes
If you notice any signs of wear and tear, such as a loose sole or a worn-out heel, it's best to have the shoes repaired as soon as possible. Waiting too long can cause further damage to the shoes and make it more expensive to repair them.
FAQs
What type of shoes go with every outfit?
There are a few types of shoes that can go with almost any outfit, making them a versatile addition to your shoe collection. Shoes like black pumps, trainers, and sandals can add a touch of casual chic to any look.
How many pairs of shoes should a woman own?
Studies have shown that most women own 19 pairs of shoes. However, only you can decide what number of shoes is right for you. The shoes that are most critical to every woman's wardrobe are classic pumps, summer sandals, boots, and athletic trainers.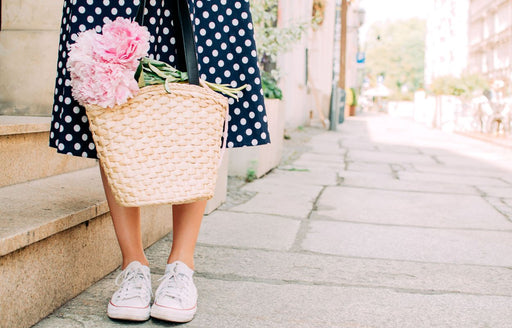 From casual trainers to elegant heels, there are certain must-have shoes that every woman should have in her wardrobe to be prepared for any occasion. And there are so many colours and styles of each of these essential shoes that it's no wonder many women love buying shoes. They add the colour, character, and pizazz an outfit needs to make us feel confident and ready to conquer the day. So we say, if the shoe fits– wear it!