The 14 Best Eco-Friendly Knitwear Brands
Knitwear continues to evolve with the emergence of brands that promote environmentally conscious and ethically produced varieties.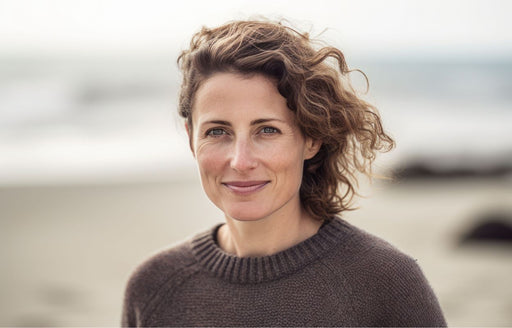 Knitwear never goes out of style, and the variety of options from Gucci, Versace, and Burberry prove that knitwear has a place in every fashion enthusiast's wardrobe.
Coco Chanel was the first to introduce knitwear to the high-fashion world in the 1920s by championing knitwear dresses, cardigans, and other knitwear designs.
Knitwear became even more popular in the 1940s and 1950s when Hollywood actresses like Lana Turner and Jane Russell wore tight, form-fitting sweaters that emphasised their bust lines.
Knitwear continues to evolve with the emergence of brands that promote environmentally conscious and ethically produced varieties.
14 Best Knitwear Brands
1. Guest in Residence
Model Gigi Hadid founded one of the top knitwear brands, Guest in Residence. This brand is known for making stylish, cosy, and comfortable knitwear that can be dressed up or down depending on the occasion.
With an emphasis on quality and craftsmanship, Guest in Residence has become one of the go-to brands for knitwear fans. It's known for its soft, luxurious cashmere knitwear that feels great against the skin.
2. Zankov
Founded by Henry Zankov, Zankov has gained a reputation for its high-quality knitted garments. Only the finest natural materials are used to create pieces that are beautiful, comfortable, and long-lasting.
Zankov uses eco-friendly and natural materials and is dedicated to reducing waste during the manufacturing process.
Zankov knitwear designs emphasise colour, shape, pattern, and geometric prints. Whether you're looking for a statement sweater for a cold day or a stylish cardigan to layer over a maxi dress, you can't go wrong with Zankov.
3. Babaà
Babaà is a Barcelona-based Spanish knitwear brand that is well-known for its stylish, minimalist designs crafted from the finest materials.
Babaà knitwear is created from soft, warm, and long-lasting natural fibres such as wool, cashmere, and alpaca. They make garments using traditional knitting techniques such as hand-knitting and Japanese machine-knitting. Their designs are simple yet elegant, perfect for those who appreciate the finer things in life.
And, to reduce its carbon footprint, Babaà uses biodegradable natural materials and collaborates with local artisans. They also use eco-friendly packaging and are dedicated to cutting waste during the manufacturing process.
4. The Knotty Ones
Three best friends from Lithuania formed The Knotty Ones with a mission to create knitwear that is both functional and fashionable so you can both look and feel good in your clothes.
The Knotty Ones knitwear is made of high-quality natural fibres such as extra fine merino, alpaca, cotton, and linen. This not only makes the clothing soft and cozy but also promotes sustainability in the industry.
The Knotty Ones also offers a variety of styles, including simple sweaters, cardigans, and scarves, as well as more modern and trendy items like crop tops and oversized sweater dresses.
5. Sézane
Sezane is a French knitwear label founded by Morgane Sézalory in 2013. Based in Paris, all of its goods are created in-house, giving them a unique and genuinely French feel.
The brand uses environmentally friendly materials, which is one reason it has such a loyal following. Sezane's knitwear collection includes everything from cosy sweaters to chic cardigans.
6. Amour Vert
Amour Vert was founded in 2010 with a single goal in mind: to ensure sustainable, superior clothing that is both fashionable and affordable. Since then, the brand's popularity has grown among environmentally conscious consumers who strive to look good while protecting the environment.
Amour Vert's entire line is made from eco-friendly materials such as organic cotton, Tencel, and recycled polyester.
The brand is known for its authentic, versatile designs. They carry a wide range of wardrobe staples from cosy sweaters and comfortable tees to stylish jackets and accessories.
7. Naadam
Naadam was founded in 2014 with an emphasis on environmentally friendly and ethical manufacturing practices. They create cozy and fashionable knitwear pieces from natural materials, such as bamboo and cashmere, that are both good for the environment and comfortable to wear.
The name "Naadam" means "to enjoy the summer" in Mongolian. This reflects the brand's goal of creating pieces that can be worn and enjoyed all year. Naadam's knits range from classic sweaters to playful and statement pieces.
8. Everlane
Everlane's commitment to transparency and ethical manufacturing practices has contributed to its reputation as a go-to brand for sustainable knitwear.
Everlane's founder, Michael Preysman, was inspired to launch the company after being disappointed with the lack of transparency in the fashion industry. He wanted to create a brand that was completely open and transparent about its manufacturing process and the materials used in its product lines.
Knitwear from Everlane is recognised for its high value, comfort, and style. From cable knit cardigans to lightweight cashmere jumpers, each piece is designed with comfort and durability in mind.
9. &Daughter
Founded in 2012, UK-based &Daughter is a favourite among fashion-forward women who want to be stylish and eco-friendly.
This brand creates knitwear from cashmere and wool, which are both renewable and biodegradable, and they use a closed-loop production process, which minimizes waste.
&Daughter's designs feature classic pieces with a contemporary twist. Their knitwear is both practical and fashionable with a wide range of colours and styles to suit everyone's preferences.
10. Navygrey
Navygrey is a British luxury knitwear label that focuses on timeless, cosy pieces like chunky jumpers and cable-knit cardigans. Each piece reflects their attention to detail from ribbed cuffs and hems to intricate knit patterns.
Navygrey makes earth-toned pieces out of the finest British and Scottish-spun wools following sustainable practices.
11. Thakoon
Founded in 2019 by Thai-American fashion designer Thakoon Panichgul, Thakoon is known for its whimsical and playful designs. Their cutting-edge pieces are frequently created in collaboration with other artists and designers using high-quality fibres. Thakoon's knitwear is available in a variety of styles, ranging from casual and comfortable pieces ideal for everyday wear to more formal pieces ideal for special occasions.
Thakoon has become a popular choice among celebrities and fashion insiders, with pieces frequently seen on the red carpet and in fashion magazines. It has also received praise for its innovative and creative designs, which frequently challenge traditional knitwear styles.
12. COS
Founded in 2007, the Swedish brand COS focuses on providing beautiful, versatile pieces that are made to last. This brand embodies understated elegance and simplicity with a focus on premium materials and clean, modern lines. Because the brand's visual style is inspired by art, architecture, and design, everything they make is sleek and stylish.
COS also values long-lasting clothing so they use high-quality materials and focus on clean lines that will never go out of style. They also have strict sustainable guidelines, which apply to everything from how their clothes are made to how they are packaged and shipped.
13. ARKET
ARKET is part of the H&M group and its mission is to provide high-quality, fashionable clothing at a reasonable price. They have a gorgeous Scandinavian aesthetic that is modest and trendy. Their knitwear collection features cozy and comfortable pieces that are perfect for cold weather days.
ARKET products, which include clothing, household items, and travel goods, are made of materials like wood, wool, leather, and linen that wear well over time. They also practice circular packaging, use recycled materials in production, and offer clothing rental and recycling programs.
14. Boden
British clothing company Boden specialises in premium knitwear and casual wear. This well-known brand has won customers over with its attention-grabbing, bold designs, quality products, and extraordinary value.
Boden is also known for its dedication to sustainability with environmentally friendly materials and production methods. Boden constantly looks for ways to reduce its environmental impact, from the wool used in its knitwear to the dyes used to colour its clothes.
FAQs
Which is the best sweater brand?
Finding the best sweater brand depends on what type of sweater you're looking for. Are you looking for something casual and comfortable? Or maybe a more formal, dressy item? Try on different styles and brands to see how they feel and which suits you best.
What is knitwear fashion?
Knitwear fashion blends comfort and style through the use of knit fabrics such as wool, cotton, and synthetic materials. Knitwear pieces like turtlenecks, cable-knit sweaters, and cardigans are ideal for winter since they add warmth and texture to any ensemble.
These fourteen brands offer the best of both worlds: style and sustainability. Women who love fashion and care about the environment now have the option to find knitwear from brands that share their values. Even celebrities like Selena Gomez and Kate Middleton agree that eco-friendly knitwear is in.

Sustainability is also important to Hayden Hill. Our bags are made of 100% organic cotton certified through GOTS, which also guarantees the ethical treatment of workers. Hayden Hill delivers sustainable and beautiful garment care to preserve and protect the clothes you love most.