Kathleen Elie's Journey from Garment District to Conscious Consumer
Kathleen was living every fashion lover's dream until she began to wonder if there was more to the fashion industry than what meets the eye.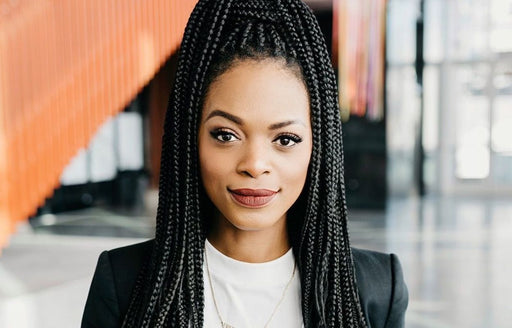 I think most of us, when asked, know what we value.

We value our families, our health, our friendships, etc.
But then we find ourselves working late instead of eating dinner with our families. Or skipping spin class because we don't have time. Or missing cocktails with friends because we are exhausted at the end of a long day.

There are many times when our actions may not align with our values. This can be caused by outside pressures, or simply because we aren't conscious of the choices we make.
But sometimes, we are made aware of this gap between our values and actions and we are forced to make a choice.

That is the position Kathleen Elie of Conscious N Chic found herself in.

Kathleen, or Kat as she is known to her followers, grew up in Montreal and pursued a Bachelor's degree in finance and international business from HEC University, which included a mandatory semester abroad.

Elie spent her semester in the Netherlands, soaking up Dutch culture and travelling across Europe in her free time.

"I have always enjoyed learning about different people and cultures. Even when I'm on vacation, I'm not the type of person who stays at the resort. I like to venture out, meet the locals, and eat their food."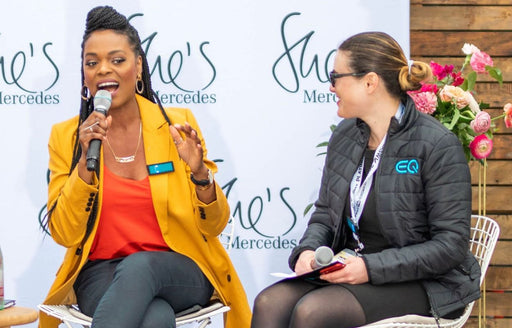 When Kathleen returned to Montreal, she finished her degree in finance and international business and earned a second degree in fashion design from LaSalle College.

Finance and fashion may seem like a paradox, but Kathleen had loved fashion since she was a child, largely due to the influence of her fashion-loving mum.

"I don't remember a time when I wasn't interested in fashion. My mom started it all. She is a gifted designer and seamstress, and since I'm the only girl in our family, her mission was to dress me like a doll. Everywhere we went, I was dressed to the nines. And I think her love of fashion rubbed off on me. After obtaining my degree, I wanted to be in the best place in the world for fashion and that's what led me to New York."

Kathleen got a job as an assistant designer in the Garment District, in the heart of Midtown Manhattan, and her fashion exposure went through the roof. The fast pace, Fashion Week, all the people in the industry– it was a wild ride for Elie. She shopped at sample sales during lunch or after work, and she always had something new to wear. New clothing constantly came into her office and Kathleen accumulated a wardrobe of high fashion all at good prices. It was a "Devil Wears Prada" life (minus Meryl Streep).

Kathleen was living every fashion lover's dream until she began to wonder if there was more to the fashion industry than what meets the eye.

"I was at work holding a sample item, and the thought popped into my mind: 'I don't think this was made in the best conditions.' Just that one quick thought made me curious, and I started researching the fashion industry. And what I found gave me pause. I have a background in finance; I know that when an item is cheap, the company is still making a profit. In this case, they are making a profit by using cheap labour. I had to begin asking myself some hard questions. 'Does wearing these things align with my values? Can I support people being exploited and the planet being destroyed? Am I willing to sacrifice getting something I want for the betterment of another human being?'"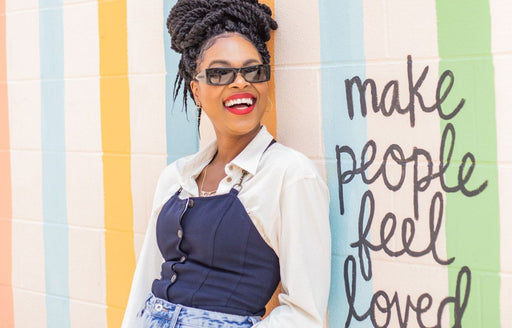 Kat knew she had to make some changes, but just as she recommends to her followers, she started with small, sustainable changes– not a major overhaul of her life.

Elie created a blog, Fashion With A Conscience, to share what she was learning about the fashion industry. It wasn't long before the blog began to take off. People were finding Kathleen through word-of-mouth, search engine results, and by other influencers featuring her on "Top 10 People to Follow" lists.

And Kat found that once she started making conscious choices in one area of her life, that same perspective crept into other areas. She began researching the food she was putting into her body and the beauty products she was putting on her body. Elie asked herself the same question she did with fashion:

"Does this area of my life align with my values in terms of not buying things that are low quality, made cheaply with cheap labour, or made at a factory that I can't check or suspect is bad?"

Elie admits that asking these questions in regard to every area of your life at once can be overwhelming.

"Eco-anxiety is not cute or sustainable. Let's not do that. Start where you are and show yourself grace. Don't throw anything away. Keep it and use it because throwing it away is not sustainable. Then once the product is gone or the item is no longer usable, find a better alternative. Do that with everything that is toxic or not ethically made. Don't look at it as a downer; look at it as having the power to make better decisions. You are taking ownership of your life and impact."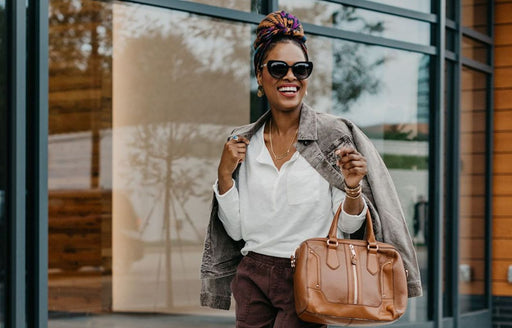 Kathleen also recommends that even people with closets full of fast fashion can be more sustainable by taking better care of what they have. Air drying rather than machine drying and mending items rather than buying something new are both great first steps. And if you must buy something new, ask yourself how you can buy a better item. The articles she has on her site will help people get started.

Kathleen is continuing her own journey by trying to– as she calls it– stay in the flow. For Elie, being in flow is about living in a way that isn't forced. Conscious N Chic flowed out of who she was becoming, which explains why she isn't aggressive about growing her business. She focuses on delivering value to her followers.

"My goal has always been to help people see their lives and power differently in relation to how they consume and live their lives. Be where you are and don't feel pressure. Guilt isn't the reason to make a different lifestyle choice. Change is an outpouring of what's already inside you. It comes from a place of getting off the hamster wheel and making conscious decisions."

One of Kat's favourite quotes is by Edward Everett Hale: "I am only one, but I am one. I can't do everything, but I can do something. The something I ought to do, I can do. And by the grace of God, I will."

Let's follow Kat's example and go find something we can do.