Ways to Wear Sweatshirts and Still Look Chic
One of the best parts of wearing sweatshirts is the comfort that comes from their soft texture. But over time, sweatshirts can lose some of their softness unless they are cared for properly. Whether it's a polo sweatshirt or an evening gown, proper care for clothing is important if you want your items to remain in pristine condition for as long as possible.
Sweatshirts used to be considered loungewear and something fashionable people probably wouldn't wear out of the house. But that is no longer the case.
Sweatshirts have recently become quite popular among the biggest fashion houses in the world like Ralph Lauren and Balenciaga. Now, it's possible to look stylish and be comfortable at the same time.
And, with all the different types of sweatshirts, it's easy to find a style that matches your taste.
Different Types of Sweatshirts
For those who crave comfort, sweatshirts could be an ideal addition to your wardrobe. Sweatshirts can be worn year-round with winter varieties frequently made of fleece and spring/summer types made of lightweight fabrics.
But, in addition to various materials, sweatshirts are also available in different styles.
Crewneck Sweatshirt
The crewneck sweatshirt is the most basic type of sweatshirt and is widely available from a variety of major retailers. A crewneck sweatshirt is a great option for mild winter days.
Crewneck sweatshirts traditionally do not have collars and come with long sleeves. However, short-sleeve and sleeveless designs are also available.
Polo Sweatshirts
Polo sweatshirts are similar to crewneck sweatshirts, but they have collars. The majority of polo sweatshirts have long sleeves. There are, however, a few polo sweatshirts with half-sleeves.
Polo sweatshirts often look more polished than a crewneck, especially when the collar is turned up and paired with a button-up shirt underneath.
Hoodies
Hoodies are hooded sweatshirts, as the name implies, and the hood typically includes drawstrings. They are available in both pullover and zipper styles and are typically made of polyester or cotton. Many hoodies have a "kangaroo pocket" to keep your hands warm.
Hoodies are perhaps the most casual sweatshirt style, but they are ideal for an active day when going to and from the gym.
Pullover
Pullovers are worn by pulling them over your head. They're great for layering over another shirt for extra warmth. Pullovers are also more structured than hoodies and many have interesting details such as quilting, asymmetrical zippers, and button closures.
Mock Neck Sweatshirt
Mock necks are a modern version of turtlenecks. Mock neck sweatshirts are typically sold with a small zip. Mock necks are less constricting than classic turtlenecks. Furthermore, they are warm enough for cold weather, but they can also be worn in warmer weather.
Zipper Hoodies
Zipper hoodies are similar to regular hoodies with a unique design twist. Instead of a pullover, zipper hoodies have a long zipper down the centre. As a result, such sweatshirts have the appearance of jackets.
Fleece Sweatshirts
These are extremely warm and come in either solid fleece (inside and out) or with just a fleece lining. Some of the women's fleece styles resemble traditional hooded sweatshirts, while others resemble tunics.
Baja Hoodies
Baja hoodies, also known as Mexican thread hoodies, first appeared in Mexico about a half-century ago. They are available in a variety of styles and are typically made of coarse wool known as jerga. They were very popular in the 1970s but still remain in demand today.
Chic Sweatshirt Outfits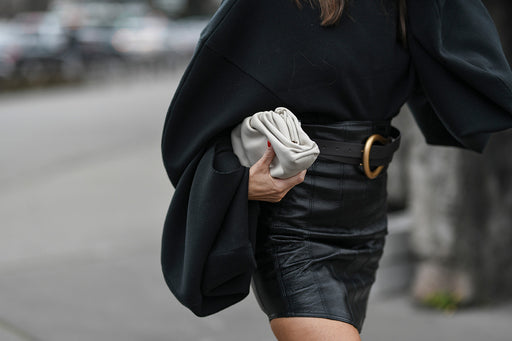 Though it may take creativity and imagination, it is possible to style a sweatshirt in a way that is fashionable. These four sweatshirt outfit ideas will get you started.
Sweatshirt and Denim
A simple lightweight wool sweatshirt and a pair of skinny jeans is a classic combination. Style your favourite sweatshirt with a white slim-fit, button-up shirt underneath, a pair of jeans, and sneakers or boots.
Sweatshirts and Skirts
Combining sweatshirts and skirts may not be the first pairing that comes to mind, but it can be extremely fashionable. Because the two styles are so different, they balance each other out, keeping the overall look from feeling too formal or casual. As a result, this combo will work for a wide range of occasions.
You can style your sweatshirt with different styles of skirts, from pencil skirts for a safer look, to pleated for a chic, trendy look, to sequin skirts that are more eye-catching.
Sweatshirts and Shorts
For a sporty look, pair a lightweight oversized sweatshirt with biker shorts and sneakers. And, in the summer, wear a sweatshirt with denim shorts for an evening walk on the beach.
You could wear a lightweight, oversized sweatshirt with casual culottes, khaki shorts, or tailored Bermuda shorts to dinner at a local or summer-resort restaurant for a chic evening look.
Oversized Sweatshirts and Plaid Pants
This is a hip look that can be bright and cheerful or chic and sophisticated depending on the colours you match. For example, red plaid pants paired with a red oversized sweatshirt create a colourful look to brighten up dark winter days. Try soft camel and gray plaids if you prefer more subdued colours.
How to Keep Sweatshirts Soft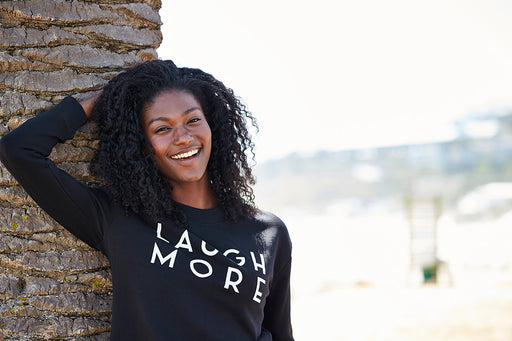 One of the best parts of wearing sweatshirts is the comfort that comes from their soft texture. But over time, sweatshirts can lose some of their softness unless they are cared for properly.
Wash in Cold Water
One way to keep your sweatshirts softer for longer is to only wash them in cold water, which is much gentler on the shirt's fibres.
Clothing fibres are stressed and stretched by hot and even warm water. Hot water dehydrates them, making them brittle. This isn't the case with cold water. Washing with cold water has numerous other advantages, such as lower energy costs, which is better for the environment and your wallet.
Use Mild Laundry Detergent
Choosing the right detergent is essential because not all detergents are suitable for sweatshirts. Harsh detergents are not advised. Although many detergents are effective at cleaning your clothes and removing dirt and oils, they can be too harsh for your clothing and also for you if you have sensitive skin.
Instead, get a mild detergent and only use as much as the manufacturer recommends. Less is more in this case, and you may be able to use less than the recommended amount.
Skip the Fabric Softener
Although using liquid fabric softener is optional, it is a common laundering practice. But did you know that fabric softeners create a smooth appearance and pleasing smell because they contain chemical silicone oil?
Fabric softener may appear to soften your sweatshirt in the short term, but it tends to accumulate on fabrics over time and can actually degrade them once the residue builds up. It reduces the sweatshirt's ability to wick away moisture as well as absorb water and detergent.
Turn Inside Out Before Washing
Remember to turn your sweatshirts inside out before washing them, especially if they have a print on the front. Turning it inside out keeps the outer surface from rubbing against other items and helps keep the outside of your sweatshirt soft.
This method also helps prevent fading, and it exposes the inner surface for cleaning, which is the part of your sweatshirt that needs it most.
Wash with Similar Clothes
Don't wash your lovely, soft cotton hoodie with a pair of heavy jeans or a rough jacket. Tumbling around in a washing machine with heavy, abrasive garments will beat a sweatshirt up and loosen its fibers.
Instead, wash your sweatshirt with similar, lightweight garments, preferably in similar coloгrs.
Air Dry Rather Than Machine Dry
Do not put your sweatshirt in the dryer because it causes excess friction and shrinkage. Air drying is a better option because it keeps your sweatshirt naturally smooth and soft.
Remove Stains Carefully
Stains on your sweatshirt are inevitable. Using stain removal products appears to be a no-brainer for removing stains from your sweatshirt. However, most stain removal products contain harsh chemicals that degrade the fluffiness of your sweatshirt. Instead, try using natural stain removers like baking soda or lemon.
FAQs
How do I keep my sweatshirt material soft?
To help your sweatshirt stay soft, use cold water for washing, avoid fabric softener, air dry, and use a mild detergent. Following these tips will help your sweatshirt stay soft longer.
Why do sweatshirts get rough after washing?
The most common cause of fabric feeling rigid or stiff is using too much detergent in the wash cycle. Another is washing your sweatshirts in hot water. Washing hoodies, cardigans, and pullovers in cold water on a gentle cycle is your best bet.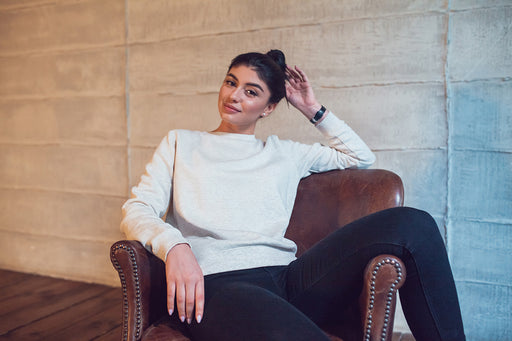 Whether it's a polo sweatshirt or an evening gown, proper care for clothing is important if you want your items to remain in pristine condition for as long as possible. That's why we recommend storing your most valuable items in Hayden Hill bags. Our large storage bags are made of 100% organic, soft cotton that is environmentally friendly and allows your favourite pieces to breathe while keeping them protected from damage. We deliver sustainable and beautiful garment care to preserve and protect the clothes you love most.