11 Items You Need to Build a Man's Capsule Wardrobe
By investing in high-quality, timeless pieces, any man can create a wardrobe that will last for years without going out of style.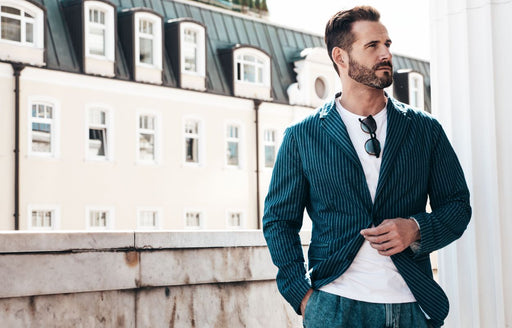 Whether you start your day with a workout at the gym or roll right out of bed and start getting ready, there's no question that most men would like to find ways to save time in the morning.
And one of the most time-consuming tasks we perform in the morning is getting dressed. A great way to decrease the time you spend deciding what to wear each morning, while still looking dapper, is by building a capsule wardrobe.
Why should a man build a minimalist capsule wardrobe?
Curating a minimalist capsule wardrobe can have many benefits for your life and style. It can simplify your life by reducing decision fatigue and simplifying getting dressed. By having fewer clothes that all coordinate, you'll spend less time worrying about what to wear each day and have more time and mental energy for other things.
Also by focusing on quality over quantity and choosing versatile pieces that can be worn in many different ways, you spend less money on clothes that you don't really need. The clothes you do have will last longer since they're made of high-quality materials and have timeless designs.
A minimalist capsule wardrobe helps a man define his personal style. By curating a wardrobe of clothes that you really love and wear often, you'll develop a sense of what looks good on you and what doesn't. Because of the intention this process requires, you'll also develop a clearer sense of your personal style.
The Sustainability Factor
Having a high-quality, minimalist wardrobe is also better for the environment. The fashion industry is a major contributor to pollution and waste. When men shop sustainably by buying fewer items, choosing sustainable materials, and supporting ethical brands, we reduce our impact on the environment.
3 Things to Consider When Creating a Capsule Wardrobe
While there is always flexibility in what men should include in their capsule wardrobes, there are three factors to keep in mind when selecting items.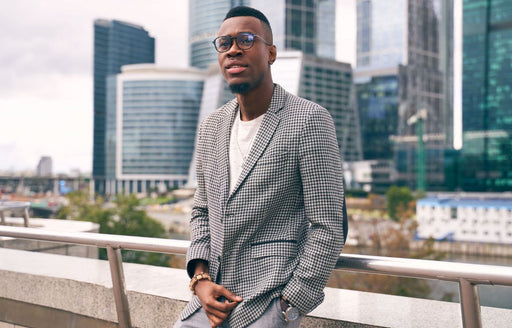 Timelessness
The first thing you should look for is clothes with a timeless and classic design that will stand the test of time. White button-down shirts, traditional straight-leg jeans, and dark-wash chinos have been worn by men for decades and will continue to be classic pieces.
Versatility
A men's capsule wardrobe should contain pieces that can be mixed and matched to create a variety of outfits that are all polished and distinctive. A dark blazer is an excellent versatile option because it can be worn to work, on dinner dates, or to a casual lunch.
Colour
Although there is nothing wrong with following trends, an overly colourful wardrobe may not lend itself to mixing and matching easily.
Instead, the base of your capsule should include neutral colours such as black, white, cream, tan, navy, or charcoal. There's nothing wrong with having some splashes of colour in your capsule wardrobe, such as bright blues or greens, but it's wiser to start with neutral colours that are easy to pair with other pieces. Once you've established a foundational capsule wardrobe, then begin to introduce more colour.
Essential Pieces for a Man's Capsule Wardrobe
Buttoned Shirts
Button-ups and button-down shirts are staple items in every man's wardrobe. Button-down shirts have buttons on the collar and button-up shirts do not. Both types of shirts are appropriate for a variety of occasions from wearing to the office, having drinks after work, going on weekend outings, and attending formal occasions.
For a well-rounded wardrobe, you should include at least three long-sleeve and three short-sleeve buttoned shirts in your capsule. Choose shirts in a variety of neutral colours, such as white, dark grey, cream, or black. If you prefer to experiment with colour, you may also find that light blue shirts pair nicely with neutrals.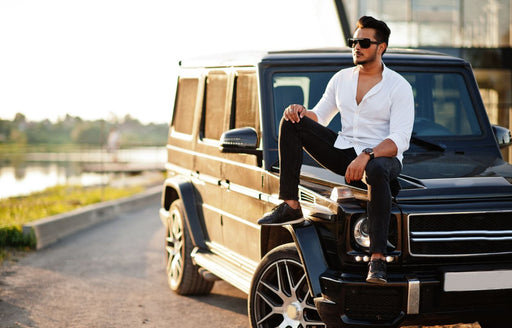 Polo Shirts
Polo shirts are a terrific wardrobe staple that can be worn with jeans or chinos for more informal outings like sporting events or golf, or weekend days when just a little formality is required.
Polo shirts are less formal than buttoned shirts, so you can wear them in any colour you like, from neutral to vibrant and bright.
T-shirts
T-shirts are another excellent addition to a man's capsule wardrobe. Having one or two neutral-coloured t-shirts in your collection will provide you with a good range of options for casual, relaxing weekends or low-key get-togethers with friends.
T-shirts can be solid or have a graphic or print. And neutral-coloured t-shirts can be easily styled with coloured shorts or layered under a jumper or buttoned shirt on cooler days.
Trousers
Like buttoned shirts, trousers are a key component of a man's wardrobe. Having classic trousers that work for a variety of events and occasions can make putting outfits together much easier. Chino trousers are a timeless option that can be worn for both casual and formal situations. Select a couple of pairs of chinos in neutral colours, such as olive green, white, tan, or navy.
Business trousers are also an excellent addition to any capsule wardrobe. Dress trousers are essential if you work in an office that has a business formal or formal workplace dress code. Choose dark-coloured dress trousers, such as black, navy, or charcoal, to go with a matching blazer or coat.
Jeans are a must-have item for men's and women's wardrobes. Jeans paired with a laid-back t-shirt or casual jumper make an ideal weekend look. Choose dark wash denim over light denim since dark wash combines well with many shirts.
Shorts
Having a few pairs of classic shorts to wear on warmer days during the summer will keep you cool and comfortable.
Depending on where you live and the summer activities you participate in (beach excursions, sports, BBQs, etc.), you may need a few pairs of shorts. Choose a couple of pairs in neutral colours, such as cream, tan, or navy, and another pair or two in a bold colour, such as blue, green, or orange.
Knitwear and Jumpers
Quality jumpers and knitwear are crucial for staying warm and fashionable throughout the cooler months. During the cooler months, jumpers and cardigans can be worn over a basic t-shirt or polo to create a polished appearance.
Jumpers can also be worn alone or over a buttoned shirt for a subtle yet traditional look. Be sure to choose knitwear in a neutral colour, such as navy, black, or tan that looks good with many shirts and jackets.
Blazers
A blazer is a staple clothing item that can be worn over your outfits for warmth and style. Blazers help add a sense of sophistication to any outfit, whether that's for the office, formal parties, or get-togethers with friends and family. A blazer paired with either jeans or trousers and a long-sleeve buttoned shirt works well for a variety of occasions.
Leather Jacket
A leather jacket is a casual yet essential garment. The right jacket should fit nicely on the shoulders and have no extra room in the sleeves. High-quality leather jackets have supple, soft leather, neat stitches, and a breathable inner lining.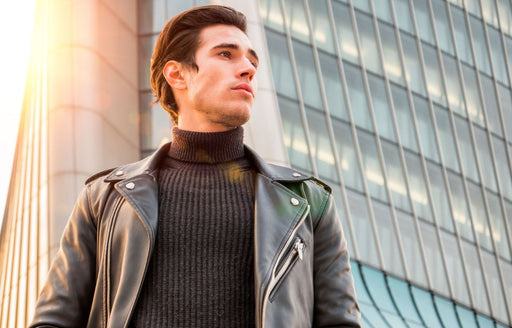 Denim Jacket
A denim jacket is an excellent addition to any man's casual outfit. Denim gets better looking and feeling with age. These jackets are one of the most versatile pieces in your closet because they pair well with almost every other piece of casual clothing.
Accessories
The accessories you should own depend on your personal preferences. Some men like to have a lot of accessories, such as various watches, ties, and pocket squares, while others prefer to stick to one or two. Accessories allow you to create fresh and unique looks from one outfit.
Shoes
Shoes are another part of your wardrobe that is dictated by your preferences. But every man should have at least one pair of shoes for each occasion or activity. This typically includes one pair of athletic shoes, a pair of casual sneakers, one pair of boots, and a pair of dress shoes for formal and work events.
FAQs
What should be in a man's capsule wardrobe?
A versatile, high-quality capsule wardrobe for men should include pieces that can be mixed and matched to create a range of outfits. A white dress shirt, a blazer, jeans, and a jumper are all must-haves. The exact items will be determined by a man's personal style and lifestyle, but the goal is to prioritise quality over quantity and select pieces that can be worn in many different ways.
How many items are in a man's capsule wardrobe?
The number of pieces in a man's capsule wardrobe varies depending on his personal preferences. However, a general rule of thumb is to aim for 25 to 30 items, including clothing, shoes, and accessories. The goal is to have a modest, curated selection of pieces that are versatile.
How do I make a capsule wardrobe for men?
The process of building a man's capsule wardrobe includes a few steps. Assess your current wardrobe, identify your unique style and requirements, select high-quality pieces, and choose items that can be mixed and matched to create a range of looks.
If you're tired of spending precious minutes in the morning deciding what to wear, a capsule wardrobe might be the solution you've been looking for. By investing in high-quality, timeless pieces, any man can create a wardrobe that will last for years without going out of style.
The key is to choose items that are classic and versatile, rather than trendy, so they can be worn season after season. Starting with a few essential items such as well-fitted jeans, a classic white shirt, a tailored blazer, and leather shoes can serve as a foundation for your capsule wardrobe.
And when your capsule wardrobe essentials are out of season or not in regular use, we recommend storing them in high-quality garment bags. Hayden Hill bags are made of 100% organic, soft cotton that is environmentally friendly and allows your favourite pieces to breathe while keeping them protected from damage.