8 Ways to Wear White in Winter
Everyone interprets fashion differently. You have the power to decide whether you want to wear white in the winter and how you want to style it. If tradition is important to you, you may choose to stick with the "no white after Labour Day" rule. The important thing is that you feel that you aren't being forced to do one thing or the other.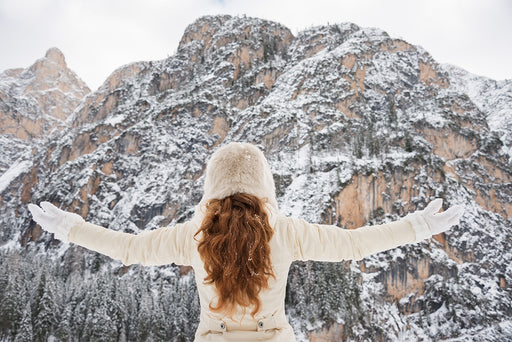 No white after Labour Day. How many of us were taught this fashion rule by our mothers and grandmothers? For decades, women have passed this rule down from generation to generation without questioning it.
But in recent years, the fashion industry has bucked this age-old rule in favour of wearing winter whites- whites with warm undertones like ivory or grayish white.
If it's hard for you to ditch tradition, this article will provide you with a few tips on how to wear white well even in winter months.
The History Behind the "No White" Rule
The origin of the "no white after labour day" rule is a subject of some debate. Some will argue that it began for practical reasons.
For example, wearing light colours and fabrics were reserved for warmer summer days because they made people feel cooler, especially in homes without air conditioning. It's for this reason that Labour Day became the last day to wear white since it represents the unofficial end of summer.
Another theory suggests that this rule was created by female aristocrats in the 19th century as a way to exclude other women. The wealthy elite created fashion standards like this to differentiate between those with "old money" and the newly rich.
After the summer season ended, wealthy locals would leave the city for warmer locations. So wearing white after summer symbolised that you could afford to escape the city. The only way it was deemed appropriate to wear white in winter was if you were in a warmer climate.
This rule was also used to make a clear distinction between people who needed to work and those who did not. White clothes suited those who didn't have to work because they wouldn't get dirty. On the other hand, people who had to work would wear black clothing to cover up dirt obtained on the job.
A Rule that is Meant to Be Broken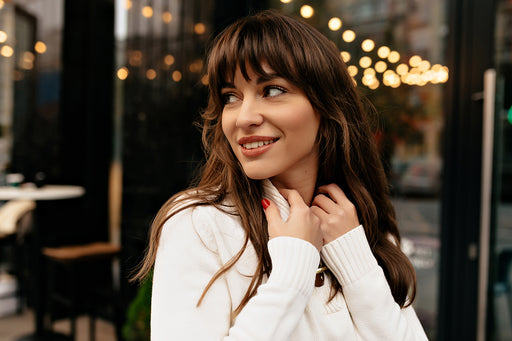 The "no wearing white" rule started long ago and has been passed down through generations. But with maturity comes the need to evaluate what conventions we are following and ask ourselves why. This is one of those norms that should be left in the past.
Today, many people proudly wear white in the winter. Even Vogue, a pillar in the fashion world, okayed wearing white year-round and making it a permanent part of our outfits.
8 Ways to Wear White in Winter
Now that we've agreed it is acceptable to wear white in winter, let's look at how to do it well. White gives any outfit a breath of freshness. Cream, ivory, beige, snow, off-white, taupe, and soft grey are just some of the winter white shades that work well with any other colour and instantly create a bright new mood.
White is the ideal neutral colour that works like a blank canvas against which you can add bold colours and accessories. For the traditionalists who want a safer option, winter whites will give crispness to black, navy, or camel.
1. Black and White
If you're unsure how to style white this winter, then opt for the safest choice - combining it with black. Black and white is a classic pairing that has been worn for generations.
This combination looks incredibly modern and stylish any time of year. You can mix a silky, soft white cashmere sweater with a pair of black pants, black shoes, or a black jacket.
Or you can go the opposite way, and pair your white pants with a black turtleneck top. The choices are endless here, so feel free to experiment with your wardrobe and unleash your creativity.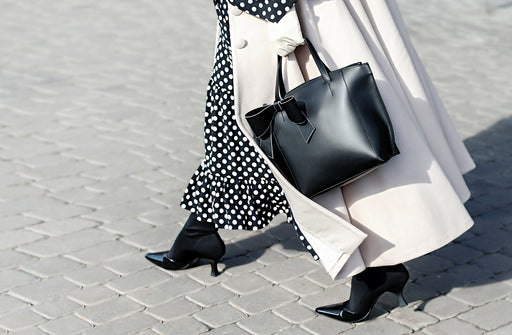 2. All White
Monochromatic outfits are ideal if you're looking for something simple and elegant. It's also an effortless, classic look that doesn't require the ability to mix and match different colours.
If you're going for the monochromatic look from head to toe, keep it simple. Put on a simple pair of white jeans and a white blouse or tee and nude shoes. If you want to keep your look cozy and comfortable, go for a pair of white sneakers.
3. With a Print
If you want to mix your look up, prints are the best way to add a little zing to any outfit.
Prints are stylish and are unlikely to go out of fashion any time soon. They can take all shapes and sizes, from bags to boots to jackets and coats.
Add some subtle prints like stripes, polka dots, or maybe even tiny floral buds just for a touch of something original.
However, if you opt for bold prints like animal prints or camo with your white outfit, then don't overdo the number of colours you use. A wild print in a neutral colour palette pairs nicely with white.
4. Mix Textures
Make sure your outfit includes some texture. For instance, pair your black suede boots and a black leather or suede bag white turtleneck dress.
Variations in texture will also add depth and dimension to an all-white ensemble and make you look modern. It's important to use a variety of textures especially when styling outfits with similar colour tones to create interest.
5. Style it with Neutrals
Another option is to mix white with other neutral colours. The beauty of wearing neutral shades is that they pair well together because they don't compete with each other.
This allows you to style two or three colours together. For an easy pairing, wear white jeans with an eggshell wool sweater and a camel coat.
6. Pair it with Pastels
Pastels are light colours that, if paired well with white, can spice up your outfits and make you look chic and elegant. Pairing pastel tones with white will balance your total look.
One stylish example is to pair a white sweater with any pastel colour pants. Another look is to pair a winter white dress with a pastel colour blazer to create an elevated, elegant outfit.
7. With Good Tailoring
Wearing white, tailored pieces will make your style look sleek and polished. Tailored pieces are ideal for a date night or any celebratory occasion. These pieces accentuate the right parts of your body and give your outfit proportion and balance. A tailored garment is your silhouette's best friend.
8. Add a Pop of Colour
Spice up winter white by adding pops of bright colours to give a little playfulness to your look.
Add small accents of colour such as a hat, a clutch, statement jewelry, or cool pair of shoes. You can avoid going overboard by using different shades and tones of the same bold colour.
FAQs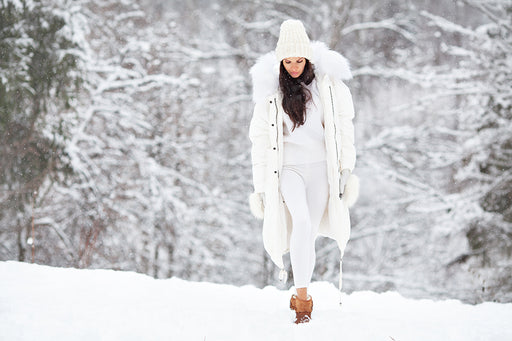 Why can't you wear white in the winter?
There is an old rule that says you can't wear white after Labour day. According to this rule, white should be worn from Memorial Day until Labour Day, or only in the summer months.
However, people in the fashion world don't usually follow this rule, especially in recent years. The best rule of thumb is to incorporate white into your wardrobe by wearing white winter colours.
Can you wear white all year round?
Yes, the traditional rule of not wearing white after summer is becoming a thing of the past. White is considered a neutral shade so it goes well with every other colour. The options for combining white are almost endless.
Should you wear black or white in winter?
Depending on your personal preferences, you can wear both white and black in winter. Although black is the more obvious choice for winter, white can make a perfect outfit if styled right.
Everyone interprets fashion differently. You have the power to decide whether you want to wear white in the winter and how you want to style it. If tradition is important to you, you may choose to stick with the "no white after Labour Day" rule. The important thing is that you feel that you aren't being forced to do one thing or the other. The only fashion rules in life should be the ones that you set for yourself.
Whether your most valuable clothing items are white or another colour, Hayden Hill has the products you need to care for them well. Our garment bags offer your most treasured items superior protection. Made of breathable cotton, they protect clothing from dust, light, moths, mold, and condensation.